---
Here I give the list of the best family camping tents with full rain fly, all suitable for at least 3-season camping, very reliable, and with an easy setup.
---
Camping tents with rain fly – about terminology
♦ Some family camping tents are single-layer, which means the walls and the roof are waterproof. In such a case you do not have any fly. Typical examples of this type are the Nemo Wagontop tent and Coleman Instant tent. There are both good and bad sides of such a design, like a good packed size (because of less material) on one side, and the issue of condensation on the other side.
♦ In some other designs, the walls are waterproof and the roof is a mesh. This design is suitable for family camping tents and you should have a much better ventilation in such tents. So the roof mesh must be protected and these tents have a minimal fly on the roof only.
You have such type in many cabin style tents and in instant tents. When you see such tents, you realize that such a minimal fly is there also to allow for unimpeded views through the huge windows which you usually have there.
But there are also dome type tents with such minimal fly. You will notice that these also have a window and a door with the window, so again the minimal fly is there to allow for views. Typical examples of this type are the Core 6 Person Dome tent and the Coleman 6 person Sundome tent.
♦ The third group is with tents that have a full-coverage fly. These are fully double layer designs, so you have:
an inner tent which contains a lot of mesh, and,
the full fly which protects the interior.
These tents are generally the most reliable structures (assuming that the fly is reliable and that the seams are fully sealed of course).
Here are all three types presented in pictures: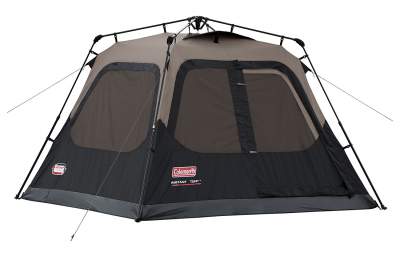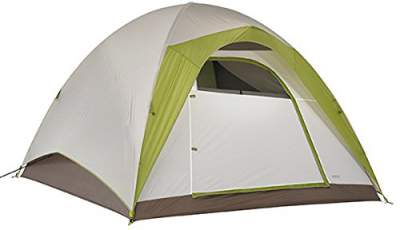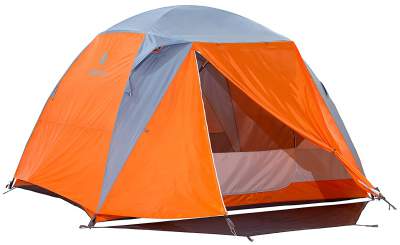 In this third group, you have mainly dome style tents (but not always, see the Arctic Oven tent below), and this can be the simplest dome with an X-shaped pole structure or an extended dome shape where the dome is extended on one side or on both.
Below, I give my list of excellent examples of the camping tents with full rain fly, ordered by the inner floor area from the smallest to the largest.
As you will realize from the text below, these are all relatively small camping tents so the capacity is in the range 6 – 8 people.
1. EXIO 6-Person Compact Backcountry Tent
The Exio tent has the word 'compact' in its name and this refers to its inner tent area which is quite small and you have 80 ft² (7.4 m²) there. But this is an extended dome style design, and the tent comes with two vestibules. The front vestibule looks like a porch, so you have extra 70 ft² (6.5 m²) of the fully protected area. As you realize, this makes it a quite luxurious option for camping, both for groups and for families.
The fly of this tent is full coverage as you see from the picture above, it goes all the way to the ground and you are fully protected. You have 2000 mm waterproof rating on the fly and 3000 mm in its bathtub floor, so these are great numbers, certainly good enough for any 3-season use.
One of the great features of this tent is its price. You can get it for half of the money needed to buy any of its closest competitors, and I am pretty sure this is not on the account of quality. This is a very reliable tent, please see more in my full review.

---
2. Kelty Trail Ridge 6 Person Tent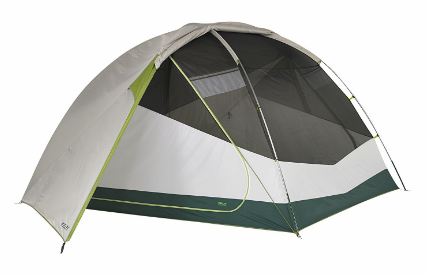 The Trail Ridge 6 tent is a very typical dome style tent with a simple X-shape poles structure, and an easy setup. The structure is freestanding and very lightweight. So this is an excellent choice if you need to carry it to some shorter distances.
Note that the gear loft is included as well as the footprint. As you see from the picture above, the tent is with a stargazing design. You have two doors and two vestibules, so the tent offers lots of space for the storage of gear. You have 82 ft² (7.62 m²) of the inner floor area, plus 34 ft² (3.2 m²) under the two vestibules.
The fly is the main point of the story, so indeed, it is a full coverage type, and the mentioned vestibules are the part of it. All in all, this is a really simple but reliable tent from a renown brand.

---
3. Marmot Limestone 6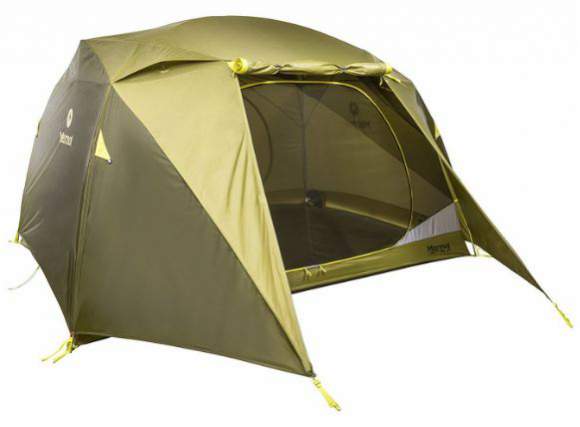 The Limestone 6 is somewhat similar to the Kelty Trail Ridge tent, so here again, you have a dome type tent. Though the poles are of a different design and the walls are quite vertical, and it looks almost like a cabin type tent. This is a very lightweight and freestanding structure, completely reliable and suitable for any weather conditions in a 3-season use.
You have 2 doors and the tent is covered with a top-quality waterproof fly which creates two vestibules. The total inner area is 83.3 ft² (7.75 m²) and the two asymmetric vestibules create additional 27 ft² + 12 ft² (2.5 m² + 1.1 m²) of a fully protected area.
Note that you have 3000 mm waterproofness rating for the floor, and 1500 mm for the full coverage fly.

---
4. Eureka Midori Basecamp 6 Tent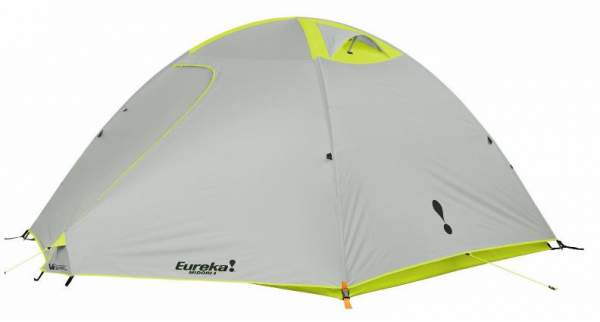 The Eureka Midori is an incredibly lightweight tent and nicely packable. This is a very simple design but it offers all you need for occasional camping tours. Its weight makes it a very versatile option, suitable even for hiking and backpacking tours.
The structure is freestanding and the inner area is 85 ft² (7.9 m²), so it offers a bit more than the models above. But you also have 2 vestibules which provide 38 ft² (3.5 m²) in total. Please see more in my full review.

---
5. Kelty Sequoia 6 Person Tent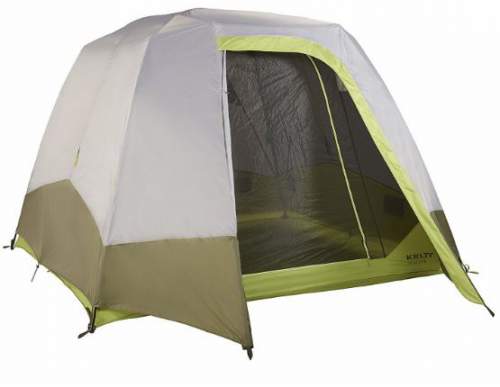 The Sequoia 6 Tent is a completely new model that they launched in February 2018. The full fly is quite unusual to see in such a tall structure – you have  82 inches (208 cm) the peak height here. This makes it very livable of course. The inner floor area looks relatively small, so you have 87 ft² (8 m²), but see the vestibule – it offers another 42 ft² (3.9 m²) of the covered space.
So this is an impressive tent which offers a full protection; the waterproof rating is 1800 mm for the fly and for the floor. The poles are incredibly durable steel material. The packed size is also impressive, please see more in my review.

---
6. Kelty Outback 6 3-Season Camping Tent
The Kelty Outback 6 is a reliable and inexpensive entry-level tent, and a tent for occasional use for families and groups. This is a dome structure, very lightweight and with an easy setup.
The inner tent is mostly a mesh and on the floor you have a 68D polyester and with the polyurethane coating. The same material is on the full-coverage fly. The waterproofness rating is quite appropriate for a 3-season use and you have 1800 mm. 
The tent is only with one door which is not so great, and the poles are fiberglass, so a bit of care is needed. But as I said, this is an entry-level tool. It offers 87 ft² (8.1 m²) of the inner floor area and additional 22 ft² (2 m²) of the protected space under the vestibule. Note that it is only 6.9 kg of weight, so it is portable in backpacks if used by groups of friends.

---
7. Big Agnes Tensleep Station 6 Tent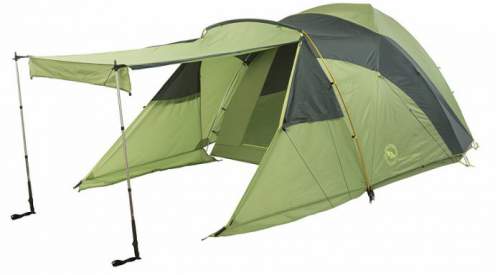 Here you have the new 2018 version of the famous tent from Big Agnes. The full coverage fly is with 1500 mm waterproof rating so you will surely be protected in any weather conditions in a 3-season use.
The tent is extended dome type and its declared capacity is 6 people. The floor area is 90 ft² (8.4 m²), but you also have two vestibules which provide 38.5 ft² + 10 ft² (3.6 + 0.9 m²). The main front vestibule is particularly functional and it allows for several awning configurations with the help of trekking poles, one is shown in the picture.
The packed size is also great 27 x 15 x 5 inches (68 x 38 x 12 cm), so you can transport it on a motorbike. Please see more in my detailed review.

---
8. Big Agnes Flying Diamond 6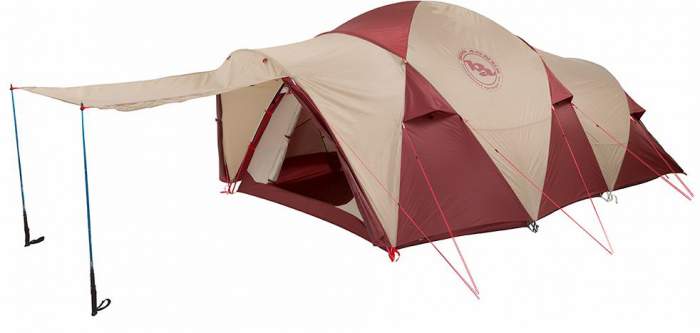 This is one of the most versatile tents here and on the market in general, with many exceptional features. You have 2 rooms here, created by a removable divider.
The tent is an extended dome type, but it looks like a tunnel tent with the two entrances from the two ends. You have lost of space here; the inner floor area is 92 ft² (8.5 m²) and the two vestibules create 26 + 6 ft² (2.4 + 0.6 m²).
Inside, you have an incredible number of storage pockets, 16 in total. I do not remember any tent with so many storage elements.
The waterproof rating is great just like everything in this tent, so you have 1500 mm here thanks to its polyurethane coating. The poles are a top quality DAC products.
The full fly offers multiple configurations both on the vestibules and on the main tent body, you will see them in my full review, so please follow the link below. Ventilation is excellent due to no less than 6 vents on the fly. So this is a very versatile and reliable tent for a 3-season use.

---
9. Marmot Halo 6P Tent
This interesting design includes an innovative encircling overhead pole and this is the reason for the word 'halo' in its name. The tent is formally a dome shape, but the extra halo pole shown in the picture above adds lots of interior volume.
You have no less than 100 square feet (9.3 m²) of the inner floor area here, plus 32 square feet (3 m²) under the front vestibule. So this is a very livable construction with lots of floor and elbow room. Two large doors only add to this overall feeling. The poles are top-notch DAC Press-Fit aluminum with 12 mm diameter.
You have ground level vents and an integrated fly vent, so this together with mesh on the walls and ceiling provides a really good ventilation. The walls material is a durable 70D polyester taffeta and the floor is 70D nylon with 3000 mm waterproof rating. The mighty fly which creates two vestibules is a ripstop polyester 68D 210T with 1800 mm rating. The interior height is impressive for a dome tent, you have 75 inches (190 cm) in the center.
Note that they have a 4-person version in this series, and a footprint as well which can be ordered separately.

---
10. Marmot Limestone 8 Tent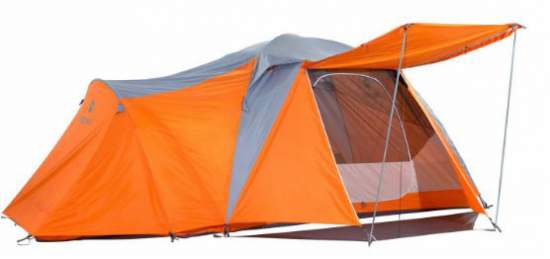 The Limestone 8 is only by the name similar to its smaller cousin Limestone 6 presented above. In this case, you have an extended dome style tent with an extra room in the extended section which you see in the picture above. This is what makes this tent very special here in the group; it is formally a 2-room tent.
The tent has 2 doors and it is a very reliable tool for a 3-season use, with 5 DAC DA17 color-coded poles, and fully waterproof.
The floor area is 119 ft² (11.06 m²), and you have extra covered space under the two vestibules which add 27 ft² + 18 ft² (2.5 m² + 1.7 m²).
The picture above shows it with the fly which is with this front vestibule that allows for several configurations, including the awning setup.

---
11. Coleman Octagon 98 Full Fly Tent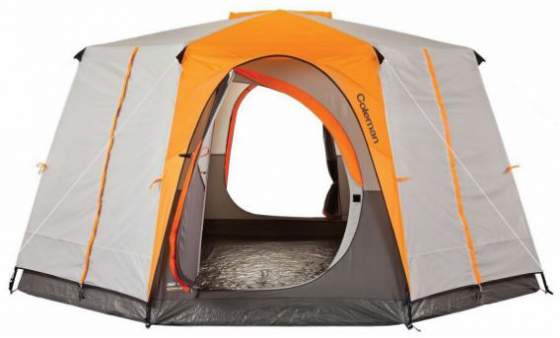 Here you have a cabin style tent with steep walls and with an interesting feature visible in the picture, and this is the hinged door on the front. The inner tent is mainly a mesh in the upper part, and the fly is with 6 vertical zippers which you can open and have panoramic views. It comes with a removable divider inside, so formally this is a 2-room tent.
The declared capacity is 8 people, but the floor area is only 122 ft² (11.3 m²), so better downgrade the capacity by half if you use it for family camping. The tent is really livable and pleasant, and it offers a full protection from elements. The rating by users on Amazon is exceptionally high, 4.5/5. Please see more in my detailed review.

---
12. EXIO 8-Person Compact Backcountry Tent
The EXIO 8 is a very nicely built tent with the capacity of 8 people and with the design that makes it suitable for a 3.5 seasons use. Here you have 121.7 ft² (11.3 m²) of the inner floor area, plus a vestibule which provides additional 20.7 ft² (1.92 m²).
Obviously, the fly is a full-coverage type and I wish to stress the excellent ventilation achieved by 6 vents which you see in the fly. The tent is with 2 doors, one on each end and the bigger door is also with the mentioned vestibule.
The tent comes with several bonuses, and these include the footprint, the gear loft, and this together with a really fair price. The footprint allows for the fast fly variant. Yet another great feature is a series of wall pockets on each side of the tent, so you have plenty of options for organization.

---
13. Arctic Oven Tent 6 with vestibule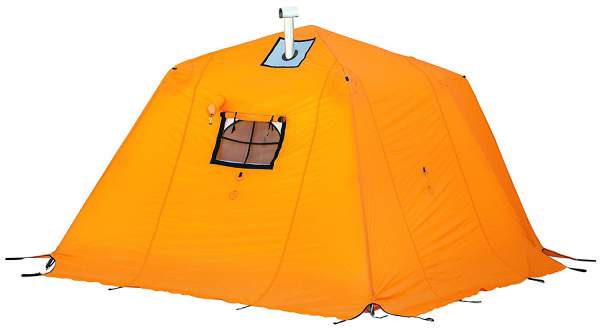 This tent is exceptional in many ways, so to start with its general shape first. You have a cabin style tent with very tall and steep walls. The structure looks freestanding, but obviously, to make it fully functional you have to stake it down.
This is also a winter tent in the best sense of this phrase, designed to work in any environment. A part of such a design is the stove pipe jack which you have on the roof. So the tent is built to be used with a wood stove.
Yet another feature that makes it completely different from other tents is the Vapex fabric used for the inner tent. This is a special breathable material, so the tent is without any mesh. But this material is what makes it a 4-season tent.
Back to the fly which is the main feature discussed in this text, this is again something exceptional. It is full size and you also have large flaps all around the perimeter and you can see them in the picture above, so you can press them by snow or by sand for extra protection against wind.
The tent offers 152 ft² (14.1 m²) of the inner area, plus 46 ft² (4.3 m²) in the vestibule. Note that this is one of the most expensive tents on the market, please see more in my full review.

---
Final thoughts
So this was my list of family camping tents with full rain fly, and as you realize you have a plethora of options to choose. This can be confusing indeed, so perhaps this may help a bit:
All of them are 3-season tents, and they all provide full protection for such a use. So these are reliable tools, and you can only check their features in detail to see what suits you best, and check the prices as well.
But some of them are even more than that, so you have the Big Agnes Flying Diamond 6 which is described as a 3-season-plus tent. Of course, one cannot avoid mentioning separately the Arctic Oven, which is a unique design for 4-seasons and with all features needed to use a stove in it; but it comes at a price.
If you need some privacy in the tent, note that some of them have dividers to create rooms. You have this feature in the Big Agnes Flying Diamond 6 and also in the Marmot Limestone 8 Tent.
The lightest option is the Eureka Midori 6 tent. This is also one of the most affordable and the most packable options.
So good luck in searching for your full fly tent. Please use the comment box below if you would want to add something or if you have some questions. I wish you a nice day.
---