Winnerwell Nomad View Large Tent Stove is stainless steel construction with two viewing windows and all the features you need with a well-designed wood burning tent stove. Keep reading.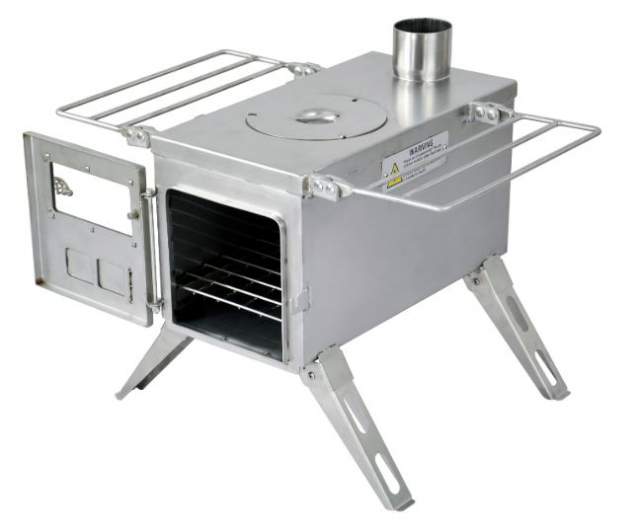 ---
Key features & benefits
Stainless steel.
Door window.
Side window.
Folding side racks.
Folding legs.
Venting options.
Portable.
---
Where to buy
This Winnerwell Nomad View Large Tent Stove is available on Amazon. They operate globally and I have seen it on several of their global stores. So please follow the link and check the shipping conditions for your place.
---
What this is about
This is the largest stove in the Nomad series which includes no less than 6 stoves in total, with the sizes small (S), medium (M), and large (L). They all come with a door window and in two different versions, without and with the side window.
So the word View in the name is probably there to describe the fact that you have the side window as well, and it is huge as you realize from the pictures. It has the door window as well, so imagine how pleasant the atmosphere in the tent is when you have the fire and can watch it and enjoy in a warm tent heated by such a stove.
The word Large becomes more clear only when you compare it with the smaller stoves in the series, so have a look at the Nomad Medium and its numbers and then compare.
This is a nicely designed stove and very stable with folding legs angled outwards, see the picture above. This is why the footprint 20 x 18 inches (51 x 46 cm) is considerably larger than the actual stove body which is 18.1 x 9.8 inches (46 x 25 cm). But note that the footprint is smaller than in their Woodlander stoves series, bear this in mind if your tent is small.
What is included
The picture below shows what you have with this stove, all the stainless steel elements that fit inside the stove's body for transportation. So you have:
The stove body with attached 2 folding racks, 4 folding legs, a removable hot plate, and the base for the pipe/chimney.
5 Pipe tubes.
Spark arrestor.
Ash scraper.
Fire grate.
Damper integrated in one of the tubes.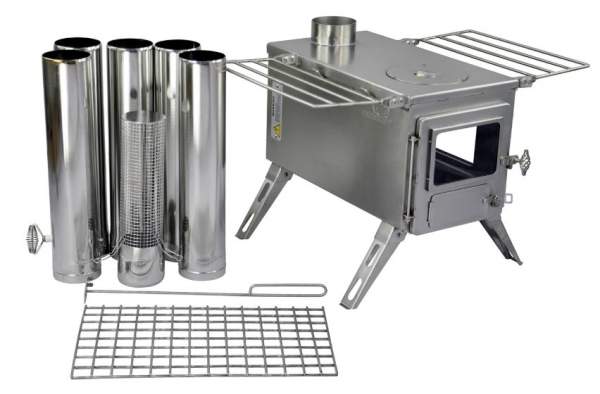 How is it built
All that you see here is a 304 stainless steel and the stove itself is a rectangular shape. So this structure will never rust or corrode. The cooktop is 1/8 inches (3.2 mm) and the rest of the body is 1/16 inches (1.6 mm) stainless steel. This is thicker than in the Shasta Vent stove which is not stainless steel.
This material will withstand higher temperatures than mild steel, this is why it can be relatively thin. Note also that after the first burn, it will take on a very nice patina color.
Below you see how it looks inside, and you realize that the grate is well above the bottom, so there is lots of space for the ash and you will always have plenty of air circulation. Observe the two openings for ventilation on the door below its glass window.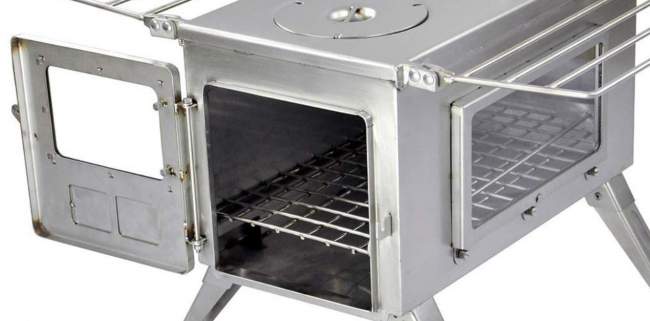 The picture below shows the door with the glass and with a nicely designed coil on the handle. The separate vent door is below. Note that this vent door has 3 separate positions so you can regulate the airflow.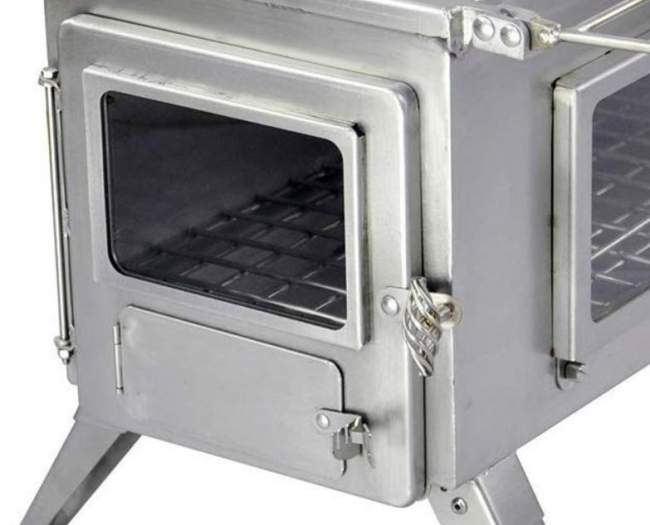 Some tips for using this Nomad View Stove 1G L-sized Cook Camping Stove
To avoid smoke, start the fire with a small tinder and try to create a hotbed of coals to initiate a strong draw of air. Never start a fire using flammable accelerates.
When you open the door, do this slowly to prevent smoke spillage.
Use the stove outside for the first several burns, to practice and to let it get its nice patina.
Avoid overloading the stove with fuel, this will save the stove from damage.
Never leave a wood stove burning unattended.
Make sure that you supervise kids and pets when operating the wood stove.
Burn clean, dry, seasoned firewood. Green wood can result in carbon monoxide.
Clean the flue every 20 hours of burn time to avoid excessive creosote build-up. They have a Pipe Brush for cleaning the flue.
---
Who is it for
Capacity-wise, this Nomad View Large Stove is indeed large when you compare it with the Nomad Medium (you will see them side by side below). So you have 1500 cubic inches (24.6 liters) here as compared to only 800 cubic inches (13.1 liters) in the Medium version.
This is more than in the Camp Chef Alpine stove where you have around 1400 cubic inches. But note that the pipe diameter in the Nomad View Large Stove is considerably smaller. It is 3.5 inches (8.9 cm) as compared to 5 inches (12.7 cm) in the Camp Chef Alpine stove. So my guess is that this Nomad View Large should be good enough for a tent in the size range 10 – 20 m².
Weight-wise, with its 34.1 lb (15.5 kg) it is a bit heavy but still portable. Note also that its stove body is only (L x W x H) 18.1 x 9.8 x 9.8 inches (46 x 25 x 25 cm), and all the elements fit inside, so it will not take much space in the car.
As for the users, the stove is perfect for heating and cooking in large family camping tents, it is suitable for hunters and for general outdoor use. Note that they write it is not intended for residential use.
---
Specifications
Weight: 34.1 lb (15.5 kg).
Stove body dimensions (L x W x H): 18.1 x 9.8 x 9.8 in (46 x 25 x 25 cm).
Assembly dimension (L x W x H): 19.7 x 25.6 x 107.9 in (50 x 65 x 274 cm).
Pipe diameter: 3.5 in (8.9 cm).
Pipe segments length (each): 16.9 in (43 cm).
Footprint dimension: 20 x 18 in (51 x 46 cm).
Firebox volume: 1500 cubic inches (24.6 liters).
---
Winnerwell Nomad View Large vs Nomad Medium vs Nomad Woodlander Medium
I have decided to show you this stove side by side with two others from the same brand, all top-notch stoves with great features. As you see there is a big difference in weight and in the firebox size, note also that the pipe diameter is very different.
---
Final thoughts, rating, pros & cons
In conclusion, this Winnerwell Nomad View Large Tent Stove is indeed a feature-rich and top-quality product, and if you can afford it, you will have a great camping stove that will serve you for many years. I have included it in my list with best wood burning tent stoves. Fully recommended.
With such a stove you will need an appropriate tent, so check my separate list of tents with a pipe jack. You might want to know that they have many accessory elements for their stoves, you can see them here.
This is a high-end item, but you will not find many wood-burning tents stoves that can match its quality and features. See how I rate this camping stove against my standard set of criteria used for all the stoves here in the site, so you can easily compare:
You might want also to check this incredibly well-built Caminus Russian-Bear Camping Stove with its two glass walls. Note that this is not a sponsored text, and I am not paid by the brand. Please use the comment box below in case of questions or comments. Have a nice day.