---
Need a tent for winter camping or for all seasons in general? If so, check this list with best tents with a stove jack, impressive canvas and synthetic structures built ready for wood-burning stoves.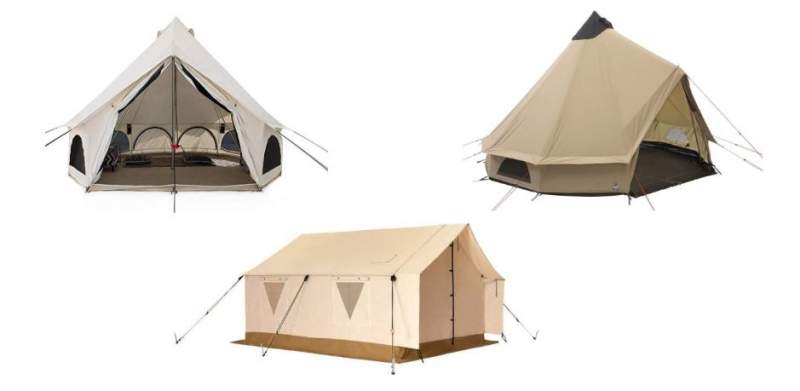 ---
What is in the list
Regarding the materials: You will see that the list includes both canvas and synthetic tents. Canvas tents are normally suitable for all seasons. This is because the canvas is breathable and it creates a cool atmosphere in a warm-weather climate. It also provides a bit of insulation and this is what makes it suitable for a cooler environment. But these tents come ready for wood burning stoves so you can use them in extreme winter conditions as well.
Regarding the style: The list includes cabin tents, bell-shaped tents, and dome-style tents.
Regarding the frame: You will see instant tents, framed tents, and single-pole tents.
Regarding the stove jack design: You have tents with one or two stove pipe jacks. Some have them on the roof and some also on the side walls. The latter can be used with this VidaLibre Camping Stove.
---
My list of best winter tents with stove jack
Here they are ordered alphabetically so the numbers are not for ranking:
---
1. Barebones Outfitter Tent
Here you have an example of a framed tent with a frame that sets up completely separately. It is also fully freestanding and very strong, designed to withstand a vertical pressure of up to 1000 lb (454 kg) like in the case of the snow on the roof. It is good enough for the winds of up to 90 mph.
But this tent is here because of its flapjack, so it is ready for a wood stove, and obviously it is very suitable for 4-season use.
The tent is very tall with 108 inches (274 cm) peak height so I have included it in my list of very tall tents. The side walls are completely vertical, so this is a cabin tent as you realize from the picture. It comes with 8 nice windows and 2 doors, all double-layer structures with mesh and panels. The official capacity is 8 people but the floor area is not so impressive for such a number, only 126 ft² (11.7 m²).
Note that this is a heavy tent, the weight is 218 lb (99 kg). It is also very very expensive, please check the link below for the updated price.

---
2. DANCHEL Cotton Bell Tent with Two Stove Jacket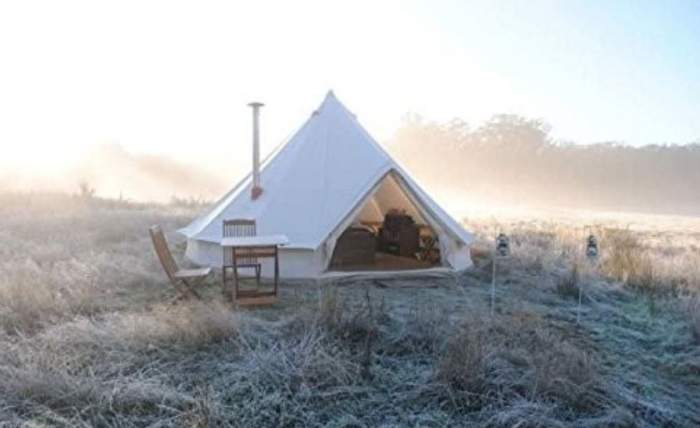 As you realize from the title, this tent comes with 2 stove jacks, one on the roof as the picture shows, and one on the side wall. So I have included it in my list of cold weather tents for camping. Being a canvas tent, it is suitable for all seasons.
This is a bell-shaped structure with a 5-meter diameter and it offers 216 ft² (20 m²) of the area, more than enough for the declared capacity of 8 people.
The structure is supported by the central pole and the setup is easy, one person can do it without problems. The floor is a thick synthetic material so you are safe from groundwater. There is a zipper that goes all the way around and you can unzip the floor and use the tent as a canopy for family events in the garden.
There are 4 small windows on the vertical wall under the skirt, and you have mesh here and panels. There are 4 vents high on the roof so ventilation should be good in any conditions.

---
3. Guide Gear 10 x 12 Canvas Wall Tent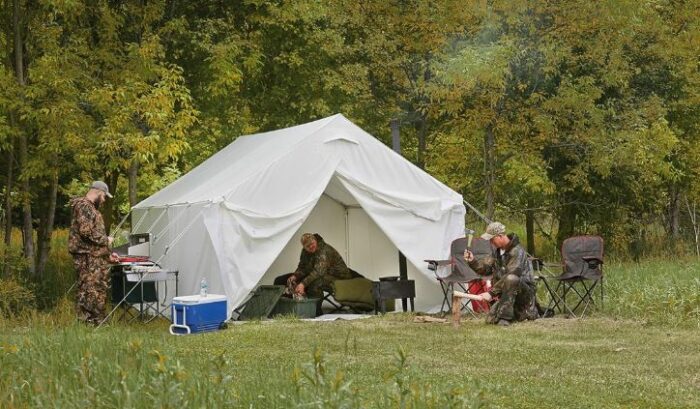 This Guide Gear 10 x 12 Canvas Wall Tent is a very tall with its 8'3″ (251 cm) peak height. I have included it also in my list of very tall camping tents.
It is built from a breathable cotton and in the cabin-style as you realize from the picture. This is a floorless structure for all seasons, the floor can be ordered separately, and it comes with an integrated pipe jack, this is why it is here in the list.
Note that they sell the frame separately, and this is an incredibly thick aluminum structure. The tent's inner area is 120 ft² (11.2 m²). Please follow the link for more.

---
4. Playdo 4-Season Waterproof Cotton Canvas Large Family Camp Bell Tent
This tent is built in several sizes, so you have 3, 4, 5, and 6 meters in diameter. The largest of them can easily accommodate 8 – 10 people. Even the smaller version with 5 m diameter is big enough for 3 queen-size beds, and it can accommodate 6 people.
The picture above shows why this tent is in the list – it comes with an integrated stove pipe jack which you can see in the picture.
This is a cotton fabric with a special waterproof treatment, very high quality and durable. They claim it is strong enough to withstand winds, heavy rain, and snow. The cotton alone is good enough to create a cool atmosphere if you use this tent in a warmer environment. It also insulates far better than any synthetic material (more about this in my separate text), so it alone is good enough for a cold environment.
This is a fully waterproof tent due to special waterproof treatment and the seams are taped. The floor is PVC waterproof material, so all is secured as it should be.

---
5. Robens Klondike Tent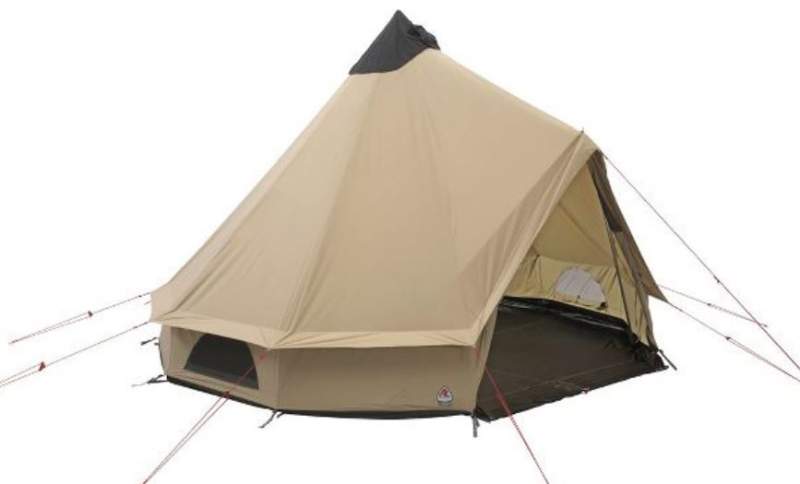 This Robens Klondike comes with an integrated stovepipe port on the top. This is a bell-shaped tent and it is not freestanding. You have a poly-cotton fabric and they did not use any coating so the tent is breathable. The declared capacity is 6 people and it offers 127 ft² (11.8 m²) of the floor area.
The tent offers a standing height in its bigger part. It has a floor zipper that you can unzip and roll the floor partly to the side when you put a stove inside.
The floor creates a bathtub structure and you can unzip it and use the tent as a canopy only. There are 3 floor vents that are so large that they look like windows and they are with mesh and canvas. But there are also 2 top vents with an integrated pulley system so you can open and close them from inside.

You will want to know that they have a bigger 10-person tent built in the same style, the Robens Klondike Grande Tent.
---
6. Russian Bear Winter Tent With Stove Included
Here you have a dome-style tent, and this is also an instant setup type of a particular type. It works like this: you unfold the tent and then enter it and spread it from inside just like an umbrella. In fact, you have a pole in the center that has the same purpose as the pole in an umbrella, so that you slide the structure with roof poles along it.
This unusual design is for extreme weather conditions, and the tent comes with a wood stove included. You have a pipe jack on the roof with a heat-resistant layer around, to pass the pipe.
When the tent is open and is standing on its legs, you simply unscrew that central pole and put it aside until you take the tent down, and this is then done in seconds. See how it is done in this video – it is in Russian, it doesn't matter just watch and enjoy, one girl is setting the tent up on her own:
There are windows on the tent and they all are with 4 layers; so you have a mesh and a panel in the inner tent, and again a translucent solid layer and a panel on the external waterproof shell. The door is yet another invention, it is a hinged door of a particular type, but you do not have to use it, you can use the normal zippered panel instead.
The tent is the round shape and you have 11.4 ft (3.5 m) diameter, which gives around 102 ft² (9.6 m²) of the floor area.

They have yet another smaller tent, the Russian-Bear Hot Tent with Stove Jack for up to 5 people which you can order without and with the stove.
---
7. Stout Bell Tent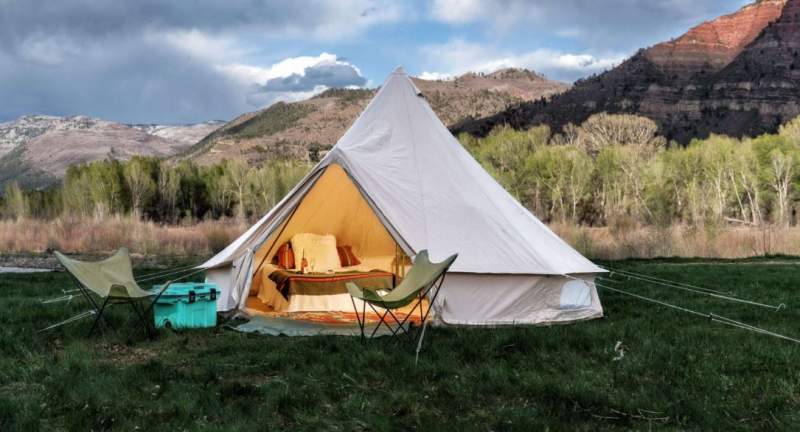 This is a pure cotton canvas tent and they build it in two sizes with 4 and 5 meters diameter. There are also two versions, Pro and Ultimate, with some subvariants as well. It is here because it is ready for using a wood-burning stove inside. So you have a stove jack which allows for 3-6 inches stove pipes. When not in use, it is covered with an 8 x 8 inches canvas cover with Velcro.
The tent is a single-pole construction with 4 windows and 1 door, fully waterproof and breathable. There are also two ports for cable. The groundsheet is zipped-in, and one of the mentioned Pro variants is with a mesh that runs around the perimeter.
The declared capacity is 6 – 8 people and for this, you have an area of 211 ft² (19.6 m²). The tent is heavy with its 94 lb (43 kg), but this nothing unusual for a cotton canvas structure of this type.

---
8. White Duck Outdoors Alpha Wall Tent 12 x 14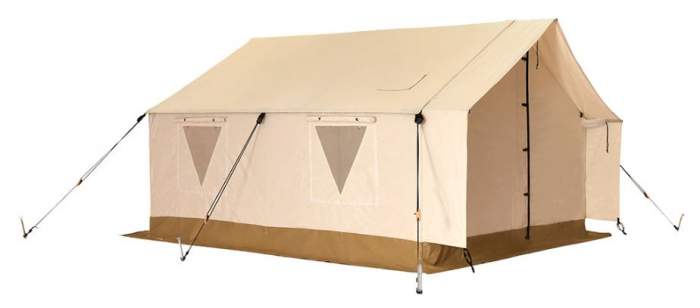 Here you have a cabin-style framed tent. This means that the frame is set up completely separately and then you add the tent itself. The frame is a very strong aluminum construction. But the tent is here in the list because of its heat-resistant silicon-coated Stove Jack opening on the roof, see the picture.
This is a canvas tent and only the floor is synthetic. The tent is a single-room and single-layer structure, and its floor is removable. So this is a true 4-season tool and it will perform equally good in warm and in cold weather situations. The walls are fully breathable.
Note also that the tent is heavy and bulky when packed. So the weight is 172 lb (78 kg) and it comes in two separate bags, one is 45 x 14 x 14 inches (114 x 36 x 36 cm) and the other is 49 x 14 x 10 inches (124 x 36 x 25 cm).

---
9. White Duck Outdoors Avalon Canvas Bell Tent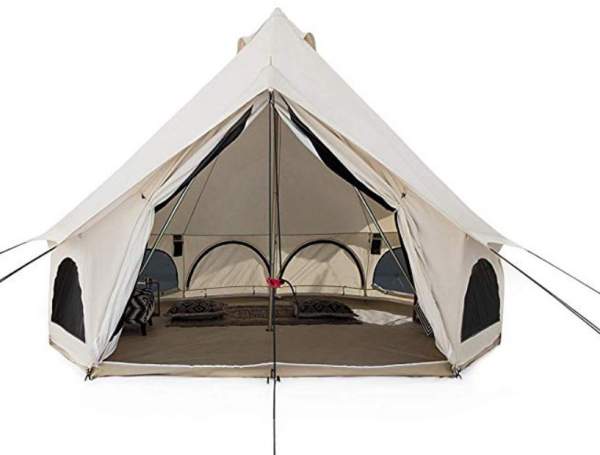 This is a very luxurious bell-shaped tent for family camping and glamping in all seasons. It is equipped with a flapjack for a stovepipe so it is ready for a wood stove and you can use it in a very cold environment. They have built it completely breathable so it is perfect also for a warm environment, note that it has 4 vents as well.
The floor is a vinyl material and it is removable, there is a zipper running around. All the windows are 3-layer structures so you have mesh, PVC panels, and canvas panels.
The structure is quite heavy and bulky, it weighs 95 lb (43.1 kg) and the packed size is 45 x 15 x 13 inches (114 x 38 x 33 cm). The area is around 201 ft² (18.7 m²) and the declared capacity is 8 people, so this is more than enough space for such a number of users. I have included it in my list of extra large family camping tents.

---
10. WHITEDUCK Regatta Canvas Bell Tent Premium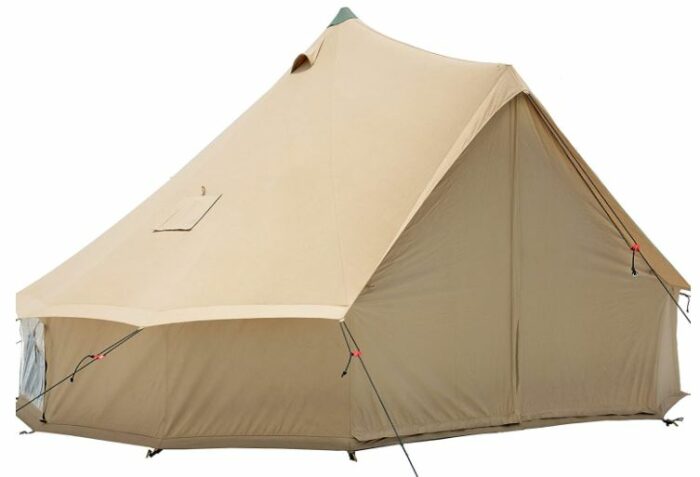 This WHITEDUCK Regatta Canvas Bell Tent Premium is a breathable and waterproof cotton canvas tent suitable for all seasons. It comes with a sewn-in floor, an integrated pipe jack visible in the picture, and 3 windows.
The tent is also nicely ventilated with 4 vents. You have an E-cable port included. It weighs 66 lb (30 kg) and the diameter is 13 ft (400 cm). Officially, this is a 6-person tent and for this you have an area of 132.7 ft² (12.6 m²).

---
So how to choose one of these camping tents with stove jacks
Ease of use
If you plan to change your camping spot frequently, then it is best to go for some of the instant or bell-shaped tents. The latter are single-pole constructions and one person can set them up easily. So framed-tents should not be your first option, but there is more to that, see the next item.
Free-standing or not
In the case of a frozen ground, the mentioned bell-shaped tents are not the best option because they must be staked properly. Framed tents are always freestanding and this should be your first option.
Weight & packed size
Most of the tents here are very heavy and bulky, but there are differences so it makes sense checking each of them in detail. But these are car camping tents so you are not supposed to carry them long distances.
Ventilation
Canvas tents are normally breathable, and you have seen also that many of them come with extra floor and roof vents. So these are usually the best-ventilated options. This may be crucial when you have a wood or coal-burning in the tent.
---
Final thoughts & Editor's Choice tent
So this was my list with best tents with a stove jack, it will be updated whenever I find a tent suitable for including it to the list. This is why you might want to bookmark this text and check from time to time.
Obviously, these tents are ready to use with wood burning tent stoves, and if you need one of such stoves, please check my separate list with some great models.
Editor's Choice
Thank you for reading. Check also our separate text on how to heat a tent. Please use the comment box below in case of questions or comments. I wish you a nice day.
---