The KAZOO Family Camping Tent Large Waterproof Tipi Tents 8 Person is a double-layer fully floored and nicely ventilated shelter with a huge waterproof rating for full protection from the elements.
---
Key features & benefits
2 Layer tipi tent.
Awning configuration.
Ventilated.
2 Doors.
Huge waterproof rating.
Reasonable price.
---
What this Kazoo 8 Person Tipi Titan tent is about
Here you have a tent with the word Tipi in the name, so it is in the shape of classic teepee tents. The name used in the title is more or less what the manufacturer suggests, so it is awkward but I have to use it.
But this is a modern two-layer tent as you realize from the pictures below. Not so many tents of this type are with two layers, though there are some, you can see something similar in this GEERTOP 4-6 Person Teepee Tent.
Such construction allows for versatility because you can use it in the setups shown in the pictures:
As a screen house that gives full protection from insects, both flying and crawling. Note that this inner tent is fully floored.
As a sunshade without the inner tent, or as a privacy shelter at the beach or in the camp.

The top picture above also shows that it offers an awning configuration with a pair of included poles. This extends the useful space because you can sit in the shade in front of the tent.
In view of its style, this is a tall tent. So you have a peak height of 120 inches (305 cm) as the picture below shows. But note that the roof is angled so the volume is far less great.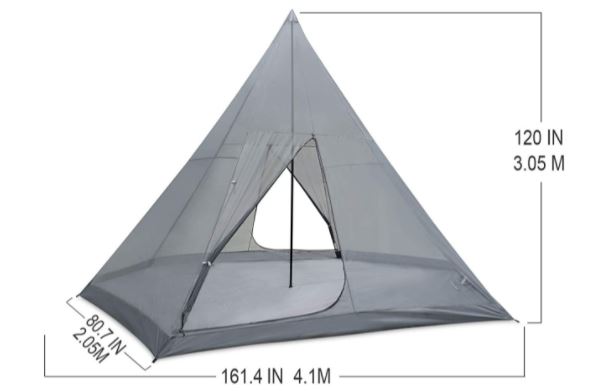 Note also that you have two doors here, you can see them in the picture above. The base is hexagonal and it is shown below. Observe that each of its 8 sides is around 2 meters long.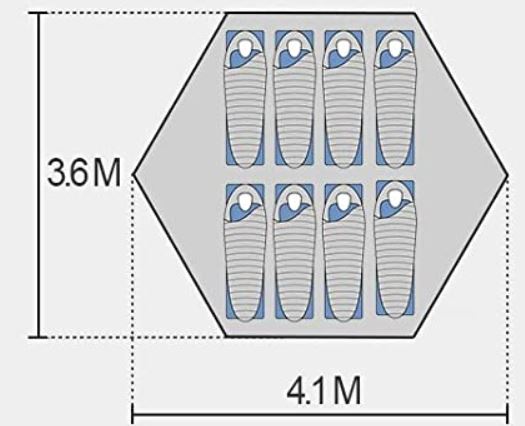 Materials
The tent is collapsible and all its elements are shown below. So you have a steel central pole that is 25 mm in diameter and two awning poles. The tent is not freestanding of course, so you have to stake it down properly and you have 24 simple steel stakes included and the guylines.

The fly is a very durable 150D Oxford polyester with an impressive official waterproof rating of 3000 mm. The inner tent canopy is all mesh. The floor is sewn-in, and this is the same material as the fly.
Ventilation
They have done everything properly here, you have a huge mesh canopy for vapor to escape, and the fly has 4 vents on the top. The fly allows for air inflow from the ground so you should have enough vertical circulation to fight condensation.
---
Who is this Kazoo 8 Person Tipi tent for
Regarding the capacity, obviously, this shelter is officially for 8 people. You have seen the floor plan above and it shows how they think the floor should be used. Below you can see a bit more.
The area is not given but it is around 117 ft² (10.9 m²), so in the case of 8 people this would give 14.6 ft² (1.36 m²) per person. This is not much but it is indeed doable unless you have your camping gear. So as usual, it is best to downgrade this by half or so.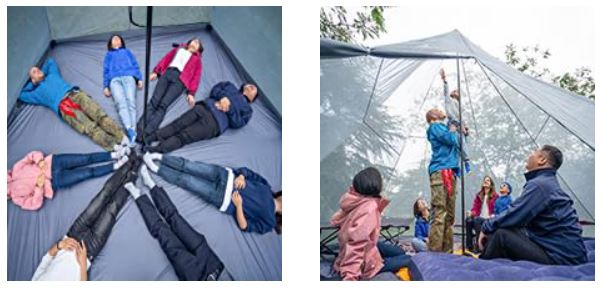 Regarding seasons & climate, they describe this tipi tent as a 3-season shelter, and this is so. The official waterproof rating is huge and the tent's floor is fully sealed.
But I would rather use it in a warmer part of the year. As mentioned, there is not much one could object to its ventilation so it will work well. With so much mesh on the canopy, you might feel cold in a cold environment.
Regarding the weight, it is moderate with its 23 lb (10.4 kg), and the same holds for its packed size which is such that you can transport it even on a bicycle. But in general, this is a car camping tent.
Regarding the price, I would describe it as very reasonable for such a nicely built shelter.

---
Specifications
Official capacity: 8 people.
Weight: 23 lb (10.4 kg).
Dimensions: 161.4 x 141.7 in (410 x 360 cm).
Area: 117 ft² (10.9 m²).
Area per person: 14.6 ft² (1.36 m²).
Peak height: 120 in (305 cm).
Packed size: 25 x 9.8 x 9.8 in (64 x 25 x 25 cm).
2-Year warranty.
---
Final thoughts, rating, pros & cons
So you have seen it, this KAZOO Family Camping Tent Large Waterproof Tipi Tents 8 Person Titan with its complicated and awkward name is in fact easy to use, light, and compact. It offers full protection from elements and from insects. Fully recommended. I have included this tent in my list of best teepee tents for camping.
Please see how this shelter stands against my standard set of criteria, so you can easily compare it with similar tents:
For more options please check under the category Teepee & Bell tents. Let me know if you have questions, there is a comment box below. Stay informed and subscribe to my weekly newsletter, the subscription form is below. Thank you for reading and have a nice day.