This GEERTOP 4-6 Person Teepee Tent is a nicely built two-wall tent with a polycotton fabric, a single-pole, a fully sealed floor, and a footprint included. Keep reading.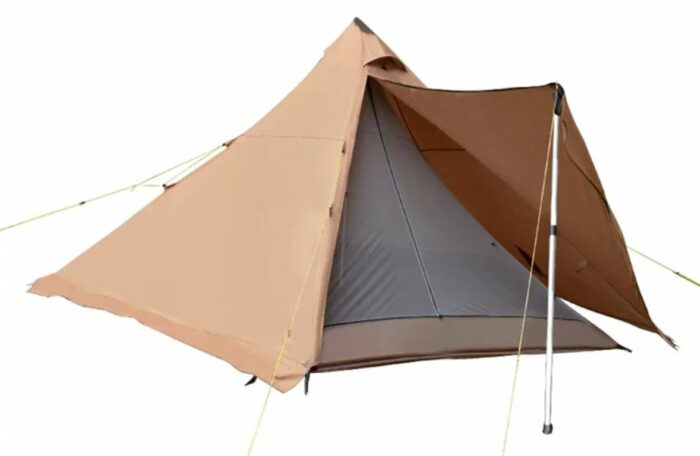 ---
Key features & benefits
Polycotton fabric.
Single-pole design.
Fully double-layer construction.
Sewn-in floor.
Footprint included.
Fast-fly setup.
---
What this is about
Here you have a modern and versatile teepee (tipi) tent built as a single-pole structure. This means it is not freestanding but it is very easy to set up and one person can do this in a few minutes.
The tent is also a double-layer type, so you have the inner tent shown below without the fly, plus a full-coverage fly.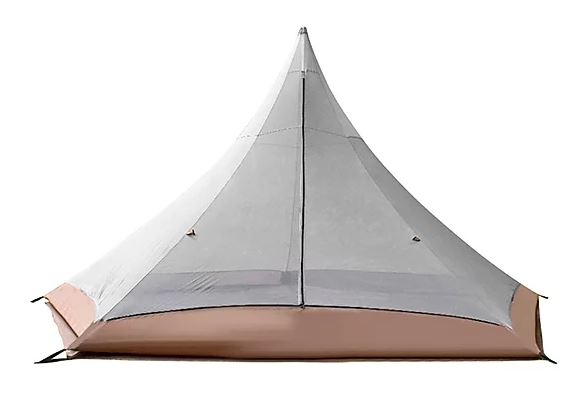 The tent is a single-room construction and also with a single door with an inverted T-shaped zipper on the inner tent. If you plan to camp in a dry area, you can use the inner tent with the poles (as shown above) and have a lightweight setup with a full protection from insects and snakes.
Fast-fly setup
You can use the fly with the main pole but without the inner tent, and create a shade. This is convenient for picnics and similar family events. This is also a lightweight option to carry this tent on a trail.
But the tent comes with a separate footprint so you can add it for more comfort, this is shown in the picture: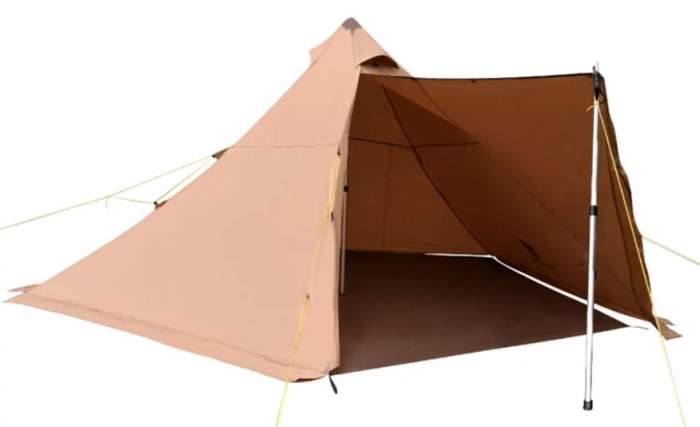 Both setups, without and with the footprint can be used in a variety of situations, so this is indeed a versatile tent.

Materials
So the fabric is yet another great feature here. This is a blend of polyester and cotton used for the fly fabric (65% polyester and 35% cotton). It is water repellent and with seam tape processing. They write about 2000 mm PU coating used here, so I am not sure why they also claim it is a breathable material.
In any case, I have added it to my list of best canvas tents although strictly speaking this is not pure cotton, but it has some great features of both materials.
The inner tent material is a polyester high-density fine mesh, while the floor material is a durable 150D polyester with a 1500 mm PU coating. The same material is used for the added footprint. Note that the floor is a bathtub design.
The pole is telescopic and it comes with its own carry pouch, see the picture below. They include a full set of steel stakes and guylines, you will need it with such a tent that must be staked properly.
Ventilation
You have a special fabric here, it is breathable and the inner tent is all mesh as you realize from the pictures. But they have added roof vents so ventilation should never be an issue and you should not have problems with condensation.
---
Who is it for
Space: The declared capacity is up to 6 people, and the picture below shows its most important dimensions. As you see this is a pentagon area and it provides 107 ft² (9.9 m²) of the floored area. This in the case of 6 users implies 17.8 ft² (1.65 m²) per person. So this should be more than enough for such a number of people.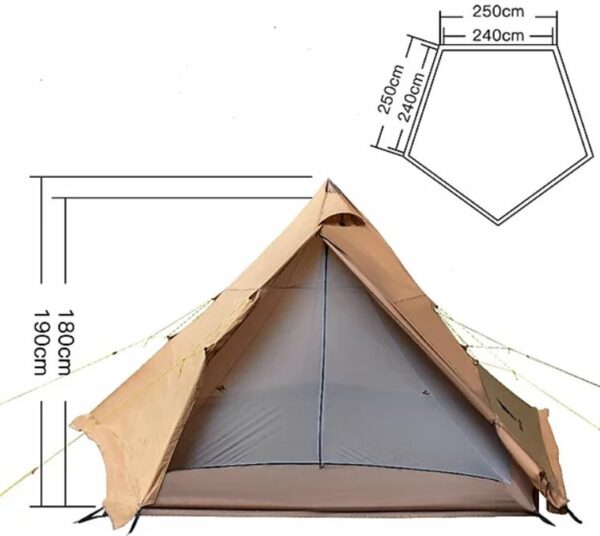 Seasons & climate: This is a tent that can be used in almost all seasons. In the case of summer camping, you have a polycotton fabric that naturally creates a cooler atmosphere than in any synthetic material tent. The vents are in place, so you will have a pleasant shelter.
In the case of a cooler environment, with such a fabric you have a bit of insulation, it is not much but it is still better than a pure synthetic. The waterproof rating is good, and you also have an extra floor layer. So if you are able to stake it down properly it will work anywhere.
Weight & packed size: With the packed weight of 14.2 lb (6.45 kg), this is a really lightweight tent. As mentioned above, you can also use it in several specific variants that are all lighter than the full package.
But the packed size of 34.6 x 8.3 x 8.3 inches (88 x 21 x 21 cm) is not particularly impressive, it is a bit too long to be transported on a bicycle or on a motorbike. See below the tent packed: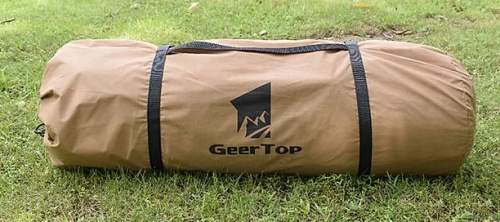 ---
Specifications
Declared capacity: 4-6 people.
Package weight : 14.2 lb (6.45 kg).
Dimensions: 157 x 150 in (4 x 3.8 m).
Area: 107 ft² (9.9 m²).
Area per person (in the case of 6 users): 17.8 ft² (1.65 m²).
Packed size: 34.6 x 8.3 x 8.3 in (88 x 21 x 21 cm).
Height: 70.9 in (180 cm).
---
Final thoughts, rating, pros & cons
So you have seen it, this GEERTOP 4-6 Person Teepee Tent is nicely built and versatile. One person can easily set it up. The materials are very good and the price is really good for such a tent. Fully recommended. I have included it in my list of best teepee tents.
Please see below how I rate this tent against my standard set of criteria so you can easily compare it with the other tents built in this style:
If you need more options of this type, please check under the category Teepee & bell tents here in the site. Check this synthetic Outsunny Large 6-Person Metal Teepee Camping Tent if you would rather have something lighter.
For any other type just look around, this site is all about family camping tents. Check this Kelty Tallboy 6 tent from their new series if you want something dome-shaped.
We add new texts on a regular basis, so bookmark this site and check occasionally. Note, there is a subscription form below for our weekly newsletter, so subscribe and stay informed. Have a nice day.