---
The Marmot Torreya 6 Person Camping Tent is a very tall 3-season-plus outdoor shelter with quality aluminum poles, 2 doors & 2 vestibules, and much more.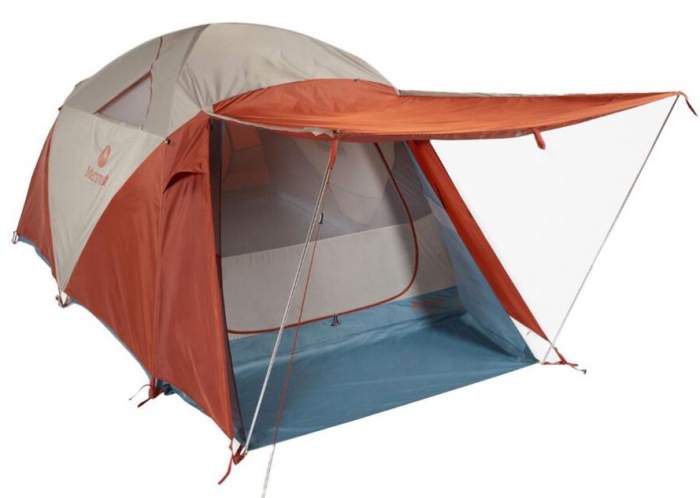 ---
Key features & benefits
2 Doors.
2 Vestibules.
Awning configuration.
Strong frame.
Aluminum poles.
Very tall tent.
Ventilated.
Backed by Marmot's Lifetime Warranty.
---
What this is about
This Marmot Torreya 6P tent is from their new series of two tents that also includes a 4-person tent. It is on Marmot's site under the name 32510-5815-Torreya 6P-PIC/CSB.
So this is a typical dome-style tent and its structure is best understood when you see it without the fly. The picture below shows how this looks. As you realize, this is a very strong configuration with 5 intersections of poles.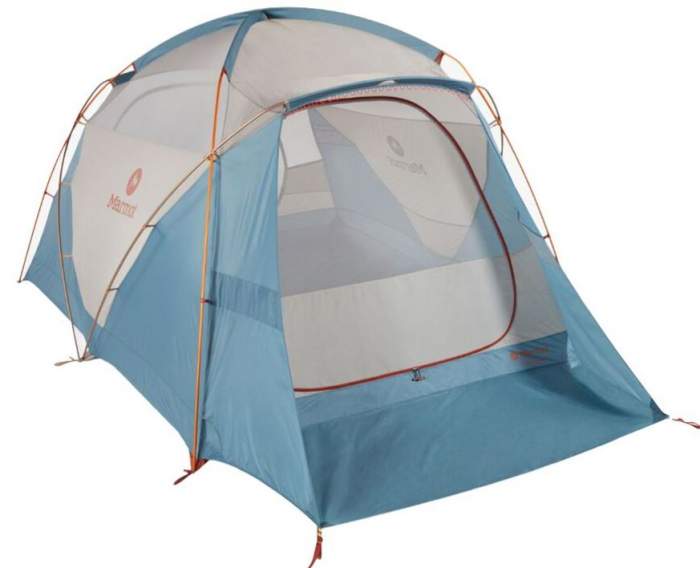 Yet another interesting detail visible above is its integrated floor in the vestibule, so this area is almost like a small room. here you can keep some of your gear and it will be protected from the rain and from the ground mud.
There are 2 doors here and two asymmetric vestibules created by its full-coverage fly. Because of this, I have included it in my list of tents with a full rain fly. Note that the tent is almost fully freestanding, but the entry area in the picture above should be staked, and the same holds for the vestibules. 
The top picture above shows the awning configuration with the help of an extra pair of included poles. But when the sky is clear, and if you do not need the vestibule, you can roll up the flap and fix it above the door as shown in the picture below. Otherwise, the awning provides a shed for sitting and for cooking.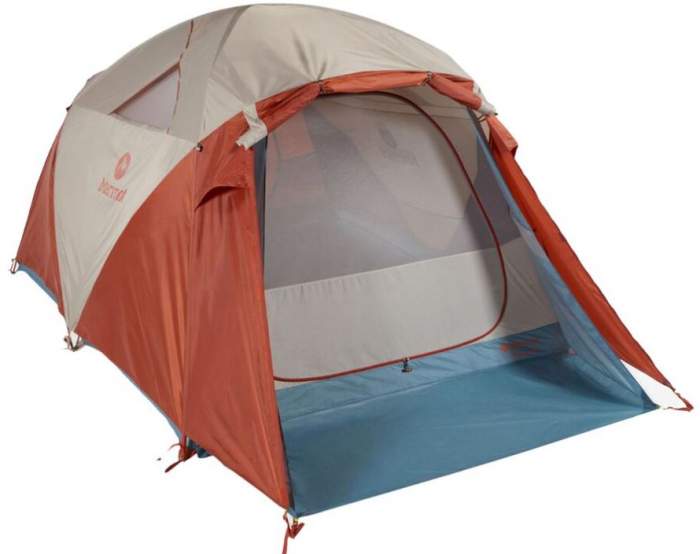 Observe that this is a very tall tent, in particular for a dome-type, you have a peak height of 80 inches (203 cm). The picture below shows the height and some other numbers. The floor is not really rectangular, just to know, the shape is a bit irregular this is why you see two numbers for the width, 106/96 inches (269/244 cm). This is the widest and the narrowest width of the tent.

Below you have a view inside, the back door is a bit visible.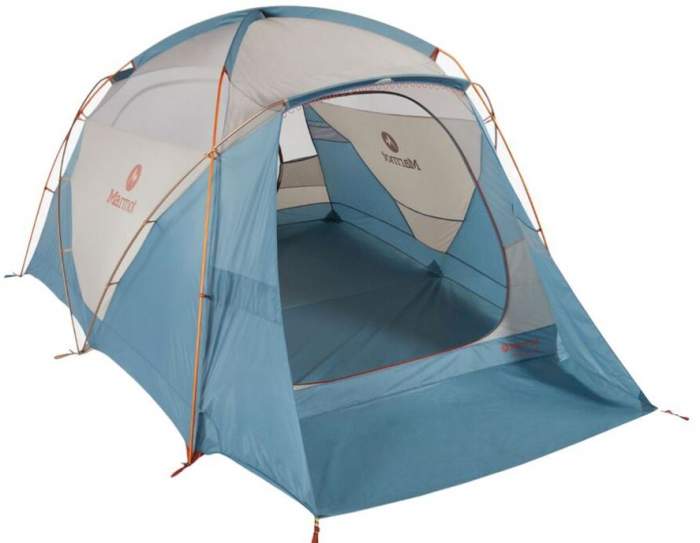 Materials
You have some really good stuff here, they show attention to detail in the construction of this tent.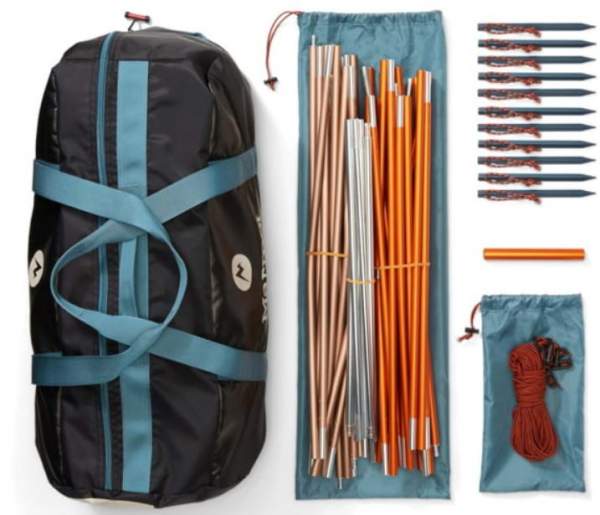 The poles & stakes: The tent is supported by 4 DAC extruded aluminum poles, so this is among the best you can have. The diameter is 14.5 and 10 mm. The picture below shows all the elements in the package. you have a full set of stakes and guylines included, see them in the picture above.
The fabric: The walls are a 68D polyester taffeta with an 1800 mm waterproof rating, and a 40D polyester no-see-um mesh. The fly is also 68D polyester taffeta with a 1500 mm rating. On the floor, you have a 70D polyester taffeta with a 2000 mm rating. All seams are taped. Note that the floor is a catenary cut.
Everything is color-coded for an easy setup, see the buckles and the fly attachment to the tent's base:
Other details
Quite unique is a long set of loops above the door, see them in the picture below. Here you can hang some stuff. There are also several sets of storage pockets, see them below.
The zipper pulls shown below are one particularly beautiful detail, see how this looks, I do not remember seeing something like this anywhere: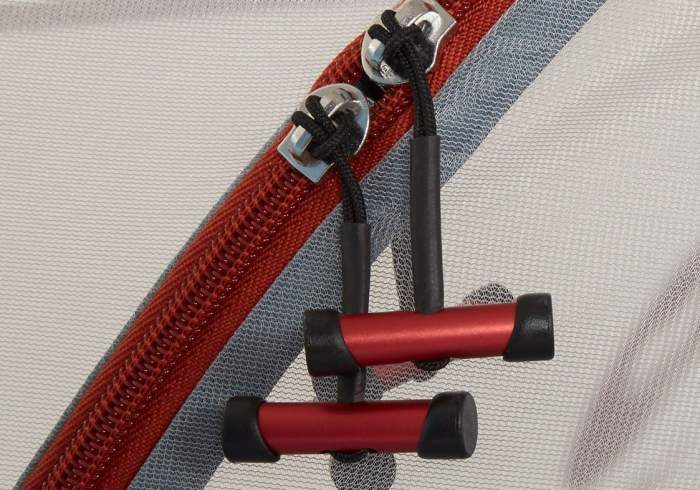 There is also a lampshade pocket, and a carry bag is included (it will be shown below). There is also a pair of peculiar fly windows, one is shown below: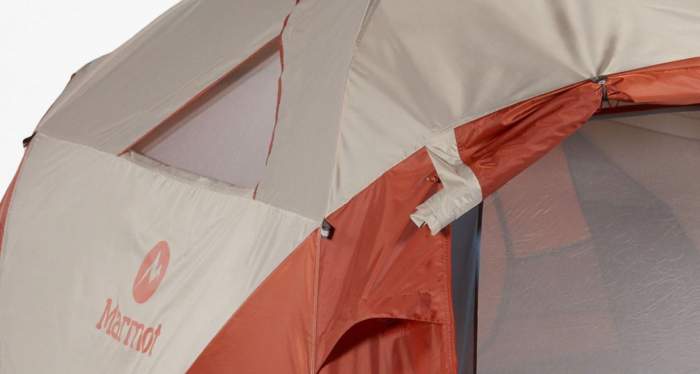 Ventilation
The canopy has large mesh areas and the same is on the upper parts of the doors. They are deep under the vestibules so you can always have airflow through the tent.
There are also vents on the sides of the vestibule, you can see one in the picture above. But they have also added some unusual windows on the fly. One of them you have already seen above.
---
Who is the Marmot Torreya 6 Person Tent for
Regarding the capacity, it is officially for 6 people, and for this, you have the inner floored area of 98 ft² (9.1 m²). This is not much really, per person this means 16.3 ft² (1.5 m²).
But the two vestibules add 25 + 12 ft² (1.9 + 1.1 m²) so the total protected area is 135 ft² (12.1 m²) and this changes the overall impression a lot. Think also about the mentioned awning that extends the covered space even further.
Regarding the weight, this is not a tent for the trail, although they give the minimum (trail) weight, you will see it below. The packed weight is 22 lb 4 oz (10.09 kg).
Now, the tent in its carry bag shown in the picture measures (L x D) 30 x 14.5 inches (75 x 36 cm) so this is a bit bulky. I know that it can be transported on a bicycle, but in general, this is a car camping tent.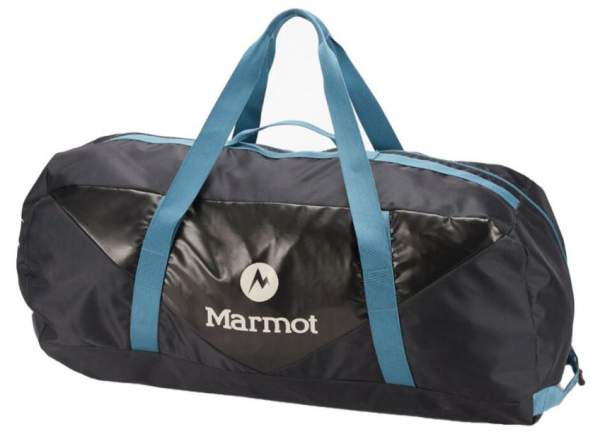 Regarding seasons and climate, this is a true 3-season tent and perhaps even a bit more than this. The frame is very strong and you have a full coverage fly with a good waterproof rating. So you are fully protected in such a shelter. 
As mentioned previously, the tent is very tall but this is an aerodynamic and very stable shape, so it will perform well even in windy places.
---
Specifications
Official capacity: 6 people.
Packed weight: 22 lb 4 oz (10.09 kg).
Minimum weight: 20 lb 15.5 oz (9.51 kg).
Dimensions: 132.5 x 106/96 in (337 x 269/244 cm).
Floored area: 98 ft² (9.1 m²).
Floored area per person: 16.3 ft² (1.5 m²).
Vestibules area: 25 + 12 ft² (1.9 + 1.1 m²).
Total protected area: 135 ft² (12.1 m²).
Total protected area per person: 22.5 ft² (2 m²).
Packed size (L x D): 30 x 14.5 in (75 x 36 cm).
Peak height: 80 in (203 cm).
Warranty: Marmot's Lifetime Warranty.
---
Final thoughts, rating, pros & cons
So this Marmot Torreya 6 Person Camping Tent is an excellent construction with quality materials, strong and stable with its self-supporting poles that create so many cross-points. The tent is very tall and pleasant, and it offers full protection in any weather conditions. The craftsmanship here is at the highest level. Fully recommended.
My positive opinion about the tent does not imply that everything is perfect, I use the same criteria for rating so see how it stands:
Check under the group Dome Tents if you want to see more options. The Sierra Designs Tabernash 6 Person Tent is also built as a dome and with a full fly. See also this affordable Coleman Skydome 6 Tent with full fly and vestibule.
Let me know if you have any questions, there is a comment box below. Subscribe to my weekly newsletter and stay informed, there is a subscription form below. Have a nice day.