---
Mobihome 6-Person Tent Family Camping Quick Setup is an extended dome type semi-instant lightweight single room tent with fiberglass poles and an incredible price.

---
Key features & benefits
Semi-instant setup.
Incredible price.
3 + 1 Windows.
One door.
Amazon's Choice product.
---
Where to buy
This tent is available on Amazon. They operate globally and I have seen it on some of its global stores, so please follow the link and check shipping conditions for your location.
This is also an Amazon's Choice product, and this implies recommended as highly rated, well-priced, and available to ship immediately.
---
What type of tent is this
Here you have an extended dome type tent with a partial coverage fly. They describe it as an instant setup tent, but strictly speaking this is not completely so. Only the central dome part is with a preattached frame that allows you to raise it in one simple move. They claim this is a patented design.
But there are side poles that support the extensions, and you have to add them separately. The picture below shows the tent from the front and without the fly so you can see the frame.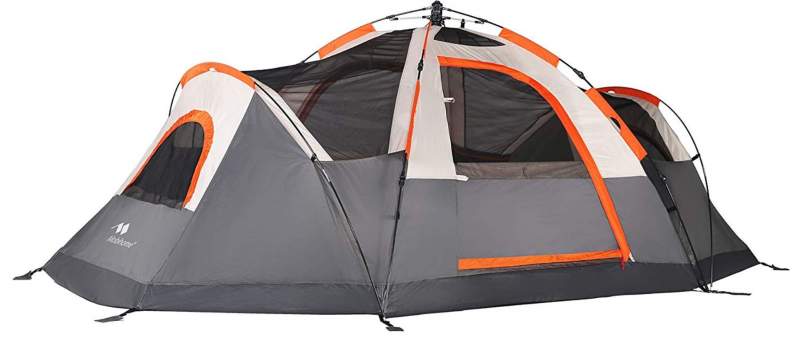 In addition, there is a ridge pole that you attach underneath the fly before adding it to the tent. The picture below shows the zoomed view of the dome frame, as you see it looks like the mechanism in an umbrella. In view of such a structure, I have added this tent to my list of best instant tents for camping.

This is a single-room construction and it is not particularly tall, the peak height is only 55.12 inches (140 cm). But the ridge pole pulls the fly up and creates a small awning above the door and this makes getting in easier.
You have three separate windows and one door visible in the pictures, which is with its own window. All the windows are the double-layer type with mesh for ventilation and with zippered panels for privacy and protection.

---
Who is it for
Capacity: The declared capacity is 6 people. They do not provide the number for the area, the dimension are given but this is not a rectangular tent. My estimate is that it offers only around 75 ft² (7 m²). This means 12.5 ft² (1.17 m²) per person and this is far from enough. I see it best suited for parents with 1-2 small kids, and it is perfect for couples who want to have comfort in the camp.
Weight: With its 14.3 lb (6.5 kg) this is a very light tent. But this is not a tent to carry on the trail, I have seen people asking about that. If you need a tent for such a purpose, better check some of these 6-person backpacking tents.
The packed size 35.43 x 9.06 x 9.06 inches (90 x 23 x 23 cm) is also such that you would not want to carry it, it is quite long when packed, very typical for instant tents.
Seasons-wise & climate-wise, I see this Mobihome 6-Person Tent best suited for 2 seasons, and this means summer, late spring, and early autumn. This is because of so much mesh on the ceiling, see the picture below. You cannot close it and camping in a cooler climate would not be pleasant.
The tent is relatively low and aerodynamic, but this is a partial fly and it is high above the ground. So it is best to avoid areas with strong winds.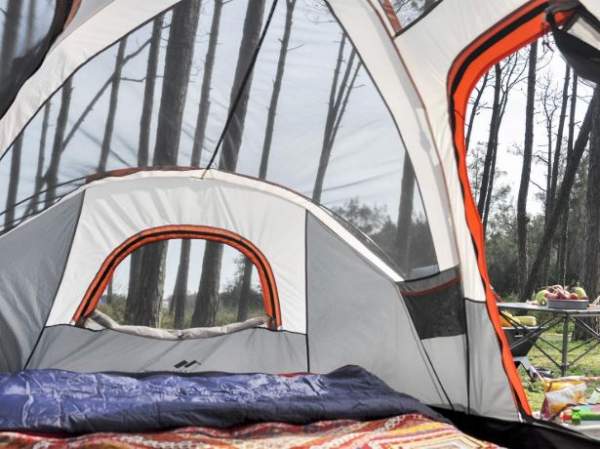 ---
Materials
The poles
They use fiberglass and various diameters for the poles. So you have 7.9, 8.5, and 9.5 mm. This is not a durable material and it is necessary to handle them with care. But this is a budget tent and you cannot expect more.
The fabric
The fly is a 68D 190T polyester with 1500 mm PU coating, and the seams are taped. The floor is 120 g/m² polyethylene. This is a fully waterproof plastic material. The windows and ceiling are with micro mesh. The carry bag is a durable 150D PU 600 Oxford.
They did not add any floor vent here, pity. This may be necessary when you have to keep all the windows closed.
Other features
14 Steel stakes are in the package, 4.7 inches long.
6 Guy lines pre-attached to fly.
4 Storage pockets.
---
Specifications
Declared capacity: 6 people.
Weight: 14.3 lb (6.5 kg).
Dimensions: 13.5 x 7 ft (161.42 x 82.68 in; 410 x 210 cm).
Area: around 75 ft² (7 m²).
Area per person: 12.5 ft² (1.17 m²).
Peak height: 55.12 in (140 cm).
Packed dimensions: 35.43 x 9.06 x 9.06 in (90 x 23 x 23 cm).
---
Mobihome 6-Person Family Camping Tent vs Coleman Ridgeline 6 & Wenzel Blue Ridge 7
I wanted to show you how this tent stands when compared with some other tents built in a similar style, this may help in making an informed choice. So here is Coleman Ridgeline 6 tent which offers far more space in its three rooms. I give also Wenzel Blue Ridge 7.
As you realize, the Mobihome tent is much lighter but it is also much lower and smaller. Though, it is more affordable than the other two tents. Please follow the links to read more.
---
Final thoughts
So this Mobihome 6-Person Tent Family Camping Quick Setup is an interesting and unique design. The price is without a match so if you are on a budget and want an easy to use tent for occasional camping trips, this is the tent to consider. But disregard the declared capacity, it does not make much sense, though this is nothing unusual.
The tent has collected a number of reports from Amazon customers, and the average rating is very respectable. Please see how I rate this tent against my standard set of criteria. I use them consistently for all the tents here in the site so you can compare easily:
Mobihome 6-Person Tent Family Camping Quick Setup
$112.99
If you want more options, check in the category Tents for 5-6 people. See for example this incredibly popular Coleman Montana 6 Tent or this Portal Outdoor Unisex's Two Beta 6 Spacious 2 Bedroom Tent that has 3 separate rooms.
Note that this is not a sponsored text, and I am not paid by the brand. Please use the comment box below in the case of questions or comments. Have a nice day.