---
Coleman Ridgeline 6 Person Tent is a beautifully designed 3-room structure for 3-season camping, with a high waterproof rating and lots of space and comfort for users.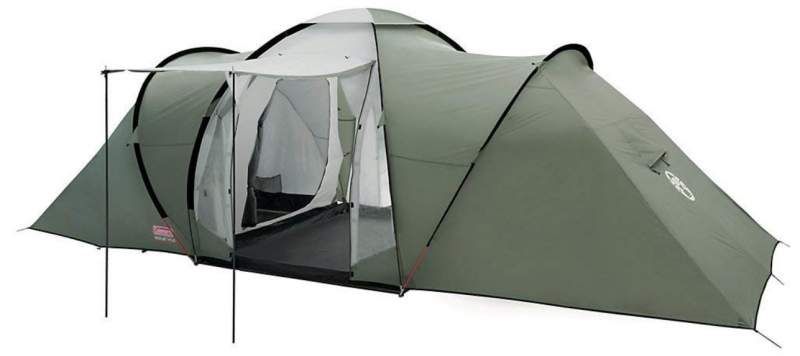 ---
Key features & benefits
Extended dome type or dome/tunnel hybrid.
Fiberglass poles.
3 Rooms.
2 Doors.
Huge waterproof rating.
Awning configuration.
Solid windows.
Great price.
---
Where to buy
This tent is available on Amazon and I have seen it on several of their stores. So follow the link and check shipping conditions for your location.
---
What this is about
Coleman Ridgeline tents have been on the market for about a decade already. But they are built for the EU market and this is the area where they are popular, they are very new on the US market. So regarding the style, this a hybrid with the central dome and tunnel features on the sides supported by two long loops. One could describe it also as an extended dome tent, frankly speaking, I am undecided about it.
Name confusion: It appears that somebody made a mistake, so the tent is on Amazon-US under the name Coleman Ridgline. Its original name is obviously Coleman Ridgeline, it has been under this name on the EU market for a long time.
But this is not the only example, have you seen their Coleman Cotes Octagon tent? Well, this tent is on the EU market under the name Coleman Cortes Octagon.
Anyhow, what you have here is their 6-person tent, an impressive construction with 3 rooms. Those include two inner tents on the sides, and one central living room. This is a great and nicely organized structure and I have included it in my list if best 3-room tents.
The tent is with two doors on the opposite sides of this living area, see the picture below. The top picture above shows that they allow for the awning configuration with the poles that are included in the package.

When the weather turns ugly, you can close the doors and still have the light inside through its solid windows that are located on the sides of the doors. The picture below shows how such a configuration looks. Note that the solid windows are with inner shutters for privacy.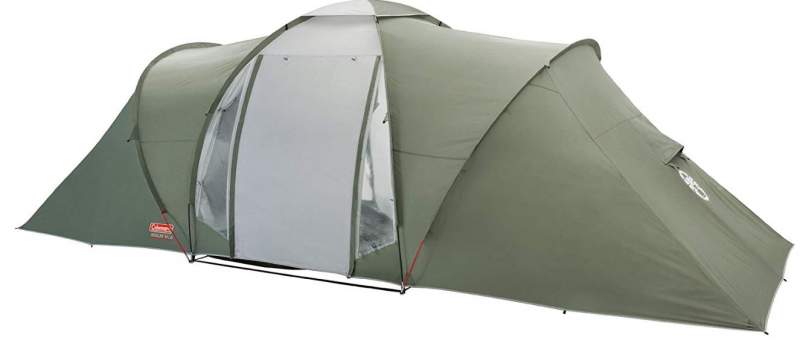 The inner tents (sleeping rooms) are without any windows and the material is quite dark. The tent is not freestanding, so bear this mind when you choose your camping place. The side rooms are with their own supporting poles and to have the structure functional, it must be staked on both sides.
The central room is with its own linked-in bathtub style floor shown below. This is convenient because you can clean the floor easily, and also you can roll it to the side when you use some camping furniture inside, no need to worry about the floor. But this means that you do not have full protection from crawling insects. The inner tents are with their own sewn-in and sealed floors so you are fully protected there.
The picture below shows how one of those side rooms looks. So this is a tent within the tent, with a breathable wall fabric and a waterproof floor. It attaches to the shell tent. You can remove both inner tents and use the shell only when you need it for some family events in the garden. The structure is 6.4 meters long so you can put some tables inside.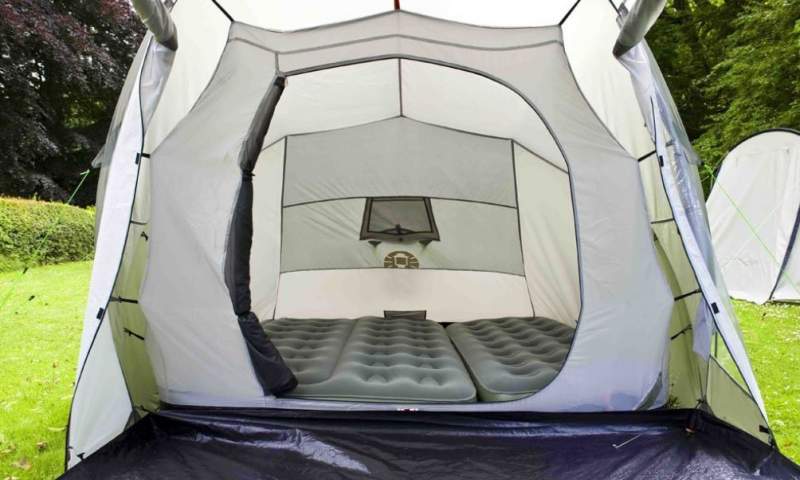 This Coleman Ridgeline Tent is a hybrid single-double layer construction. The living area is under the shell tent only, and the sleeping rooms are true 2-layer structures. This is seen in the picture above which shows one of the inner tents. This is also what makes it similar to many tunnel tents here in the site.
The tent is very tall for a dome style structure, so the peak height in the central area is 80.7 inches (205 cm). See the dimensions in the picture below.
---
Who is it for
Space-wise, the tent is with the declared capacity 6 person plus. So let's see what this means. The two sleeping rooms together offer 8.8 square meters (95 ft²), and you also have the central living room with its 4.6 square meters (50 ft²). This is 13.42 m² (144 ft²), and per person this gives 2.2 m² (24 ft²).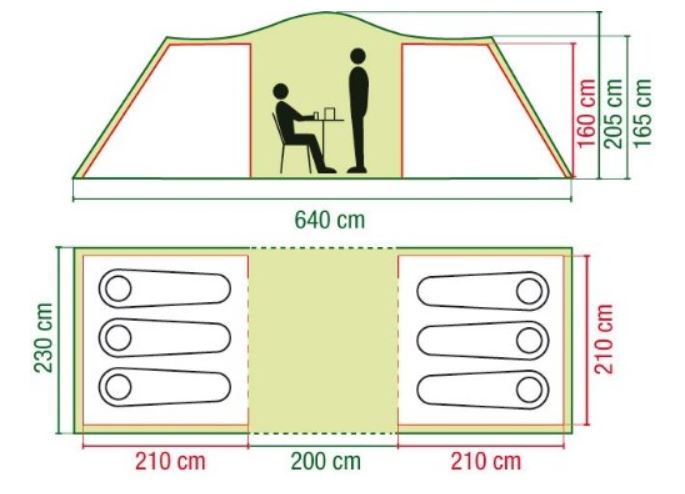 This is quite a generous space for 6 users. As for the word "plus" in the name, clearly the living room can accommodate a few people. But the floor is not sewn-in so this is not a full protection from insects. The sleeping rooms are wide enough to squeeze 4 narrow sleeping pads on the floor. So this tent can accommodate more than 6 users.
Climate-wise and seasons-wise, this tent was originally built for the European market. So the waterproof rating is very high and the tent is quite aerodynamic and enclosed by the design. You are supposed to have full protection in a 3-season use.
This tent is not the best option in a very warm area. For such a climate better go for some cabin tent with a ceiling on the roof.
Weight-wise, I would say that its 26.9 lb (12.2 kg) of weight is reasonable. You will see below how this compares with some other tents from the same size range.
The packed size 25.6 x 9.8 x 9.8 inches (65 x 25 x 25 cm) is quite good. All in all, this is a camping tent for places with a car access.
---
Materials 
The poles
The poles are fiberglass and you have them 4. This is not so durable material and most complaints from customers are related to the poles. But such poles are commonly used in budget tents. There is also one set of poles for the awning configuration. You have color-coding used for the poles, pole sleeves, and bedroom inner hooks.
The fabric
The shell is a durable 185T polyester with all seams taped and with 3000 mm waterproof rating. The groundsheet is a polyethylene, fully waterproof and very strong. The same material is the floor of the inner tents. The inner tents are a breathable polyester and no-see-um mesh combination. They claim that the materials are fire-retardant and that it is with UV Guard system which offers SPF 50 protection level.
They use their own WeatherTec+ system, and according to their statement, this implies the latest technology and a rigorous testing which will keep you protected whatever the weather. This applies to all the fabric elements, flysheet and groundsheet with their seams.
The large inner doors are double layer with mesh and zippered panels. This is great both for ventilation and for privacy.
Ventilation
This tent relies on vents, so you have them on both narrow sides and also on the top in the living room. There is a large gap between the inner tents and the shell and you can see this in one of the pictures above. This allows for air circulation in all directions.
But there are no floor vents here, those that are in place are rather high. You can keep the doors open and this will solve any issue of ventilation. This can be done even when it is raining. Simply roll the floor from the door, and even if the rain gets into the living area, this will make no issues with the inner tents.
Other features
Optimally placed guy-lines along the poles and around the tent for stability in high winds.
The inner bedrooms are pre-attached. They can be left in when packing the tent away.
Continuous pole sleeves.
Internal pockets.
Carry bag is included.
The official pitching time for this tent is only 20 minutes.
Here is a video which shows some of the mentioned features, please have a look:
---
Good and less good features
Here is my short summary:

Very pleasant and livable.
Separate rooms.
Very good price.

Fiberglas poles.
No mesh on the external doors.
The price & rating
The US price on Amazon is shown below, and on the EU market its price is around 200 Euro. So this is a great price for such a large and comfortable structure.

The tent is very new on the US market and there are just a few reports by customers with an excellent rating. See below how I rate it against my standard set of criteria which I use for all the tents here in the site. This allows for easy comparison.
My rating of the Coleman Ridgline 6 Person Tent:
Area per person -

8.5/10

Area/Weight ratio -

8.2/10

Packed size -

8.6/10

Reliability & protection -

9.2/10

Ease of use -

8.8/10

Comfort & features -

9.2/10

Price -

9.5/10
---
Specifications
Declared capacity: 6 people plus.
Weight: 26.9 lb (12.2 kg).
Dimensions: 252 x 90.6 in (640 x 230 cm).
Area: 144 ft² (13.42 m²)
Area per person: 24 ft² (2.2 m²).
Peak height: 80.7 in (205 cm).
Packed size: 25.6 x 9.8 x 9.8 in (65 x 25 x 25 cm).
---
Coleman Ridgline 6 Tent vs Competitors
I have decided to show this tent side by side with two tents that are with officially larger capacity, NTK Laredo 8/9 Tent and Semoo 9 Tent. As you realize they are practically with the same area. But its weight and height are in between the other two tents.
Its declared waterproof rating is higher, and the inner structure is completely different. It offers far better privacy than the other two tents. Please follow the links to read more.
---
Final thoughts
So I hope this Coleman Ridgeline 6 Person Tent review has been useful and now you have a clear picture of this tent. The inner organization is its best feature. Two sleeping rooms on the two sides offer the best privacy you can expect in a tent.
The poles are not its best side, but it has been on the market for almost a decade and this should mean something, and the price is excellent.

If you need something more compact and with a semi-instant setup, please check our Mobihome 6-Person Tent.
Note that this is not a sponsored text and I am not paid by the manufacturer. Please use the comment box below in the case of questions or comments. 

---