MOON LENCE Camping Tent 6 Person is ultralight and ultra-packable, with one door and two windows, easy to use structure, and with a great price. Keep reading.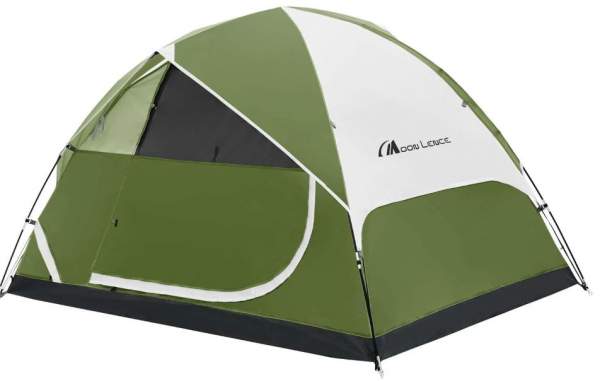 ---
Key features & elements
Dome tent.
1 Door & 2 windows.
Floor vent.
Fiberglass poles.
Freestanding.
Great packed size.
Ultralight.
Incredible price.
---
What this is about
So here you have the largest tent from this MOON LENCE Camping Tents series that includes ultralight dome-style tents. This is a fully freestanding tent and this is because of its partial coverage fly that attaches to the tent's corners through straps and hooks. This is a kind of trade-off, the tent has no vestibules, but this has a few benefits:
The access is easy.
This allows for windows on two sides.
This makes it fully freestanding.
A smaller fly implies less weight.
The structure of the tent is best understood without the fly, so the picture below shows how it looks, this is the inner tent and the two dome poles: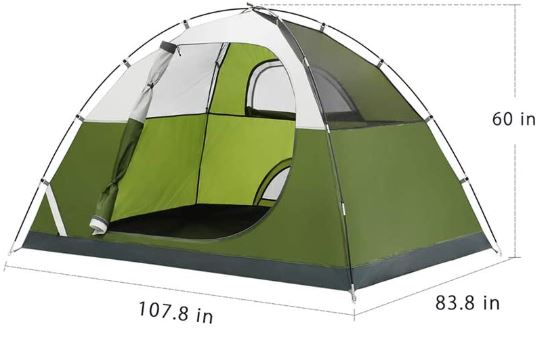 As you realize, the tent is not particularly tall, the peak height is only 60 inches (152 cm), and this is a very typical dome shape so the headroom is not so impressive as usual. The structure is simple, one room and one door shown above with a window on its upper part, and one separate window on the back.
But when you add the fly supported with one cross pole, you have two small brims on the two sides, and those protect windows so you can use them almost all the time with mesh only. Note that there is yet another larger extended dome type tent of this brand presented here in the site, the Moon Lence 8 Person Tent.
Ventilation
The picture without the fly reveals that the canopy has lots of mesh although the lover area is a waterproof taffeta. So to allow for a perfect ventilation, they have added a large floor vent on the rear side. The picture below shows the view into the tent so you can see the vent from inside. The second picture shows the vent from outside.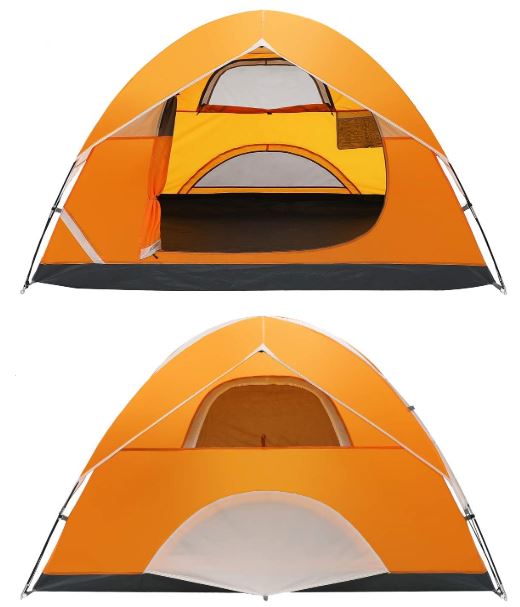 I already mentioned that the ridge pole pulls the fly up on both sides so this allows for nice views, but this also eliminates need for extra fly vents. This is yet another benefit of such a shallow fly profile on the two sides. So this is a nicely ventilated tent, no objection here at all.

---
Materials
The elements in the package are shown in the picture. There are 9 iron pegs, and 4 guylines that are not shown here.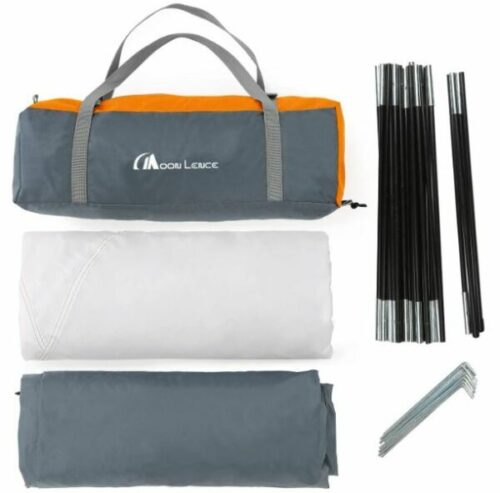 The poles: There are 3 of them only, shock-corded fiberglass, this is not so durable material but it is normal to expect in such a budget tents. The tent attaches to the poles through the usual pin and ring system at the corners, and through clips on the canopy.
This all can easily be done by one person. The pictures below show some details: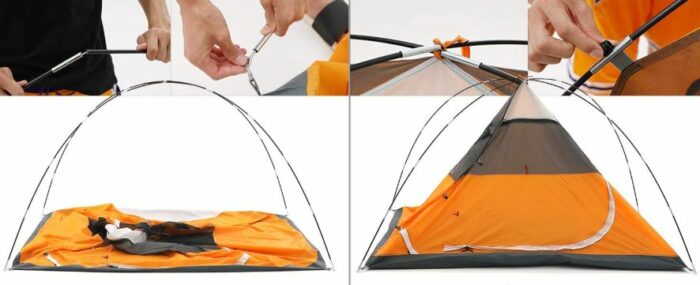 The fabric: The fly and the walls are a durable 190T polyester with a PU coating that gives it 1000 mm water resistance and UV resistance. More waterproof rating you will hardly ever need. There are also a few small wall pockets inside, and a lantern hook on the ceiling.
---
Who is it for
Weight-wise, the tent is so light that I have included it in my list of best backpacking 6 person tents. Note that my rating for weight does not reflect this statement, this is because I use a formula that evaluates the weight with respect to the protected area. So you have seen what behind such a weight is: the area is very small, and there are no vestibules.
The packed size is also great, the tent's carry bag measures 16.5 x 6.1 x 6.1 inches (42 x 15.5 x 15.5 cm). Obviously, this is a backpack-portable tent.
Capacity-wise, the declared capacity is 6 people, and they even describe it as "spacious" and "roomy". But this tent offers only 62.4 ft² (5.8 m²) and this is all protected space you have here. It is possible to place 6 pads on its floor, the dimensions are 107.8 x 83.8 inches (274 x 213 cm).
So they use this backpacking principle to determine the capacity, but it would be appropriate to downgrade it. In any case, if this is about family camping, this is for parents with one kid, and the tent is also great for a couple.
Seasons-wise & climate-wise, I see this tent best suited for warm-weather summer camping, or for 2 seasons maximum. This is not for severe weather conditions and strong winds. For such weather, you would need one of these tents with a full-coverage fly.
---
Specifications
Capacity: 6 people.
Weight: 9.04 lb (4.1 kg).
Dimensions: 107.8 x 83.8 in (274 x 213 cm).
Area: 62.4 ft² (5.8 m²).
Area per person: 62.4 ft² (0.97 m²).
Peak height: 60 in (152 cm).
Packed size: 16.5 x 6.1 x 6.1 in (42 x 15.5 x 15.5 cm).
Warranty: Unconditional 30-day money-back guarantee and lifetime warranty.
---
Final thoughts, rating, pros & cons
In the summary of this MOON LENCE Camping Tent 6 Person review to stress again that this is an exceptionally light tent and it is also nicely packable. I have discussed the reasons for such features, so the area is small and there are no vestibules. Nevertheless, it deserves to be included in my list of best dome camping tents.
Here is the summary of my rating, please have a look:
If you want to see more tents of this type, please search under the category Dome tents, and also in the capacity group Tents for 5-6 people. Note that this Pacific Pass 6 Person Family Dome Tent is built in the same style. Check this Coleman Trailblazer 5 Plus Tenda Tent if you want more space, you will have it a lot in its two rooms. Thank you for reading and have a nice day.