This Coleman Trailblazer 5 Plus Tenda Tent is a 3-season ventilated extended dome type 2-room tent with three large doors, huge waterproof rating, and a great price tag.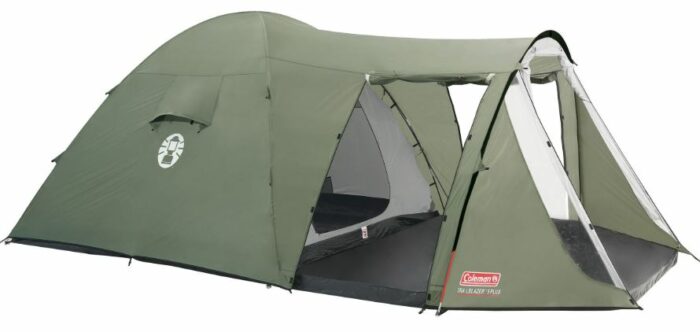 ---
Key features & benefits
Extended dome tent.
Fiberglass poles.
Huge waterproof rating.
Huge floored vestibule/porch.
3 Doors.
2 PVC windows.
E-cable port.
Awning configuration.
---
What this Trailblazer 5 Plus tent is about
Here you have yet another tent of this brand that is originally built for the EU market and it has been there for many years already, so all is known about it. As far as I know, it has been around for at least a decade. But the tent is quite new on the US market.
So this is a hybrid dome-tunnel construction, or you might describe it as an extended dome tent. You have the inner dome structure that extends into a huge porch with its extra loop that gives it the tunnel shape. Also, the inner area is a true double-wall part while the porch area is a single-wall part.
With such a configuration it is just the opposite to their Coleman Waterfall 5 Deluxe Tent where the living area is under the tall dome and this is better. But this Trailblazer 5 tent is better ventilated.
For a dome tent, it is quite tall with its 72.8 inches (185 cm) inner peak height, and it is not freestanding because of the extension. The floor is fully sewn-in in the sleeping area, and in the porch area it is linked-in so you can roll it to the side when you use some furniture like chairs.
The tent has three doors on the porch and they are all with dual parallel zippers so you can roll the panels up and fix them with toggles above the doors, see the picture below. This is why it is on my list of best camping tents with 3 doors.
You can also create an awning with such a design, the poles for this purpose are included in the package. The picture below shows how it looks with the awning that extends the protected area and creates a useful shed.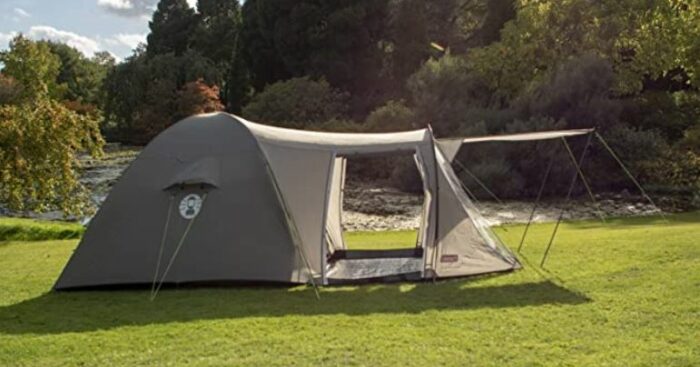 The huge inner door is with mesh and with a panel. There are two solid PVC windows on the front on both sides of the largest door, visible in the picture below.
The tent is such that you could describe it as a 2-room structure, and the functionality of the two sections is different. The inner room is for sleeping and you have all protection from insects. The front room (vestibule) is with a bathtub removable floor, so you have full protection from the groundwater but not from crawling insects.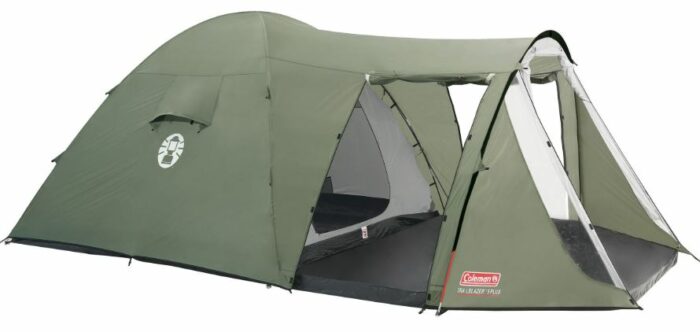 Ventilation
This tent has two vents on the fly, each equipped with a pair of stiffeners that keep them open. On the inner tent you have wide mesh sections that match the positions of the vents.
The inner door can be kept with mesh only so you can regulate ventilation as you wish. There is a wide gap between the inner tent and the shell. So there is not much one could object to this design, but a floor vent on the back would be useful.

---
Who is it for
Size-wise, the declared capacity is 5 people plus and here are the reasons for the word 'plus'. The inner area is quite modest 78.6 ft² (7.3 m²) but it is possible to squeeze 5 users inside, see the floor plan below.
But there is also the mentioned huge porch and the total covered area is around 142.6 ft² (13.3 m²). So in the case of 5 users, this would imply 28.5 ft² (2.66 m²) per person, and this is quite a lot of space. But there is no space for 'plus' here, so this word in its name makes no much sense to me.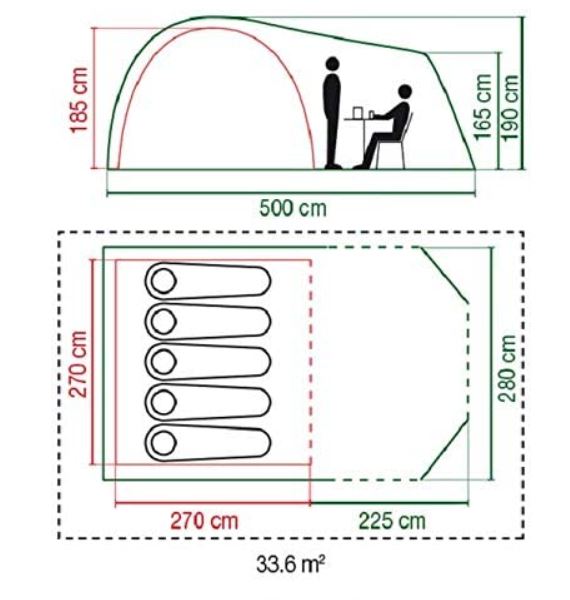 Climate-wise & seasons-wise, being built for the EU market, it has a huge waterproof rating and its structure is such that it is well-suited for a cooler environment. The inner tent is almost all taffeta, with just a few mesh areas.
But as mentioned above, the tent is nicely ventilated so it will work great even if you use it in a warmer climate. The profile is quite aerodynamic, but this will depend on how you orient the tent with respect to the wind direction. All in all, it will perform well in almost any weather situation. In view of all this, this is a true 3-season tent.
Weight-wise, with 20.5 lb (9.3 kg) of weight, it is not particularly light, but you have seen how large the total area is, so the weight is justified. The packed size 23.6 x 9 inches (60 x 23 cm) is very good for such a large tent.
Please see more in this video:
---
Specifications
Declared capacity: 5-plus.
Weight: 20.5 lb (9.3 kg).
Dimensions: 16.4 x 9.19 ft (5 x 2.8 m)
Inner area: 78.6 ft² (7.3 m²).
Inner area per person: 15.7 ft² (1.46 m²).
Vestibule area: around 64 ft² (6 m²).
Total area: 142.6 ft² (13.3 m²).
Total area per person: 28.5 ft² (2.66 m²).
Inner peak height: 72.8 in (185 cm).
Packed size: 23.6 x 9 in (60 x 23 cm).
---
Materials
The fabric & poles
The shell material is a flame-retardant 185T polyester with PU coating that gives it a 3000 mm waterproof rating. The seams are taped. The floor is a polyethylene 120 g/m², fully waterproof and welded. This all together is what they describe as the WeatherTec system and it is used in all the tents of this brand. The inner tent is a breathable polyester 185T with mosquito net sections.
The poles are fiberglass, this is partly behind its great price, such a material is not very durable but it is commonly used in budget tents. You have the usual pin and ring system that connects the poles to the tent's base.
Other features
Pegs and guy lines are included.
An E-cable port is there.
There are several wall pockets in the sleeping area.
---
Final thoughts, rating, pros & cons
In the summary of this Coleman Trailblazer 5 Plus Tenda Tent review, I wish to stress that there are good reasons why this tent has been on the market for so many years. It provides a great living area and at a price that is hard to match. So if you want a tent for occasional family tours and do not want to spend much, this is it.
Please see how I rate this tent against the standard set of criteria used for all the tents here in the site. This allows for easy comparison.
If you want to see more options just look around, this site is all about family camping tents. You will definitely find what you need. Check this impressive Coleman Tent Cook 6 Person from the same brand, it offers 184 ft² (17.1 m²) of the floor area. If you need help, just let me know, there is a comment box below.