This Pacific Pass Camping Tent 6 Person Instant Cabin Family Tent is a tall and stable steel frame single-layer structure, incredibly easy to use, and very affordable.
---
Key features & benefits
Instant setup.
Tall tent.
Single-layer.
1 Door & 5 windows.
Great price.
---
What is in the name
This is a new brand on the market and all of their tents are becoming best-selling on Amazon. The awkward name and title is what is given on Amazon and this I why I am using it.
So this is a great example of a cabin tent with straight and steep walls, a nicely proportioned structure, and very similar to the famous Coleman 6 Person Instant Tent that has been around for years. The tent is tall with its 72 inches (183 cm) peak height so this is almost a stand-up height in most of the area.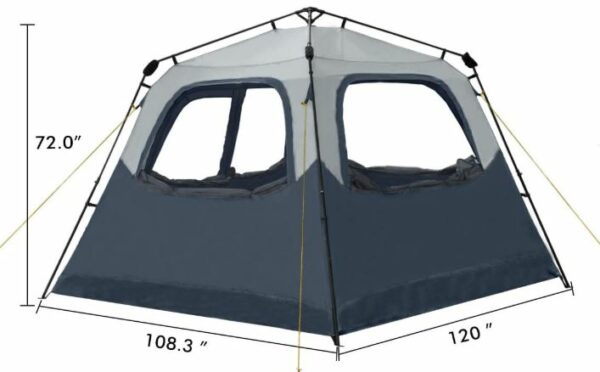 This is a single-layer construction, so what you see in the picture above is all the fabric it has. There is no separate fly, the roof and walls are already waterproof. The tent is with one door and one room, and with windows on all four sides, here you have mesh and zippered panels.
The most important feature of this tent is its instant setup. So if you are not familiar with such a design, the meaning is that the frame and the tent are permanently attached to each other. You open the tent like an umbrella and extend its telescopic legs. The top hub element shown below keeps the roof poles together: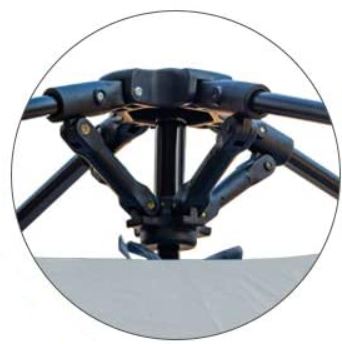 The tent is completely freestanding, I guess more freestanding a tent cannot possibly be. But it comes with everything needed to fix it tp the ground, so never miss doing so. I have included it in my list of best instant camping tents.
Ventilation
All looks great when the windows are with mesh, you will have plenty of air from every side. But look the windows with panels closed, this is how it must be when it is raining.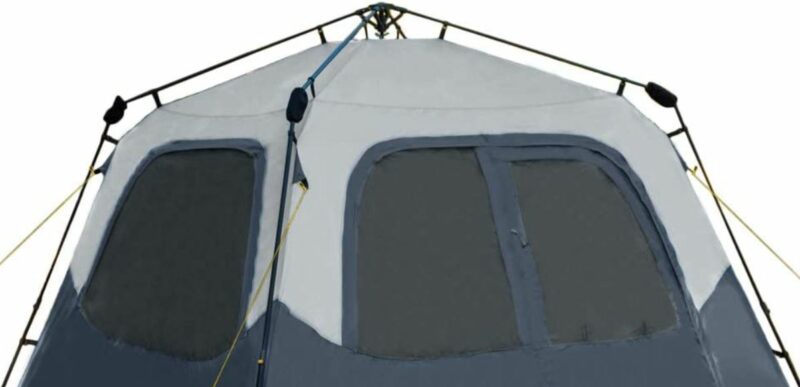 The problem is that the tent has no vents anywhere. So in the extended periods with rain, it would become tough to stay inside. It is a pity they did not add any floor vent and fly vent. But on Amazon they explicitly show some picture indicating venting, I find this absurd. Camping is not always under a clear sky.

---
The materials
The frame is steel, very stable and sturdy. There is nothing one could object to this unless you plan to carry this tent long distances. The legs are with release buttons, one is shown below: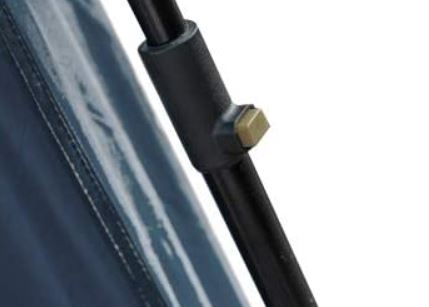 The fabric is durable, there is a statement that gives its denier value as 1150D. I assume this must be a mistake, do not remember any tent with such a durable fabric. This is a ripstop oxford polyester with a 1500 mm rating. This sounds good enough for any outdoor situation.
The package also includes 8 steel stakes and corresponding guylines, and a carry bag is included.
---
Who is this Pacific Pass 6 Person Instant Cabin Family Tent for
Climate-wise & season-wise, you have seen the picture above with the closed windows. So you realize this is a completely enclosed space and it is suitable for a cooler environment. But the issue of ventilation remains as pointed above.
On the other hand, this is a very sturdy and stable structure and you can definitely use it in all seasons. It is a separate issue if you will feel great inside when the panels are closed. In the case of summer camping but without rain, you can keep the windows with mesh only and you will have a great experience.
Capacity-wise, the declared capacity is 6 people and for this you have 90 ft² (8.3 m²). This would give 15 ft² (1.39 m²) per person, so not a castle but it is possible to place 6 pads on the floor. Realistically, for family camping, this is for parents with one or maximum of two small kids. The tent is also a great option for a couple, you can have a queen size bed inside and still plenty of space for gear.
Weight-wise, they describe this tent on Amazon as suitable for backpacking and hiking, and this sounds like a joke to me. With its 17.22 lb (7.8 kg) of weight, the tent is indeed not so heavy in view of its sturdy frame. But see also its packed size (L x D) 48.8 x 7.48 inches (124 x 19 cm), so this is a car camping tent and you would not want to carry it anywhere.

---
Specifications
Capacity: 6 people.
Weight: 17.22 lb (7.8 kg).
Dimensions: 10 x 9 ft (305 x 274 cm).
Area: 90 ft² (8.3 m²).
Area per person: 15 ft² (1.39 m²).
Peak height: 72 in (183 cm).
Packed size (L x D): 48.8 x 7.48 in (124 x 19 cm).
1 Year limited warranty.
---
Final thoughts
If you want a tent that is incredibly easy to set up, and you do not want to wrestle with tent poles and the fly, then this Pacific Pass 6 Person Instant Cabin Family Tent is for you. All that you see is one single piece, so just unfold and extend the poles and the tent will be up in no time. One person can deal with it easily. The price is simply amazing.
It is a bit difficult to figure out what climate this tent is best for, you have seen my concerns about ventilation. So let me know how you see this tent and what you think would be its best use, there is a comment box below.
Here is the summary of my rating, and pros & cons, the same criteria are used for all the tents here in the site so you can easily compare, please have a look:
Pacific Pass 6 Person Instant Cabin Family Tent
$129.99
Note that this site is all about family camping tents, so just look around in various categories if you need more options. You might want to compare this tent with yet another built in the same style, the Outdoor Products 6 Person Instant Cabin Tent. But see also this Outsunny Easy Pop Up Tent 5 Person with a different instant design.
If you would rather have a tent with a fly and vestibules, check this REI Grand Hut 6 tent. Thank you for reading and have a nice day.