The NEMO Wagontop 6 Person Tent is a freestanding 2 meters tall single layer family camping tent which offers 97 ft² (9 m²) of floor space for 6 people. This is a great tool for 3-season camping.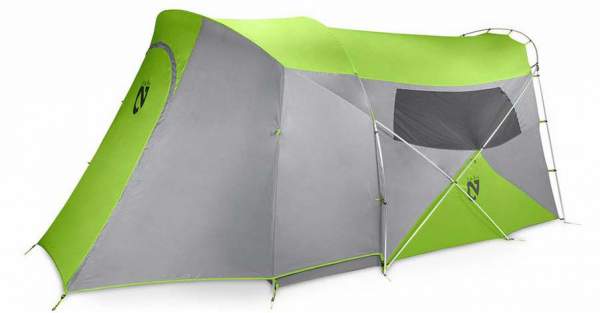 ---
Key benefits & features
Very tall tent.
Great space per person.
Easy setup.
Two rooms design.
Single-wall type.
Screened porch design.
The vestibule rolls up completely.
---
What is in the name – who is it for
NEMO Wagontop 6p is a freestanding car-camping ground tent; the word `wagontop' in the name refers to its unusual shape which looks like old wagons. This is a really livable and durable camping tool with a lot of space for a family with 2-3 kids and for groups of friends. I have included it on my list of best 6-person family camping tents.
This is a very tall tent, with 80 inches (2.03 m) peak interior height and reasonably lightweight, 27 lb 9 oz (12.5 kg). Such a height makes it so comfortable, but it also makes it unstable in very windy situations. So this is a tent for mild weather conditions, for ordinary camping at places with a car access, and not for particularly strong rains.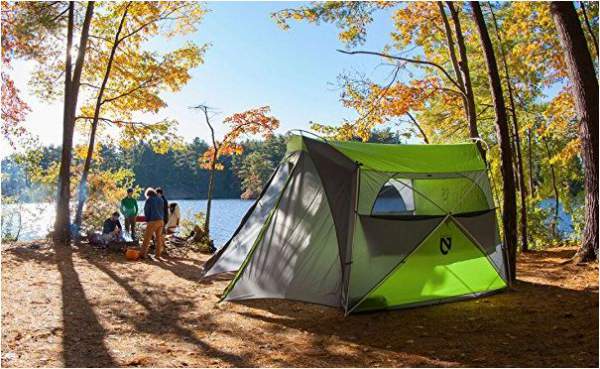 ---
The setup and construction
The setup is easy due to the following:
The hubbed pole construction.
The fact that this is a single-layer type. This affects also its packed size which is 29 x 11 x 11 inches (74 x 28 x 28 cm). The only area that looks like a double layer is the front with the vestibule which acts as a second layer there.
The mentioned freestanding design. When you put the ends of the poles in the grommets in corners, they are already freestanding, and after attaching the tent body, the tension created by the fabric stabilizes it even further. So you can pitch this tent in any terrain; you can certainly stake it out and this is advisable to do, but this is not compulsory. The point is that you do not depend on the type of the ground, as usual with freestanding tents.
The interior space
The main front door can be half-open or on two sides, but you can also unzip it completely and pack in a pocket close to the floor, the pocket is visible in the picture below. On the opposite side, you have yet another door in a similar style and with two zippers.
You have a partition there, this is a two-room design – there is a smaller space separated from the rest of the tent for extra privacy when needed, see the picture. The partition wall can be unzipped of course and make the whole interior a single space.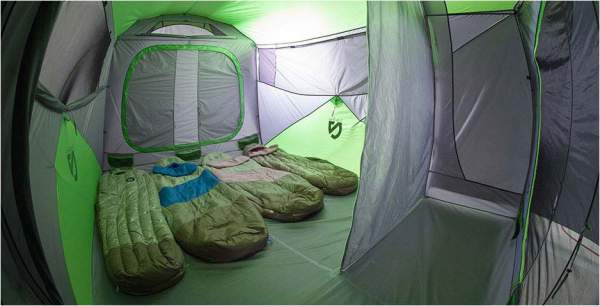 The main room is with two large mesh windows with storm flaps that can be rolled down. In the case of rain, you put them in the position and fix it with Velcro tabs.

Note that you have mesh ventilation windows above the doors on both sides, they are visible in pictures. They are with storm flaps, but you can keep them open all the time. This is because of the vestibule on one side, and an awning on the opposite side. So the ventilation should never be an issue because of its tunnel-shape structure with huge doors on both ends and mesh windows on the sides and above the doors.
The organization is great in general, the front vestibule is large, with 27 square feet (2.5 m²) of covered space which acts like a pleasant porch. Both doors are big, the windows are big, and you have mesh storage pockets under the doors, three on each side, for small items and organization. There are also attachment hooks on the ceiling.
Guyout points are available and you should use them whenever possible, this is a tall tent and it is better to secure it in the case of sudden wind.
The poles
You have two sets of hubbed aluminum poles with 14.5 mm diameter, plus one loop pole in the middle. They attach to the tent by clips and through one long sleeve. The two main poles are Y-shaped on both sides, see the picture below, and you have the intersection hubs which lock their elements together. The structure is very flexible and reasonably resistant to wind forces.
The volume
This tent provides not only a lot of floor area, but also a lot of volume. It is so designed that you have full height even in the corners. So this is a very livable tent with a huge volume inside, with its vertical walls and more than two meters high roof.
In fact, you will see the guy in the video complaining about attaching the clips to the highest loops. The tent appears to be too tall, well this is rare to have with tents.
The packed size
The whole NEMO Wagontop 6 packs in a bag which is of the size of a big suitcase, you will see it in the video. This is not so bad, but bear in mind this is a single-wall tent, so it is a bit bulky for such a design.
Waterproofness
The rating you have here is 1500 mm, and all seams are sealed. So this is all quite normal and typical for most of the 3-season tents. In fact the same numbers you can see in many winter tents as well. The floor is 150D PU-coated polyester, waterproof and durable. But the design of the flaps on windows and the vestibule is such that strong winds and rain are not such a good environment for this tent.
Please see more in this video:
---
Specifications
Type: camping tent, freestanding, single wall.
Capacity: 6 people.
Packed weight: 27 lb 9 oz (12.5 kg).
Packed size: 29 x 11 x 11 in (74 x 28 x 28 cm).
Floor area: 97 ft² (9 m²).
Floor size: 140 x 100 in (3.56 x 2.54 m).
Interior height: 80 in (2.03 m).
Vestibule: 27 ft² (2.5 m²).
Area per person: 21 ft² (1.9 m²).
Doors: 2.
Warranty: limited lifetime.
Poles: hubbed aluminum, diameter 14.5 mm.
Material:
– Shell: 75D PU Polyester.
– Floor: 150D PU Polyester
Waterproofness: 1500 mm.
Seams sealed.
---
Summary, rating, pros & cons
To summarize this NEMO Wagontop 6 Person Tent review, this is a really nicely built family camping tent for moderate weather conditions in 3-season use. It offers a separate smaller room for privacy, very suitable for parents camping with 2-3 kids.
This is definitely not the most affordable option on the market, but if you love its design and if you can afford it, you will enjoy camping in such a tool. Fully recommended. See below how I rate it:
You might want to check also this incredible Big Agnes Flying Diamond 6 tent.
Please note that there is a comment box below, so let me know if you have any question or comment. Thank you for reading and have a nice day.