The NTK Explorer GT tent is an extended dome with 2 separate inner tents and a central living room under its full-coverage fly, suitable for 3-season family camping.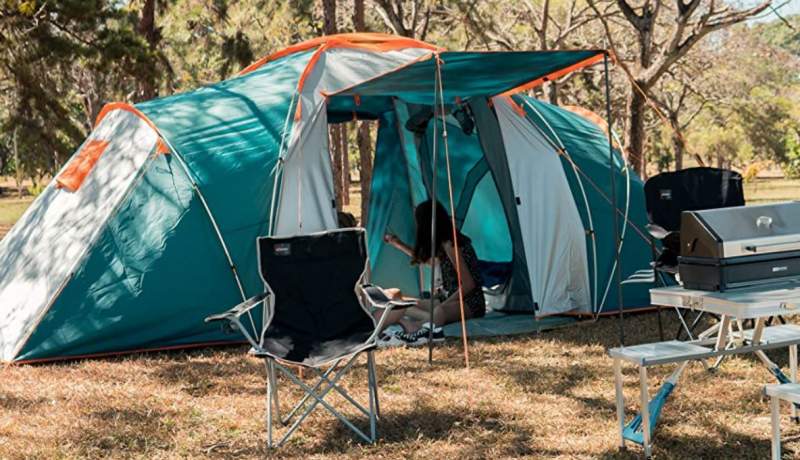 ---
Key features & benefits
3 Separate rooms.
Extended dome shape.
Fiberglass poles.
Awning.
Great waterproof rating.
Reasonable price.
---
Overview
This tent is one of those that could be described as extended dome tents, or you could call it also a dome-tunnel hybrid. The meaning is that you have a central dome part supported by two X-crossed roof poles, and two extensions on the sides that are supported by one loop pole each. You have a full-coverage fly that is shown below, so the inner space is fully protected from the elements.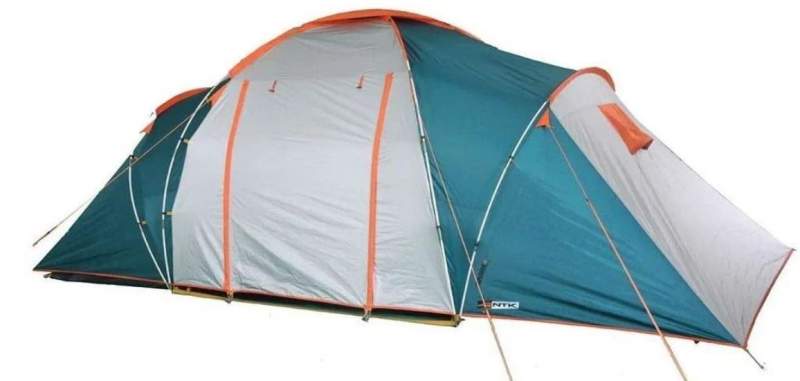 This fly is a shell underneath which you have two separate inner tents shown below. In between them, under the dome, you have a living room with a linked-in floor. So this is a 3-room tent. Note that the inner tents are with taffeta canopies and with fully sewn-in and sealed floors.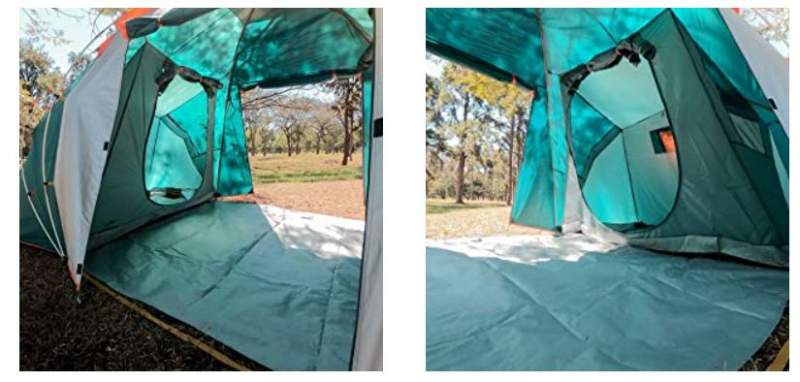 This is a great design because the central area you can use with furniture and you can remove the floor to avoid damages. But you can also keep it in place and have a pleasant space for kids and for daily activities. Note that there are two huge doors on the side, shown below, and you can create an awning with a pair of included poles.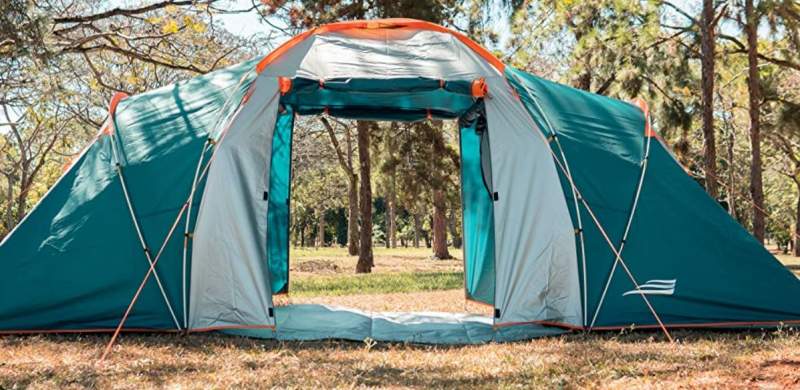 So this is a hybrid single/double layer tent where the sleeping areas are double-layer parts and the living room is a single layer.
Such tents are quite common on the EU market and you can see them many here in the site. This KingCamp Tent 6 Person 2-in-1 Outdoor Camping Tent is one example, but see also this Portal Outdoor Unisex's Two Beta 6 Spacious 2 Bedroom Tent.
The tent high enough to have stand-up height, the peak height is 76.77 inches (195 cm), see the picture below. Observe also the awning that you create with the help of two extra poles that are included.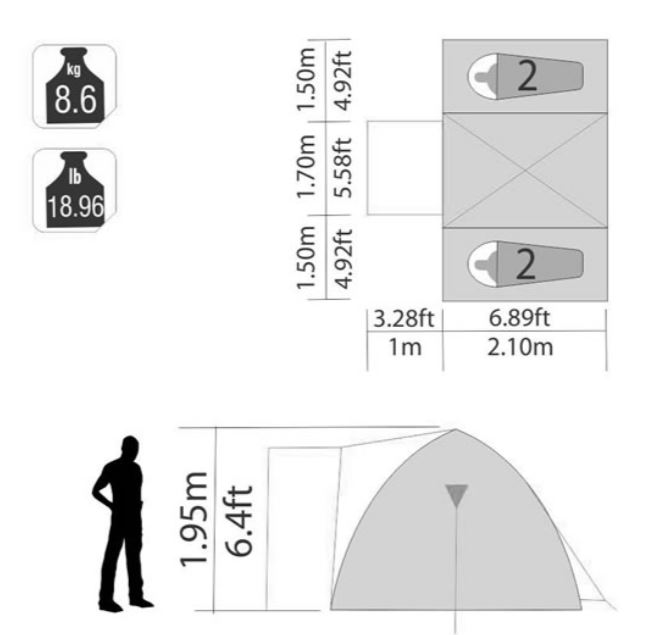 Dry setup
The inner tents can be stored together with the shell, no need to remove them ever. This implies that you set the shell up and raise the tent while the inner remains protected. This dry setup is useful if you are forced to pitch the tent when it is raining.
However, if you need more storage space and less space for sleeping, you can remove one inner tent and have a gigantic living room where you can have plenty of camping furniture. You can even remove both inner tents and use only the shell for some family events and gatherings.
Ventilation
The fly is full-size, but it is without sealed floor, so you have air circulation all around its perimeter. The inner tents hang attached to the shell, and there is a wide gap between the two layers, see the picture below. So this is good to fight eventual condensation.
But they have also added vents, you have them behind the inner tents on each side, one shown below. There are vents also in the central dome on the top.
Materials
The poles: This is fiberglass, and the attachment to the tent is standard. So you have pin-and-ring elements at the tent's base, see the picture, and higher you have clips and sleeves on the roof. They call this system Nano-Flex technology, you have color-coded and shock-corded segments for an easy setup.
As mentioned, the awning has its own included poles. Note that you can create the awning on any side, or even two at the same time if you add a pair of poles.
The fabric: The fly is a 190T polyester laminated with polyurethane that gives it 2500 mm waterproof rating. It is partially coated with aluminum, partially heat-welded seam sealed, and UV protected.
The floor is a heavy-duty seamless bath-tub polyethylene (the picture below), they write it meets CPAI-84 flammability requirements. The inner canopies are a 190T breathable polyester. There are also a few wall pouches for storage, one shown below.
Please see more in this video:
---
Who is this tent for
Capacity-wise, they have made a bit of a mess. You will see statements that it is a 4-person and also a 6-person tent. But let's see the numbers.
The floored area in the two inner tents is 67.8 ft² (6.3 m²). The dimensions of these tents are such that it is almost impossible to put 3 sleeping pads on the floor. So each of the inner tents is for 2 people.
The central room offers 38.4 ft² (3.57 m²). But this space is not for sleeping because you have no protection from crawling insects.
So all in all, this is a great tent for 4 people, say parents with two or perhaps 3 small kids, or a tent for two couples. You have maximum possible privacy in such a tent. This is why I have included it in my list of best family camping tents for 4 people.
Seasons-wise & climate-wise, the tent is fully covered and the waterproof rating is great. So you are definitely protected from the rain. The inner is without mesh, but the tent is ventilated. So I see it quite suitable for a cooler climate.
Weight-wise, the tent weighs 18.96 lb (8.6 kg), so I would describe it as moderate. The same holds for its packed size which is around 25 x 9 x 9 inches (64 x 23 x 23 cm).
Price-wise, the tent is also moderate, this is a good value for the money.

---
Specifications
Official capacity: 6 people.
Weight: 18.96 lb (8.6 kg).
Dimensions: 15.42 x 6.89 ft (470 x 210 cm).
Floored sealed area: 67.8 ft² (6.3 m²).
Living room area: 38.4 ft² (3.57 m²)
Total covered area: 106 ft² (9.9 m²).
Peak height: 76.77 in (195 cm).
Packed size: 25 x 9 x 9 in (64 x 23 x 23 cm).
---
Final thoughts, rating, pros & cons
So this NTK Explorer GT tent is well-built and with all the features you might need in the camp. The organization is great, its separate sleeping rooms give lots of privacy. But this is not a tent for 6 people, bear this in mind.
This is a modular and versatile design. So you can use it with both inner tents, with one, or without any of them. The living room can be used without the floor, so this is good for cooking or if you camp with the dog. The price is appropriate, fully recommended.
Please see how I rate this tent, it scores very good in all the criteria:
For more tents of this type, check under the Dome tents. Note that this Moon Lence 8 Person Tent is built in the same style and it is much larger. But see also this Sierra Designs Aspen Meadow 8 Tent with a fully sewn-in and sealed floor.
Let me know if you have questions, there is a comment box below. Bookmark this site and visit it occasionally, this will keep you informed because I add here texts regularly. Thank you for reading.