---
NTK Savannah GT 8 to 9 Person is a 10 by 12 feet dome style freestanding summer camping tent with fiberglass poles and a unique waterproof fly-tarp structure.
---
Key features & benefits
Dome style tent.
Freestanding inner tent.
Fiberglass poles.
Tarp instead of a classic fly.
Very good price.
---
Savannah GT 8 – what type of tent is this
Here you have something that they call an innovative design and by this they mean the following. You have a standard simple dome tent shown in the picture below, with a pin-and-ring system for fast and easy setup, and they have added a tarp above it, supported by 4 extra poles. So one could argue how innovative and more importantly how functional this all is.
The tarp creates two awnings and this works with extra 4 heavy poles that are included in the package. On the other hand, there is only one door, so the front awning has a meaning, but I miss to see the point of the back awning.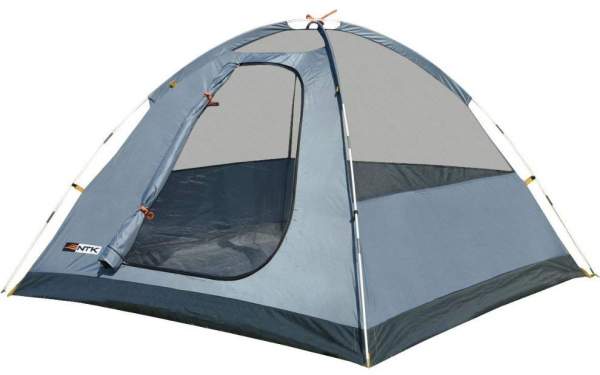 But there is a good side in this as well, the tarp can be used separately as a shelter or as a shade at home or in the camp. You can use it also for a classic hammock camping. Note that there are also folding hammocks on the market and you can use them with such a tarp.
The tent alone is fully freestanding and the setup is very easy as you might expect from such a simple structure. This is a single room structure and in view of such a tarp design, it is difficult for me to decide if I would call it a double layer tent or not.
But the tarp indeed completely protects the inner tent so yes, you might call it a true double layer and a full-coverage fly. This tarp makes it very different from their NTK Philly GT 8 to 9 Person Tent which is with the same declared capacity and the same floor area.
---
Who is it for
Capacity-wise, they claim the tent is for 8 to 9 people. But the dimensions are shown in the picture below and you realize that you have only 120 ft² (11.2 m²). If used by 8 people, this would mean 15 ft² (1.4 m²), so thinking about 9 people in such a space makes no sense to me. Yet they describe it as a "super spacious tent". Sure it is so, but only if used by 4 people maximum, like parents with two small kids, or just by a couple.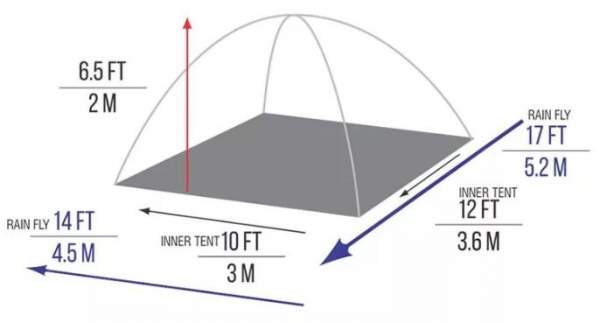 Seasons-wise, they claim it is totally waterproof but the waterproof rating is quite moderate (more below), so I think they make too strong statements here. The poles are fiberglass and the whole concept is such that you use the fly as a tarp. It is hard to imagine camping with such a tent in very windy conditions. So in my view, this is a tent for 2 seasons and it should be used in quiet places without winds. Do not even think of using it above the tree line.
Climate-wise, with so much mesh and without a real fly, this tent is only for warm-weather camping. They call the concept innovative but this is just a dome tent with a tarp. The tarp creates two awnings that do not provide much protection from the front and from the back. So you have no much space for storage.
Weight-wise, with its 26.6 lb (12 kg) of weight, this is everything but a lightweight tent. But the packed size is not bad, 29.13 x 9.84 x 9.84 inches (74 x 25 x 25 cm) so you can transport it even on a motorbike.

---
Materials & construction
The poles & stakes
Here you have two sets of poles; the inner tent poles are shock-corded fiberglass, not particularly durable and they need careful handling. They are thick Nano-flex poles and they interconnect with double gold chrome plated ferrules.
You also have 4 extra poles that you use for the awnings on the front and on the back of the tent. Those are thick steel poles.
There are plenty of simple steel stakes included in the package. I asked them about that and they suggest using stronger and longer pegs. This is mainly because of such a tarp structure with poles which is not stable in strong winds.
The fabric
They describe the fly as 100% waterproof 190T polyester laminated with polyurethane. Now, the waterproof rating is 2500 mm and this is it, not bad at all, but it is waterproof up to the given rating only, so I do not see the point of such a strong statement. You will probably never need more, but there are many tents here in the site with a much higher rating. Check tents by Vango as an example.
In any case, if you plan to use the fly alone as a tarp, it can be packed to (L x D) 20 x 5 inches (51 x 13 cm)  and its weight is around 4 lb (1.8 kg). So it is quite heavy and if you plan to carry it in the backpack, you have much lighter options for tarps on the market, see for example this Kelty Upslope tarp which is only 1 lb 12 oz (0.8 kg), or this Kelty Noah tarp available in several sizes.
They write that you have a heat-seamed thermoplastic coating which also offers UV protection. The inner tent is mostly a NO-SEE-UM polyester micro-mesh and taffeta panels. 
The floor is a seamless, anti-fungal polyethylene with a silver-coated inner layer and it is a bathtub-style. There is no information about its waterproof rating, but such a material and construction is definitely far more waterproof than the fly so you can be sure you are safe from the groundwater. The materials are CPAI-84 fire retardant. Note also that you have a large 2-way zipper on the D-style door.
Ventilation
This design provides the best possible ventilation, so if this is your main concern, do not think twice. Such a tarp creates a tunnel effect and the tent is also with so much mesh, so you will have a great airflow regardless of where you use it.
Here is a video showing the smaller version for 6 people, but the procedure of setting the tent up is the same, so please have a look:
---
Specifications
Type: dome tent, freestanding.
Declared capacity: 8 people.
Weight: 26.6 lb (12 kg).
Dimensions: 12 x 10 ft (366 x 305 cm).
Inner area: 120 ft² (11.2 m²).
Inner area per person: 15 ft² (1.4 m²).
Peak height: 6.3 ft (75.6 in; 192 cm).
Packed size: 29.13 x 9.84 x 9.84 in (74 x 25 x 25 cm).
---
NTK Savannah GT 8 Tent vs Kelty Trail Ridge 8
I believe in the importance of comparison, this is an easy way to realize and understand the features of a tent. So here I give this GT 8 tent side by side with the Kelty's tent in the same capacity range.
As you realize, it is much heavier and with one door and without true vestibules it offers less comfort and storage space. But although so heavy, it gives a bit more versatility with its tarp, and its price is beyond comparison; it costs only half the price which you would pay for the Kelty's tent.
---
Final thoughts, rating, pros & cons
In the summary of this NTK Savannah GT 8 to 9 Person tent review, I would stress that it is best to ignore the declared capacity of this tent and just focus on its features and the price. This is an excellent tent if used as mentioned above, for summer camping in quiet weather conditions. The price of this tent is exceptional.
If you need something different from the same brand, please check this NTK Arizona 9 or NTK Super Arizona tents. See also the NTK Hunter GT 8 to 9 Person tent from their new series and also their NTK Laredo GT 8 to 9 Person Tent.
The rating by Amazon customers is largely positive and the tent has received very good reviews. See how I rate it:
NTK Savannah GT 8 to 9 Person Tent
$164.99
Pros
Very good price.
Excellent ventilation.
Easy setup.
Simple structure.
Versatile tarp construction.
Cons
Heavy.
Fiberglass poles.
Too small for the declared capacity.
Only for mild weather conditions.
I have already given a couple of alternatives in the comparison table above. But if you need more, please check in the category Dome Tents and also in the group Tents for 7 & 8 people. So check also this Eureka Tetragon HD 8 Tent which is a very simple dome style structure. A more luxurious dome-style option is this Chinook Titan Lodge 8-person tent. If you want something with instant setup and in the same size range, check this ALPHA CAMP 8 Person Instant Cabin Tent.
Note, this is not a sponsored text and I am not paid by the manufacturer, I am only expressing my own unbiased views about this product.
Thank you for reading, please let me know if you have any question or comment, there is a comment box below. I wish you a nice day.

---