NTK Philly GT 8 to 9 Person Tent is a dome-style semi-freestanding 3-season camping single-room tent with partial coverage fly and fiberglass poles.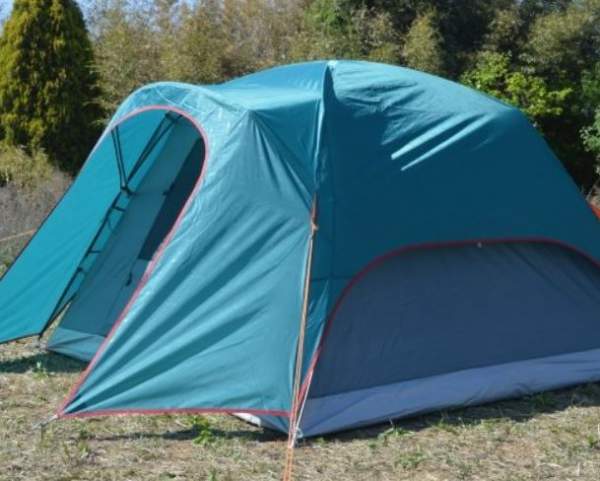 ---
Key features
Single door.
Single room.
1 Window.
Partial coverage fly.
Great waterproof rating.
E-cable port.
Fiberglass poles.
Very tall.
---
Where to buy
This tent is available on Amazon. They operate globally so please follow the link and check the price and shipping conditions for your location.
You will find it also at Walmart.
---
What this is about
The Philly series from NTK includes 4 tents of different sizes and this Philly GT 8/9 is the largest of them. They describe it as a dome tent and it looks so, but the picture below shows you that the leg poles are completely straight so it could also be described as a cabin tent.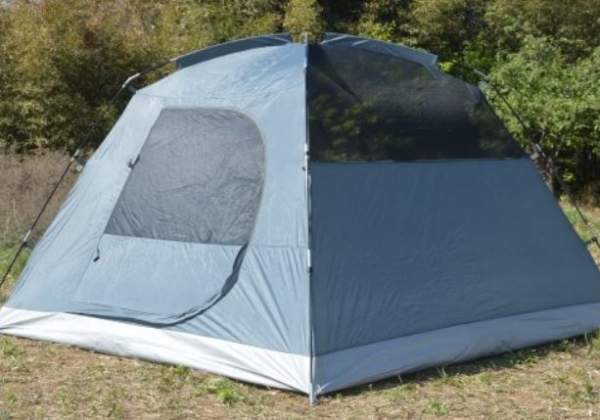 This is a very simple single-door and single-room construction with the fly which covers the biggest part of the tent. But this is not a full-coverage fly, there are sections on the sides that are not covered, plus the porch area, you can see them in the top picture above. But the material of the walls is with the same waterproof rating. So this is a hybrid double-single layer construction.
The small porch is supported by its own brow pole and this allows easy access to the tent, but this also implies that there is no vestibule here which is normally used for storage. A kind of trade-off as usual. Note also that this is a very pleasant and tall structure with a peak height of 78.7 inches (2 m).
The tent is semi-freestanding and you can realize why from the picture above. When you add the fly, it has two side flaps that serve as windbreakers, so you need to stake them down to serve the purpose as intended. But indeed you could stay in the tent without doing this.
---
Who is it for
Capacity: The declared capacity is 8-9 people, and the tent's area is 120 ft² (11.2 m²). So in the case of 9 users, this would mean 13.3 ft² (1.2 m²) per person which obviously makes no sense.
In my view, this is a tent for a maximum of 4 people, as mentioned above there is no extra storage space so you need some area for gear. The inner dimensions are 12 x 10 ft (366 x 305 cm) so the tent can accommodate 2 queen-size beds.
Seasons & climate: This tent comes with a great waterproof rating and it will protect you in any conditions in a 3-season use. There is plenty of mesh on the ceiling and on the front door and this should work fine in a warmer climate. The brim on the front protects the door so you can keep the door with mesh only most of the time and this will give a good air circulation to fight condensation. But I miss seeing floor vents, this would make the tent far more suitable for summer camping.
I would not use this tent in a cooler environment, if this is what you need please check my separate list with more enclosed tents' designs. On the other hand, the structure is aerodynamic and stable and will perform reasonably well in the case of wind.
Weight: They describe it as a camping tent and in view of its 20.74 lb (9.4 kg) this is indeed so. Note that the packed size 26.8 x 9.1 x 9.1 inches (68 x 23 x 23 cm) is such that you can transport it even on a motorbike.

---
Materials & other features
The poles
There are only two main poles that support the dome, plus one shorter brim pole above the door. This is fiberglass, not particularly durable material but it is used in many tents nowadays, and you can see it even in much more expensive tents.
The main poles attach to the tent's base with the usual pin-and-ring system. On the top, you have sleeves for poles and clips are in between.
The fabric
They claim it is 100% waterproof but such a statement makes no much sense. In fact, the fly and the body are 190T polyester laminated with polyurethane which gives it a 2500 mm water column. This is rather high value and you will not need more in any case. The materials are CPAI-84 fire-retardant.
The floor material is seamless heavy-duty anti-fungal polyethylene with a silver-coated inner layer to prevents leaks so you can be sure you are safe from the ground. This is a bathtub-style construction.
The mesh sections are ultra-thin NO-SEE-UM polyester micro-mesh which keeps the smallest insects and mosquitoes out.
Other features
A lantern loop is on the ceiling.
E-cable port is available.
One roomy utility pocket for storage is on the wall.
---
Specifications
Declared capacity: 8-9 people.
Weight: 20.74 lb (9.4 kg).
Dimensions: 13 x 12 ft (396 x 366 cm).
Inner dimensions: 12 x 10 ft (366 x 305 cm).
Inner area: 120 ft² (11.2 m²).
Peak height: 78.7 in (2 m).
Packed size: 26.8 x 9.1 x 9.1 in (68 x 23 x 23 cm)
---
Final thoughts, rating, pros & cons
So I hope you now have a clear picture of this NTK Philly GT 8 to 9 Person Tent. As you realize it is nicely built and they have done a lot of effort to make it waterproof, and it will protect you in any conditions in a 3-season use. This is a reliable tent from a renown brand, and the price is very good, fully recommended.
This tent is on the market at a very good price, and it has received a very good rating on Amazon. Please see how I rate this tent:
NTK Philly GT 8 to 9 Person Tent
$219.95
There are more NTK tents from this size range in the site here, see their NTK Hunter GT 8/9, NTK Savannah GT 8/9, and also NTK Colorado GT 8 to 9 Person Tent. Their NTK Laredo GT 8/9 is with the same declared capacity but it offers far more area.
Note that this is not a sponsored text, and I am not paid by the brand. Please let us know what you think about this tent, there is a comment area below. Use it if you have any question. Have a nice day.
---