---
NTK Laredo GT 8 to 9 Person Tent is an extended dome type reliable single room and single door tent for 3-season camping, with a good waterproof rating and fiberglass poles.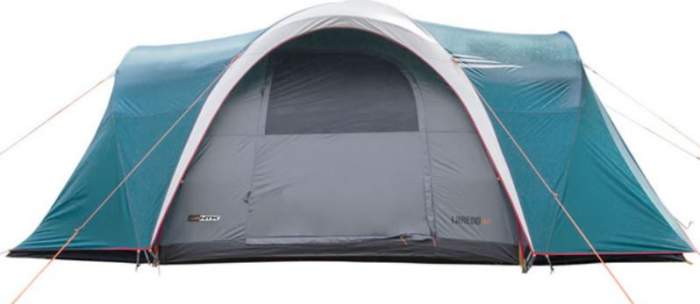 ---
Key features
Extended dome tent.
Non-freestanding.
Single room structure.
Single door.
Fiberglass poles.
Full protection.
Reasonable price.
---
Where to buy
This tent is available on Amazon and I have seen it on several of their regional stores. So follow the link and use their global shipping service.
---
What type of tent is this Laredo GT Tent
This Laredo GT tent has been on the market for several years already. This is an extended dome style tent with the central area supported by two crossed poles and extensions with one loop pole each. They describe it as freestanding but this is not an accurate description. It can remain upright without stakes bit it will not be functional. To have the extensions stable and tight, you have to stake the tent properly, see the picture below.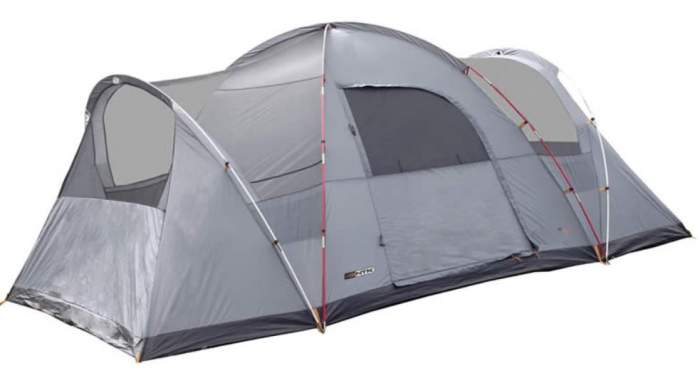 The tent is with an almost full fly, only the door is without the fly but here you have a small brim, see the picture below. So this makes it very similar to their Larami GT 9-10 tent, but here you have a single-room structure as compared to three rooms in the Larami tent.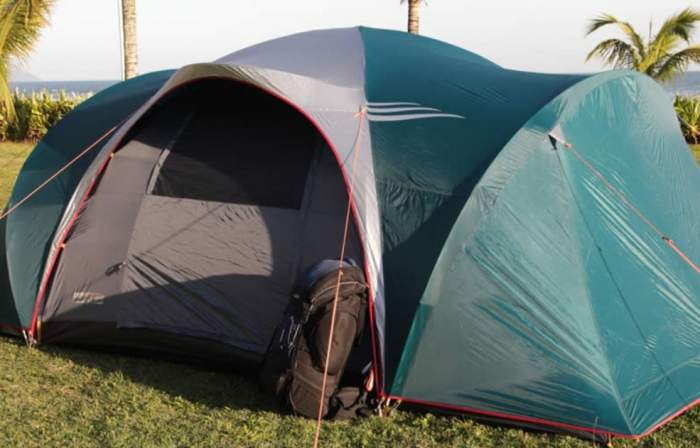 Note that this is a tall tent with a stand-up height of 88 inches (190 cm) in the central dome part.
---
Who is it for
Size-wise, the dimensions shown below give the area of 150 ft² (13.9 m²) and in the case of 9 users this means 16.7 ft² (1.5 m²) per person. So this tent can accommodate such a number of people but note that there are no vestibules for storage, so this number should be downgraded as usual.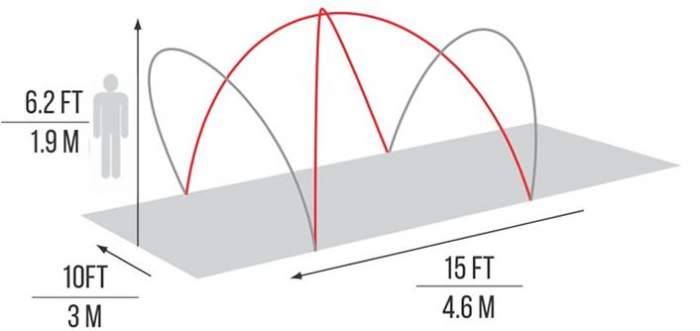 The picture below shows what the manufacturer suggests for using the floor of this tent in the case of pads and beds. So the case with pads looks doable but it makes no sense having so many beds inside.

Seasons-wise & climate-wise, they describe it as a 3-season tent and this is indeed so. The waterproof rating is high and the fly is almost full cover type. There is lots of mesh on the inner tent, but there are no vents on the fly, so in a warm environment it is best to set this tent up in the shade if possible.
Weight-wise, you will see in the rating table below that the area/weight ratio is very good so the tent is reasonably lightweight. The packed size is less great but this is not a big deal, this is a camping tent and you will transport it in a car in any case.

---
Materials & construction
Note that there are some contradictory descriptions around, even on Amazon they write about 2 doors and 3 windows. In fact, there is only one door and it has a window on it, there are no other windows, the fly goes to the ground everywhere around.
Poles & stakes
So they describe the poles as 100% virgin NANO-FLEX shock-corded fiberglass, this simply means the material has not been recycled. You have gold plated ferrules at their ends and they attach to the base through aluminum pin-and-ring, this is all standard design for such a type of poles. There are 2 main poles for the dome, 2 loop poles for the extensions, plus one short pole for the door brim.
It comes with some 20 or so simple steel stakes, and guylines are in place as well, so you have all that is needed to secure the tent properly. Plan at least 15 minutes to set this tent up.
Fabric
The fly is 190T polyester laminated with polyurethane so you have a 2500 mm waterproof rating. This is more than enough for any weather conditions. They claim that it provides UV 50+ protection.
The inner tent is with NO-SEE-UM micro mesh and taffeta. The floor is a heavy-duty anti-fungus seamless polyethylene with the inner silver coated layer. The claim that the fabric meets CPAI-84 flammability requirements.
Ventilation
I already mentioned the lack of fly vents. So this is not the best option if the tent must be closed for an extended period of time in the case of rain. Also, the door has mesh on the upper part only, pity they did not add a full-size mesh door. Other than that, you have seen how it looks without the fly, plenty of mesh around.
Other features
This Laredo GT tent comes with an E-cable port.
There are a couple of utility pockets.
A gear loft is included.
---
Specifications
Type: extended dome tent.
Capacity: 8 to 9 people.
Weight: 23.59 lb (10.7 kg).
Dimensions: 15 x 10 ft (457 x 305 cm).
Area: 150 ft² (13.9 m²).
Area per person: 16.7 ft² (1.5 m²).
Peak height: 88 in (190 cm).
Packed size: 31 x 12 x 12 in (79 x 30 x 30 cm).
---
NTK Laredo GT 8 to 9 Person Tent vs Competitors
So here is this NTK Laredo tent side by side with two other tents with the same declared capacity and built in a somewhat similar style. As you realize it is indeed lighter although it is a bit bigger than the other two. But see how many doors you have in the other tents, and the Chinook Tent also has a vestibule.
---
Final thoughts
So if you do not want to spend too much and still have full protection in 3-season camping, this NTK Laredo GT 8 to 9 Person Tent is an option to consider. This is a reliable brand and the tent has been around for a number of years already, tried and tested, so there should be no unpleasant surprises with such an item.
This tent has collected a number of reports on Amazon and the average rating is very high. Please see how I rate it against the standard set of criteria used for all the tents here in the site, for easy comparison with other tents:
I have added it to my list of best dome family camping tents and also in the list with best 8-person tents. If you want something more compact, check their NTK Philly GT 8 to 9 Person Tent which is with the same declared capacity but a simple dome structure.
You might want to compare it with this new tent on the market the Coleman Oasis 8-Person Dome Tent so have a look. If you would rather have a freestanding tunnel tent, please check this TOMOUNT Keep 8-Person Tent.
Note that this is not a sponsored text and I am not paid by the brand. Please use the comment box below in the case of questions or comments.

---