This NTK Texas GT up to 7 Persons Tent is a remarkable and tall construction with an inner tent and screened porch, 2 awnings, 2 doors, 3 windows, and an incredible price.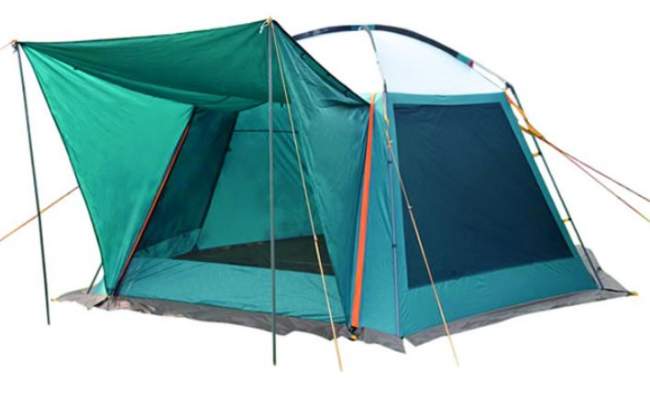 ---
Key features
Freestanding tent.
2 Doors.
3 Windows.
2 Awnings with included poles.
1 Room + screened porch.
Very good waterproof rating.
Full coverage fly.
Fly-first pitching system.
Great price.
---
Where to buy
This tent is available on Amazon. They operate globally so check the link from your side and see about the current price and shipping conditions.
---
What this is about
Here you have a very interesting design, a hexagonally shaped structure with a full-coverage fly, and an inner tent that occupies only half of the hexagon area. So this is a double-layer tent in true sense. The picture below shows the view inside from the main door and through the porch area: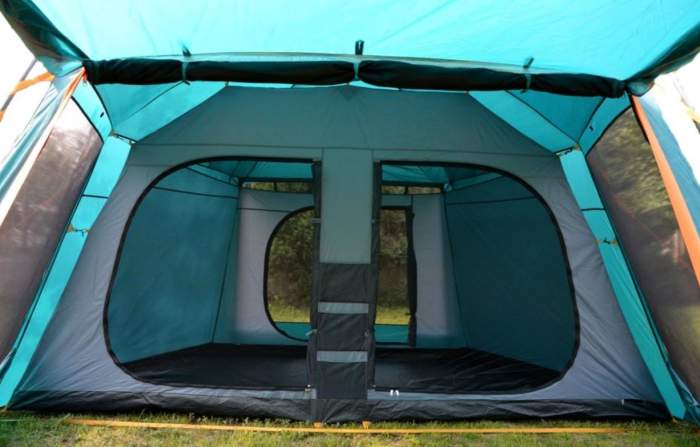 I would describe it as a cabin-style tent because of its straight leg poles and straightened walls, the picture below shows the view with the back door closed, so you realize how steep and straight walls are. But this makes it quite unique among cabin tents because here you have a full fly, but see also this Coleman Octagon 98 Full Fly Tent which is yet another cabin with a full fly.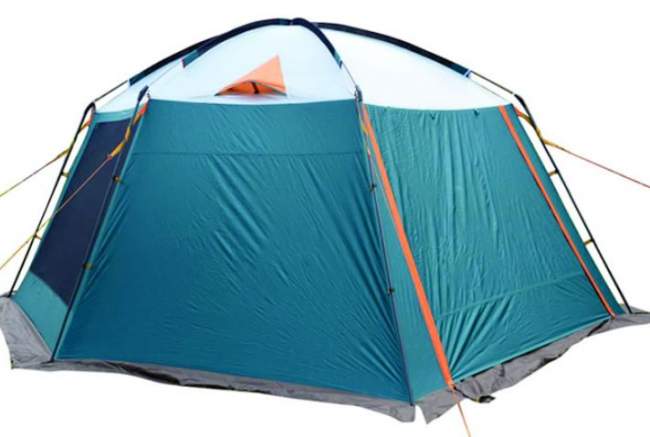 There are two doors from the two sides, and both are with awnings which extend the useful space considerably, and they offer space for sitting in the shades on both sides of the tent. The inner tent is with three inner doors, all with mesh for ventilation.
There are also three windows here, two of them are separate on the sides, and one is on the main front door. Note that all of them are with mesh and panels. So all the windows are on the porch area.
Now, this means that the porch is with mesh on the main front door and on the side windows, so you can sit there fully protected from mosquitoes. This makes it more a screen room than a porch, and indeed I have included this tent in my list of tents with screen room. I think it deserves to be there. The picture below shows the front view with the awning up and the mesh is on the front door: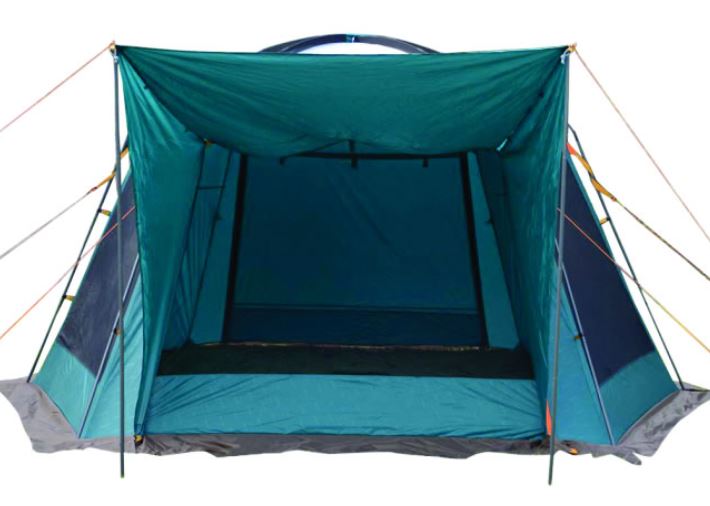 With its 6 legs, the tent is freestanding, but this is a heavy construction so do not ever miss to stake it down properly. You have all the stakes and the guylines in the package.
---
Materials
The poles
As you realize, the poles are from outside. You have sleeves on the top and clips on the lower sections, this is how they are connected to the fly. On the base, you have pin and ring elements to connect the poles with the fly/tent. The material is a combination of power-coated steel and fiberglass used for the roof frame.
This is a good design because it implies what can be described as 'fly first' setup. This means that you raise the tent while the inner tent remains protected all the time. This is very convenient when you have to pitch the tent in the rain. If you have ever done this with standard tents where the fly comes at the end, you will know that the inner tent becomes totally wet before you attach the fly.
As mentioned above, the tent offers two awnings, so the poles are included for both sides, they are around 7 feet long.
The fabric
The floor – here you have a heavy-duty anti-fungus seamless polyethylene with an inner silver coated layer. Note that this is a bathtub-style construction.
The fly – this is a 190T polyester laminated with polyurethane which gives it 2500 mm waterproofness. So this is a high value and with such a full fly you have complete protection with such a tent. All seams are fully taped. The inner tent is also polyester and you have mesh sections on the roof for ventilation.
The materials meet CPAI-84 flammability requirements.
Ventilation
The inner tent is a breathable polyester and you have mesh sections on the roof, plus 3 huge doors with mesh and panels. Since it is deep under the full fly, you can always keep it with mesh on the door for optimal ventilation.
In addition, you have vents on the fly, and if this is not enough, you have seen that the main entry point on the screen room is with mesh as well. There is almost nothing one could object to this design.
Other features
Roomy utility pockets (visible in the pictures above).
Gear loft for storage.
Nicely designed carry bag.
Mudflaps are everywhere on the perimeter of the tent (see the picture below). They will drain the rainwater out of the tent, and you can also press them with something to prevent cold drafts if you use the tent in a cooler environment.
There are two carry bags here, see the numbers below.
Lantern hanging loop is on the ceiling, shown below.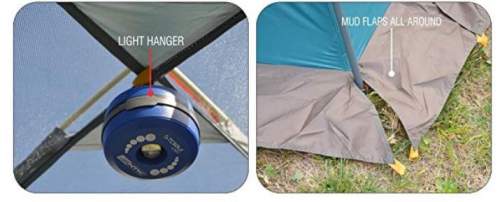 ---
Who is it for
Space-wise, they describe this tent as 6-7 people capacity. This is far from realistic and you can realize this easily from the floor plan below.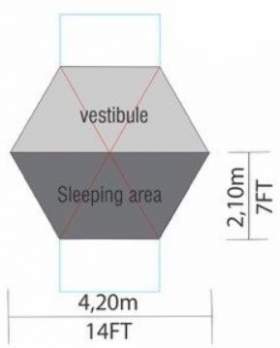 As you see, this is a hexagon and they have made some big mess with numbers. This is because there can be no 2.1 meters half distance along the short diagonal while having 4.2 meters along the long diagonal. This is mathematically impossible. They have made a mess also with the height so there are three different numbers, the same situation is on Amazon and on the site of the brand.
But the longer diagonal is more or less 14 ft (427 cm; note also that they write that the floor is 15 x 15 ft), then the shorter diagonal is 3.7 meters, so there should be 1.85 meters instead of 2.1 in the picture. Then the floored area (i.e., the half of such a hexagon) is only 63.5 ft² (5.9 m²). So there is no way to accommodate 6 to 7 people here.
There is a huge vestibule (screen room) of course, this is the same area as the inner tent, but it is without the floor. So this is a very useful space for sitting and all the camp activity but not for sleeping. All in all, this is a tent for a maximum of 4 people, say parents with two kids.
Seasons-wise & climate-wise, they describe it as a 3-season tent and this is definitely so. In the case of a warmer climate, you have great ventilation as mentioned above. The rain protection is excellent from all the sides.
In the case of a cooler environment, you can press the skirt around the perimeter with stones or sand to prevent cold drafts, and all the windows and the doors are double layer type so you can close the panels on them. The construction is strong, the fly goes all the way to the ground, so this is all properly done.
Weight-wise, the tent is very heavy with its 44 lb (20 kg), but this is expected. You have 6 legs poles plus 4 poles for the awnings, plus the roof poles. I do not see this as a big deal. This is a camping tent. It is also bulky when packed, so this is a tent for places with car access.
---
Specifications
Declared capacity: 6/7 people.
Weight: 44 lb (20 kg).
Dimensions: 14 x 14 ft (427 x 427 cm).
Inner area: 63.5 ft² (5.9 m²).
Vestibule area: 63.5 ft² (5.9 m²).
Total covered area: 127 ft² (11.8 m²).
Peak height: 6.9 ft (82.8 in; 210 cm).
Packed size: 30 x 15 x 15 in (76 x 38 x 38 cm) + 30 x 10 x 10 in (76 x 25 x 25 cm).
---
Final thoughts, rating, pros & cons
So I am quite impressed with this NTK Texas GT up to 7 Persons Tent, it has a number of unique features, and all this with such an incredible price. But it is best to ignore the declared capacity, it totally makes no sense, this is a great tent for its price, but not for 7 people.
If it is too heavy for you, check their NTK Omaha GT 6 tent which is a standard dome construction with a full fly. If you want some more space in the tent, check this Coleman Ridgeline 6 Person Tent which has three rooms.
Please see how I rate it against my standard set of criteria which are used for all the tents here in the site for easy comparison among them:
Note that this is not a sponsored text, and I am not paid by the manufacturer. What do you think about this tent? Any experience with it? Please share your thoughts, there is a comment box below.