---
The OneTigris TEGIMEN Hammock Hot Tent with Stove Jack is designed to be used as a 4-season shelter for a hammock. It is ready to use a wood-burning tent stove inside, and it offers a great waterproof rating.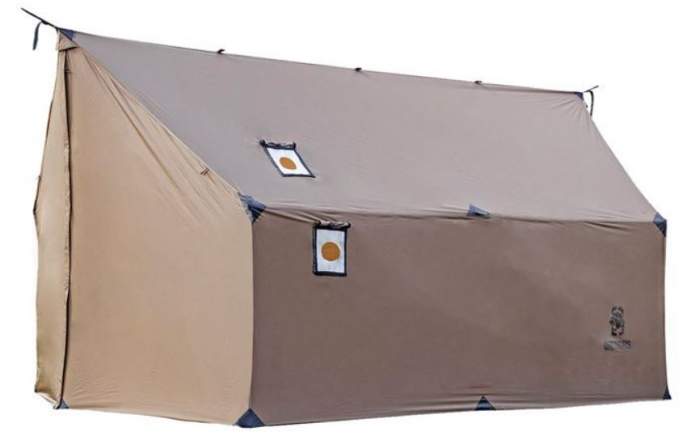 ---
Key features & benefits
No poles.
YKK zippers.
Single layer.
2 Pipe jacks.
---
What is in the name
Here you have a unique outdoor shelter built specifically for people who sleep in hammocks. The picture below shows how this can look. This is a single-layer shelter and without a floor.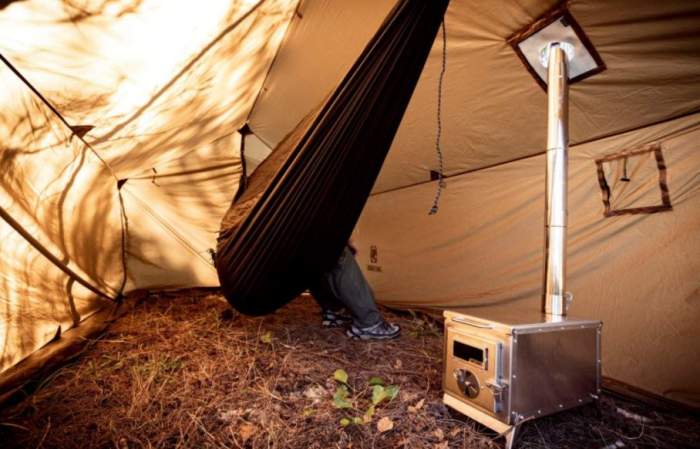 The tent comes with two pipe jacks, one on the roof and one on the side wall. You have removable heat-resistant pieces that attach to the two openings through Velcro. When not in use, you detach them and close the openings with the integrated flaps. The openings on the pipe jacks are 3.3 inches (8.5 cm) in diameter. Because of this feature, I have included it in my list of tents with stove jacks.
Although the word Tegimen may sound Chinese, it comes from Latin and it means cover, protection, or body armor, how appropriate for such a shelter.
If you are curious about the wood-burning stove visible in the picture above, this is the OneTigris Tiger Roar Tent Stove presented in my separate text.
If you add a couple of extra poles, you can use this shelter as an ordinary tent as shown in the picture below. In this case you have a standard tent, but here again, you can use some of these freestanding folding hammocks.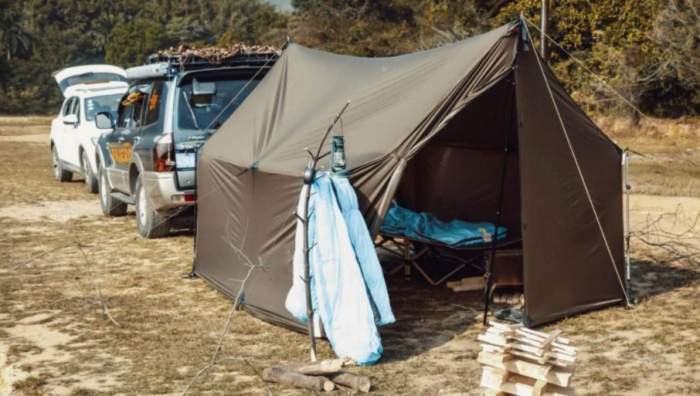 This is a tall construction as expected for a shelter that should be used over a classic hammock. The picture below shows the most important dimensions: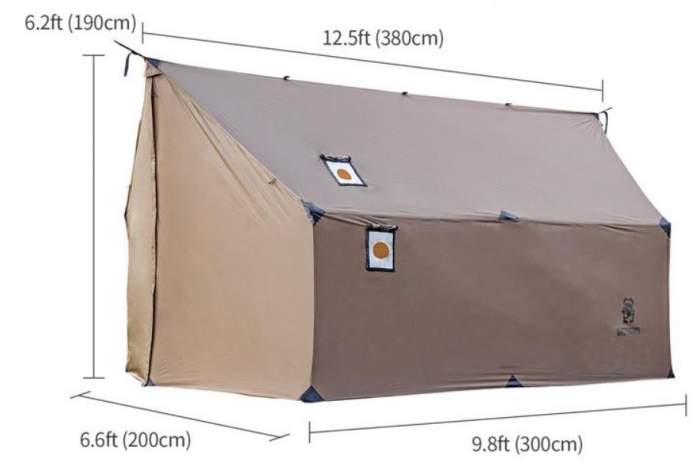 Materials & elements in the package
The package includes the following elements:
OneTigris TEGIMEN Hammock Tent.
14 Pegs.
6 Guylines 9.8 ft (3 m) long.
4 Guylines 19.7 ft (6 m) long.
2 Stove jacks.
Stuff sack.

The fabric is a durable 70D nylon, with a 3000 mm waterproof rating. There are no poles in the package. The zippers are on the two sides and they are top-quality YKK products. You can open them from the top and from the bottom. The idea is to have a place to pass the rope for the hammock and you can position it at any height, see how this looks: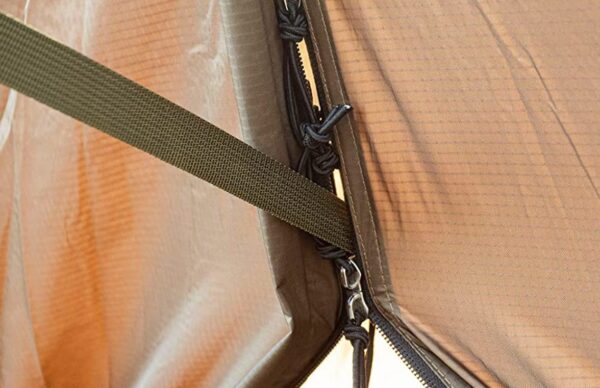 Note that the picture shows two zippers that are with pull loops that are connected. This means you can move them together and they will not open independently, so the opening for the rope remains always the same. This is a great detail.
But there is also a separate third zipper pull underneath (see it in the picture), so you can open it and close it to the ground and use as a tent door. In this sense, this is a tent with two doors.
The fabric color is quite stealthy, I like it as it is. You have seen those dark patches at the base and around the roof. So these are positions with loops for guylines and stakes, and they are well-done with strong stitches, no objection here at all.
This all comes in a nicely designed carry bag shown below, with a zipper and a pair of carrying straps. It may look a bit bulky when packed for such a single-layer shelter without poles, but note that this is a huge structure with lots of fabric.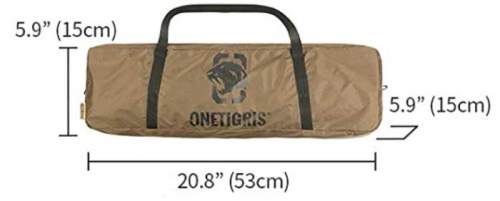 Please see a bit more in this short video:
---
Who is this OneTigris TEGIMEN Hammock Hot Tent with Stove Jack for
Regarding climate & seasons, they have built it as a shelter for all seasons assuming that you would use it with a wood-burning tent stove for winter camping. There is a skirt that goes around the tent's base, so you can put snow on it and keep it in place. This will prevent cold drafts.
But there are no vents here so this is not the best if you use it in warm weather. The same holds when you burn wood inside.
There are no windows here. Pity they did not add any mesh opening with panels. If you open it like the picture below shows, you will have a sleepless night because of mosquitoes. It is hard to understand what they were thinking when they were designing it.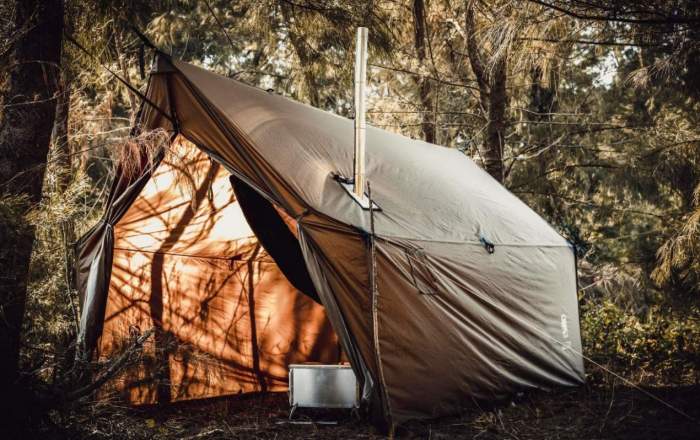 Regarding the capacity, this all depends on how you use this shelter. It is large but this is for one hammock only. If you use it with the previously mentioned freestanding folding hammocks, you may place a few inside. 
Pity they didn't make it wider so that it can be used with cots placed parallel to each other. With the 2 meters width, the only option is to place cots longitudinally. In this case, you can have a place for 2 cots and for your gear.
If the hammock is inside, you can probably place two cots on the sides parallel to the hammock. But with shorter people and pads on the ground, you can place 5-6 of them side by side. Note that the length of the tent is 3 meters. The inner area is 6 square meters.
Regarding the packed size and weight, you have seen its carry bag above, and its weight is 6.83 lb (3.1 kg). So this is small enough and light enough to be transported even on a bicycle.
Regarding the price, I would say it is great for such a shelter. The right price for the value.

A note about the pipe jacks. This is a synthetic tent, and if you use the stove inside, make sure that your pipe has a good spark arrestor. Otherwise, you can have holes on the roof. For this reason, I would rather use the pipe on the side, this should make it less probable to have such incidents with sparks.
---
Specifications
Weight: 6.83 lb (3.1 kg).
Dimensions (L x W): 9.8 x 6.6 ft (300 x 200 cm).
Height: 6.2 ft (190 cm).
Packed size: 20.8 x 5.9 x 5.9 in (53 x 15  x 15 cm).
---
Summary
So this OneTigris TEGIMEN Hammock Hot Tent with Stove Jack looks cool and it is becoming incredibly popular on Amazon. It is tall and allows for some versatility regarding the best use. 
You can use it as a shelter with hammock, it is designed for it. But bear in mind the objections I mentioned above. I see it also as a nice annex to a regular camping tent. You can use it as a perfect dining and cooking room. 
It is a bit difficult to properly rate this shelter because it is so different from the other tents here in the site. See how it stands against my criteria:
With such a tent you will want to have a wood-burning tent stove, so check here for some great options. Let me know if you have questions or comments there is a comment box below. Thank you for reading and have a nice day.