---
OneTigris Tiger Roar Tent Stove is a nicely built stainless-steel portable wood burning tent stove with an integrated damper, a door vent, and a glass window.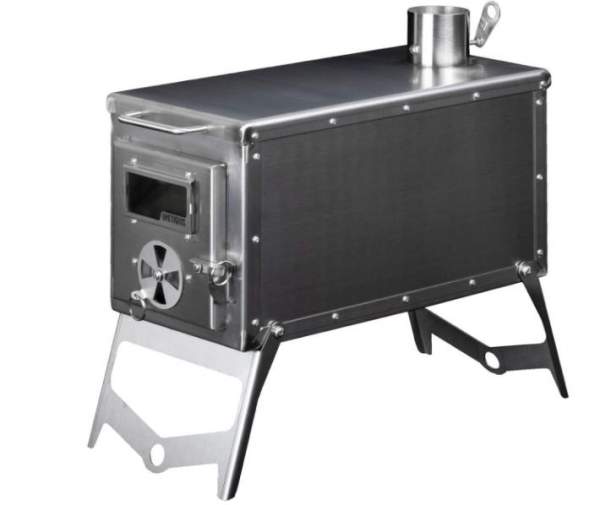 ---
Key features & benefits
Glas window.
Folding legs.
Stainless steel.
4 Elbow pipes included.
Replacement window glass included.
---
Overview of features
This Tiger Roar Tent Stove is all built from a 304 stainless steel, and it looks really nicely built to last long. So you have a rectangular body with folding legs. Observe that there are holes in the legs so you can stake them to the ground to avoid problems with stability.
The picture below shows its nice details on the front where you have a glass window and a nicely designed vent. Both the vent and the door lock are equipped with a ring so you can operate them with gloves.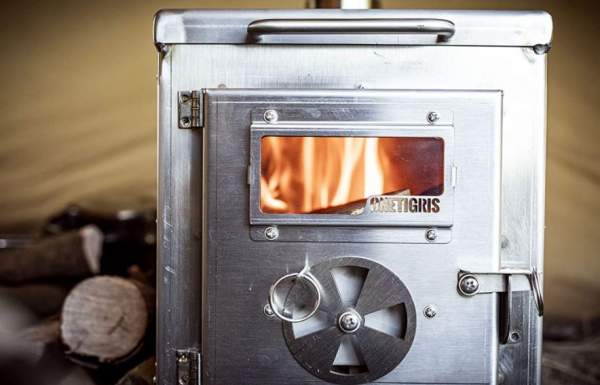 The picture below shows all the elements in the package, so you realize that you get quite a lot with this stove. See for example this pair of leader gloves, and even more importantly there is a spare glass window. As you know, glass windows in such stoves are great to have and they create a nice atmosphere in the tent. But such glass can crack, and it is really nice from them to add such a replacement piece in the case of a problem.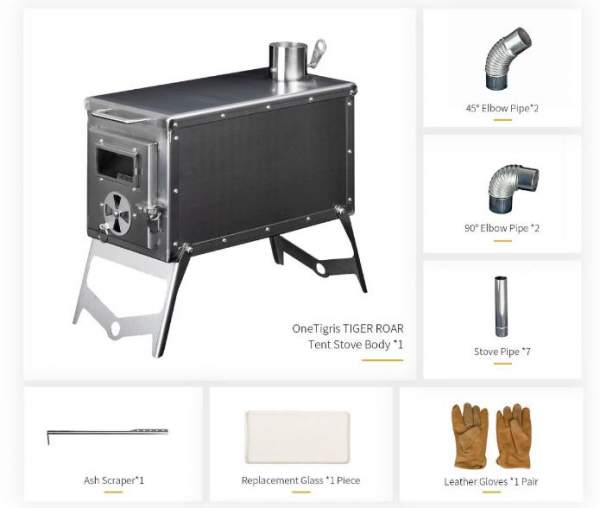 It is equally surprising to see also no less than 4 elbow elements, two are with 90 degrees bend and two with 45 degrees. This is really useful so you can use the stove in various tents. As you know some of the tents with stove jack have the opening on the side and some on the roof.
With such added pieces you can use it in any tent. This also allows for positioning the stove away from the walls, or away from the roof if the tent is low, and you can pass the pipe in any direction. You can also attach such an element to the top of the chimney and orient it in the direction of the wind, this will improve combustion.
All these elements (including 7 pieces of the pipe, and an included ash grate) fit inside the stove for transportation. Note that there is an integrated nicely designed damper on the part where you attach the pipe. It is with an arrow cut in it, showing the direction, really cool, see the picture: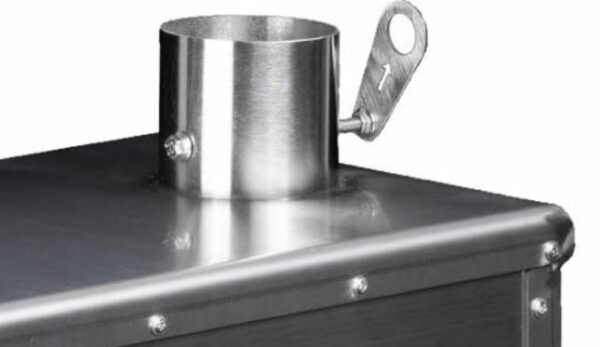 The chimney and elbow pipes are made of #201 stainless steel. The glass is German Schott ROBAX heat-resistant glass. 
But not everything is perfect, as usual. For example, there is no spark arrestor here. Pity they did not include it. One equally important detail is missing – the stove is without side racks. 
---
Who is it for
Regarding the capacity, here are some numbers and comparisons. The combustion chamber is 878 cubic inches (14.7 liters) large. So to get some feeling of the meaning of this, you can compare it with this DANCHEL Outdoor Tent Wood Stove with Pipe where you have 812 in³ (13.3 liters), or with the Winnerwell Nomad medium where you have 800 in³ (13.1 liters).
They do not provide heating capacity, and this is normal, this depends on too many parameters, including the type of tent, quality of wood, etc. But my guess is that the stove should work great in a tent that is 8-15 m³ of volume.
The picture below shows the most important dimensions. As you see, the legs are angled outwards for stability. The cooking area is slightly larger than in the Winnerwell Nomad medium stove where the top width is 7.9 inches; note that here you have 8.5 inches width. But as mentioned there are no side racks, pity.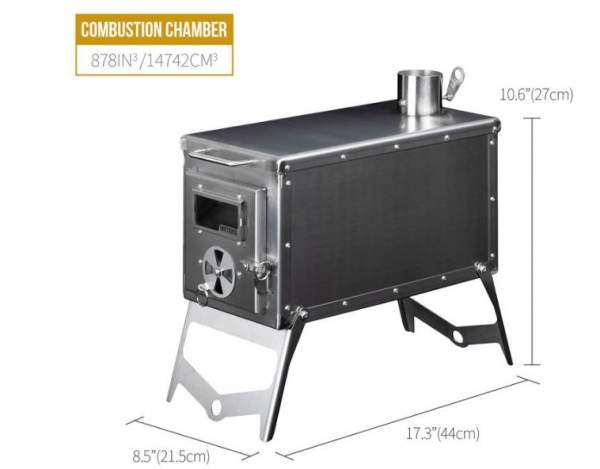 Regarding the weight, this stove is moderately light with its 21.2 lb (9.6 kg). It is almost the same weight as the mentioned Winnerwell stove. So it is portable, but clearly, this is an item for places with a car access.
Regarding the users, this is a stove for heating and cooking in large camping tents for families, for winter camping, for hunters, ice fishing, etc.
Regarding the price, it is a bit steep, but this is a quality stove, so the price is justified.
Please see a bit more in this short video:
---
Specifications
Weight: 21.2lb (9.6 kg).
Dimensions (L x W x H): 17.3 x 8.5 x 10.6 in (44 x 21.5 x 27 cm).
Full height with pipe: 6.88 ft (2.1 m).
Firebox volume: 878 in³ (14.7 l).
Material: stainless steel.
---
Final thoughts, rating, pros & cons
To summarize this OneTigris Tiger Roar Tent Stove review by stressing again that this stove comes with quite a number of elements that you normally do not have included with such stoves. These include gloves, 4 elbow elements, and a replacement glass window. It comes with everything you need for outdoor cooking and tent heating. This is a stainless-steel stove built to last. Fully recommended. I have included it in my list of best tent stoves for wood burning.
Please see how this stove stands against my set of rating criteria:
For more options please check under the category Tent stoves & heaters. Note that you can use this wood-burning stove in the hammock tent of the same brand, the OneTigris TEGIMEN Hammock Hot Tent with Stove Jack.
Thank you for reading. Bookmark this site and visit it occasionally, I add texts here on a regular basis. Subscribe to my weekly newsletter and stay informed, the form is below. Have a nice day.