If you want a summer camping tent that is extremely easy to use, pleasant, ventilated, and very affordable, then this OT QOMOTOP Tent 10 Person review is the text for you. Keep reading.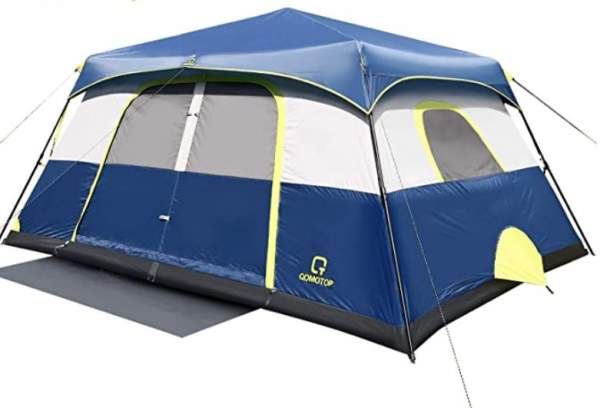 ---
Key features & benefits
60 Seconds setup.
2 Rooms.
6 Windows.
E-cable port.
Gear loft.
Floor vents.
Great price.
---
What this tent is about
This is a completely new brand that appeared on the market recently with a series of four tents built in the same style. The focus of this text is on the largest of them but they all share the same features, just the size is different, and all can be ordered at the same place on Amazon, the link is below.
Setup
It is extremely easy to make this tent ready and one person can easily do this. This is an instant setup tent with telescopic poles and an official setup time of 60 seconds. This is a realistic time for the main tent, but you will need a couple of minutes more to attach the fly.
The picture below shows how simple the frame is with its 4 legs and the roof poles. So if you are not familiar with this instant design, the meaning is that the tent is pre-attached to the frame and this is what makes the setup so easy.
You simply extend its telescopic poles, first those on the roof and then its legs. After that attach the fly. In view of such features, I have included it in my list of best instant camping tents.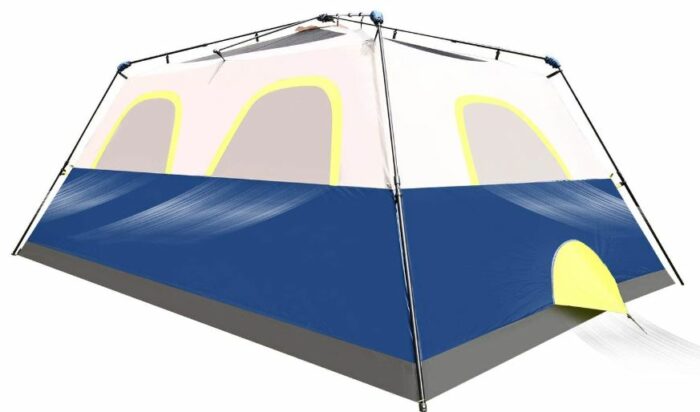 When you want to pack the tent, do everything in the reverse order, i.e., remove the fly and then collapse the legs, and then roof poles. It is useful to unzip some of the windows if not all, so that you can compress the tent and let the air out in case it becomes trapped when you fold the tent.
Because of its 4 legs, the tent is also fully freestanding and self-supportive, and this holds even after you add its partial coverage fly that attaches to its corner poles. So you can move the tent and rotate, but when you are happy with its position do not miss staking it down properly. There are stakes included in the package for the tent's corners and for the guylines.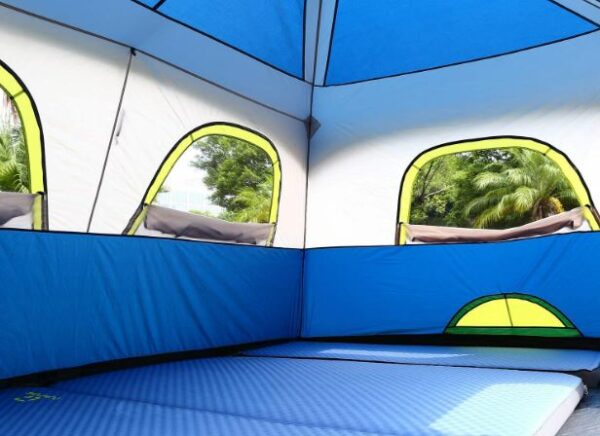 The tent is also quite tall with its 76 inches (193 cm) peak height. There is a removable divider and this is why it is formally a 2-room structure, but do not expect a lot of privacy in such a constriction. When the divider is in place, it attaches between the two doors, so each of the rooms has its own door.
You have great views around through its 6 windows, some are shown in the picture above. This is why the fly is minimal and it covers only the ceiling.
Ventilation
The ceiling is all mesh, and all the windows are with mesh as well. But they have added two floor vents (one is visible in the picture above, the yellow opening above the floor), so even if you have to keep the windows closed, you should still have a good vertical air circulation to fight condensation. So there is not much one could object here.
---
Who is it for
Space-wise, the declared capacity is 10 people, and for this you have 140 ft² (13 m²). This means 14 ft² (1.3 m²) per person. The picture below shows what the manufacturer suggests for using the tent, so either two queen size beds for off-the-ground sleeping, or 10 pads on the floor.

So this is yet another tent where the capacity is measured by the number of sleeping pads you can place on the floor. Perhaps this might work for a group of friends at some open-air festival, but it is indeed difficult to squeeze 8 pads side by side (as the picture above shows) on its 14 ft (427 cm) length. For real family camping, it is best to downgrade the number of uses by half.
Seasons-wise & climate-wise, in my view this is a summer camping tent, or a tent maximum for two seasons in the warmer part of the year. With so much mesh on the ceiling it would not be pleasant to camp in a cold climate.
They describe it as 100% waterproof and anti-condensation, but the reality is that the waterproof rating is only 600 mm and this is just a bit more than an umbrella. But indeed you do not need more if seams are all properly sealed. Besides, all the reports I have seen so far show that the tent works well and without leaks.
Condensation can never be avoided, this depends on weather conditions, on the number of people in the tent, and on the construction. In this case, ventilation is very good so indeed condensation issues should be minimal.
Note that the tent is very tall and boxy, the fly is positioned high but it is secured with guylines. In view of such a design, this tent is not the best option for places with strong winds. They claim it is good for winds of up to 35 mph, but I am a bit skeptical. This is for quiet and warm-weather summer camping.
Weight-wise, the tent is heavy with its 29.9 lb (13.6 kg), but this is quite normal for an instant tent with such poles. It is also a bit long when packed, the dimensions are 43 x 8 x 8 inches (109 x 20 x 20 cm). But this is also very typical for instant tents because those telescopic poles have some parts that overlap, i.e., a part of a pole must remain inside of the lower section, this is what gives the structure its rigidity. As a result, the tent is long when packed.
But all in all, this is a car camping tent and the weight and packed size are not really essential. Please see a bit more in this short video:
---
Materials
Fabric
The fly and the walls are the same material, and this is a quite durable 68D polyester with PU coating and with the mentioned minimal waterproof rating for both rainfly and the tent walls.
The floor is a 115 g/m² polyethylene, fully waterproof and sturdy, with welded corners. So you are definitely safe from the groundwater.
Poles
The poles are strong steel and this is behind the weight of the tent. But there are only 4 legs, which is surprising in view of the size of the tent. This is why they have added one short roof pole that raises the sides of the tent.
Other features
There is an e-cable port in the corner.
A gear loft is included.
A door mat is included.
---
Specifications
Declared capacity: 10 people.
Weight: 29.9 lb (13.6 kg).
Dimensions: 14 x 10 ft (427 x 305 cm).
Area: 140 ft² (13 m²).
Area per person: 14 ft² (1.3 m²).
Peak height: 76 in (193 cm).
Packed size: 43 x 8 x 8 in (109 x 20 x 20 cm).
Warranty: 12 months.
---
Final thoughts & rating
So to summarize this OT QOMOTOP Tent 10 Person review by stressing again that this is a very affordable and easy to use tent. If you need a shelter for car camping tour and in particular if you plan to change the place frequently, this is the tent to consider.
As of the moment of writing this text, the tent is very new on the market but it is becoming very popular on Amazon and the number of reports by users is growing by the day. But note that they sell 4 tents of different sizes at the same place, just to know and to avoid confusion.
Please see how I rate this tent against my standard set of criteria:
If you need more options in this size range, it is best to check under the category Tents for 9-10 people here in the site. Check also under the category Cabin tents if you want something in this style. You might want to see this Outdoor Products 10 Person Instant Cabin Tent built in a similar style, or this Outbound Instant Pop up Tent for Camping 10 Person Cabin.
Thank you for reading. Please use the comment box below in the case of questions or comments. Have a nice day.