---
In this Outdoor Products 10 Person Instant Cabin Tent review you can read about a freestanding 2-room easy to use tent, with 7 windows and 3 doors, and a 2-minute setup time.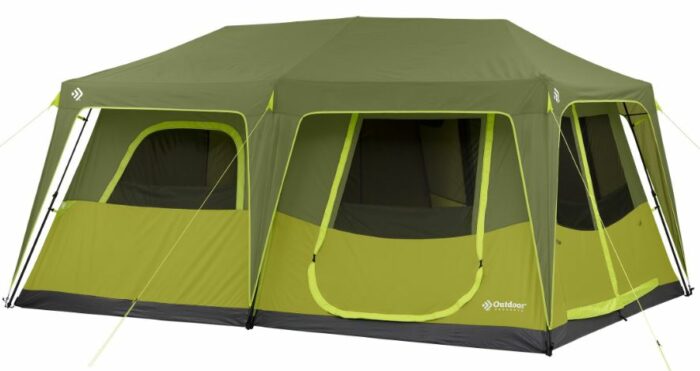 ---
Key features & benefits
Instant setup – 2 minutes.
2 Rooms.
3 Doors.
7 Windows.
Extended eave technology.
Floor vent.
E-cable port.
---
What this is about
Here you have the largest tent from a series that also includes tents for 4 people, 6 people, and 8 people. This is a fully freestanding cabin-style tent with straight and steep walls. The picture below shows it without the fly so you can better understand its frame: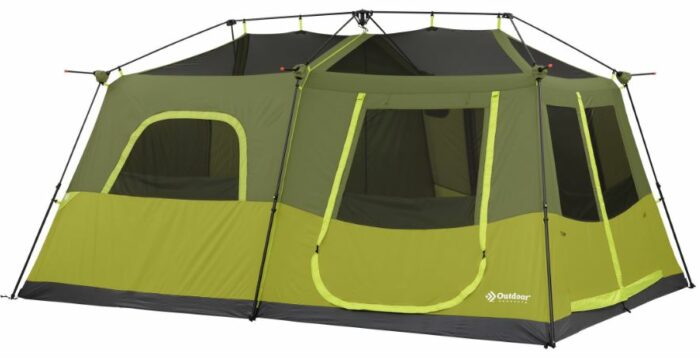 Distinctive feature here is what you see in the roof corners, this extended eave technology is there to keep the tent fly away from the tent body. Such a design you can see also in this Eureka Desert Canyon 6 Person Tent. With this, you also have an overhanging fly and this gives a bit of extra rain protection to its numerous windows. The fly is minimal and it attaches directly to the tent's base, this is why you can move the tent and rotate even with the fly on.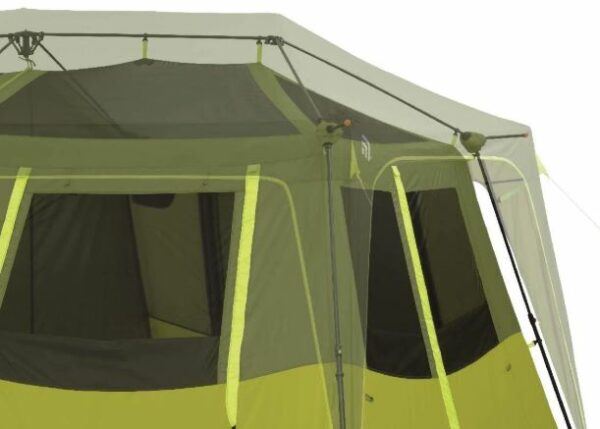 Instant setup: The frame that you see in the picture is pre-attached to the tent. This is behind the word Instant in its name. So when you want to pitch the tent, you unfold it and spread on the ground, and after that just expand its telescopic legs poles. You will see pop-up buttons that will appear and lock the poles in place. One person can easily set this tent up.
When you want to pack the tent, just do the opposite, press the lock button and collapse its poles, then remove the fly and fold the frame together with the tent. In view of these features, I have added it to my list of best instant camping tents.
This is a tall and pleasant construction with 78 inches (198 cm) peak height, and it is a 2-room structure with a sewn-in divider shown in the picture below. Note that there is a lip where it attaches to the floor. You can open it wide as the picture shows.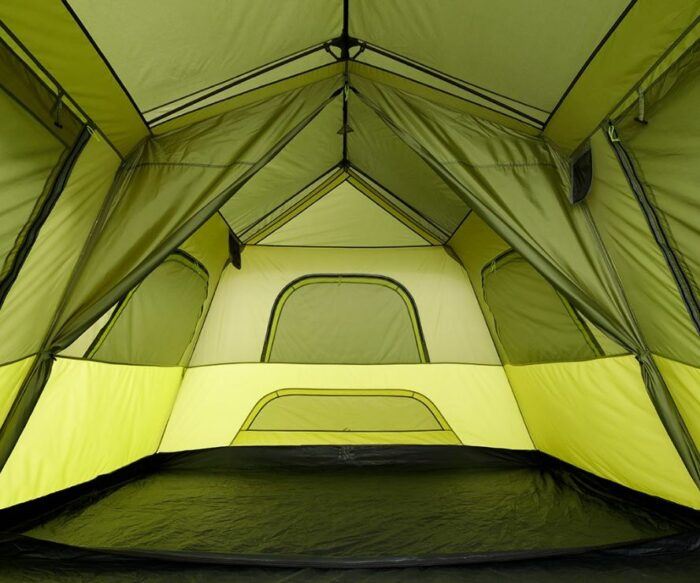 The doors & windows
There are three doors here, two on the longer sides (see the picture below) and one on the narrow side of the tent. The latter is an inverted-T-shaped structure with a central zipper and bottom zippers. This is why it is on my list of best camping tents with 3 doors. You also have 7 windows, all double layers with mesh and zippered panels for privacy and protection from elements.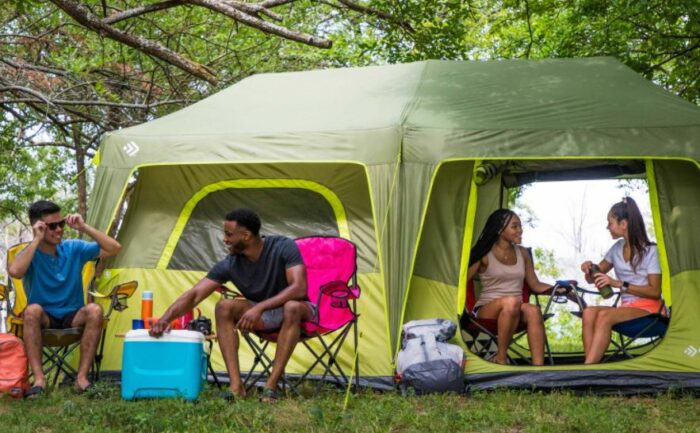 Ventilation
All the mentioned windows have mesh, and the ceiling is also all mesh. Because of the fly separated from the canopy, and its overhanging structure, the windows can be kept with mesh even when it is raining, at least partly in their upper sections.
But they have introduced a large floor went as well, it is visible in the picture above. This will help in having vertical air circulation all the time. So ventilation is excellent here, there is nothing one could object to.
Please see a bit more about the tent in this short video:
---
Materials
The poles
All metal parts here are steel, and this is reflected in the weight of the tent. But there are 6 long legs plus 7 roof poles, so the weight is justified. Note that 14 steel stakes are also in the package.
The fabric
The tent's body and fly are 68D 190t polyester with an 800 mm waterproof rating. The seams are taped so this is all good enough, you do not need more.
The floor is a coated polyethylene 115 g/m², and it is a bathtub style, see the picture below, this is the dark fabric that goes off the ground. They do not give a waterproof rating but such plastic materials are usually fully waterproof and you are surely safe from the ground.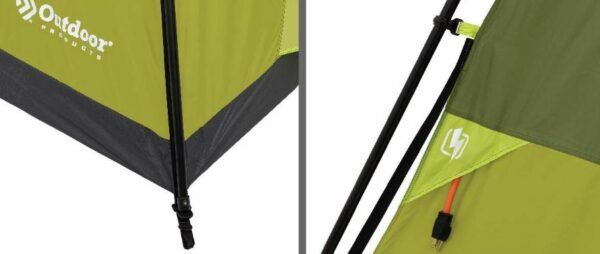 The picture above shows the e-cable port that is available. There are a couple of built-in multi-media and storage pockets positioned very high, it is hard to understand why at such a place and why not more of them.

---
Who is it for
Regarding space, the tent is officially for 10 people. For this you have 140 ft² (13 m²) and this means 14 ft² (1.3 m²) per person. So although it is possible to put 10 sleeping pads on the floor, this is not realistic for a family camping. It is best to downgrade this number drastically. Note that this Bessport Camping Tent 10 Person offers 2 square meters more but it is a tunnel tent.
Regarding seasons & climate, I see this tent best suited for summer camping and for very calm weather. The tent is well ventilated but with so much mesh on the ceiling, you would not want to use it in a cooler climate. On the other hand, it is tall and boxy and the fly is such that it would not last long in strong winds.
Regarding the weight, this is a heavy structure that weighs 41.6 lb (18.9 kg). There is lots of steel here so you know where the weight comes from, the tent's frame is very strong. The packed size is 45 x 9 x 9 inches (114 x 23 x 23 cm), so clearly this is something for places with a car access.
---
Specifications
Official capacity: 10 people.
Weight: 41.6 lb (18.9 kg).
Dimensions: 14 x 10 ft (427 x 305 cm).
Area: 140 ft² (13 m²).
Area per person: 14 ft² (1.3 m²).
Peak height: 78 in (198 cm).
Packed size: 45 x 9 x 9 in (114 x 23 x 23 cm).
Frame: steel.
They offer a 1-Year Limited Warranty and suggest contacting them immediately if the tent arrives with any defect.
---
Final thoughts, rating, pros & cons
In the summary of this Outdoor Products 10 Person Instant Cabin Tent review, I would stress again that this is a pleasant tent with so many windows on all the sides, and it is also very easy to use if you disregard its weight and packed size. This is a tent for a warmer part of the year, use it that way and in calm weather conditions and you will enjoy your camping.
Please see how I rate this tent against my standard set of criteria, this allows you to compare it easily with other tents of this type here in the site:
If you need more options in this capacity range, please check under the category Tents for 9/10 people. For more tents in this shape check under Cabin tents. Check yet another tent from this brand, the Outdoor Products 8 Person Instant Hexagon Tent with Built-in Lights, as you realize from its name it has some extra features.
On the other hand, if you would rather have something different but with the same official capacity, check this Wenzel Pinyon 10 Person Modified Dome Tent built as an extended dome.
Bookmark this site and visit again, we add texts here regularly so this will keep you informed about the situation in this industry. There is a subscription form below for our weekly newsletter. Thank you for reading and have a nice day.