---
Outbound 8-Person Tent with screen porch is a summer camping non-freestanding tunnel-type structure with fiberglass poles, very affordable and easy to use.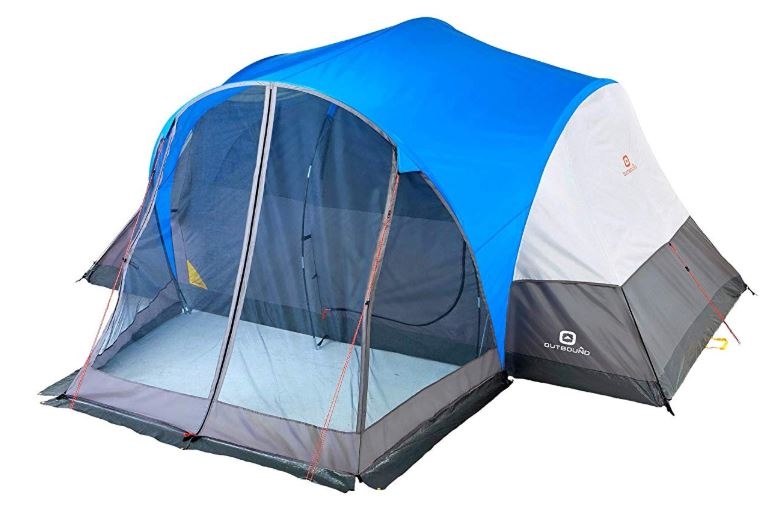 ---
Key features & benefits
Tunnel-type tent.
1 Door.
1 Room.
1 + 1 Windows.
Fiberglass poles.
E-cable port.
Great price.
---
What type of tent is this
They describe it as a dome tent, but in fact, this is a very typical tunnel tent. The picture below shows it without the fly so you can see its frame structure: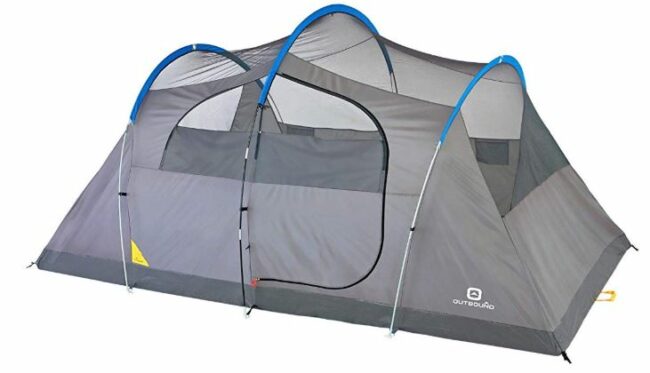 The tent is not freestanding, so you have to stake it down properly. As usual with tunnel tents, the setup is easy and one person can do this alone in a few minutes.
So stake one side, pass the poles through the sleeves and attach them to the tent's base and then expand the structure like an accordion, and stake down the other end after that. Then go around and finish adding all the stakes that are in the package. You can do this differently, by staking down the four corners first and then adding the three loop poles.
The fly is not a full-coverage type although it protects the biggest part of the tent. This is a very simple single-room structure with one door and a window on it, plus one separate window, you can see them in the picture above. But there is more here…
Screened porch
There is a front screened porch that is created by the fly as you realize from the pictures above. This area is only partly protected from the rain, but you have full protection from flying insects. So here you can sit and enjoy, or use the area for cooking when it is not raining.
Note that the porch is partly covered so this creates an awning above the door and you can keep the door and the window with mesh only most of the time.
There is a removable mat (floor) here as well, but it is best to roll the mat to the side if you plan to use chairs on the porch. I have added this tent to my list of tents with a screen room.
Ventilation
With so much mesh you would not worry about ventilation. The ceiling is all mesh as you realize. But they have missed adding one or even two floor vents, pity.

---
Who is it for
Space-wise, the declared capacity is 8 people and as usual this is unrealistic, although it is possible to squeeze 8 sleeping pads on the floor. The picture below shows what the manufacturer suggests for using the area. This can work for a group of friends at some summer open-air festival, but for camping it is best to downgrade the number of users to 4-5 maximum.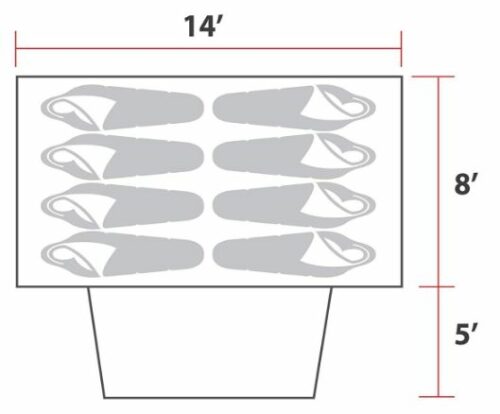 The screen porch adds some space as you realize, but this is not an area protected from the elements and you cannot count on this to keep your gear.
Seasons-wise & climate-wise, this is a summer camping tent and a tent for warm weather in general. With so much mesh you would not want to use it in a cool environment.
The waterproof rating is not so big but you do not need much if all seams are waterproof. It is best to avoid harsh conditions in general, this is not a tent for heavy rains and strong winds.
Weight-wise, the tent is reasonably lightweight with its 18 lb 8 oz (8.39 kg). It can be carried on the trail if you really want an 8-person backpacking tent. The packed size 26 x 10 x 9.5 inches (66 x 25 x 24 cm) is not bad at all so you can transport it even on a bicycle or on a motorbike.
---
Materials
The poles
You have them 4 and this is a fiberglass material, quite appropriate for such a budget-friendly tent, with a diameter of 11 and 9.5 mm. They describe it as 'strong durable fiberglass frame' but let's be realistic, this is not at all a durable material, but it is widely used in such tent, so all is fine.
One of the poles is used to support the porch. The poles attach to the tent's through the usual pin-and-ring system, clips, and sleeves on the roof.
The fabric
The fly and the tent's body are built from a durable polyester 185T 68D with a 600 mm waterproof rating. This is just a bit more than an ordinary umbrella where you have around 400. But the seams are taped and this should be enough for light rain. The mesh sections are also polyester 68D. The floor is bathtub style polyethylene.
Other features
E-cable port is available.
A couple of small pockets are on the walls, far from enough.
A carry bag is included.
Tent stakes & guy lines are included.
Please see more about this tent in the video:
---
Specifications
Declared capacity: 8 people.
Weight: 18 lb 8 oz (8.39 kg).
Dimensions: 14 x 13 ft (427 x 396 cm).
Inner dimensions: 14 x 8 ft (427 x 244 cm).
Floor area: 112 ft² (10.4 m²).
Floor area per person: 14 ft² (1.3 m²).
Peak height: 76 in (193 cm).
Packed size: 26 x 10 x 9.5 in (66 x 25 x 24 cm).
---
Final thoughts, rating, pros & cons
So you have seen it, if you do not want to spend much and need a large tent for occasional outdoor adventures in calm weather and for summer conditions, this Outbound 8-Person Tent with Screen Porch is a great choice. Just disregard the declared capacity, and do not use it in harsh weather situations. See below how I rate this tent against my standard set of criteria.
Please check under the category Tents for 7-8 people if you need more options. See these Nemo Wagontop 8 Person Tent and Coleman Cimmaron 8-Person Modified Dome Tent with their unique designs.
Thank you for reading. Please use the comment box below in the case of questions or comments. Bookmark this site and subscribe to our weakly newsletter, we add texts regularly and you will always have new tents added. Have a nice day.