Waterproof ratings for tents are pointed out in all reviews in this site, so it may be appropriate to say something about it here and have as a reference. Some manufacturers don't give it explicitly but many do this, and I think is essential to have such an information.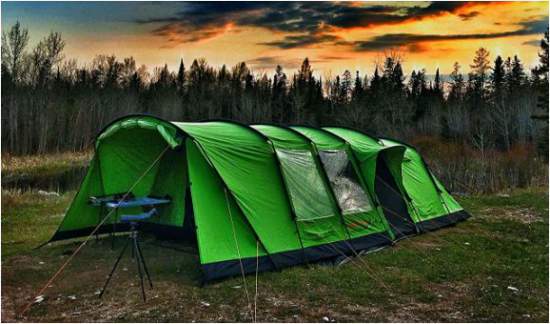 ---
How is tent waterproof rating described
You will see any of the following terms used in the specifications and descriptions of tents:
Waterproofness in mm H2O.
Hydrostatic head rating in mm.
Rating in PSI.
The first two terms describe the same. This is about the water pressure applied to a waterproof fabric before at least 3 drops of water are able to pass through it. They test it by putting the fabric as the bottom of a (bottomless) cylinder and create a water column above. After that, they just measure how many millimeters of water is there before the fabric fails and the water starts leaking through it.
So when you see the rating of 1000 mm, this means you can have a water column of 1 meter above the fabric and it will still hold it there. This looks impressive when you visualize it.
The third term, the PSI, means 'pounds per square inch'. This means the water column measured in pounds while the area of the fabric is 1 square inch. So this is essentially the same, just different units are used. The conversion for several numbers is given in the table so you can have some idea when you see any of the two versions of the rating:
| | |
| --- | --- |
| Rating in mm | Rating in PSI |
| 500 | 0.71 |
| 1000 | 1.42 |
| 1500 | 2.13 |
| 2000 | 2.84 |
| 3000 | 4.27 |
| 5000 | 7.11 |
How much waterproofness is enough
Think in terms of an ordinary umbrella. Here you have 400 – 500 mm. So in theory, this is completely enough.
Indeed, for a tent's fly and for its waterproof walls this may be completely enough. But waterproof tents usually have more. This makes them heavier, and if they have a too thick layer of coating, they may become rigid and such waterproofing becomes counter-effective.
But you still have it much more, so why? This is about abrasion, and wear and tear, which you do not have in the case of an umbrella. This is why the floor of family camping tents and other tents is usually with a much higher rating. These parts are most subject to abrasion.
Remember also the pressure of water on the fabric mentioned above; so the same holds for your body pressure on the floor which has some groundwater underneath it. The water may pass when you press the floor fabric from above – it doesn't matter from which side the pressure comes.
This is why in family camping tents, the floor is usually of a thick material, typically polyethylene, and this is a sort of plastic which is completely waterproof. So the thicker the better, these materials are inexpensive. But in tents designed to be carried in a backpack or in top-notch tents, some lighter materials are used. You can see this in the Big Agnes Flying Diamond 6 and also in the Marmot Limestone 6 tent, where you have polyester used.
Most of the tents here in the site are for summer camping, so they are with a rather low waterproofness rating, sometimes as low as 600 mm, but more frequently this is 1200 mm and sometimes 1500mm, or 1800 mm like in the case of Kelty Trail Ridge 6. I am talking about the fly of course. But there are exceptional examples, like this Crua Loj 6 tent where you have 5000 mm. You will notice that they use the term 'hydrostatic head'.
This doesn't mean that those tents with a much lower rating are useless; if they are properly designed you will be fine with them. There are more factors that play the role in a tent's weather protection.
---
The issue of seams
This all may be useless if seams are not taped and if a tent is wrongly designed, or just not appropriate for an environment. You need a tent with a full-coverage quality fly if you plan to use it as a truly 3-season or 4-season tent. This you have in the mentioned the Big Agnes Flying Diamond 6 and the Marmot Limestone 6 tents.
For a polyethylene floor, you have welding used for seams. This is the most reliable way but this is only for such plastic materials. More about this you can see in my separate text about tent materials. For other materials, they use tape-sealed seams. So make sure the tent you are buying is with factory-sealed seams.
Making fabric waterproof is easy, but with such materials, you may have issues with condensation. So ideally, you would have a breathable inner tent and a fully waterproof seam-sealed fly. Such are tents with the Vapex material, see more about this here.
This is why some tents are built from canvas or from a combination called poly-canvas, because these materials are breathable. This is what you have in the mentioned Crua Loj 6 tent, which is the top quality tool without a match.
---
So this was my short introduction in the tent waterproof rating, no need to make it more complicated than that. Just don't be confused with the terminology.
Thank you for reading. Let me know if you wish to add something here, I shall be happy to hear from you, there is a comment box below.
---