---
This Nemo Wagontop 8 Person Tent is the 2020 version of this unique and impressive tent with 2 rooms, one large vestibule, aluminum poles, and very durable fabric. Keep reading.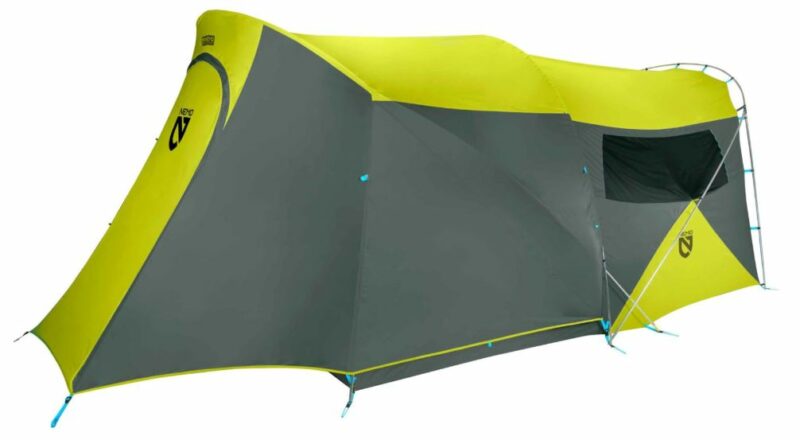 ---
Key features & benefits
Standing height.
Durable fabric.
Freestanding design.
Aluminum poles.
2 Doors.
1 Deep vestibule.
2 Rooms (one is a screen room).
---
What this is about
This Nemo Wagontop 8P is the largest in the Wagontop series of three tents, and in addition, the model presented here is 2020 version of the series that has been around for a number of years already. This new version comes in different colors and you can realize this if you compare with the Nemo 6 Tent from the previous series.
The big difference is on the floor which is with a twice bigger denier value in the new version. Note that, as of the moment of writing this text, both versions are on the market.
I would describe it as a tunnel-type tent, and it is also freestanding due to its completely unique poles structure. There is a divider inside with a central vertical zipper so the tent is formally a 2-room structure.
The tent is a hybrid single & double-wall construction. So one of the sections (rooms) is with mesh plus a rain fly, while the other part is a single-layer section. This is why I have included it also in my list of best screen room tents. The picture below shows it with the fly rolled up so you realize how great this mesh room looks.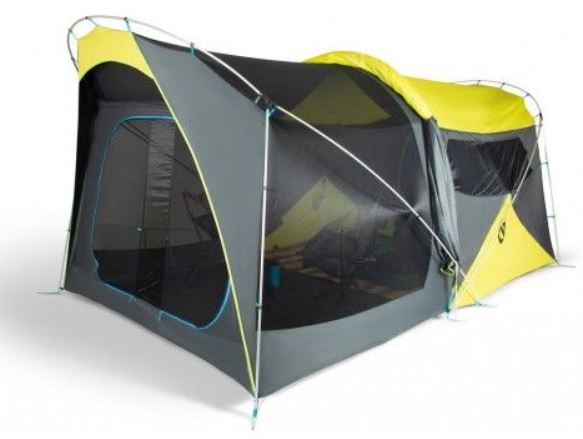 The tent has two huge double-size doors on both ends, and on the sides there are two panoramic windows with mesh and panels from inside.

The floor plan below shows the most important dimensions and what the manufacturer suggests for using the floor area. The section D is the vestibule.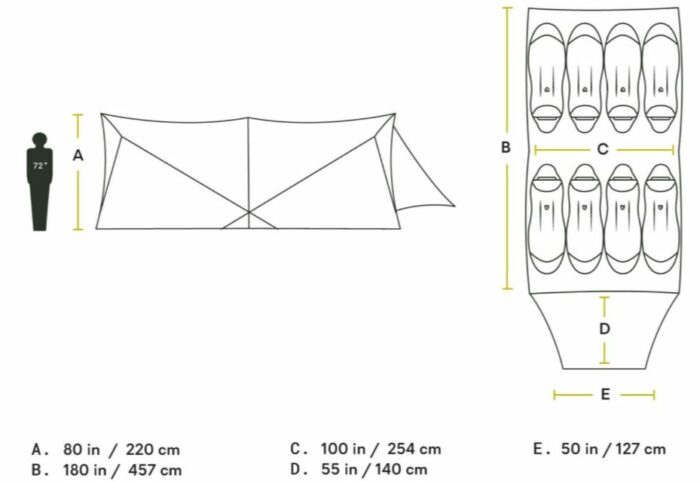 As you realize, this is a very tall tent, and most importantly the walls are steep. The peak height is 80 inches (203 cm) and the picture below shows the height inside the tent. So if you want to have lots of shoulder-space, this is the tent for you: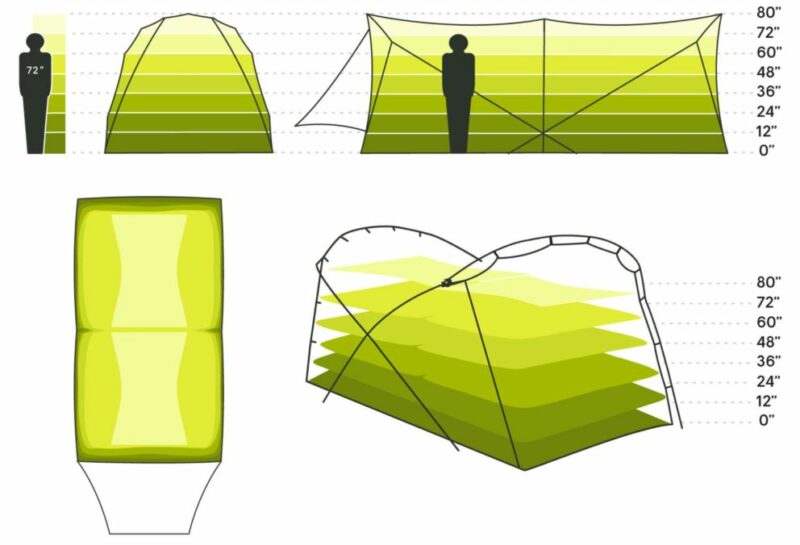 ---
Who is it for
Capacity-wise, you have seen the floor plan above and know that the declared capacity is 8 people. No doubt the tent can accommodate such a number of users but this would be quite a crowd inside.
You have 124.9 ft² (11.6 m²) of the inner area and this gives 15.6 ft² (1.45 m²) per person. The vestibule adds 26.9 ft² (2.5 m²) of the covered space where you can store lots of gear and your footwear. But it is best to downgrade the number of users if you want to fully enjoy its comfort.
Note that they have their NEMO Victory Screenhouse which you can always pitch next to your tent and use as a dining a living room during the day.
Seasons-wise & climate-wise, they describe it as a 3-season tent and this is justified. The tent will protect you in any weather conditions, but I would avoid windy places with such a huge tent. Note that you have almost 6 meters in length and over 2 meters in height. So this is a huge obstacle in the case of side winds.
Weight-wise, with its 30 lb 3 oz (13.7 kg) the tent is quite heavy. This is partly because of the poles with those split ends that make the tent freestanding, and partly because of its durable fabric. So the weight is due to very good reasons. It is also a bit bulky when packed so this is a tent for places with a car access.
Please see a bit more in this short video:
---
Materials
The poles
There are 3 poles here and two of them are crucial for its free-standing feature because they are Y-shaped (at both ends) hubbed structures. This means that there are hub elements at the place where the pole splits (one is shown in the picture below). When you put them in grommets, the tent becomes self-supporting.
The third pole is just the usual loop in the middle of the tent. All of them are shock-corded so although the structure looks complicated, with a bit of practice you can set it up easily. This is all aluminum with 14.5 mm and 12.8 mm diameter.
The fabric
You have a very durable combination of fabric here. So the canopy is a 75D PeU polyester with a 1500 mm waterproof rating and the floor is quite remarkable 300D PeU polyester with the same waterproof rating. I must say the floor's waterproof rating is not so high, but you will not find many tents with such a durable fabric.
In this video you can see how to pitch the tent. Note that it shows the previous version of the tent but all the steps are the same, and it also has the additional Accessory Garage which should be ordered separately (the link is given below).
---
Accessories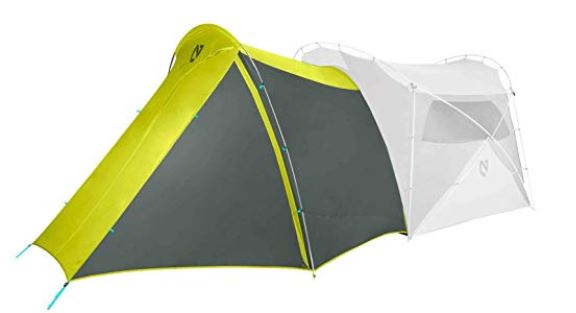 You can also add Nemo Victory Blanket for extra comfort and a bit of insulation from the ground. Note that they build it in three different sizes.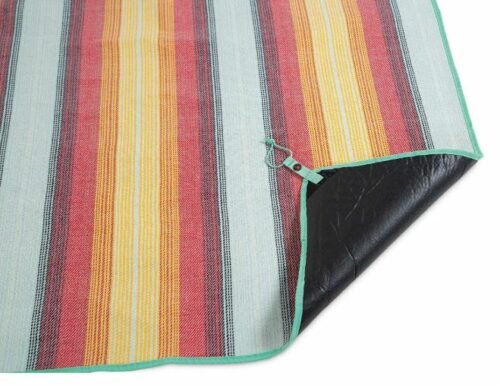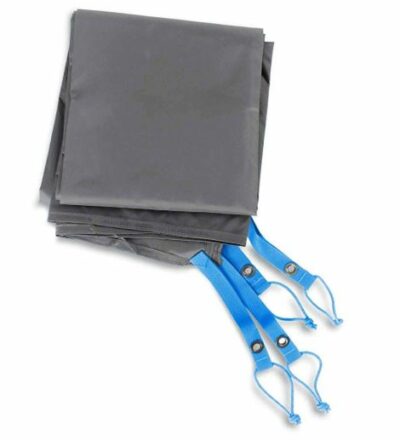 ---
Specifications
Declared capacity: 8 person.
Minimum weight: 26 lb 8 oz (12.01 kg).
Packed weight: 30 lb 3 oz (13.7 kg).
Floor dimensions: 180 x 100 in (457 x 254 cm).
Floor area: 124.9 ft² (11.6 m²).
Floor area per person: 15.6 ft² (1.45 m²).
Vestibule area: 26.9 ft² (2.5 m²).
Total protected area: 151.8 ft² (14.1 m²).
Peak height: 80 in (203 cm).
Packed size: 28 x 13 x 13 in (71 x 33 x 33 cm).
Doors: 2.
Seasons: 3.
Poles: aluminum.
---
Final thoughts, rating, pros & cons
So to summarize this Nemo Wagontop 8 Person Tent review, what you have here is a high-quality tent with great features and organization and built from quality materials. It is remarkable to see a tunnel type tent that is freestanding, this is achieved here with its unique poles system. I have added it to my list of best tunnel-type tents. Fully recommended.
Please see how I rate this tent, the same criteria are used for all of them here in the site for easier comparison:
If you need something different in this capacity range, check under the category Tents for 7-8 people. If you would rather have something simple like a dome tent, check this Coleman 8-Person Dark Room Skydome Camping Tent, or this extended dome the Coleman Cimmaron 8-Person Modified Dome Tent.
Note that we add new texts on a regular basis, so bookmark this site and check occasionally. There is a subscription form below for our weekly newsletter, so subscribe and stay informed. Have a nice day.