This Coleman Cimmaron 8-Person Modified Dome Tent review is about a unique structure that is a mix of a dome and tunnel tent, with a floor vent and a zippered fly.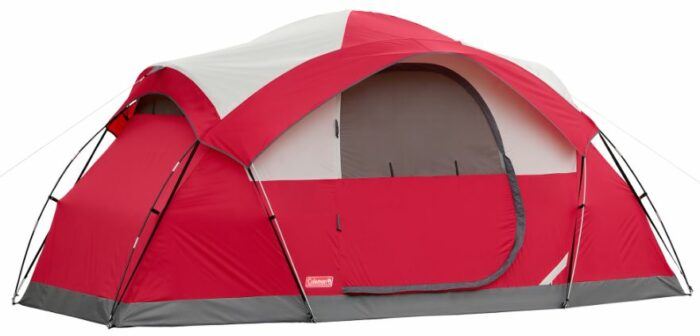 ---
Key features & benefits
Unique frame construction.
Floor vent.
Partial coverage fly with back zipper.
Very tall tent.
One door.
3 Windows.
Freestanding.
E-cable port.
Great price.
---
What is in the name
This tent has been on the market for many years already. The picture below reveals the frame of the tent and as you see, this is not a standard dome tent as the name suggests. There are two long poles that create loops, and in the middle two short crossed poles are added to stabilize these main poles. But those short poles are only ridge poles on the ceiling.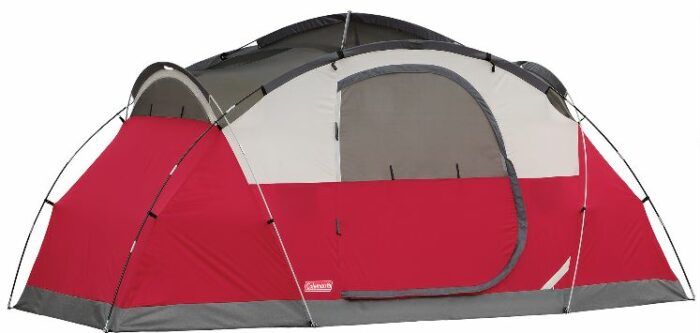 The word 'modified' in the name is obviously there to suggest that this is an extended dome but this is not so. As you see, this is an elongated structure and the two side poles are added to support the tent's sides. All in all, this is not a dome tent although it looks like one, but this is a unique construction.
Note that, due to the two short ridge poles, the tent is practically self-supporting and freestanding when all the poles are in place. The short poles play a crucial role here to stabilize the tent, and it is freestanding because of the tension created in the fabric. But as usual, it should be staked down properly, and the stakes are included.
The fly is partial coverage type so it protects only its mesh ceiling. But it has an interesting detail on the back, a zipper that allows you to open the fly when the sky is clear and this creates a back window. You can see it in the picture how it looks when the fly is closed: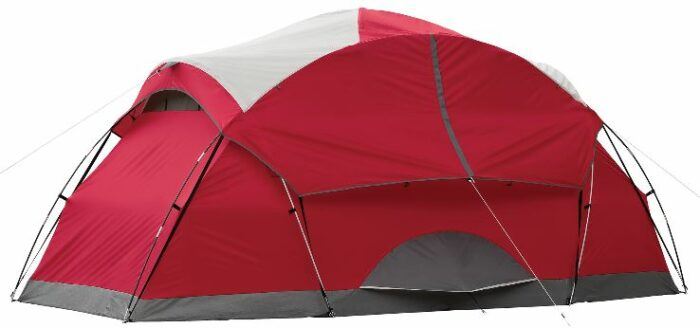 The picture below shows how it looks from inside when the mentioned fly zipper is open, you get a triangular back window. The tent is a single-room and single door construction. Note that it is very tall with its 80 inches (203 cm) peak height, so this is a very pleasant and roomy structure.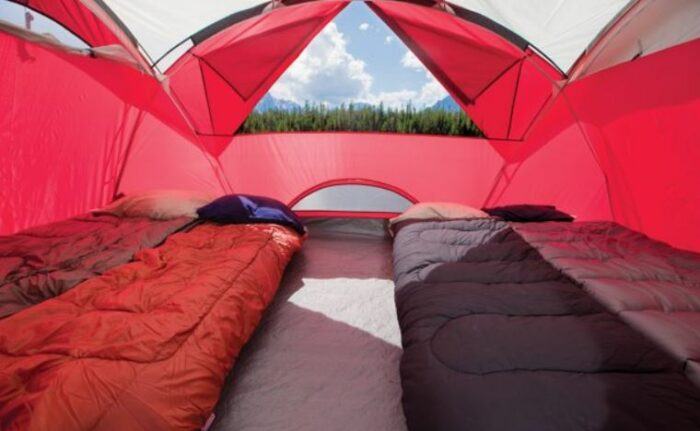 Note that you have a similar fly features also in this Wenzel Bristlecone 8 Person Modified Dome Tent built in a similar style and the same official capacity.
Windows
Apart from the mentioned back window which is in function only when the fly is unzipped, the tent has 3 regular windows in total. The two small half-moon shaped windows on the narrow sides are unusual by the shape and the design, both are double layer with mesh and a zippered panel. The same double-layer structure is the window on the door.
Ventilation
This tent has plenty of mesh on the canopy, and the windows are also with mesh as one option. The fly is minimal and vapor can escape on the sides and on the front. When the sky is clear you can also unzip the back and enjoy under the stars.
But they have added a very useful and large back vent which you can see in the picture below. So with all these elements together, you will always have great ventilation in this tent.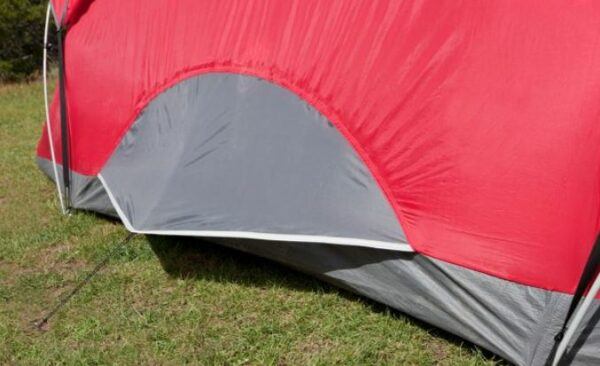 ---
Materials
The poles
The poles are fiberglass, this is not a particularly strong material but it is common in budget tents. Coleman is a big brand and they normally do provide materials and spare parts in the case of damage.
The poles attach to the base of the tent through the usual pin and ring system. On the canopy you have sleeves. I know that some people do not like sleeves, but this is a good design because the pressure is distributed all along the pole and this makes the structure more stable and stronger.

The fabric
As for the fabric, there is no information about its waterproof rating. This is disappointing, but this is frequent with this brand. All they say is what is presented in the pictures below, this is a part of their usual WeatherTec design:

This implies i) their inverted seams for increased weather resistance, the meaning is that needle holes are hidden inside the tent, ii) you have zipper protection, and iii) they claim it is engineered to be strong and more wind-responsive.
This is a polyester, and most likely 150D, so it is quite strong and durable. The floor is a thick and fully waterproof polyethylene with welding and a bathtub shape.
Other features
There is an E-cable port.
A pair of very small pockets on the walls, obviously far from enough.
---
Who is it for
Regarding the area, the dimensions are such that the area is close to 126 ft² (11.7 m²), but strictly speaking it is not completely rectangular so this is just an estimate. They do not provide the exact value, the true area is obviously a bit smaller.
The declared capacity is 8 people and this would mean up to 15.75 ft² (1.46 m²) per person which is not bad and it is enough to place 8 sleeping pads on the floor. But for real family camping, I would downgrade it by half. In any case, you can put two queen size beds inside and still have plenty of space in the middle.
Regarding climate and seasons, I see it best suited for up to two seasons in the warmer part of the year, it is well-ventilated and with openings on all sides.
With such a fly and in view of its weight and the pole material, it is best to avoid strong winds. As usual, I would strongly suggest that you test it in the garden, spray it with lots of water and check for leaks.
Regarding the weight, the tent is moderately light with its 21.12 lb (9.6 kg) of weight. Its packed size 28 x 10 x 8 inches (71 x 25 x 20 cm) is really good for such a big tent. But in any case, this is a tent for places with a motorized access.
Please see a bit more in this video:
---
Specifications
Declared capacity: 8 people.
Weight: 21.12 lb (9.6 kg).
Dimensions: 168 x 108 in (427 x 274 cm).
Area: around 126 ft² (11.7 m²).
Area per person: 15.75 ft² (1.46 m²).
Peak height: 80 in (203 cm).
Packed size: 28 x 10 x 8 in (71 x 25 x 20 cm).
Poles: fiberglass.
Setup time: 15 minutes.
---
Final thoughts & rating
In the summary of this Coleman Cimmaron 8-Person Modified Dome Tent review I wish to stress that this tent comes with some really interesting features. It is pleasant, roomy, and ventilated, so if you need a tent for occasional family adventures, and do not want to spend much but still have a tent from a reliable brand, this is an option to consider.
Please see how I rate this tent, and my list of pros and cons. I use the same criteria for all the tents here in the site so you can easily compare:
If you need more options in this size range, please check under the category Tents for 7-8 people. Check this Coleman Montana 8 person tent with hinged door from the same brand, and also this Coleman Trailblazer 5 Plus Tenda Tent that offers more total space in its two rooms.
Bookmark this site and visit again, we add texts here on a regular basis. Thank you for reading and have a nice day.