This Outdoor Products 8 Person Instant Hexagon Tent with Built-in Lights is freestanding, with floor vents, and you can pitch it in a couple of minutes. Read more below.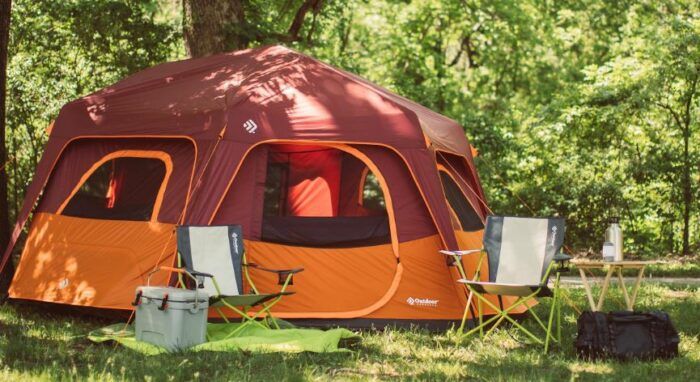 ---
Key features & benefits
Instant setup.
Integrated lights.
Cabin tent.
Freestanding.
2 Floor vents.
6 Windows.
2 Doors.
E-cable port.
---
What is in the name
Actually, there is a lot of information in the official name/title of this tent. The pictures show the rest, so what you see is a typical cabin-style tent with straight and steep walls.
The base is a hexagon and this also implies 6 legs, so the structure is very stable, self-supporting, and fully freestanding. This holds even after you add its partial coverage fly shown in the picture below, that attaches to the tent at the corners. This means that you can rotate and move tents before you stake it down properly.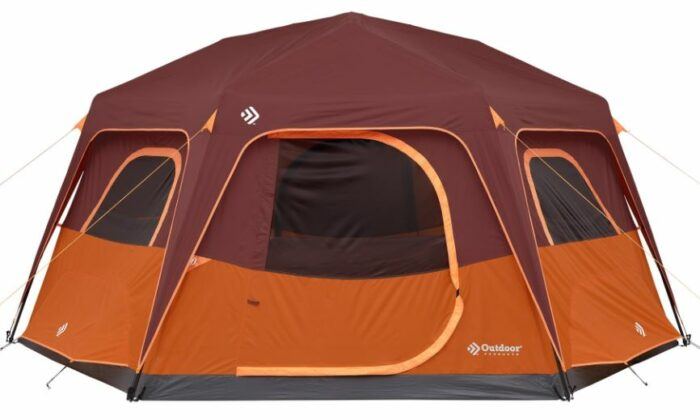 This is a tall and pleasant single-room structure with 80 inches (203 cm) peak height. There are 2 doors and 6 windows in total; 4 windows are separate and 2 are on the doors. All the windows are dual-layer with mesh and zippered panels.
The picture below shows the tent without the fly, and now you can better understand its structure and realize what the term Instant in the name means. So the frame is pre-attached to the tent, and the poles are telescopic, and you pack the tent and the frame together. This makes the setup time incredibly fast and easy. They write it is 60 seconds, but in another place they write 2 minutes; in any case, the setup is fast and easy.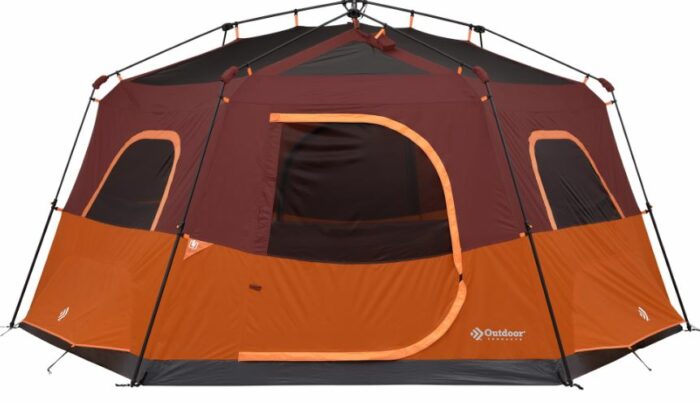 This is why the tent is included in my list of best instant camping tents. The pictures below show some essential steps in the setup procedure: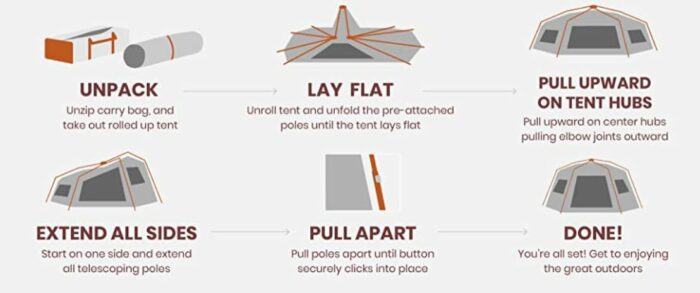 Integrated lights
The tent comes with integrated lights that operate on 4 D batteries. The picture below shows the place with the battery pocket. You have three modes, low, medium, and high. With a set of batteries, for these three modes this will give you around, 200, 90, and 40 hours, respectively.
Note that you also have an E-cable port shown below, but the integrated light does not connect to an external power source, it works on batteries only.
Below you can see how the tent looks from outside when the light is on: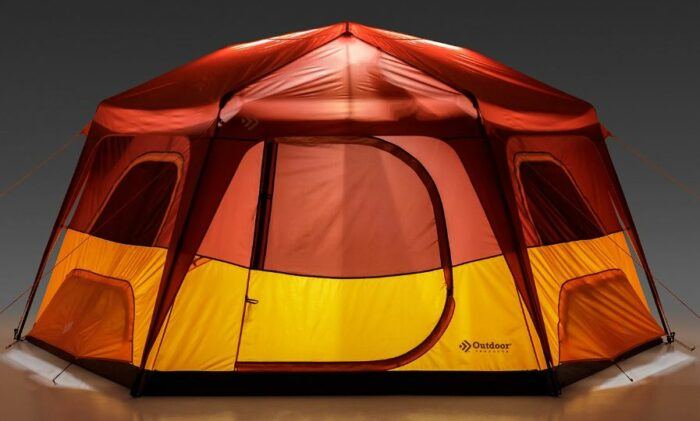 In the picture below you have the view inside, so you can have some idea of where the lamps are located. In view of all these features, I have included this tent in my list of best lighted tents.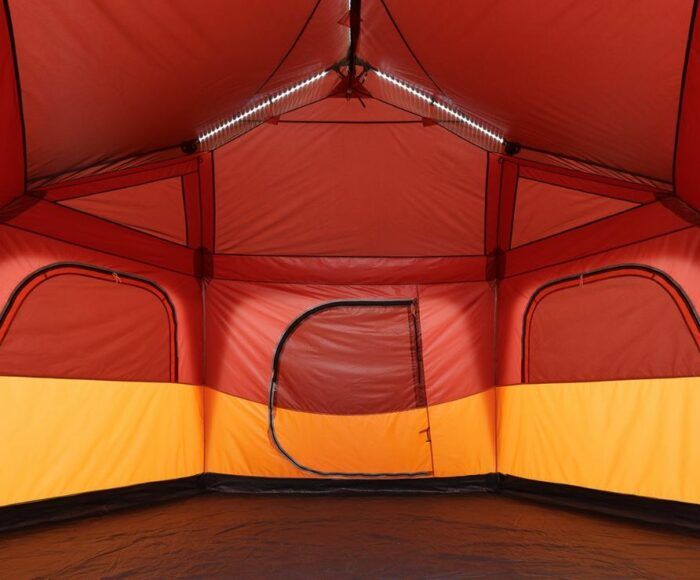 Ventilation
You have already seen the 6 mesh windows, one on each of the hexagon's side. There is lots of mesh on the ceiling (check again the picture without the fly above), so this all will create excellent ventilation as long as the windows can stay with mesh only.
But they have added two large floor vents for a situation when the windows must be closed, one is shown below. This will create lots of vertical air circulation. The fly is not massive, but it would still be good to have roof vents, this would reduce condensation drastically.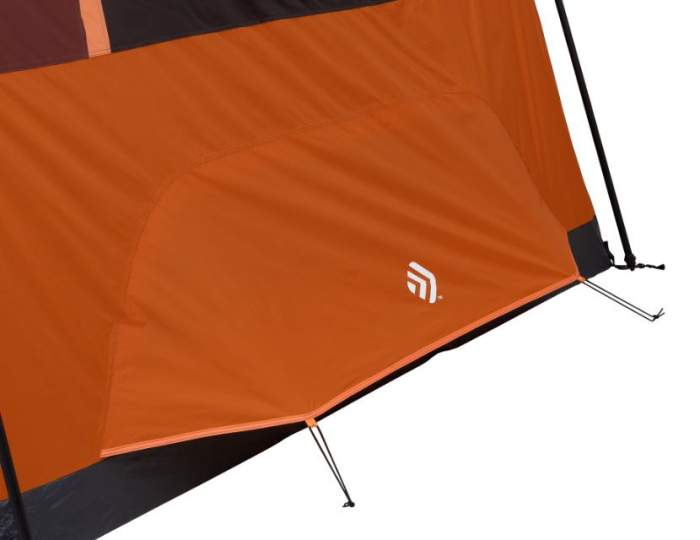 ---
The materials
The poles & stakes
The frame consists of 6 legs poles, and the same number of roof poles that converge to the top hub element. This is all steel and the structure is heavy. There are also 16 steel stakes in the package.
The fabric
The fly and the walls are built from a 68-denier/190 thread-count coated-polyester with an 800 mm waterproof rating. The floor is a bathtub style coated polyethylene 115 g/m². The windows are with no-see-um mesh.
---
Who is it for
Regarding the area, the official capacity is 8 people, and for this you have 146 ft² (13.56 m²). In the case of 8 users, this would give 18.2 ft² (1.7 m²) per person. It is very difficult to squeeze 8 sleeping pads on the floor, rectangular pads do not fit great into such a hexagon space, see in the picture below what they suggest for using the floor. I would say it is best to downgrade the number of users by half or so.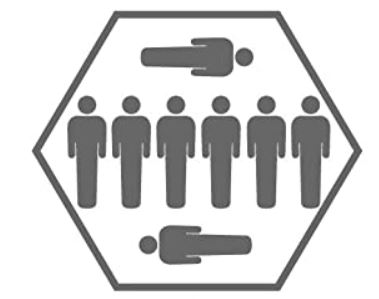 Regarding the weight, this is a very heavy tent with its 41.4 lb (18.8 kg). But this is due to its impressive frame so not everything is bad in this respect.
Regarding seasons & climate, you have already seen the shape and the height of this tent, so it is tall and boxy, and in view of this, it best suited for quiet weather situations without much wind.
The ceiling is all mesh and this is not for a cold environment. The waterproof rating is low but you do not need more, to be sure it is best to check the tent before going camping. All in all, this is a tent for summer camping or for warm weather in general.
Regarding the price, this may change in time, but as of the moment of writing this text, this is a fair price for what you have here.

---
Specifications
Official capacity: 8 people.
Weight: 41.4 lb (18.8 kg).
Dimensions: 15 x 13 ft (457 x 396 cm).
Area: 146 ft² (13.56 m²).
Area per person: 18.2 ft² (1.7 m²).
Peak height: 80 in (203 cm).
Packed size: 42.1 x 12.1 x 11.8 in (107 x 31 x 30 cm).
---
Final thoughts, rating, pros & cons
In summary, this Outdoor Products 8 Person Instant Hexagon Tent with Built-in Lights looks really cool, it is pleasant with so many windows, and you have lots of headroom in every part of the tent. Integrated lights is a bonus that adds to the overall comfort. It is well-ventilated and extremely easy to use. So if you do not want to deal with classic poles, this is a tent that you can have ready in a couple of minutes.
Below is a summary of my rating and pros and cons, the same criteria are used for all the tents here in the site so you can easily compare.
If you need more options of this type, please check under the categories Cabin Tents and Instant Tents. You might want to compare this tent with the NTK Flash 8 Instant Cabin Camping Tent that is also with an instant setup and cabin tent. See also this tall and pleasant World Famous Sports 8-Person 2-Room Cabin Camping Tent.
Bookmark this site and come again, texts are added here regularly and this will keep you informed about the situation on the family camping tents market. Thank you for reading and have a nice day.