---
This Outsunny Easy Pop Up Tent 5 Person is a tall and pleasant freestanding cabin-style instant setup tent with 4 doors and aluminum/fiberglass poles.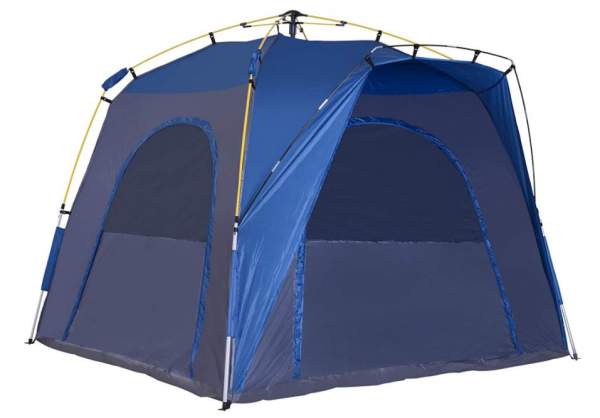 ---
Key features & benefits
Freestanding.
Instant setup tent.
4 Doors.
Single-layer construction.
Tall tent.
Aluminum & fiberglass poles.
Great price.
---
What this is about
Here you have a tent that can be described as freestanding, but you have the stakes and guylines to secure it properly. It is on Amazon under the name given in the title above, but you will see it at Walmart under the name Outsunny 3 Season 5 Person Automatic Hydraulic Pop Up Camping Tent. 
The words Pop Up and "Hydraulic" imply the fact that the frame is pre-attached to the tent so you can open it in seconds like an umbrella. The hub element shown below illustrates its umbrella-like design. This is a bit similar to what you have in this Pacific Pass Camping Tent 6 Person Instant Cabin Family Tent.

So there is nothing really "hydraulic" here, but the setup is indeed fast and easy, so I have included it in my list of best instant camping tents.
The tent has doors on all sides. This is quite unusual to see, and frankly, I do not see the point of so many doors for such a single-room tent. The picture below shows how it looks with two of the doors open. As you realize from the pictures, the walls are steep and almost straight, so I would put it in the group of cabin tents.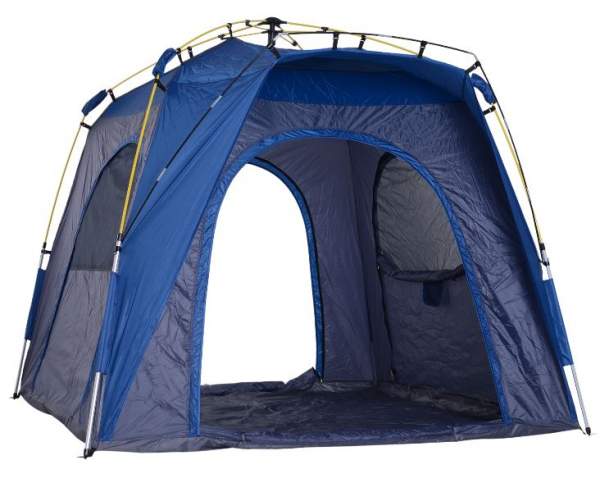 With such walls, with windows on all 4 doors, and with a peak height of 76.75 inches (195 cm), this is a tall and pleasant construction with lots of volume inside. Note that the windows are with mesh and zippered panels. These are the only 2-layer areas in this tent, so this is a single-layer tent.
This is both good and bad. The good is that you have poles from outside, this is sometimes described as a dry setup, and this means you can pitch this tent even when it is raining and its inner space will remain protected. The bad is that condensation can be an issue with such construction. 
Ventilation
As long as the sky is clear you might do great with such a tent. The four windows with mesh should give enough air circulation. But when it is raining, you have to keep everything closed. In such circumstances, you would want to have floor vents and also roof vents. Both are missing here.
They have added an extra pole that creates a small awning above one of the doors, so you can keep one of the windows partly open probably most of the time.
Materials
The poles: You have an interesting combination of aluminum and fiberglass used for the frame. This means the tent is with 4 aluminum legs poles that continue to the roof with fiberglass extensions. There is one short fiberglass pole (shown below) that supports the awning.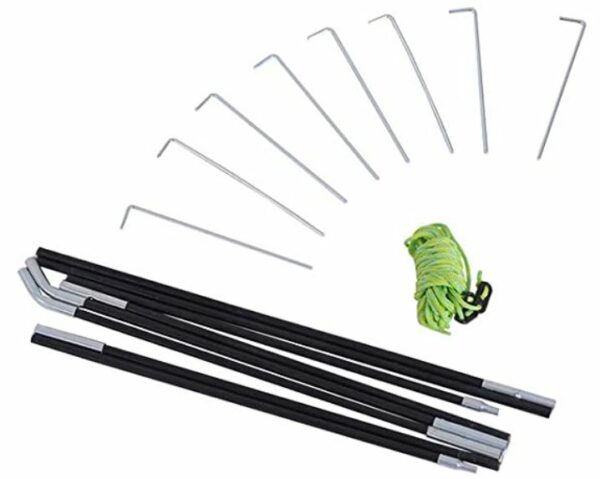 The fabric: You have a 190T water-resistant polyester cloth tent fabric, and the floor is a bathtub style polyethylene. There is no information about waterproof rating. Other features include a couple of small wall pockets (far from enough), and a lantern hook.
---
Who is this Outsunny Easy Pop Up Tent 5 Person for?
Regarding the capacity, the tent is officially for 5 people. For this, you have an area of 62 ft² (5.76 m²), and this would mean 12.4 ft² (1.15 m²) per person. They describe this as a 'spacious area'.
So this is far from enough although you can indeed put 5 sleeping pads on the floor. I would say the tent is best suited for a couple, or maximum for parents with a small kid. If you use it solo, this will be a castle.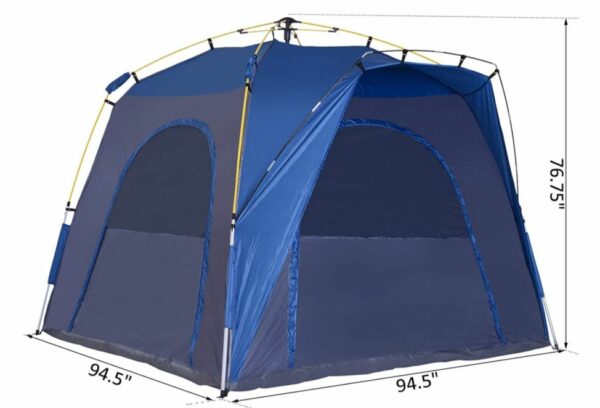 Regarding climate & seasons, they describe it as a 3-season tent and this can be so, but it does not mean you will have a great tent for so many seasons.
I already mentioned the issue of ventilation. The tent is best suited for warm weather camping without rain. It is tall and boxy so I would avoid windy places. You can also use it as a utility tent next to your family camping tent, so here you can store some of your gear. 
Regarding the weight, in view of its 13.5 lb (6.12 kg), the tent can be described as a bit heavy for its floor area, but it is tall so there is lots of material, and you also have its instant features that imply more metal parts.
The packed size 49.52 x 7.07 x 7.07 inches (126 x 18 x 18 cm) is not bad but as you see in the picture below it is long, so you need a car for transportation.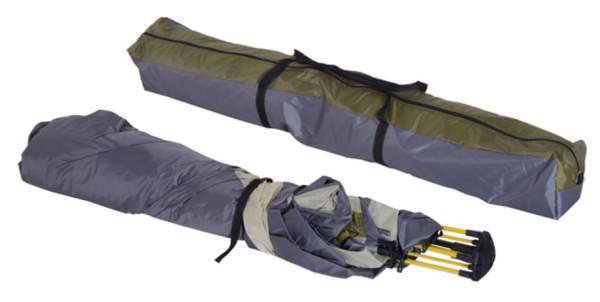 Regarding the price, this is a very affordable tent, a good value for the money. It is rare to have aluminum in such budget tents.
Specifications
Official capacity: 5 people.
Weight: 13.5 lb (6.12 kg).
Dimensions: 94.5 x 94.5 in (240 x 240 cm).
Area: 62 ft² (5.76 m²).
Area per person: 12.4 ft² (1.15 m²).
Peak height: 76.75 in (195 cm).
Packed size: 49.52 x 7.07 x 7.07 in (126 x 18 x 18 cm).
Poles: aluminum and fiberglass.
---
Final thoughts
To summarize this Outsunny Easy Pop Up Tent 5 Person review, the tent looks cool, it is pleasant and very easy to use. But do not put it to harsh tests, use it for quiet weather summer camping and you will enjoy it. The price is more than appropriate. 
Please see how I rate this tent against my usual set of criteria, so you can easily compare it with some other tents here in the site:
For more tents in this capacity range check in the group Tents for 5/6 people. If you would want more options in this or similar shape see under the category Cabin Tents. Check this Vango Apollo 500 Five Man Tent if you want a tent with lots of storage area under its vestibule. Thank you for reading and have a nice day.