---
This Vango Apollo 500 Five Man Tent is an extended dome with a large floored vestibule, 2 large doors, solid windows, and an impressive waterproof rating.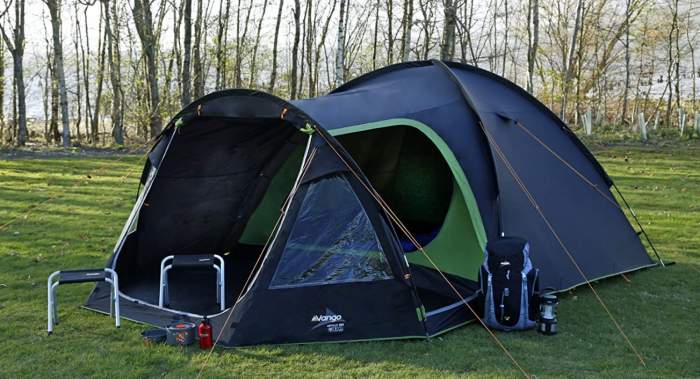 ---
Key features & benefits
Extended dome tent.
Huge waterproof rating.
Floored vestibule/porch.
Fiberglass poles.
2 Doors.
Solid windows.
---
What this is about
This Vango Apollo 500 Five Man Tent has been on the market for at least a decade already, but it has been modified recently and this dark fabric structure is its latest version. So this is an extended dome tent with the inner floored part under the dome, and a large front space supported with an extra pole.
Now, this front extension could be described as a vestibule or as a porch, but it is with a linked-in floor so it looks almost like a front room. Though it does not provide protection from crawling insects and this is why it cannot be described as a room in a strict sense. Because of this front extension, the tent is not freestanding, you have to stake it down properly to be functional.
The structure is similar to this Coleman Trailblazer 5 Plus Tenda Tent, and also to this NTK Indy GT XL 6 Person Tent. So there is nothing really unique in this design but this does not mean that it is bad. In fact, I have included it in my list of best dome camping tents.
As you realize from the top picture above, the tent has two large doors, and it comes also with solid windows, so all these features are on the front porch. Note that you have inner shatters for privacy and to reduce glare, one is shown below, you roll it to the side and fix it with toggles.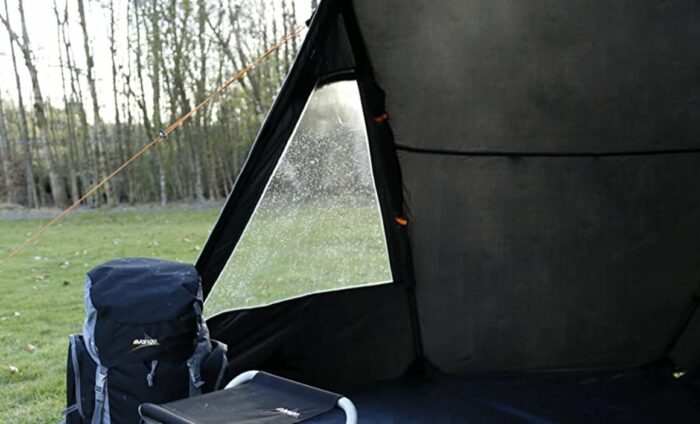 The picture below shows its floor space so you get some idea of what it offers. The tent is tall, but this is not a stand-up height, at least not for most of the users.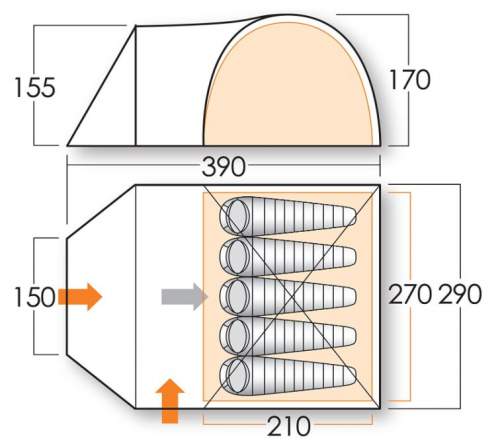 Materials
The poles: The poles are fiberglass, and you have them three in total, shock-corded, and with the usual pin-and-ring system for attachment at the tent's base. On the canopy, you have long sleeves. Fiberglass is not a very durable material, and it does not fit the high price of this tent.
Observe that you add the poles from outside, so this is a nice feature, usually described as a dry setup. The inner will remain protected if you are forced to pitch the tent when it is raining.
The fabric: The fabric is a good side of this tent, the shell is what they call Protex, a durable 70D polyester with a 3000 mm waterproof rating. The inner tent is a breathable polyester, and you have mesh areas on the inner door.
The mentioned floor in the porch area is a linked-in type. You can roll it towards the inner tent when not needed, for example when cooking or when using furniture. This way you will avoid damaging the floor. The floor in the inner tent is fully sewn-in and sealed, this is all polyethylene. 
They use fire retardant fabrics and they claim it exceeds European EN5912 safety standards. As mentioned, you have solid windows that maximize light and visibility. Because of all these features, it is on my list of best tents with a full-coverage fly.
Ventilation
With the inner door so deep under the porch, you can always regulate air circulation. But they have added vents on the front, and you have one also on the rear side. 
Other features
Lantern hanging points are positioned in the living and bedroom areas.
Inner pockets on the walls for organizing essential items..
A fast pack tent bag with an oversized opening for easy packing, plus compression straps.
Reflective webbing is easily spotted in low-light conditions.
---
Who is it for
Regarding the capacity, the tent is officially for 5 people. For this, you have an inner floored area of 61 ft² (5.67 m²), plus 50 ft² (4.6 m²) of the area under the vestibule. So the total protected area per person is 22.2 ft² (2.05 m²), and this looks like a luxury space.
But you have seen the floor plan above, and you realize that it is very difficult (although possible) to have 5 sleeping pads on the floor. There is only 54 cm width per person, so this makes no much sense. The tent is suitable for up to 4 people.
Regarding climate, seasons, and protection, this is a proper 3-season tent, ventilated, and with a great waterproof rating. They claim it has been fully wind & rain tested.
This manufacturer writes that the tent is suitable for use in wet weather, for occasional and weekend camping. They also write that storms and extreme weather should be avoided, this sounds responsible and fair enough to me.
Regarding the weight, here you have 19.64 lb (8.91 kg) so the tent is heavy and you will see below how I rate it with respect to this parameter. The packed size is 27.56 x 9.84 x 7.87 inches (70 x 23 x 20 cm). So clearly this is not a tent to carry anywhere, it is most suitable for places with a car access.
Regarding the price, it is steep, and there are indeed more affordable options on the market. I have already mentioned a few of them above, but see also this Outwell Cloud 5 Encounter Tent.
Specifications
Official capacity: 5 people.
Weight: 19.64 lb (8.91 kg).
Dimensions: 12.8 x 9.5 ft (390 x 290 cm).
Inner floor area: 61 ft² (5.67 m²).
Vestibule area: 50 ft² (4.6 m²).
Total protected area: 111 ft² (10.27 m²).
Total protected area per person: 22.2 ft² (2.05 m²).
Packed size: 27.56 x 9.84 x 7.87 in (70 x 23 x 20 cm).
---
Summary
In the summary of this Vango Apollo 500 Five Man Tent review, I wish to stress that the tent comes with a high waterproof rating, and it is functional with its two large doors, floored porch, and solid windows. This is a new version of the tent that has been on the market for a long time already. Fully recommended. I have included it in my list of best 5 person family camping tents.
Please see how I rate this tent against my usual set of criteria. It does not score great in some, but the overall rating is still very high:
Vango Apollo 500 Five Man Tent
$271.81
If you need more options in this shape, please check under the category Dome tents. Check also under the group Tents for 5/6 people if you want something else in this capacity range.
Thank you for reading. There is a comment box below, so let me know if you have a question or comment. Subscribe to my weekly newsletter and stay informed, the form is below. I do not send spam, and this will keep you informed about the latest developments in this industry.