This Outsunny Large 6-Person Metal Teepee Camping Tent is tall and pleasant with its 8 windows, nicely ventilated, easy to use, and very affordable.
---
Key features & benefits
Teepee-style tent.
8 Windows.
Nicely ventilated.
Lightweight.
Great price.
---
What this is about
Here you have a tent that is built as a modern-style teepee tent, and this does not have anything in common with classic teepee (tipi) tents. This is because you have a non-freestanding structure supported by a single central pole, and the tent is fully floored.
Now, the mentioned pole is behind the awkward word Metal in the name. Namely, this is not a metal tent of course, it is just a very strange choice of words in the official name of this tent.
As usual for such a type, the tent is very tall, you have a 98.5 inches (250 cm) peak height, see the dimensions below: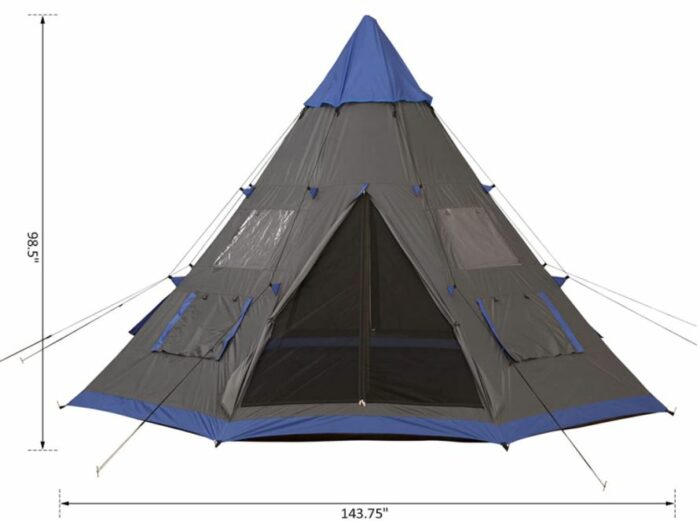 The tent is a single-room structure with one double-layer door where you have a mesh and a panel, see below how this looks. There are also 4 solid windows and 4 double-layer windows with mesh and panels, see the picture below.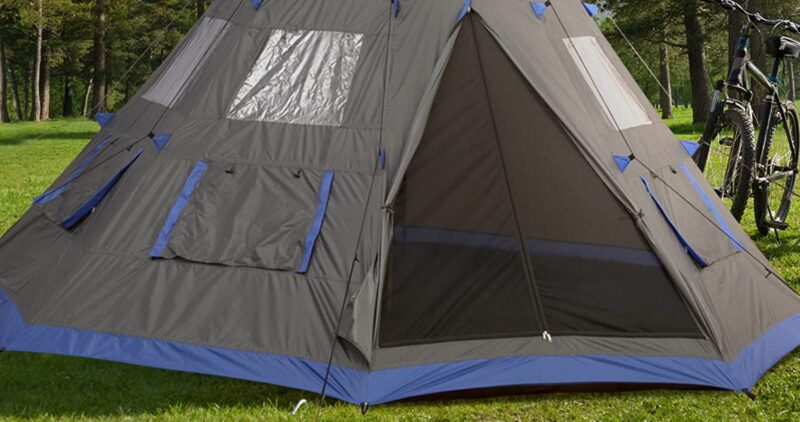 The solid windows are (L x H) 21.75 x 13.75 inches (55 x 35 cm) so they offer views around. But you have inner shutters to close them for privacy. The mesh windows are positioned low on the tent so they double also as low vents.
Ventilation
The mentioned 4 windows with mesh create lots of air circulation, each of them is 20.5 x 17.75 inches (53 x 45 cm) large. When the sky is clear you can enhance this even more by keeping the door with the mesh only as shown in the picture above. Note that this door is huge, you have a triangular opening that measures 57 x 65 inches (145 x 165 cm).
But they have added roof vents as well, they are under the top blue cap visible in the pictures. The picture below shows their inner view from the tent. So this is a nicely ventilated tent, there is nothing one could object here.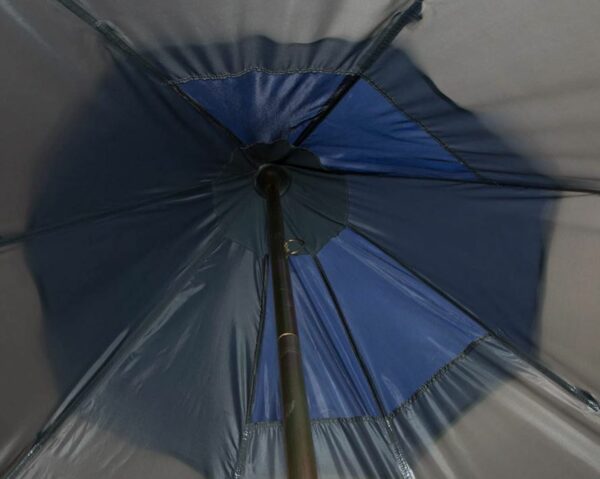 Materials
The mentioned single "Metal" pole is a think aluminum structure. It rests on the floor where you have some reinforcement added, see the picture below. It is also equipped with a ring under the canopy, so here you can hang a lantern.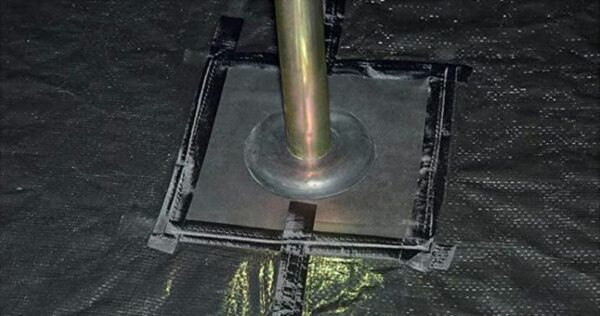 Other metal elements are 16 simple J-shaped steel stakes, so use them and the included guylines to secure the tent properly.
The fabric is a polyester 190T with a PU coating. They do not provide any information about the waterproof rating. The floor is a thick polyethylene.
---
Who is it for
Seasons-wise & climate-wise, the manufacturer describes it as a 3-season tent. But they also stress not to put this tent in harsh weather conditions. You have already seen about its ventilation, so the tent will perform well in warm weather conditions. But it is very tall so better avoid windy places.
Regarding the capacity, they write about 6-7 people. The area is not provided by the manufacturer, my estimate is that you have up to around 113 ft² (10 m²). In the case of 6 users, this would give 18.8 ft² (1.67 m²) per person. So this should be enough.
There is no space for storage, and the roof is angled as typical for such tents, so the volume inside is not so large. It is best to downgrade the number of users to up to 4 or so.
Regarding the price, this tent is incredibly affordable, a true bargain.

---
Specifications
Official capacity: 6 people.
Weight: 17.6 lb (8 kg).
Diameter: 12 ft (366 cm).
Area: around 113 ft² (10 m²).
Area per person: 18.8 ft² (1.67 m²).
Height: 98.5 in (250 cm).
Packed size: 29.53 x 8.66 x 7.87 in (75 x 22 x 20 cm).
Door dimensions (H x W): 57 x 65 in (145 x 165 cm).
Windows dimensions (L x H): 20.5 x 17.75 in (53 x 45 cm).
Solid windows dimensions (L x H): 21.75 x 13.75 in (55 x 35 cm).
Pole: aluminum.
---
Final thoughts, rating, pros & cons
So you have seen it, this Outsunny Large 6-Person Metal Teepee Camping Tent is a modern version of a classic tipi. It is easy to use, with plenty of windows around for ventilation and for views. It is fully floored and a single-layer tent, but all the windows and the door are double-layer structures. The price is more than fair. I have included it in my list of best teepee tents.
Please see below how I rate this tent against my usual set of criteria. As you see it stand very good.
For more options of this type please check under the group Teepee and Bell tents. Check this KAZOO Family Camping Tent Titan which is slightly larger.
Thank you for reading. Let me know if you have questions, there is a comment box below. Have a nice day.