---
Ozark Trail 16′ x 9′ Modified Dome Tunnel Tent is a new tent on the market, a hybrid as the name says, freestanding single room structure with two doors.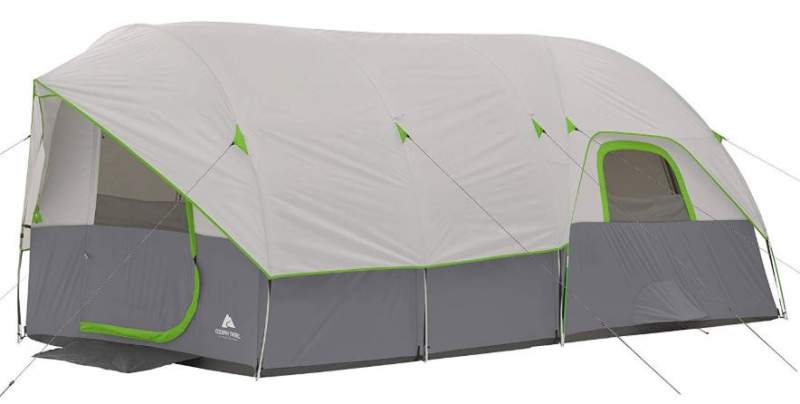 ---
Key features
Tunnel-dome hybrid.
Freestanding.
Excellent price.
2 Doors.
2 + 2 Windows.
Single room.
---
Where to buy
This tent is available on Amazon, so follow the link and benefit from their global shipping service. Note that they also build two smaller tents in this series one 16 x 8 ft and the other 12 x 8 ft, for 8 and 6 people respectively.
You can find it also at Walmart.
---
What type of tent is this
This is a tent with quite a unique design. You have a dome part at one end which continues into a tunnel structure supported by 3 additional arches. So this is a dome-tunnel hybrid and it is fully freestanding.
This self-supporting feature is achieved by one additional ridge pole which you can see in the picture below. As soon as it is in place the tent becomes freestanding, this is mainly due to the tension created in the fabric, and due to the sleeve that runs along the ridge. Something similar you have in this Exped Ursa VI Tent which is a pure tunnel tent.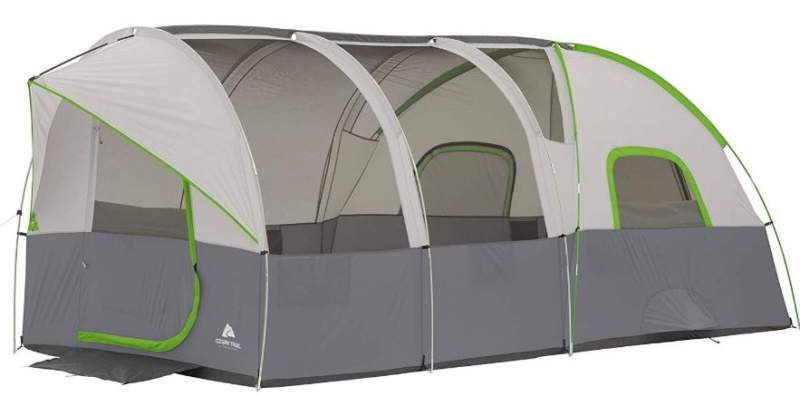 The tent is very tall, with 76 inches (193 cm) height along the axes, and this is a type with a partial coverage fly as you realize from the pictures. The fly covers most of it, but it still allows for the views through its windows. Note that the fly can be rolled back so you can enjoy under the starts when the sky is clear, this configuration is shown in the picture below.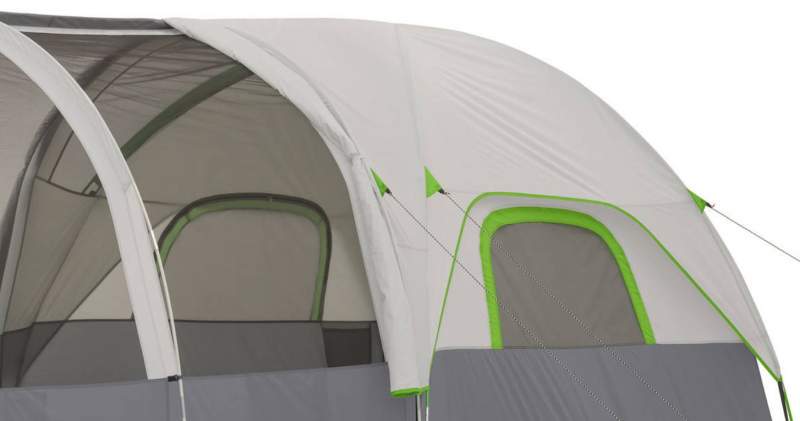 I mentioned windows, so you have two separate windows plus two on the doors. The two doors are on the opposite narrow sides of the tent, one of them is visible in the picture below. Note that there are no dividers, so this is a single-room structure.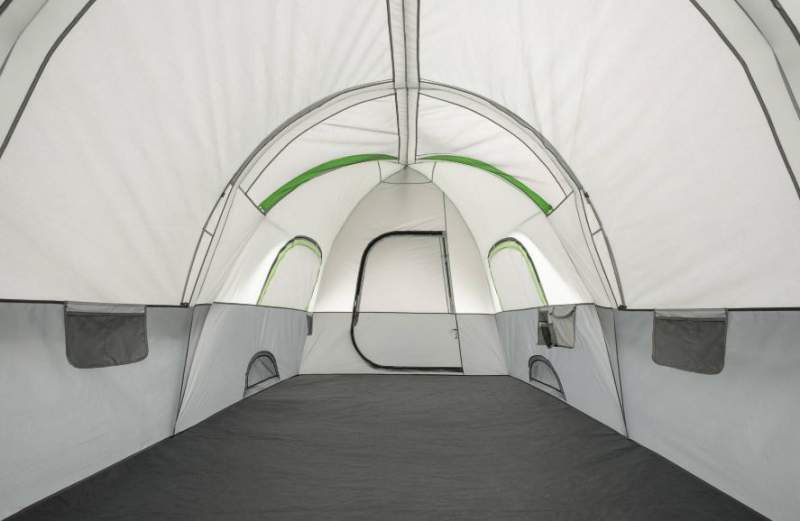 ---
Who is it for
Capacity: The declared capacity is 10 people but the dimensions are 16 x 9 ft (488 x 274 cm) and it looks very difficult to put so many sleeping pads on the floor, although this is possible.
The area is 144 ft² (13.4 m²) and this means 14.4 ft² (1.3 m²) per person. So they use the backpacking principle here and this makes no much sense. So plan 4-6 people maximum if this is about camping. They write about fitting 3 queen air beds inside and this is realistic.
Seasons-wise & climate-wise, this is a tent with lots of mesh, so such a structure is perfect for warm weather camping. This makes it less suitable for a cool climate, so I see it as a 2-season tent.
The structure is big and as such a huge obstacle for winds, the fly does not go all the way to the ground. So this is not a very aerodynamic structure and I would not use this tent in windy places.
Weight-wise, the tent is heavy and you will see below how it compares with some other tents with the same declared capacity. But this is a camping tent and you are not supposed to carry it long distances.
---
Materials
They provide no much information about the materials used here so this is indeed disappointing.
The poles & stakes
The poles are fiberglass at least this is sure, and this is behind such a great price of this tent. There are 6 in total, with the usual pin-and-ring attachment system, sleeves, and clips. You have 10 steel stakes included in the package as well.
The fabric
The fly and the inner tent are built from polyester, and the floor appears to be polyethylene. The waterproof rating is not given.
Ventilation
The tent is with so much mesh that ventilation should not be a problem as long as any of the windows can be kept with mesh only. But in the case of rain, you would use zippered panels on windows, and in this case you have to rely on vents. So the tent has two vents, one shown below, but they are located in the dome section and I find this not optimal.
Other features
There are 6 pockets on the wall, see above how they look.
E-cable port is available on the front left side next to the door.
---
Specifications
Declared capacity: 10 people.
Weight: 30.87 lb (14 kg).
Dimensions: 16 x 9 ft (488 x 274 cm).
Area: 144 ft² (13.4 m²).
Area per person: 14.4 ft² (1.3 m²).
Peak height: 76 in (193 cm).
---
Ozark Trail 16′ x 9′ Modified Dome Tunnel Tent vs Competitors
This tent is quite unique with both dome and tunnel features. So I have decided to show it side by side with one tunnel tent and one extended dome tent. This might be useful in understanding its features and making an informed decision. All three tents are with the same declared capacity, so see what they offer.
The tunnel tent here is the Slumberjack Overland 10 and the extended dome is Wenzel Great Basin 10. So the Ozark Trail tent is heavier although it offers less area. Being a single-room structure, it offers less in terms of organization and privacy, but this is a freestanding tent in full sense.
---
Final thoughts, rating, pros & cons
So this Ozark Trail 16′ x 9′ Modified Dome Tunnel Tent is an interesting and innovative design, the tent is large but as usual the declared capacity makes no sense. The price is such that you will not easily find a better value/price combination.
Please see how I rate it, I use the same set of parameters and apply them consistently to all the tents here in the site.
Ozark Trail 16′ x 9′ Modified Dome Tunnel Tent
If you need more options in this size range please check in the category Tents for 9-10 people. See this Tahoe Gear Olympia 10-Person tent which is an extended dome type. More tunnel type tents you can see in the category Tunnel Tents.
Note that this is not a sponsored text, and I am not paid by the brand. There is a comment box below so please use it in the case of questions or comments. Have a nice day.

---