This Ozark Trail Instant 2-Room Shower/Changing Shelter Outdoor is a freestanding fully-featured structure with a pre-attached steel frame, 2 windows, very easy to use, and affordable.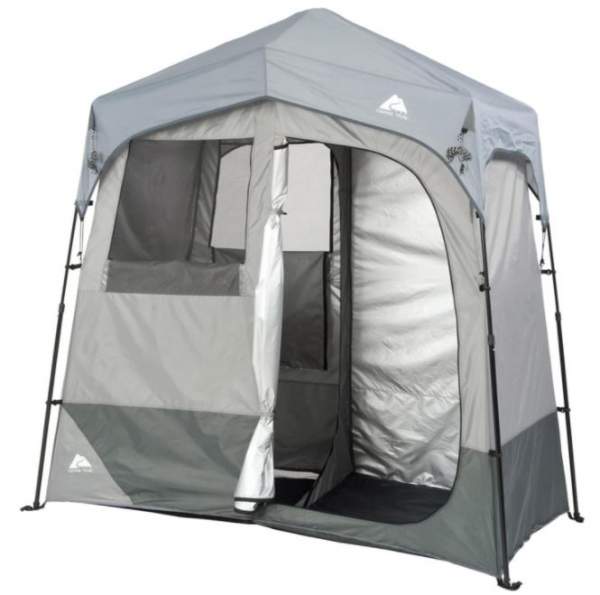 ---
Key features & benefits
Instant setup.
2 Roms.
2 Windows.
1 External and 1 inner door.
Rain fly.
Steel frame.
Shower bladder included.
Several wall pouches.
Sewn-in floor.
---
What this is about
This item is with slightly different names at various sellers. On Amazon, you will find at two different places under the names Ozark Trail 2-Room 7′ x 3.5′ Instant Shower/Utility Shelter and also as Ozark Trail Instant 2-Room Shower/Changing Shelter Outdoor. At Walmart, it is under the name Ozark Trail 2-Room Instant Shower/Utility Shelter.
This is a very useful popular privacy shelter that has been around for a number of years. The word Instant in the name suggests that the frame is pre-attached to the tent. So this all is a single piece, only the fly is separate. The pictures below show the most essential steps in the setup.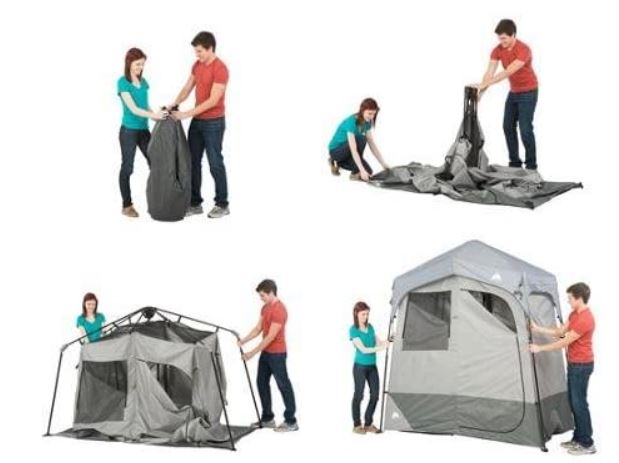 From the name and from the pictures you realize this is a 2-room construction with a shower room and a changing/utility room, both the same size. The roof is all mesh for ventilation. The total inner area is 24.5 ft² (2.3 m²). But if this is not enough, note that this EasyGo Product Shower Shelter is larger.
You start by expanding its base and then extending its four legs poles. You can attach the fly before you extend the legs completely, this is easier to attach it to the frame because the shelter is tall, you have a 7 ft (213 cm) peak height. There are hooks and loops on the four legs for this purpose. 
The structure is freestanding, but you have 10 steel stakes included for the tent and for the fly, together with all necessary guylines. So do not miss fixing the shelter to the ground, it is tall and better avoid trouble in the case of a sudden wind. The picture below shows how this utility shelter looks with the closed door and the front window.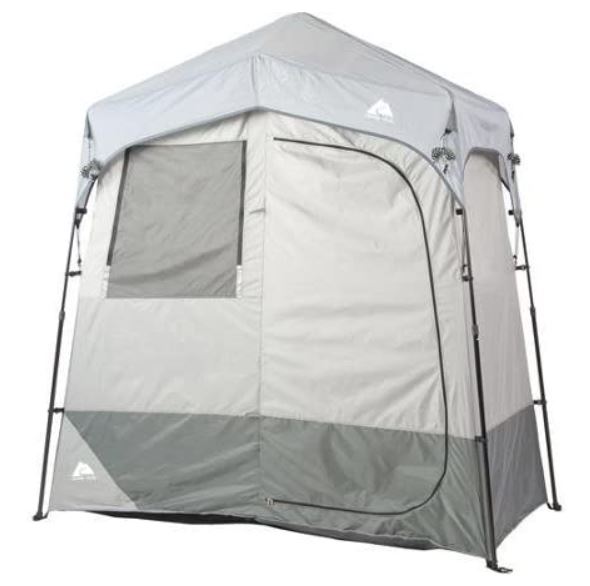 Inside you have several features, some are shown below. They include wall pockets for small items (you have them in both rooms), and a rack to hang towels: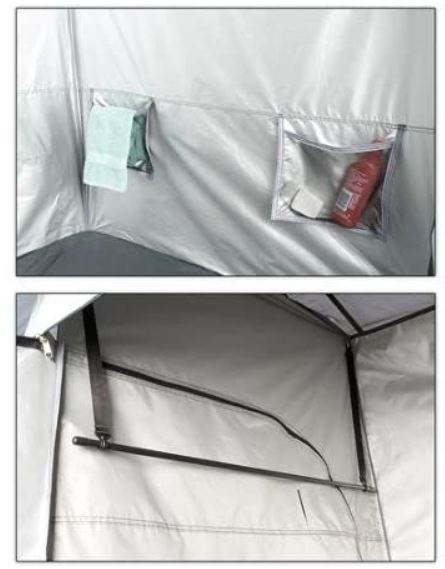 There is also a sewn-in shower mat and a 5-gallon solar-heated shower that uses natural light to help heat up the water. I myself have a couple of these bladders ordered separately. A metal hook is under the roof to attach the shower.
Materials
All metal parts are made of steel and the fabric is polyester. They do not give a waterproof rating but you have a fly and the walls are the same material. The windows are double-layer with mesh and with zippered panels.
The mat shown above is a polyethylene similar to tents' floors. It has a drain mesh that connects it to the walls. The change room has a full floor just like in any tent. So both floors are fully attached and non-removable.
Please see more in this video, it shows how to set it up and how to fold it afterward. The boy is helping his father in this demosntration:
---
Who is it for
Regarding best use and purpose, this is a utility shelter for families and for groups of friends. It is convenient to have such two rooms, you can use the change room also to place a portable toilet inside. But note that there is only one entry door and it is on the front change room. An inner door is between the two rooms.
It is a good idea to put some palette under the shower floor to raise it off the ground and avoid mud created when you take a shower.
Regarding the weight, in view of its 16 lb (7.3 kg), this is not an item to carry long distances. But it is not built for such a use in any case. Being a utility item, you will transport it together with your camping tent and all other stuff.
Note that the packed size is 42.8 x 8.1 x 8.1 inches (109 x 21 x 21 cm) so you need a car for transportation. It is slightly less bulky and lighter than this Core Instant Camping Utility Shower Tent built in the same style.
Regarding the price, I would say it is fair for such a nicely built item.

Specifications
Weight: 17 lb (7.7 kg).
Dimensions: 7 x 3.5 ft (213 x 107 cm).
Area: 24.5 ft² (2.3 m²).
Peak height: 7 ft (213 cm).
Packed size: 42.8 x 8.1 x 8.1 in (109 x 21 x 21 cm).
Frame: steel.
---
Final thoughts, rating, pros & cons
So to summarize this Ozark Trail Instant 2-Room Shower/Changing Shelter Outdoor review, this is a nicely designed utility camping shelter. It has been around for a number of years, there are many reports around by users, so all is known about it. Fully recommended. I have included it in my list of best 2-room outdoor shower tents for camping.
Please see how I rate this utility shelter, it scores really great in separate criteria, and the overall rating is high:
You might want to compare this product with yet another similar, the KingCamp Oversize Outdoor Camping Dressing Changing Room Shower Privacy Shelter Tent. Check also among Camping Screen Houses, this is yet another type of utility shelters in the camp.
Let me know if you have any question or comment, there is a comment box below. Subscribe to my weekly newsletter, this will keep you informed, there is a subscription form below.