This EasyGo Product EGP-TENT-016 Shower Shelter is an instant-setup privacy shelter, with two separate rooms, easy to use, and very functional with its 3 doors.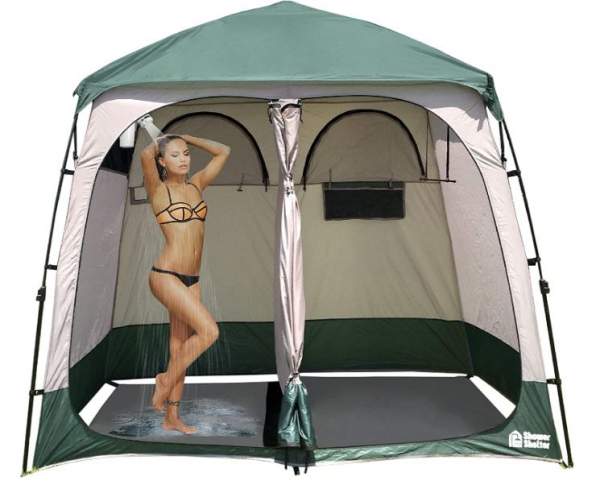 ---
Key features & benefits
Instant setup.
2 Rooms.
3 Doors.
Rain fly.
Wall pouches.
Removable floor.
---
Overview of features
So here you have a 2-room privacy shelter. They use the words Shower Shelter in the name, but it is more than that. It can be used as a shower tent or as a change room. You can use one of its rooms for a portable camping toilet, and the room next to it as a shower or a change room. Clearly, the fact that you have two rooms adds to its versatility and functionality.
This is also an instant-setup structure. If you are not familiar with such a design, it is the same as what you have in many instant tents. The meaning is that the tent is pre-attached to the frame. So you open the structure like an umbrella. The picture below shows a bit what you have here. The 4 legs are telescopic, so you expand them until the full length is achieved and they will lock in place.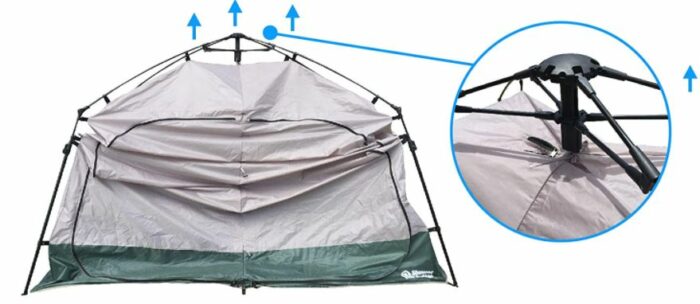 Observe that there are 3 doors here, two are from outside and one inside between the two rooms. You can see them in the picture below. This is what makes it different from its competitors like Ozark Trail Instant 2-Room Shower/Changing Shelter Outdoor and KingCamp Oversize Outdoor Camping Dressing Changing Room. There are also windows for ventilation and privacy, one is visible below.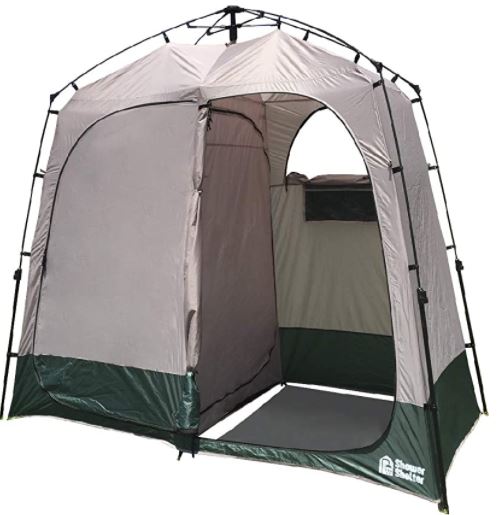 Note that there is a fly as well, it covers the roof only. The structure is very tall, you have a 7.5 ft (229 cm) peak height. So it is best to attach the fly before you expand the legs completely. In any case, one person can set this shelter up in a minute or so.
The shelter is fully freestanding as it is, but you have stakes included and never miss staking it to the ground properly. The rooms are with the floor, and it is removable, see it below. The floor will become dirty but you can always remove it and store it separately and later wash it when you can.
Other features
A towel bar (the picture below)
Wall pouches.
10 Stakes are included.
A carry bag is included.
Instructions for use are there as well.
Note that the fabric is waterproof polyester, though they do not provide a rating. So although this is not a tent, it will protect your stuff inside.
All the elements in the package are shown in the picture below. Note several removable fiberglass poles that you add horizontally under the roof for extra stability. Other elements visible here are the mentioned removable pouches, the fly, the removable floor, the stakes, and the towel bar.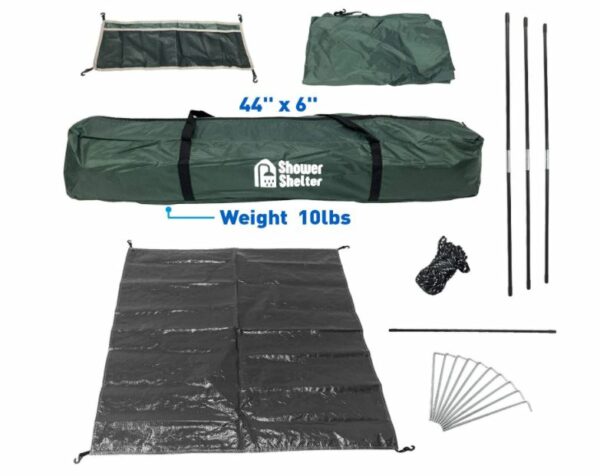 ---
Who is this EasyGo Product Shower Shelter for
Regarding the weight and packed size, you have 10 lb (4.5 kg) and (L x D) 44 x 6 inches (112 x 15 cm). So this is a lightweight shelter, you realize this when you compare it with its competitors mentioned above.
It is a bit long when packed but this is a thin tube, this is typical for such instant constructions. The reason behind its length is its telescopic poles. So you need a car for such an item.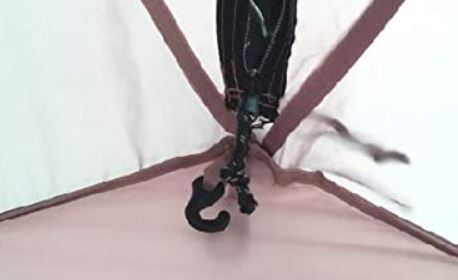 Regarding best use and purpose, I already mentioned a bit about this. You can use it for several purposes next to your camping tent, or at the beach as a privacy shelter. Both rooms can be used at the same time, they have separate doors, so this is a versatile and functional construction. The picture above shows its hook under the roof where you can attach a shower bladder.
Regarding the area, if you compare it with other 2-room privacy shelters here in the site, you will realize it offers more space. In fact, as of the moment of writing this text, I do not remember any item of this type that could match its area.
---
Specifications
Weight: 10 lb (4.5 kg).
Dimensions: 7.5 x 4 ft (229 x 122 cm).
Area: 30 ft² (2.8 m²).
Height: 7.5 ft (229 cm).
Packed size (L x D): 44 x 6 in (112 x 15 cm).
---
Final thoughts, rating, pros & cons
In the summary of this EasyGo Product Shower Shelter review, I would stress again i) the impressive size of this privacy shelter which is currently without a match, and ii) its functionality. The two rooms have separate entry points, plus a door between them, so they can be used independently and for various purposes. I can fully recommend this outdoor shelter. It is included in my list of best 2-room outdoor shower tents for camping.
Please see how this shelter stands against my standard set of rating criteria:
If you would need more options, please check under the category Camping Privacy Shelters here in the site. See in particular this unique WolfWise Two-Room Pop up Privacy Tent that is a 3-in-1 system. But check also this single-room Kamp-Rite Privacy Shelter with Shower included.
Let me know if you have questions or comments, there is a comment box below. Thank you for reading and have a nice day.