Pacific Pass 6 Person Family Dome Tent with Screen Room is a really cool looking tent, well-ventilated, lightweight, nicely packable, and affordable, suitable for 2-season camping.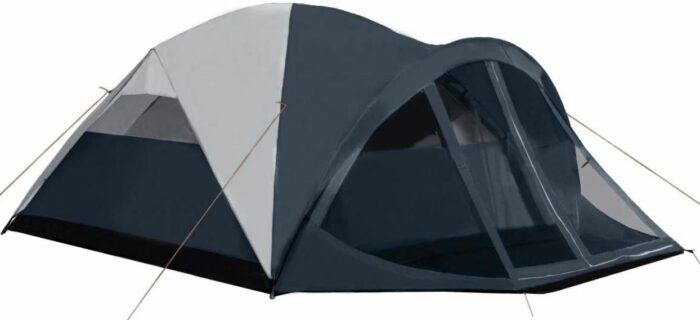 ---
Key features & benefits
Dome-style tent.
Screen room.
Fiberglass poles.
Great price.
---
What type of tent is this
This is a very typical dome-style tent and quite tall for such a type, the peak height is 68.9 inches (175 cm). It looks incredibly similar to Coleman Evanston 6 screened tent.
You could describe it as a 2-room tent because it has an inner tent area plus a screen room in the front. The entry is through the screen room where you have the main centrally positioned zipper on the mesh. In view of this design, I have included it in my list of screen room tents.
Note that the screen room offers shade and protection from insects, but it is only partly covered by the fly, so you do not have panels for full protection. In other words, this is a quite typical screen room tent. The picture below shows the view inside: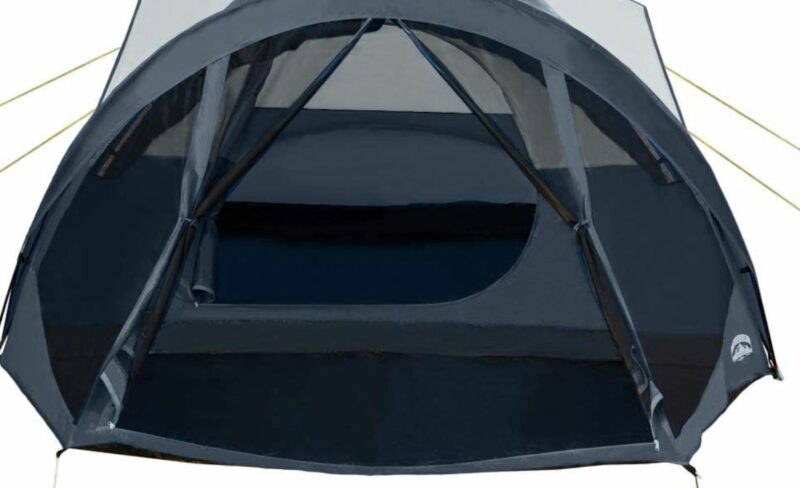 As you see the screen room is floored. The inner door is D-shaped and it rolls to the side. The screen room is a pleasant space, see how the tent looks with the view from inside through the screen room: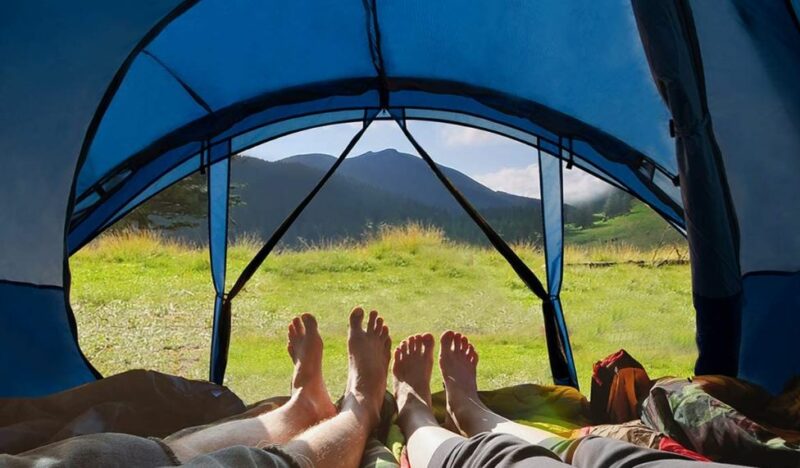 The tent is officially not a dark-rest type, but the materials are dark and the glare is reduced considerably. Because of the screen room the tent is not freestanding, it must be staked to be functional and to have a proper door.
The tent is with a partial coverage fly, and this allows for the side windows. As the picture above shows, because of such a fly you also have great views through the screen room.
Ventilation
They stress its good ventilation and they are right. This is because of the partial coverage fly and the extra pole that pulls the fly up on the sides, so this creates areas for air to escape easily, and this is great to fight condensation.
Note also that the inner door is well protected under the fly and you can always have enough air coming through the screen room although there are no floor vents here, but you do not need them in such a design.

---
Materials
The poles are fiberglass and this is expected in such a budget tent. You have them 2 for the dome, one for the screen room, and one brow pole that pulls up the fly.
The fabric is a 190T polyester 63D and with a waterproof rating of 1200 mm. The same material is used for the floor. So although for the tent the fabric is durable, this is not so for the floor. You might want to add something to protect it from sharp objects.
Other features include:
A hook for lantern.
A gear loft.

A couple of wall pockets.
The tent comes with 6 ropes and 12 stakes.

A carry bag is included, see the picture.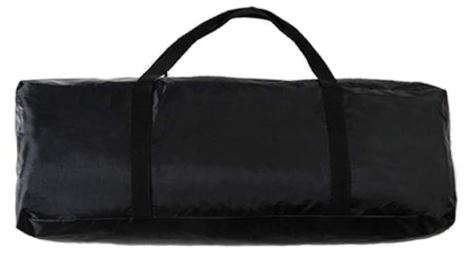 ---
Who is it for
Space-wise, it is declared as a 6-person tent, and roughly speaking for this you have the inner area around 100 ft² (9.3 m²). This gives 16.6 ft² (1.5 m²) per person. The picture shows its most important dimensions: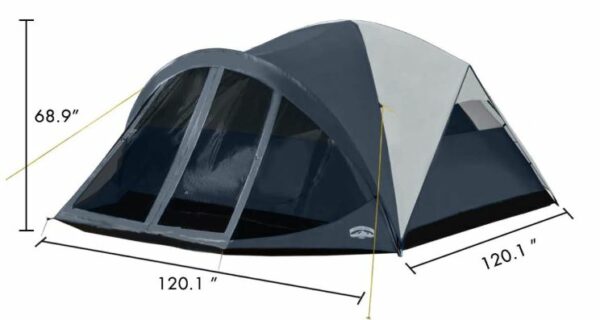 There is also a screen room that is more or less a trapezoid floor space and its area is around 29 ft² (2.7²). But here you have no full protection, this is a pleasant space for sitting under its roof, and you are protected from insects but not from the rain. The walls are only mesh, there are no panels.
So the tent can accommodate 6 people. But to have enough comfort, I see it suitable for up to 4 people, it is perfect for parents with up to two kids, and it can be used as a comfortable option for a couple. Note that they have yet another much larger extended dome tent under the name Pacific Pass Camping Tent 8 Person Family Dome Tent.
Climate-wise & seasons-wise, this is a 2-season tent best suited for summer, late spring, and early autumn. The structure is pleasant and nicely ventilated, but with so much mesh it is not for a cool environment.
With such a fly it is not suited for strong winds, so plan to use it for quiet summer camping and you will enjoy its features without spending much.
Weight-wise, with 16.5 lb (7.5 kg) of weight, the tent is moderately lightweight for a camping tent. The packed size is very good and even more than that, you can transport it even on a bicycle, it measures (L x D) 24.01 x 8.66 inches (61 x 22 cm).
---
Specifications
Declared capacity: 6 people.
Weight: 16.5 lb (7.5 kg).
Inner dimensions: 10 x 10 ft (305 x 305 cm).
Inner area: 100 ft² (9.3 m²).
Inner area per person: 16.6 ft² (1.5 m²).
Screen room area: around 29 ft² (2.7 m²).
Peak height: 68.9 in (175 cm).
Packed size (L x D): 24.01 x 8.66 in (61 x 22 cm).
---
Final thoughts & rating
In the summary of this Pacific Pass 6 Person Family Dome Tent with Screen Room review I wish to stress that they have built a nice and incredibly affordable tent. This is a great option if you are on a budget. The tent is pleasant and it packs small. It is suitable for warm-weather camping, for bicycle tours, traveling, fishing, etc.
Please see how I rate this tent against my standard set of criteria so that you can easily compare with the other tents:
Pacific Pass Camping Tent 6 Person Family Dome Tent with Screen Room
$129.99
If you need more options, this size group is particularly large so check under the category Tents for 5-6 people. Note that they have yet another 6-person tent built in a different style, the Pacific Pass 6 Person Family Dome Tent. Check also this ultralight MOON LENCE Camping Tent 6 Person if you need something to carry on the trail.
Bookmark this site and visit occasionally, stay informed about new trends in this industry, you have new texts here on a regular basis. Thank you for reading. Please use the comment box below in the case of questions or comments. Have a nice day.