This Coleman Evanston 6 screened tent review is about an interesting design, a dome tent with a screen room, a lightweight and a very affordable camping tool.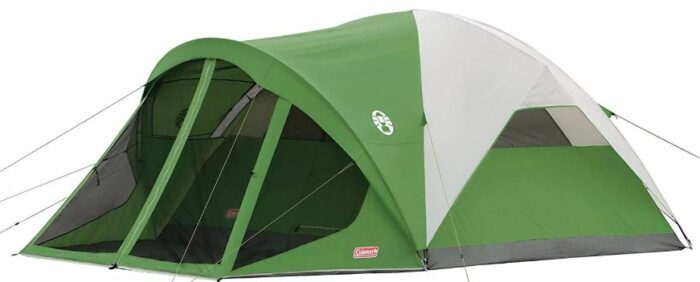 ---
Key features & benefits
Lots of space for 6 people.
Great price.
Pleasant tent.
Stable dome structure.
The screen room is with the floor but there are no waterproof panels.
---
What type of tent is this
This is an interesting structure with the main dome-style part and an attached screened room as you can see in the picture below. So this has some good and some less good features. The good is that being a dome structure, it is very stable and aerodynamic. The bad is that it is relatively low, with only 68 inches (173 cm) peak height, so bear this in mind if you prefer a tent where you can walk inside.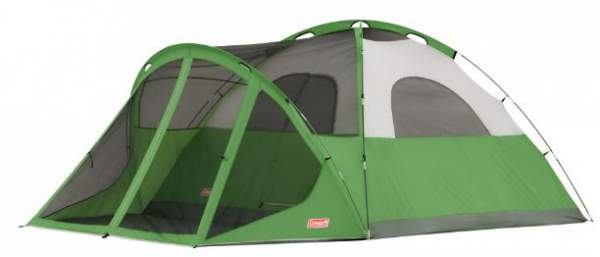 This is also a tent with a screen room, so this adds a lot to its livability in various ways. Observe that you have 140 ft² (13 m²) of the total floor area. But bear in mind that the porch floor gets wet in rain. The floor on the porch has drain holes so the water will drain out.
So the screen on the porch only offers protection from insects, and this is not a dry area in principle. I wonder why they added the floor in the first place; most likely this was for protection from crawling insects.
The problem with this design is that the only entrance is through the screen room, so if you have a vet floor in that area, it becomes muddy very quickly. Without the floor, this would work much better.
The tent is not freestanding, although it can stand on its own (for a while) as you will see in the video below. So choose a camping place where you can stake it down properly. The central dome structure supports only the main room, but the screen room and the fly must be fixed properly.
Note that they also have Evanston 8 Family Dome Tent which is a very different structure without the screen room, so do not mix the two models.

---
Who is it for
Due to the reasons mentioned above, I would not use this tent in an area with lots of rain. Use it for summer camping and this will be a great tool in that case.
The packed size is great, 28 x 10.25 x 9 inches (71 x 26 x 23 cm), so this tent can be transported even on a motorbike or in a kayak. Good to know if you are on such an outdoor adventure.
Sizewise, the main room offers 90 square feet (8.36 square meters) of space, so this is enough for 6 people sleeping on the floor. Note that sleeping in the screen room is also possible whenever the sky is clear, or you can store your gear there. So I would say this tent provides enough space for the declared number of users.
This is also a great tent for couples. You can have a queen size bed of any size in the main room, with plenty of the area around, and organize the screen room as a sitting area with chairs and a table, just like those people in the picture above.
For parents with kids, I would not suggest more than 1-2 kids. Remember that the screen room is not a dry zone.
I wish to stress again that this tent is not for strong winds and for strong rains, such a fly will not last long in such an environment. This is a summer camping tent for very mild weather conditions.
Though the inner area is without too much of mesh, and this tent is far better for a cooler environment than many other summer tents presented here in the site.
---
The structure
The only entrance is on the front of the screen room. Here you have an inverted-T shape centrally positioned zipper. Behind it, you have a D-shaped zippered entrance to the dome room.
Windows
The main room is with two mesh windows protected by panels. They are protected by the fly as well, so you can keep the open most of the time. So although this is a dome-type tent, you still have two very useful windows, plus one more on the internal door.
The fly
The fly is not full-coverage even on the main dome area as you can see in the picture below, but this is a sort of tradeoff – this is why you have the windows there. More problematic is that the fly is only on the ceiling of the screen room, so the angled mesh walls are not protected.
But this is the part of the design, the screen room is designed to be the sitting area when the sky is clear, no more and no less. So if you accept this as it is, this is a nice although a bit unusual design.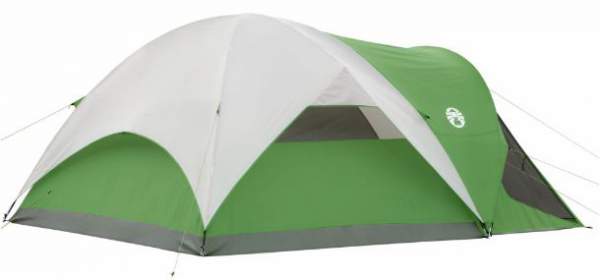 Materials
There are 4 poles in total, fiberglass, so not very durable material that needs some care, but this is a dome structure and it is therefore strong and stable. The two poles create the main dome, and you have one cross pole which lifts the fly up above the windows (see the picture above) so you have some views there. One extra pole is above the screen room.
They do not provide much info about the fabric, but this is a polyester taffeta 75D, and for waterproofness rating, we can only guess but do not expect much. But the floor is a durable tarp-type material, polyethylene obviously, with the bathtub design and with patented corner welds and protected seams.
Other features
There are two minimal pockets on the walls, not worth mentioning really. I shall never understand what prevents them to add larger storage areas, those are light materials and cost nothing. See this Big Agnes Flying Diamond tent with 16 huge pockets to realize what I mean.
One hook is available on the highest spot to attach a lantern. There is no electric port or anything else, this is a rather simple structure inside.
Setup
You will need around 15 minutes to do this. See how this happy family with two small kids sets it up for the first time:
Note, they did not stake it down, but you do not miss to do so.
---
Specifications
Style: dome tent, non-freestanding.
Capacity: 6 people.
Weight: 20.9 lb (9.48 kg).
Dimensions: 14 x 10 ft (4.27 x 3.05 m). This includes:
– the dome area 10 x 9 ft (3.05 x 2.74 m)
– the screen room 10 x 5 ft (3.05 x 1.52 m).
Total floor area: 140 ft² (13 m²); 8.36 m² + 4.64 m².
Area per person: 23.3 ft² (2.17 m²).
Peak height: 68 in (173 cm).
Packed size: 28 x 10.25 x 9 in (71 x 26 x 23 cm).
Doors: 1.
Windows: 2 + door window + screen room.
Color: green.
Carry bag included.
1-year limited warranty.
---
Coleman Evanston 6 person tent vs competitors
In the table below I give the Evanston 6 side by side with two other screen-room tents, to see more please follow the links, all are described in detail in separate reviews:
28 x 10.25 x 9
(71 x 26 x 23)
---
Final thoughts, rating, pros & cons
In the conclusion of this Coleman Evanston 6 screened tent review, I would stress again that the tent is of a rather unusual design. It has some good features but some of them are not so great, like the non-protected screen room which in the same time is with the regular floor. In the case of rain you will have a pool there, so keeping it clean may not be so easy unless you keep the shoes and boots completely out.
But in a dry area, the feeling with such a tent is quite different, and you will love the fact that you have such a screened porch. This tent is on my list of best family tents with screen room.
The price is incredible and this is a very popular tent with thousands of reports by customers, and with a very high average rating. See below how I rate it:
You might want to compare it with this Coleman Steel Creek Fast Pitch 6 tent which is the same size but with a few different features, and also with the Coleman Carlsbad 6 which is with the dark rest and the fast-pitch design.
If you still need something different, just look around, you have only large camping tents here, for families and groups, and you will find something for you. Check this Ozark Trail 9 tent which is also with a screen room but instant and cabin tent. But see also this Ozark Trail 6 with the Dark Rest technology.
Thank you for reading. Please use the comment box below in the case of questions or comments. I wish you a nice day.