The Robens Eagle Rock TC 6+2XP Tent is built from the highest quality materials and it includes some of the finest features you can find in a tent, like dark rest bedrooms, aluminum poles, breathable fabric, and a lot more.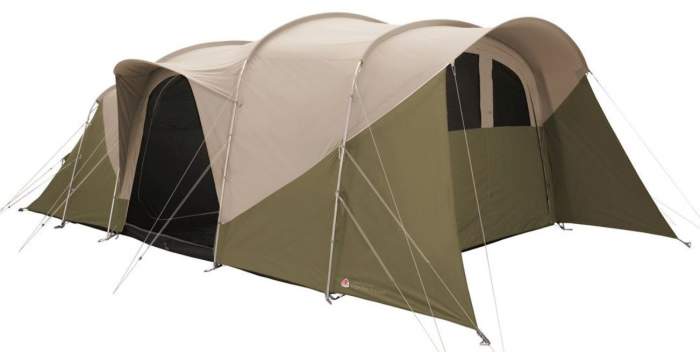 ---
Key features & benefits
---
Overview
This Robens Eagle Rock TC 6+2XP Tent is packed with great features but this is not surprising for this brand. So it is a bit hard to start with so many things that need to be mentioned. Perhaps it is best to begin with its general shape, so this is quite a typical tunnel tent, non-freestanding and very large. The floor plan below shows what it offers: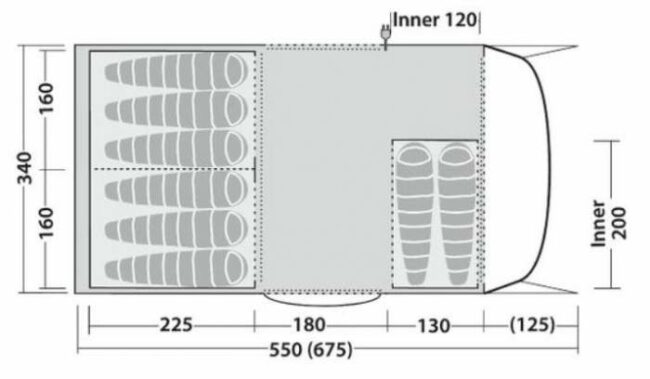 The tent is also very tall, below you can see its height in all sections, so you realize you have a stand-up height in the biggest part of the tent: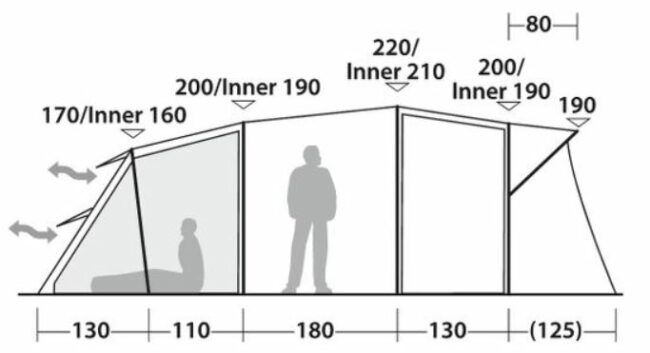 Here are a few more numbers from a different angle so that you fully understand the structure. I have all the good reasons for including this tent in my list of very tall family camping tents.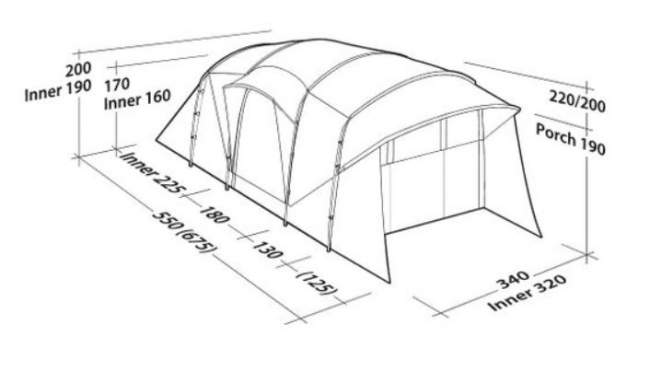 Multiple rooms & modular design
The tent can be described as a 4-room structure. But this is a modular construction, and here is what this means. The inner rear tent (on the left in the floor plan shown previously) is with a divider. So here you have two separate bedrooms, each for 3 people.
Note that you can detach one part of this inner tent from the shell, and you can then attach it to the wall of the remaining part. This would allow you to have extra storage space next to the remaining 3-person inner room. This is what they call the adaptive inner shown in the picture below: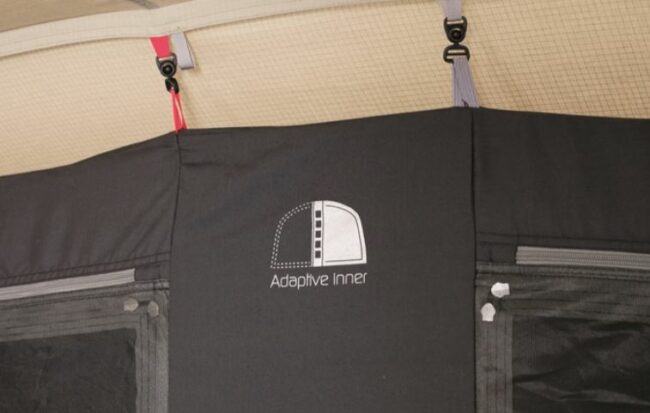 There is also one more dark rest inner tent in front of the main double door, see the picture below. This you can use as a sleeping room for two people or as a storage area.
In between these inner tents you have a large L-shaped living room. Its area is around 8.5 square meters. All these details you can see in the floor plan shown above.
Of course, you can remove all the inner tents and use the shell as a single-room tent and you will still have full protection. You can remove the front door and have a large entry point here, and this you can use for family events in the garden.
The picture below shows the main door fully open, so imagine when you also remove the bedrooms, you have an entry point that is more than 3 meters wide.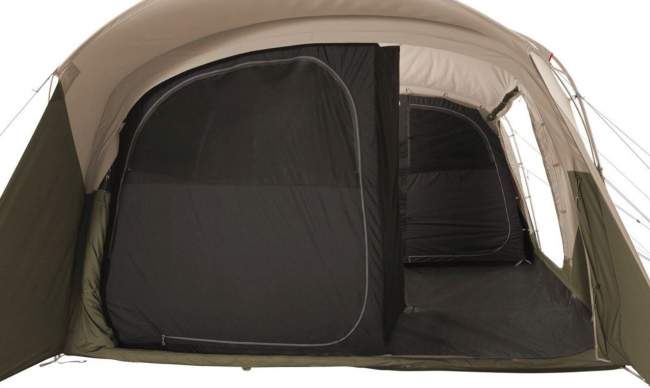 The bedrooms are dark rest or black out. But even here they have added some extras. So on the ceiling of the bedrooms you have a double-layer section with a panel and mesh. This allows you to open the ceiling for extra ventilation and for extra daylight if you feel it is too dark inside.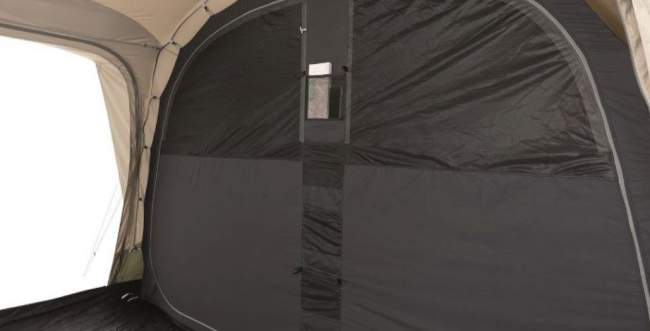 The doors/windows
The tent has 3 doors, two on its longer sides and one on the front. This front door is under the porch so it is partly protected from the rain and you have a dry entry here.
One of the side doors is also with a brim, you can see it in the pictures, so this is yet another dry entry point on the side.
But the most remarkable detail here is the 3-layer design of these doors. So you have a full size zippered mesh outside, plus a zippered panel, plus a zippered solid PVC layer. The two layers you open from inside. In addition to this, you can regulate the amount of light and privacy with the toggles on the side, and you cam open the windows partly or completely.
So all the doors are with windows. The front door has them 3, plus 2 on the side doors. You will see all this in the videos.
Materials
The poles: You have 4 main loop poles plus two shorter for the front porch and for the side brim. The poles are shock-corded and color-coded, and they are with quite unique spikes at the ends, which you place in adjustable grommets on the ground.
This is all an anodized aluminum alloy #6061, T6, and the diameters are 8.5, 9.5, and 19 mm. Note that the poles are pre-bent so the legs are almost straight on the sides, and this adds more volume in the tent.
The fabric: The shell is their breathable HydroTex polycotton ripstop fabric. This is a mix of 65% polyester and 35% cotton. So the fabric is relatively thin but very strong.
The inner tents are built from a 68D breathable polyester 185T. The floor of the inner tents is a 75D polyester taffeta 185T, PU coated and with a 3000 mm waterproof rating.
But the shell has its own extra floor and this is a 100% polyethylene with a 10000 mm waterproof rating. In other words, the bedrooms have two floors with the combined 13000 mm waterproof rating. This is quite remarkable.
Ventilation
So I would stress again that the tent itself is breathable and this is a far different feeling than in any synthetic tent. But they have added many details for ventilation. You have already seen about huge mesh doors plus added ventilation ceiling options in the bedrooms.
There is also yet another unique detail here, the roll up and toggle back the bottom door panels to adjust air flow for enhanced ventilation, see how it looks: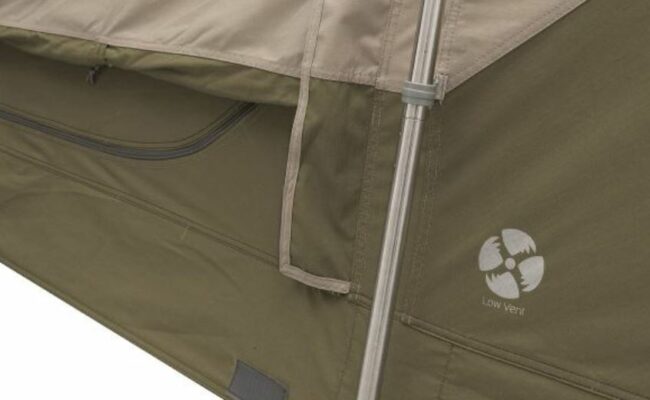 This is not all. They have added two rows of rear vents behind the inner tent so you have low and high venting here. The picture shows the flaps that protect them: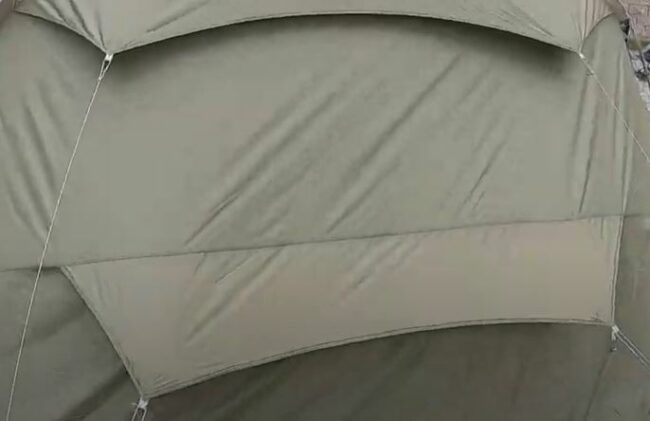 Other features
Large porch area. This is why I have included it in my list of best canvas tents with a porch.
Front porch skirts can be toggled back for a full panorama view.
Strong nylon coil-zips on doors.
Aluminum buckles and tension handles on pegging corners, this is yet another unique detail in this tent.
Mesh storage pockets in front of inner tent, it is located between the inner doors.
There are series of low mesh pockets in the inner tents.
Repair kit included.
A cable port is available. Its position is shown in the floor plan given above.
Here is a bit more from the manufacturer:
A few more features you can see in this video, please have a look:
Setting the tent up
This is a large tent and it is best to set it up with a partner. The video below shows how this is done, please have a look:
---
Who is this Robens Eagle Rock TC 6+2XP Tent for
Regarding the area, the tent is officially for up to 8 people. For this you have the total floored area of 201.3 ft² (18.7 m²). This implies 25.2 ft² (2.3 m²) person. So this is lots of space per person and in general. The tent is included in my list of extra large family camping tents.
Note that the porch adds 45.7 ft² (4.25 m²). Here you have wind protection from the sides and a bit of rain protection. But the porch is not deep and it is not suitable for storage.
Regarding seasons & climate, I did not see any statement from the manufacturer, but I have no doubt that this tent can be used year round in any climate and season. It is ventilated and fully closable if you feel cold.
The poles are thick and high quality, and they claim it is tested to very high winds shown in the picture. So this is a reliable shelter.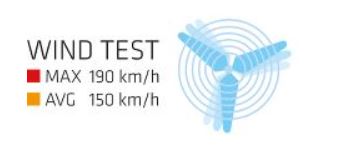 Regarding the weight, the tent can be described as heavy with its 75.2 lb (34.1 kg). This is due to its overall size and also because of the cotton used for the fabric, plus all durable floor material. So the weight is justified.
The packed size is (L x D) 33.5 x 20.5 inches (85 x 52 cm), so the tent is bulky. But this is not such a big deal, it is designed for car camping.
Regarding the price, the tent is very expensive but this is normal when you see its craftsmanship and materials. The link below will show you the current price.
---
Specifications
Weight: 75.2 lb (34.1 kg).
Official capacity: 8 people.
Dimensions: 22.15 x 11.15 ft (675 x 340 cm).
Inner area: 201.3 ft² (18.7 m²).
Inner area per person: 25.2 ft² (2.3 m²).
Porch area: 45.7 ft² (4.25 m²).
Peak height: 86.6 in (220 cm).
Packed size (L x D): 33.5 x 20.5 in (85 x 52 cm).
---
Final thoughts, rating, pros & cons
Below you can see how this tent stands against my standard rating criteria. I apply them consistently to all the tents here in the site so you can easily compare:
BEST PLACE TO BUY:
For more tents of this shape please check in the category Tunnel Tents. Let me know if you have questions, there is a comment box below. Bookmark this site and come again, this will keep you informed, as you realize I add texts here on a regular basis. Thank you for reading.