---
Robens Midnight Dreamer 4 Person Tent with its 3 rooms and huge waterproof rating is a reliable tent that has been on the market for many years, tried and tested by many people.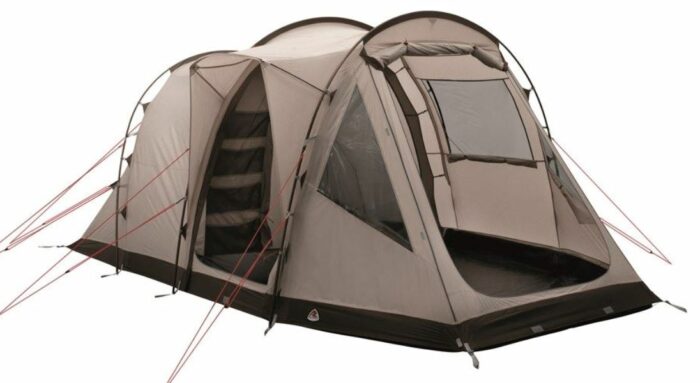 ---
Key features & benefits
Aluminum poles.
3 Rooms.
2 Doors.
3 Solid windows.
Huge waterproof rating.
Sewn-in floor.
---
What this 

Robens Midnight Dreamer Tent is about
This tent has been on the EU market for at least 7 years already, but it has been modified in the past so it can be confusing when you search online. I am using its official data and numbers as provided by the manufacturer.
On the Amazon-UK you will see it under the name Robens Unisex Adult Midnight Dreamer Tent, while on Amazon-US it is under the name Robens Tents Midnight Dreamer. I have no idea what they mean by the word 'Unisex' in the name, but this is not the first tent with such a word. At some other places, it is under the name Robens Midnight Dreamer Tent. 
In any case, you realize from the pictures that this is a tunnel-type tent supported by three poles. Note that the poles are from outside and this design allows for dry setup. This means that you can set it up even when it is raining and the inner area will remain dry.
The tent is a 3-room structure that includes an inner tent with two sleeping units, plus a large living room in front of the inner tent. So this is a hybrid single-wall and double-wall structure. The sleeping area is a double wall part and the living room is under the shell only.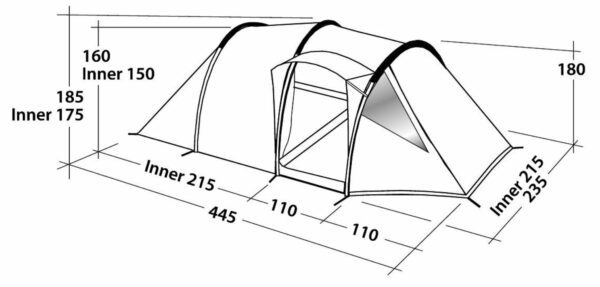 The inner tent is with a removable divider, so you can use it also as a single sleeping room. But the whole inner tent can be removed and you can use the tent with its shell only. So you can have 1, 2, and 3 rooms.
The tent is not freestanding, so you have to choose a place where you can stake it properly. The picture above shows its most important dimensions, and you realize it is quite tall.
Note that there are two large doors, and both of them are the double-wall type with mesh and with zippered panels. The side door has an extra brim pole for dry entry. There are also 3 solid tinted windows and they are equipped with panels for privacy and for reduced sunlight.

Ventilation
As mentioned above, both doors are with full-size mesh, so as long as the sky is clear this will provide excellent ventilation. The inner tent is separated from the shell so air can circulate from all its sides.
When it is raining you will have to rely on the vent, you have it on the rear side behind the inner tent, it is shown in the picture below.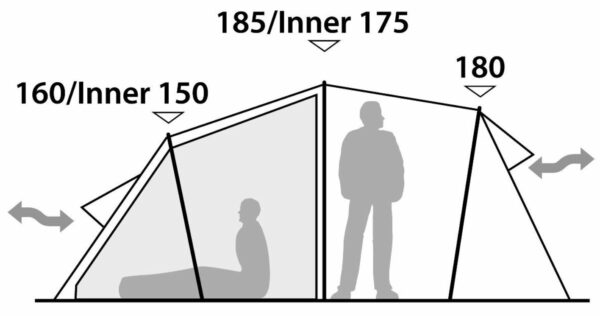 Please see more in this short video, note that there are some differences between the tent's version in the video and the one presented here:
---
Materials
They use high quality and durable stuff here, see what you have.
The poles: This is an anodized and hardened aluminum alloy 6061 T6 and the poles are with the diameter 8.5/16 mm.
The fabric: The shell is their HydroTex HD 75D polyester taffeta 185T, fire-retardant, and with 5000 mm waterproof rating. The inner tent is a breathable and durable 68D polyester 185T. All the seams are factory taped.
The floor is a bathtub style (see the picture below) polyethylene with a 10000 mm waterproof rating. The inner tent has its additional sewn-in and sealed floor, so you have two floors in the sleeping area.
Other features
There is an E-cable port, the picture below.
Many storage pouches are included, you can see them in the picture.
---
Who is it for
Regarding the area, the tent is officially for 4 people. They do not provide the exact numbers for the area, but the picture below shows what you have. So with the inner tent in place you have around 101 ft² (9.37 m²) of the total floored area. This is the sum of the area in the living room that offers around 4.75 m², and the sleeping rooms where you have around 4.62 m².
So per person this gives around 25.25 ft² (2.34 m²). Observe also that the living room is fully sealed so if needed this is the place that can accommodate 3 people more. In any case, this is a very generous place and you realize why I have included it here in the site for family camping tents.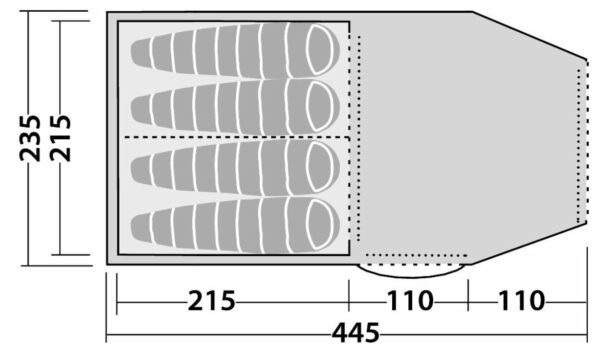 Regarding seasons & climate, the tent is fully enclosed with its solid windows and the panels on the doors. This is why I see it better suited for a cooler climate than for warm areas, after all this is a Danish brand. But as long as the sky is clear, you will have the best possible ventilation through its large mesh doors.
Wind tests: They claim that the tent has been tested up to 150 km/h winds, and according to their statements "At no point was any form of catastrophic failure experienced up to the maximum wind speed".
Regarding the weight, if you search around you will see many different numbers. According to the manufacturer, this version weighs 26 lb (11.8 kg), so this is not a light tent. The packed size is (L x D) 28.7 x 13 inches (73 x 33 cm). So you realize you need a car for transportation.
---
Specifications
Official capacity: 4 people.
Weight: 26 lb (11.8 kg).
Dimensions: 14.6 x 7.7 ft (445 x 235 cm).
Inner area: 101 ft² (9.37 m²).
Inner area per person: 25.25 ft² (2.34 m²).
Peak height: 72.83 in (185 cm).
Packed size (L x D): 28.7 x 13 in (73 x 33 cm).
---
Final thoughts, rating, pros & cons
To summarize this Robens Midnight Dreamer 4 Person Tent review, when you see its features and materials you realize why the tent has been so long on the market and so much appreciated by the users. The inner organization is such that you can have multiple room configurations. The tent will protect you no matter where you use it. Fully recommended.
Please see how I rate this tent, the same criteria are consistently used for all the tents for easy comparison, so the weight and the packed size are not its best features. But this is a car camping tent and you can ignore these parameters.
Please check under the category Tunnel Tents if you want to see more options in the same style. This Coleman Tent Vail 4 Person is with the same official capacity and also a tunnel-tent.
There is a comment box below so let me know if you have any questions. Subscribe to my weekly newsletter and stay informed, there is a subscription form below.