I argue here that instead of going for single wall camping tents you might want to consider convertible tents that can be used as single and as double-wall structures. Read more here.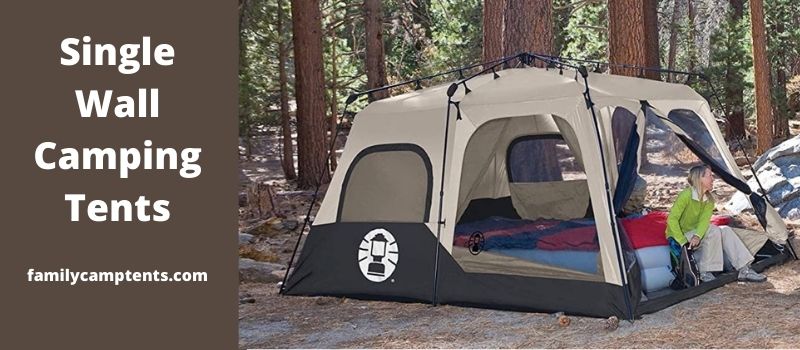 ---
What this is about and what a single-wall tent is
I discuss here only camping tents as appropriate for this site where only large tents are presented. So this is not about tents built single-layer to reduce weight so that you can carry them in the pack. For this, it is best to check some great examples here.
A single-wall tent is the same as a single-layer tent, and this means you have only one piece of material between you and the environment. Some tents are built to be single wall designs, and there are various reasons for this.
Because of less fabric, such tents may pack better than double-layer tents, and there may also be differences in the weight. Note that some of these single-wall tents are very basic shelters, sometimes without floors or with removable floors.
---
Examples of true single-layer tents
Very good examples of such tents you will find within winter camping tents here in the site, so check this Big Agnes Guard Station 8 Tent and also MSR H.U.B. 8 Tent. Both tents have a removable floor.
There are examples with fully sealed floors, you can have this in the Coleman 8 Person Instant Camping Tent and Coleman 6 Person Instant Tent.
Note also that most of the canvas camping tents are in fact single-wall tents. Such tents are breathable so condensation is reduced to a minimum and you do not need an extra layer.
---
Convertible double-single wall tents
There are many double-layer tents that can easily be converted into single-wall tents. This is particularly so with tunnel tents and in particular those that have multiple rooms.
So if you want a single wall tent, there is no need to buy exactly such a tent. In my view, it is far better to go for a tunnel tent that has an inner tent that can be removed. If you are not familiar with this topic, here is what this is about.
Tunnel tents normally have an outer shell and they may also have inner tents attached to the shell. You can have one or more such inner tents, this all depends on the size and capacity of the tent. These inner tents normally attach through a set of loops and toggles and you can remove them and use the shell tent alone. See one example below from the Ferrino Meteora 4 tent.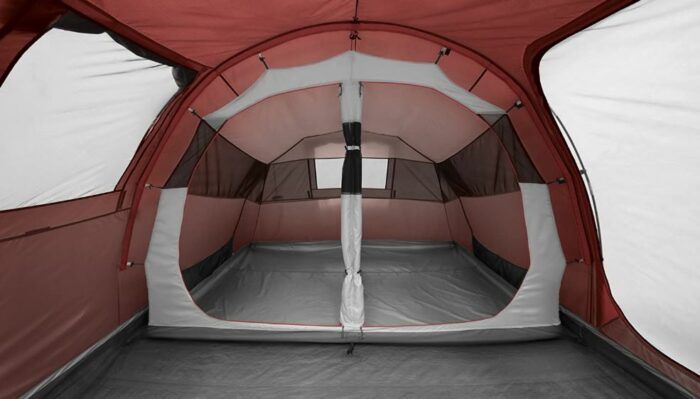 Now, the shell tent can have a sewn-in and sealed floor, or it can be the so-called linked-in floor. The first type (the shell with a sewn-in floor) offers more protection of course. The differences between the two designs I have discussed in a separate text. Want to see some examples? Here are a few:
When you remove the inner tents, you have perfect singe-wall structures.
In the other group (the tent with the linked-in floor) you have many examples, so check these:
In this case the floor offers protection from the groundwater but not from crawling insects. The picture below shows one example, this is the Eurohike Buckingham 8 Classic tent shell after the inner tents and the linked-in floor are removed.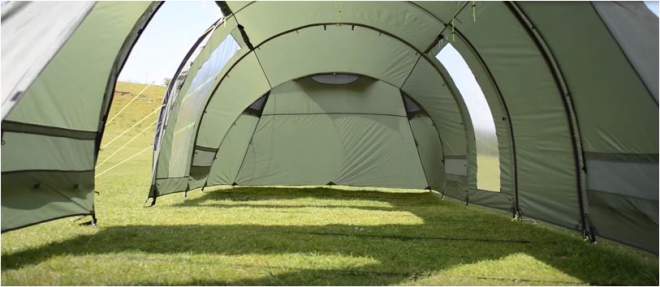 So, whatever your reasons may be to look for a single-wall camping tent, I am convinced it is a better idea to go for a more versatile design that allows for both single and double wall configurations. In any case, if you want to know more about the differences between single and double-wall tents, I would suggest reading my separate text that addresses this issue.
Thank you for reading. There is a comment box below so let me know if you have any comments or questions. Have a nice day.