The Slumberjack Aspen Grove 8-Person 2 Room Hybrid Dome Tent is an extended dome structure with two doors, a large porch created with its fly, and a stargazing setup.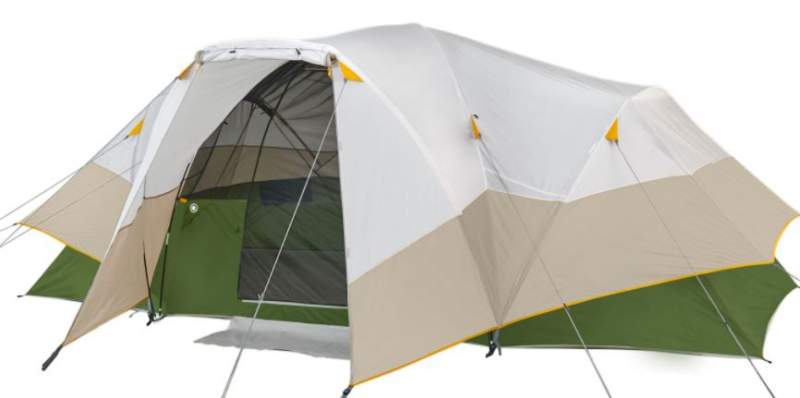 ---
Key features
Extended dome type.
2 Doors.
Porch.
Dry entry points.
2 Rooms.
Gear loft.
Stargazing configuration.
E-cable port.
Great price.
---
What is in the name
I would start from the words 'hybrid dome'. This means an extended dome tent, and you can see this best from the picture without the fly shown below. As you see, it has two extra loops on the sides that support extensions.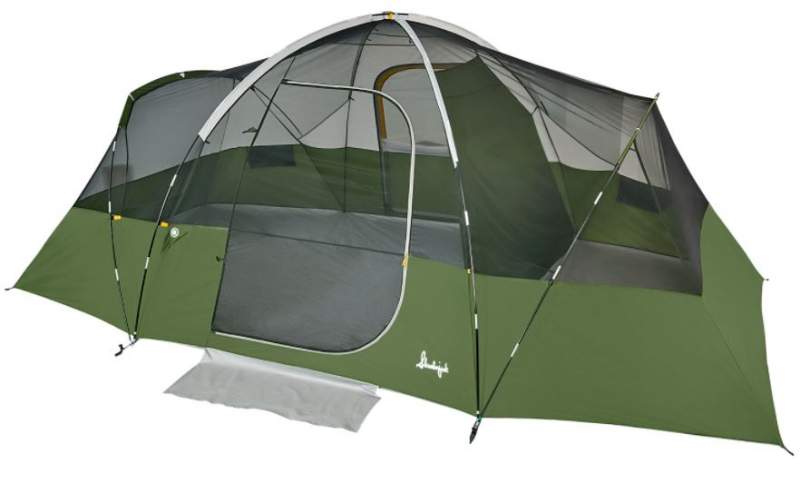 Because of these loops the tent must be staked to be functional, this is why it is not freestanding. But note also that the tent has yet another extra pole that supports its porch shown in the picture below where the fly is in place.
So here you have space to store your gear. Note that this space is very high and this is why I would rather call it a porch than a vestibule. With this part it is similar to their Slumberjack Riverbend 10-Person Tent.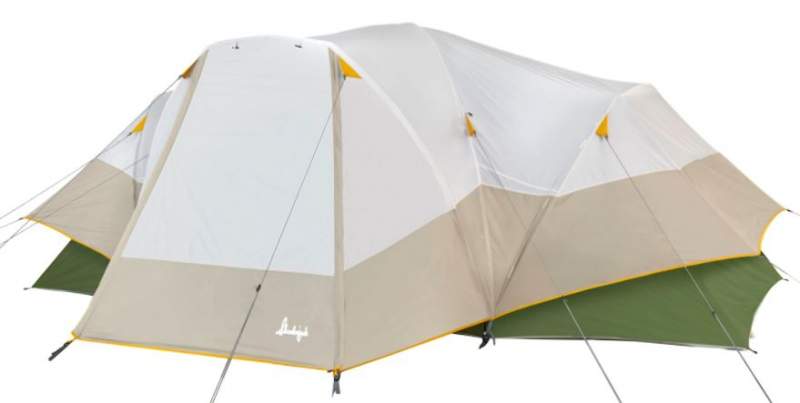 The tent has two doors, they are the same but the rear door is without porch. There you have a small brim so this is again a dry entry point, see the picture below. I must say I like these features.
In the pictures above you can see its removable divider that creates two asymmetric rooms. Observe also a gear loft that is attached under the central dome.
Stargazing configuration
The fly allows for stargazing setup as shown in the picture below. So this is yet another great detail in the design of this tent. You can use this whenever the sky is clear and you are not cold.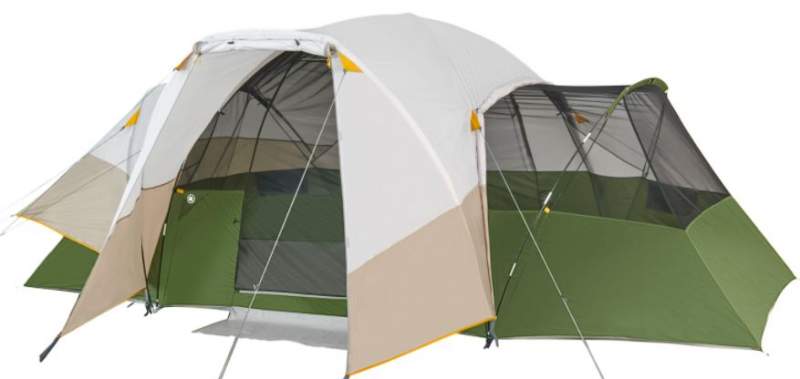 Materials
The poles: You have fiberglass poles, 6 in total. This material is commonly used even in much more expensive tents. All is color-coded for an east setup. Plan around 20 minutes or so. In this video you can see how to do this:
The fabric
: The fly is a polyester taffeta with a 1200 mm waterproof rating. The floor is a polyethylene. So these are all standard materials for budget family camping tents. The carry bag is with handless and loops, see how it looks: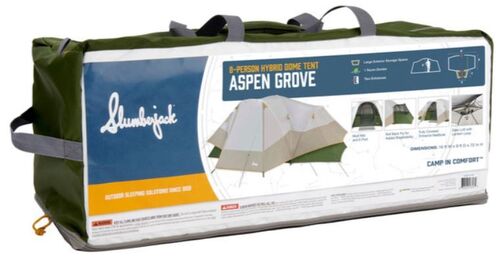 Other details
Gear loft with lantern loop.
E-port for a convenient electrical cord access.
You have an attached mud mat.
Reflective guylines provide added visibility in the dark.
An expandable carry duffle for easy repacking and storing.
Ventilation
You have already seen how much mesh this tent has on its canopy. The picture below also shows how it looks in the camp. So this looks good with so much surface for air exchange.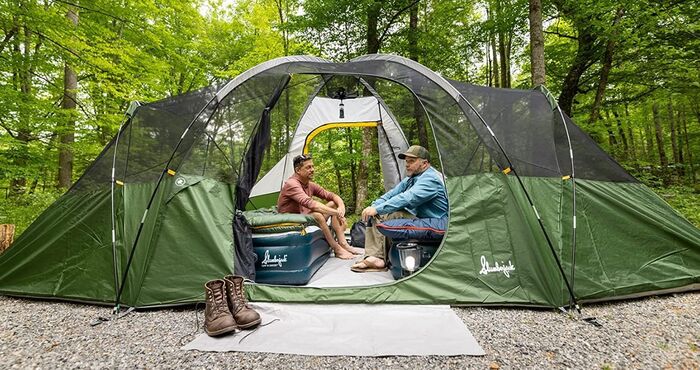 But there are no floor vents here, as you see the side wall is relatively high, so when the fly is on, it would be useful to have some extra venting option. The fly is also without vents, but the rear door has a high brim so vapor has a way to escape.
Please see more about the tent in this video:
---
Who is it for
Regarding the area, the tent is officially for 8 people. For this you have 144 ft² (13.4 m²) of the floored space. This would mean 18 ft² (1.7 m²) per person. The porch adds 20 ft² (1.9 m²), so this is far from bad. But it is best to downgrade it to maximum 5 people or so. However, note that this is still far more than what you can have in The North Face Wawona 8 Tent.
Regarding best use and climate, there is no doubt you can use it for a 3-season camping. The absence of vents makes it difficult to suggest it for a warm and rainy environment. But when the sky is clear you have the stargazing features to enjoy it fully.
The tent is moderately tall with its 72 inches (183 cm) peak height and its aerodynamics is not bad. But with the rear door brim and the fly that does not go to the ground, it is not best suited for very windy places.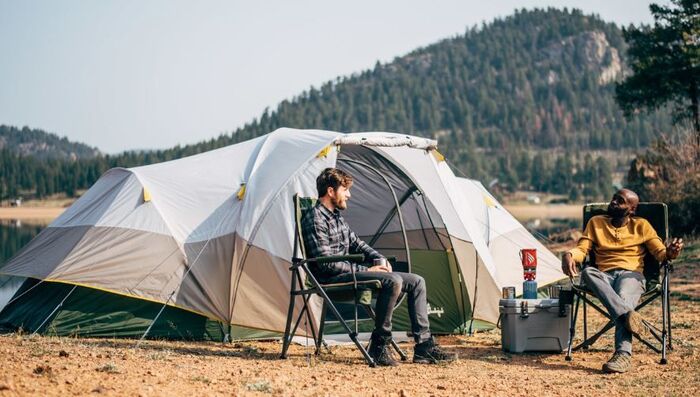 Regarding the weight, with its 23.3 lb (10.57 kg), this is a lightweight tent and my rating for this is high. The packed size is also very good, the numbers are in the specifications below.
Regarding the price, it is simply incredible, a great value for the money.

---
Specifications
Official capacity: 8 people.
Weight: 23.3 lb (10.57 kg).
Dimensions: 192 x 108 in (488 x 274 cm).
Floor area: 144 ft² (13.4 m²).
Floor area per person: 18 ft² (1.7 m²).
Porch area: 20 ft² (1.9 m²).
Inner peak height: a in (193 cm).
Peak height: 72 in (183 cm).
Packed size: 24.5 x 9.75 x 11.5 in (62 x 25 x 25 cm).
Warranty: According to the info on the Slumberjack site and on Amazon, the tent comes with a 10-year warranty. This sounds simply incredible for such a budget tent.
---
Final thoughts, rating, pros & cons
So to conclude, this Slumberjack Aspen Grove 8-Person 2 Room Hybrid Dome Tent is incredibly affordable and with plenty of useful features.
The tent stands great against all my formal rating criteria, but this is a budget tent and I have seen people complaining about its durability. In view of this, its 10-year warranty looks unbelievable and I am not sure if one can take this seriously.
I have a set of rating criteria that I use consistently for all the tents here in the site. This makes it easy for readers to compare. See how this tent rates:
BEST PLACEs TO BUY:
For more tents of this shape please check in the category Dome Tents. Check yet another tent from the same brand, the nicely built Slumberjack Spruce Creek 6 Person Dome Tent.
Let me know if you have questions, there is a comment box below. Bookmark this site and come again, this will keep you informed, as you realize I add texts here on a regular basis. Thank you for reading.