---
The Snow Peak Living Lodge L Tent is an incredibly impressive tall and large all-seasons structure with an inner tent, a porch, and vestibules, supported by quality aluminum poles.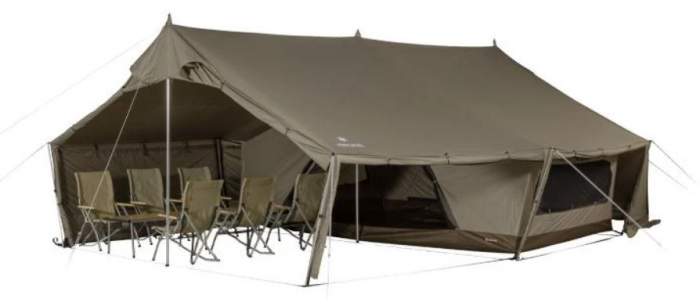 ---
Key features & benefits
Gigantic porch.
5-7 Person inner tent.
Footprint included.
Shelter for all seasons and climates.
2 Vestibules.
Very tall.
Strong aluminum poles.
Incredibly durable fabric.
---
What this is about
Well, this is about an incredibly impressive outdoor shelter. It could be described as a cabin shaped structure because of its straight walls. It includes three main components schematically presented in the picture below, and this means the fly/shell, the inner tent, and a ground sheet (footprint) for the inner tent.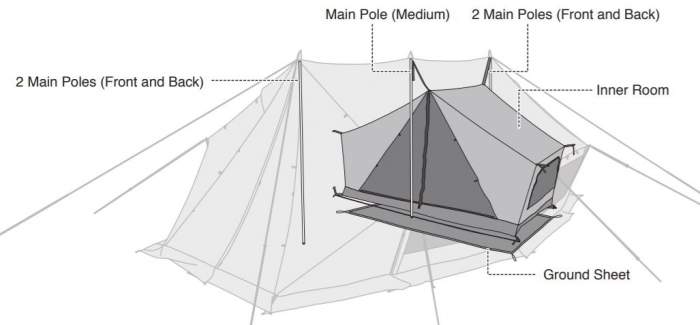 Of course, the list of all elements is much longer, more about this below. This is a shelter with an oval base shown below where you can see the shell profile and the gray inner tent area. As you realize, the peak height is enormous 7.9 ft (241 cm). So I have included it in my list of very tall camping tents.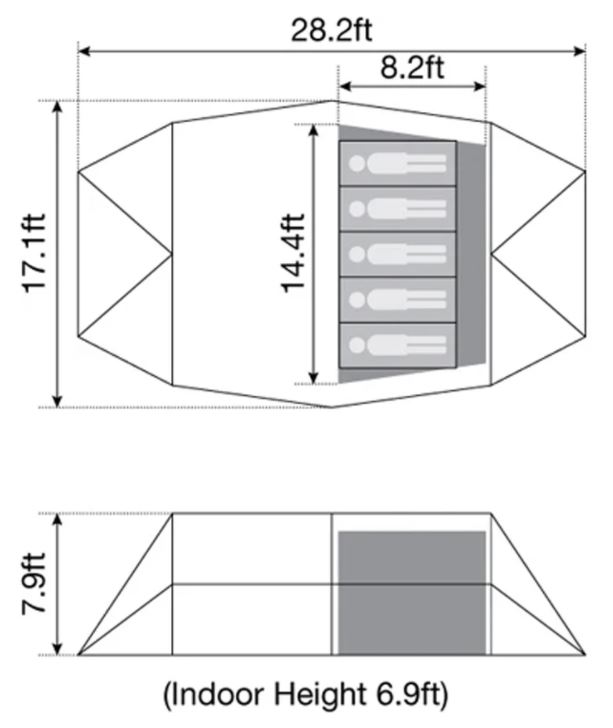 The structure has one inner tent, and one huge porch, plus vestibules on both sides. Note that it is not freestanding, so it must be staked properly, and this includes lots of work. The picture below shows the view into the inner tent from the porch area. So as you realize, the inner tent has huge doors on both sides. The porch is like an extra floor-less room. I have included it in my list of best cabin tents with a porch.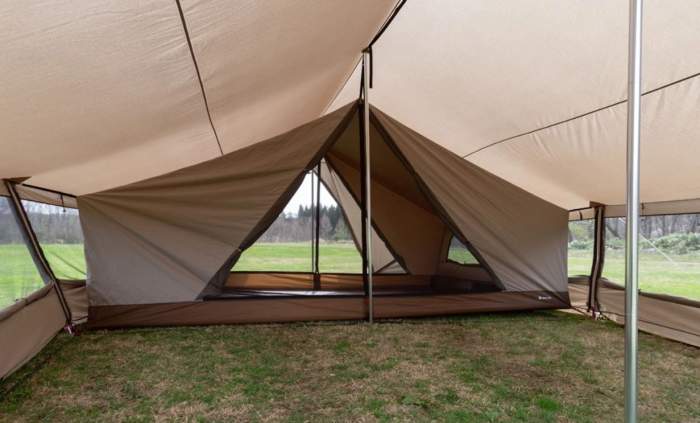 You also have huge windows on the sides, and they are double layer with mesh and with inner panels. Note that the side walls are angled outwards so this adds more volume in the porch. The porch area is without a floor, so here you can use all your camping furniture.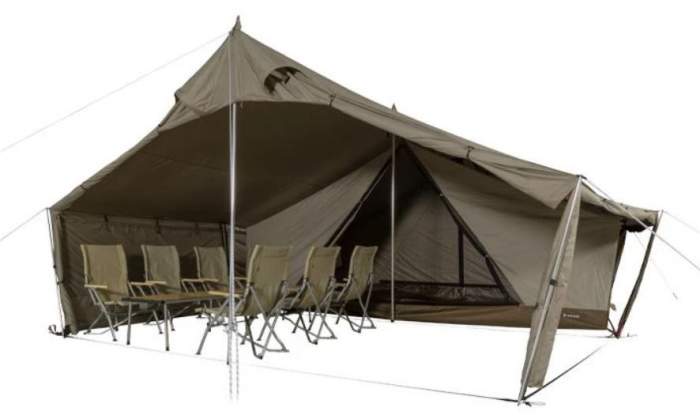 The porch walls can be rolled in various ways. You can see above that they are rolled on two sides. But here is more: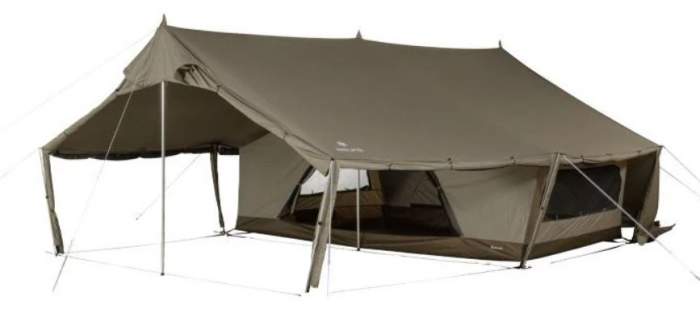 In the picture below you have them rolled up only on the front wall, and then you can have various combinations with the windows' panels: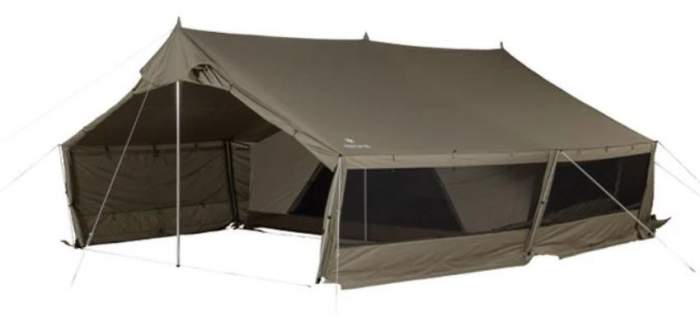 But the porch can be closed completely as shown in the picture below. This you will do when it is cold or when it is raining heavily. However, the inner tent is so deep under the fly that you can keep the porch open all the time if you wish.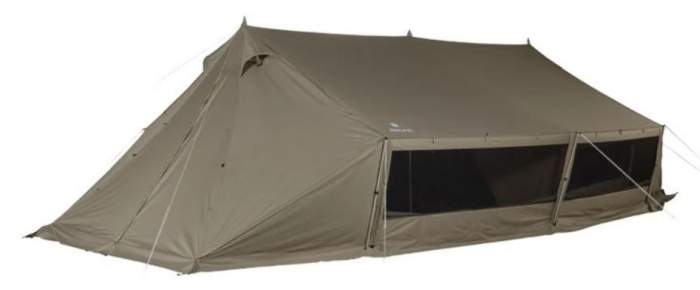 In such situations you will need ventilation, so they have added roof vents shown in the picture below: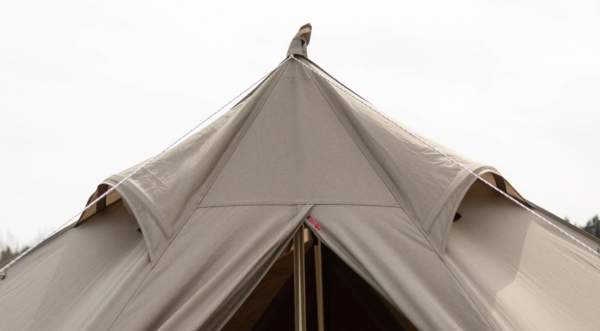 So I have plenty of reasons to include this tent in my list of best cabin tents with a porch. Observe also that you can use the shell on its own, without the inner tent. This is a large shelter suitable for family events in the garden, see how this looks: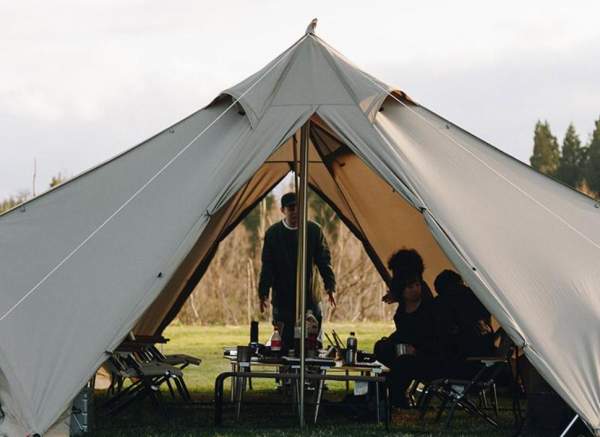 What is included
The list includes the following elements:
Shelter.
Inner Tent.
Ground Sheet.
3 Main poles.
6 Side poles.
10 Pegs.
8 Ropes with a stopper.
Loop belt.
Carrying case, pole case, & peg case.
Seam sealer.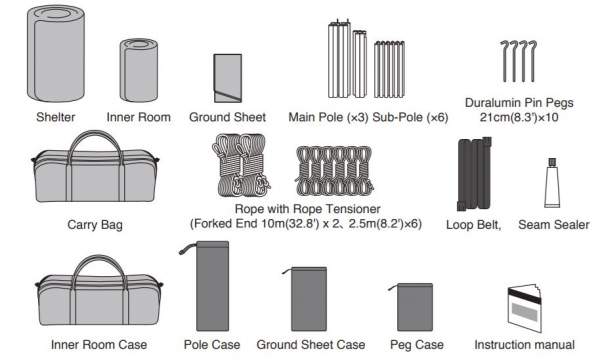 What is not included
You need 10 extra pegs (sold separately) for basic setup. They recommend 6 pegs with a length of 25 cm or more, and 4 pegs with a length of 35 cm or more.
Materials
The fabric: The fly is a very robust 300D polyester Oxford, with a PU coating and 2000 mm minimum waterproof rating, Teflon water repellent. So durable material is not frequently seen in such tents.
The inner tent is a 75D polyester Oxford, Teflon water repellent and with its own bathtub floor, see the picture below. The ground sheet is again a durable 210D polyester Oxford with a PU coating and 1800 mm minimum waterproof rating.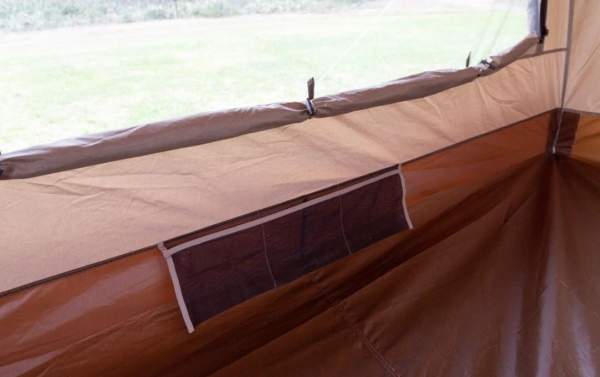 The inner tent attaches to the shell, so this is a dry setup, it is safe if you have to pitch the tent when it is raining. The picture below shows a detail of its floor attachment. Under the roof you have buckles for this purpose.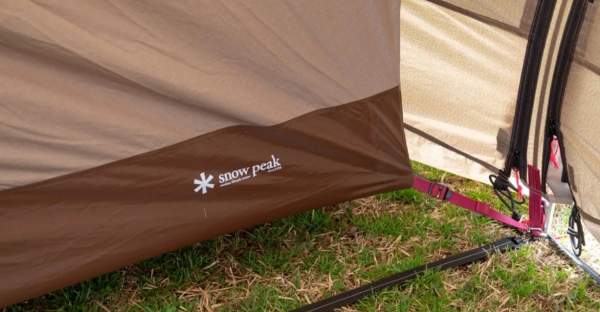 Note that you have a sealer included. They recommend that you use it for the places shown in the picture below. This includes 4 places on the inner tent floor corners, two locations at the roof vents, and several locations on Velcro tabs.

The poles & pegs: There are 9 thick poles in total, 3 are vertical poles in the middle with 30 mm diameter, and you have 6 angled poles on the sides with 17.5 mm diameter. This is a 6061 aluminum alloy. Note that there are differences between the main 3 poles, see the picture: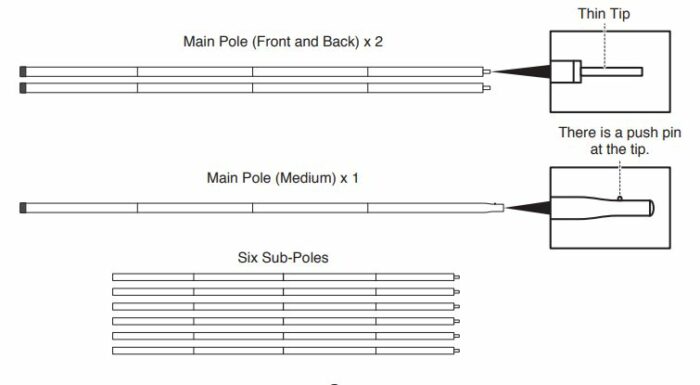 Below you can see a few details of the side poles with tips on the top.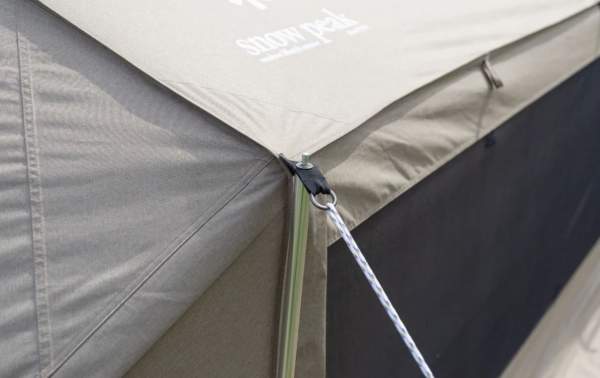 There are 10 duralumin pegs in the package, 23 cm long. It is surprising that they do not provide enough stakes for the ropes. For such an expensive tent this would be nothing.  
---
Who is this tent for
Regarding the area, the tent is officially for 5-7 people. They do not provide exact numbers for the inner area so it is a bit difficult to rate it properly. My estimate is that it offers around 100 ft² (9.3 m²) of the floored inner area. So this is not a lot.
But the porch and vestibules offer lots of space. My rough estimate is that you have around 270 ft² (25 m²). In other words, the total covered area is around 370 ft² (34.3 m²). So even if I am wrong for several square meters, you still have lots of protected space, this is a real camping castle.
Regarding seasons & climate, I have no doubt that this shelter is suitable for every season and all climates. All its openings are closable, the inner tent is deep under the shell, and waterproof rating is very good. The fabric is exceptionally strong and the same holds for the poles.
Though the structure is incredibly tall and this may not be the best option for extreme winds. But when the vestibules are closed it is quite aerodynamic.
Regarding the weight, this is a very heavy product, it weighs 65 lb (29.5 kg). But there are very good reasons behind this weight, the materials here are among the strongest you will find on the market, and the total protected space is simply huge.
The packed size may not be its best feature, but here again the same arguments hold. Think about those thick poles and the gigantic fly that is 300D. Remember you have around 34 square meters of covered space here. So the packed size is fully justified. This is a car camping tent in any case.
---
Snow Peak Lifetime Guarantee
The Snow Peak is a Japanese brand and many of their products are made in Japan. Their products are definitely not the most affordable on the market, but they come with a lifetime guarantee.
On their site you will find the following statement: "Snow Peak submits all of its outdoor hard goods to the highest standards of engineering and testing to ensure long-lasting durability in even the most challenging outdoor conditions. Our company proudly takes full responsibility for the high quality of our products." No need to add anything more here, but you can follow the link and read more. All in all, you know what you are buying.
---
Specifications
Weight: 65 lb (29.5 kg).
Official capacity: 5 – 7 people.
Dimensions: 28.2 x 17.1 ft (860 x 521 cm).
Inner area: around 100 ft² (9.3 m²).
Porch & vestibules area: around 270 ft² (25 m²).
Peak height: 7.9 ft (241 cm).
Packed size:
– Fly: 88 x 35 x 31 cm (34.6 x 13.7 x 12.2 in).
– Inner tent: 77 x 24 x 21 cm (30.3 x 9.4 x 8.2 in).
Poles: aluminum.
---
Final thoughts, rating, pros & cons
In summary, this Snow Peak Living Lodge L Tent is one of the most impressive tents presented here in the site. I feel that I cannot say enough good words about it. This brand does not stop surprising us with its incredible products. This is a shelter for any place and for any season. Fully recommended.
Below you can see how this tent stands against my standard rating criteria that I apply consistently to all the tents here in the site so that you can easily compare. I rate it as a 5-person tent. As expected, it does not score great in the weight, but it is best to ignore this parameter. This tent is built to last and to be reliable, and not to save weight and bulk. 
BEST PLACE TO BUY:
For more tents of this shape please check in the category Cabin Tents. Let me know if you have questions, there is a comment box below. Bookmark this site and come again, this will keep you informed, as you realize I add texts here on a regular basis. Thank you for reading.