---
Here you have my selection of best cabin tents with a porch, huge and pleasant camping tents with straight and tall walls, multiple rooms, and many windows. Keep reading.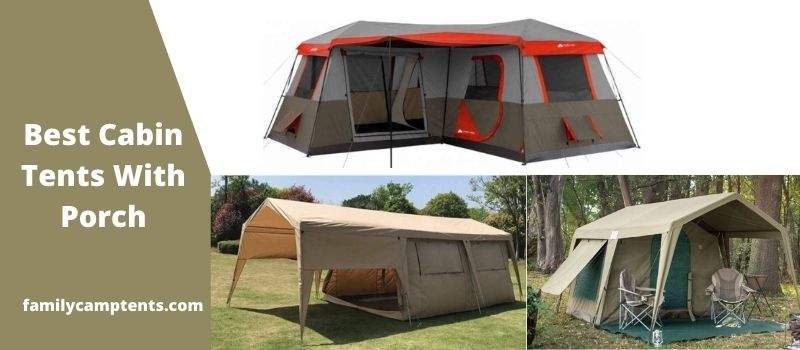 ---
What is the cabin tent's porch?
The meaning of the term porch in buildings is more or less clear. The word comes from Latin 'porticus'. In the case of tents, it is much more complicated because there are several types of extensions of the tent's protected space, and these also include:
Some manufacturers mix these terms and they are not always used in the most appropriate way. I do not think that there is a strict definition of the term tent porch. In this text, I shall use this term to describe the following:
The tent's area protected by the tent's fly. This normally implies protection from above and sometimes from the sides as well.
The area without a screen mesh. So these tents represent a separate group from what you can see in my text best family camping tents with a screen porch.
The area without a floor. Such a floor you have in the group of tents with a screen room.
So tents in the list below have an area that offers partial protection from the rain, but no protection from insects. In such a space you can sit in the shade, and you can use it for cooking, and also to store some gear. The level of protection depends on the type of tent, you will realize this from the list of tents below.
A porch is a feature quite frequent with tunnel type tents, you have it also in cabin tents, and very rarely in dome tents. But many dome tents come with a vestibule that gives more protection. 
---
Tent's porch vs tent's awning
The tent porch should not be mixed with the term awning. A porch is an area that represents the structural part of the tent, it is supported by the tent's frame, and it offers more protection than an awning.
In the case of the awning, you can have either a large flap that you can extend and support by a pair of extra poles that may or may not be included, and such a structure normally always provides a cover only from above. Sometimes an awning can also be a part of the tent's fly and frame, but such structures are not so deep, and they are in place mainly to provide a dry entry.
---
Tent's porch vs vestibule
The tent's vestibule provides more protection than any tent's porch, and this is the main difference. From one side this is good, you have a storage space that is almost completely protected from the rain, as you know some vestibules even have a linked-in floor. But from the other side, this may be annoying because you have to wrestle with zippers. This is not so with a tent's porch.
---
My list of cabin tents with porch
Below is the list with the tents ordered alphabetically. Note that here you have only cabin-type tents with a porch, so these are tall and pleasant constructions that give you a feeling of being at home.
All the tents in the list are presented in detail in my separate reviews so please follow the links for more information.
---
1. Bushtec Adventure Delta Zulu Combo Canvas 4 Person Chalet Tent with Gazebo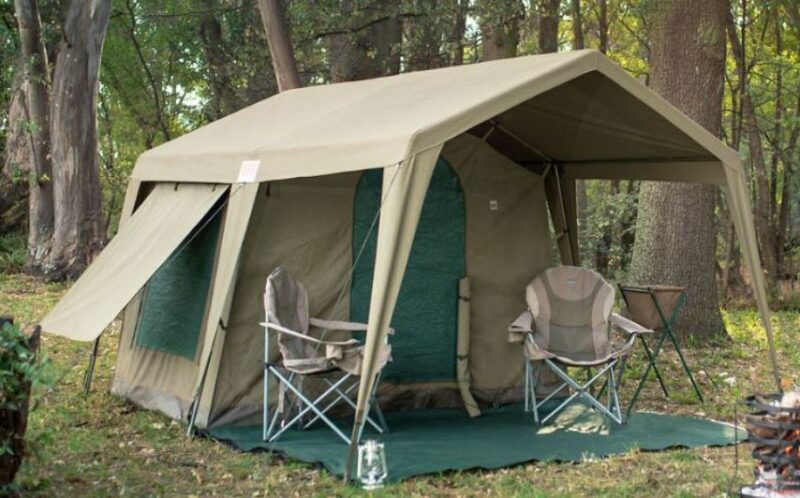 In this case you have a porch that is separate from the tent in the sense that it is created by a gazebo. So the gazebo can be used on its own, but the tent without it makes no sense. This makes it a 2-in-1 structure with a gazebo, and with a tent-plus-gazebo.
As you realize from the picture, the porch is very deep and it protects the space from the rain. The structure is incredibly strongly built, this is a waterproof and breathable cotton canvas suitable for all seasons and all climates. This is a freestanding tent with a self-supporting frame.
The tent is also in the group of dark-rest tents. The official capacity is only 4 people, and this implies an inner area of 54 ft² (5 m²), but the porch is huge so the total covered area is 143 ft² (13.2 m²). As usual for cotton tents, this is a heavy structure, the weight is 127 lbs (58 kg).

---
2. Bushtec Adventure Echo 2200 Luxury Camping Tent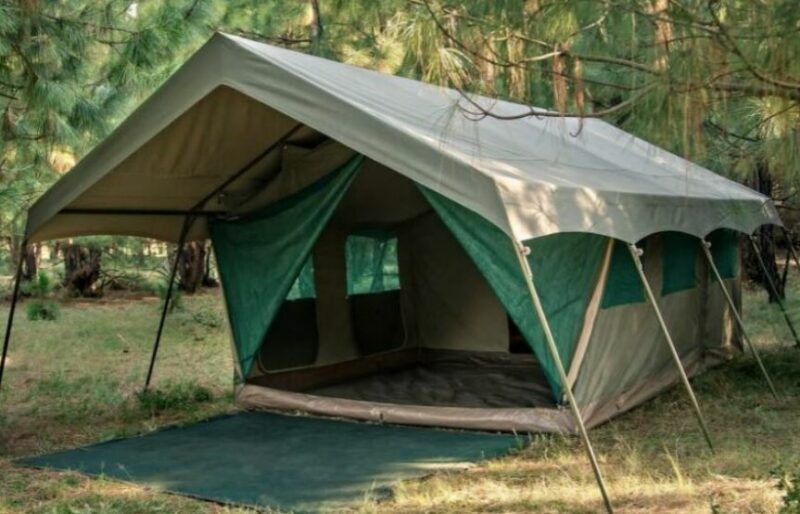 This Bushtec Adventure Echo 2200 Luxury Camping Tent is truly exceptional and impressive, but it is here because of its huge sitting area in front of the tent. So this is a sort of porch or veranda that is created by the tent's extended roof.
The inner area is 206 ft² (19.18 m²) and the total covered area is 283 ft² (26.3 m²), so you realize how big the tent and porch are. This is why I have added it to my list of extra large tents. The peak height is 10 ft (3 m) and I have all the good reasons to include it in my list of extra tall tents.
This is again a cotton canvas camping tent, the frame is steel, and you have two rooms with 6 windows. The overall quality is hard to match. They give a 3-year warranty on all parts. The tent weighs 500 lb (227 kg), so it is incredibly heavy.

---
3. Dream House Double Layers Waterproof Safari Glamping Tent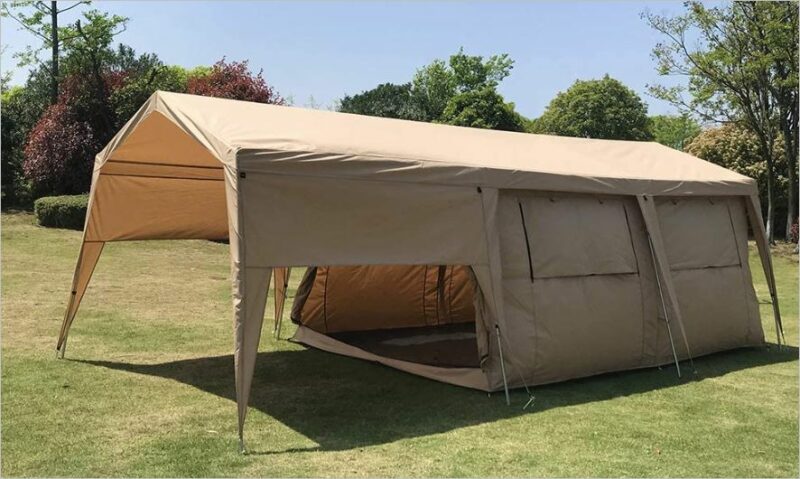 This is an impressive and luxurious, tall polycotton tent with a peak height of 87 in (221 cm). It is also included in my list of very tall family camping tents. As you realize, the porch is very deep here, you have a covered area of 2 x 3 meters in total, but the protection is mainly from above. The porch is a part of the roof, it is not removable.
This is a freestanding tent with a strong steel frame. It comes with a very high waterproof rating and it offers great protection from elements in any weather conditions.
As expected, the tent is heavy, so the tent + poles weigh 66.13 + 55.11 lb (30 + 25 kg). The inner area is 117 ft² (10.9 m². The official capacity is 8 people.

---
4. Ozark Trail 16 x 16 Feet 12 Person 3 Room Instant Tent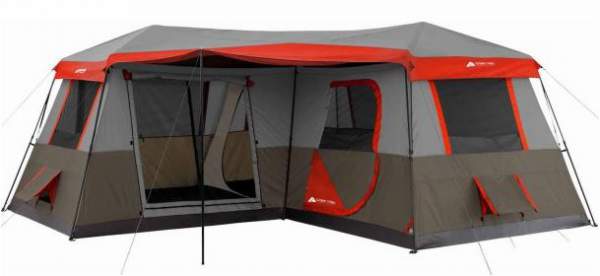 This tent is impressive in many ways, but it is here because of that covered space in front of its inner 3 rooms. So this is something that could be described also as an awning because the pole is removable, but it is huge and deep, and the tent would be useless without it because you could not get in. This is why I have added it here in the list of tents with a porch.
The tent is very suitable for several couples and for big families or groups. In spite of its huge dimensions, the setup time is two minutes. This is because of its instant setup design based on telescopic poles. The tent is with an L-shaped profile.
The total inner area is 192 ft² (17.8 m²), each of the three rooms is with the dimensions 8 x 8 ft (244 x 244 cm). There are 7 windows, 2 ground vents which can fit air conditioners, and you also have an electrical cord access port.

---
5. Ozark Trail 16-Person 23.5 x 18.5 Cabin Camping Tent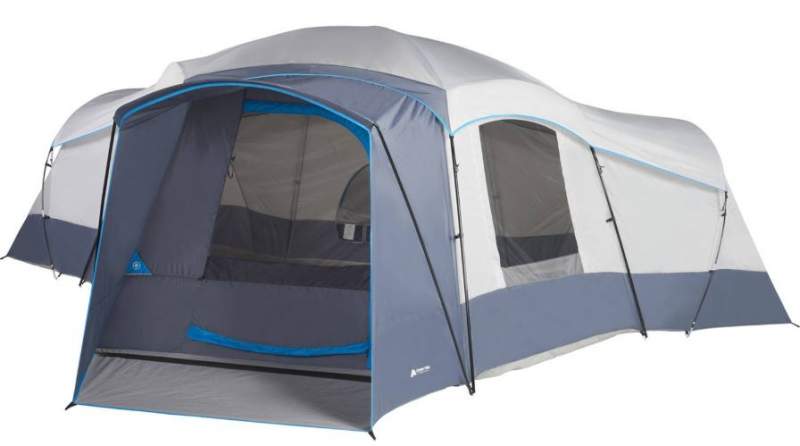 In this case the porch is less impressive simply because the tent is so huge so the porch looks small and not very deep. But as you realize from the picture above, the porch is with side walls and also with a floor. The inner floor plan of this tent is almost a Y-letter shape, with a central hexagon area, plus non-rectangular additions on the sides. My estimate is that it offers some 20 square meters (216 ft²), and you have 3 rooms inside, 3 doors, and 6 large windows.
The indicated floor area implies 1.25 m² (13.4 ft²) per person, and this is not so much although the tent is huge. By the style, this is a cabin tent with straight and almost vertical walls. It is best suited for summer vacations in areas without much wind and rain. This is a large structure with many elements, so you would not want to move it frequently.

---
6. Snow Peak Living Lodge L Tent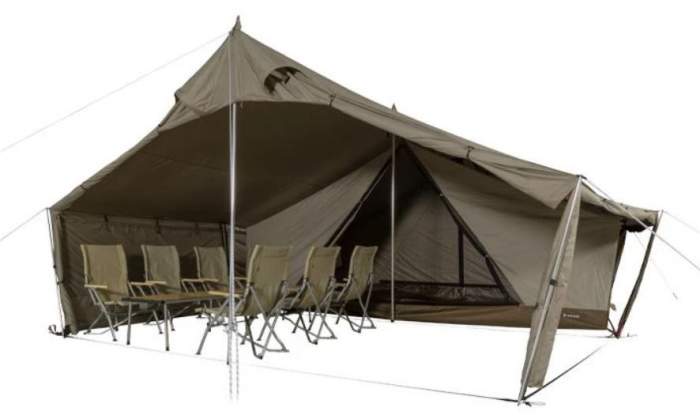 The Snow Peak Living Lodge L Tent is an incredibly impressive tall and large all-seasons structure. It has an inner tent, a huge porch, and two vestibules.
So how tall is it? Well, you have a peak height of 7.9 ft (241 cm). How large? This is also something impressive, the inner room may look modest with its 100 ft² (9.3 m²) of the floored area, but the total covered space under the porch and the vestibules is around 270 ft² (25 m²).
The tent is supported by quality aluminum poles, and you have a footprint included. This is a shelter for all seasons and climates. The weight is 65 lb (29.5 kg), and the overall dimensions are 28.2 x 17.1 ft (860 x 521 cm).

---
Final thoughts 
So this was my list of best cabin tents with porch, it will be updated whenever I find a tent worth including here. This is why you might want to bookmark this text and visit it again, this will keep you informed.
As you realize, some of these tents are among the largest on the market and they come with those external extensions that I describe as a porch. No matter how you call it, this is always a useful space where you have a shade, and you can use it for sitting and cooking.
If you need a bit more protection in these extensions, check also my list of tents with a screened porch, and tents with a screen room. Thank you for reading, please let me know if you have questions or comments, there is a comment box below. Have a nice day.