---
The Snow Peak Living Shell Long Pro is an incredible structure that can be used on its own as a screen house, and also attached to a tent. But you can use it as a tent as well.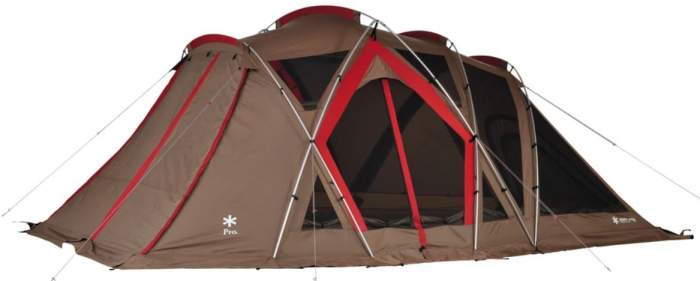 ---
Key features & benefits
Connectable design.
Closable windows.
6 Person capacity. 
Awning configuration.
---
What is in the name
The words Long Pro are there to specify that this product should not be mixed with their Snow Peak Living Shell shelter which is considerably smaller.
On the other hand, note that they build this Snow Peak Living Shell Long Pro in two different colors, so you have the Brown version shown in the top picture above and the Snow Peak Living Shell Long Pro Ivory version shown below.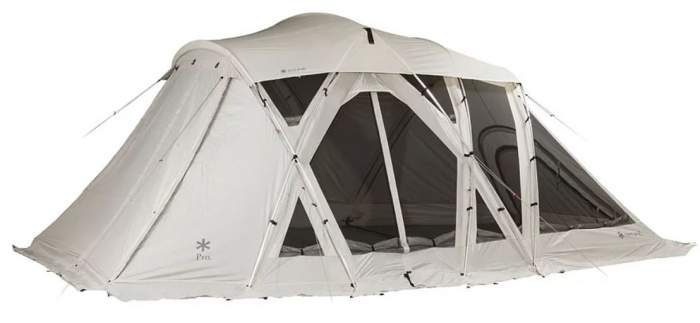 So what is this, a tent or a screen house? It can be described as both. It is built as a screen shelter that can be used on its own. See how magnificent it looks from inside: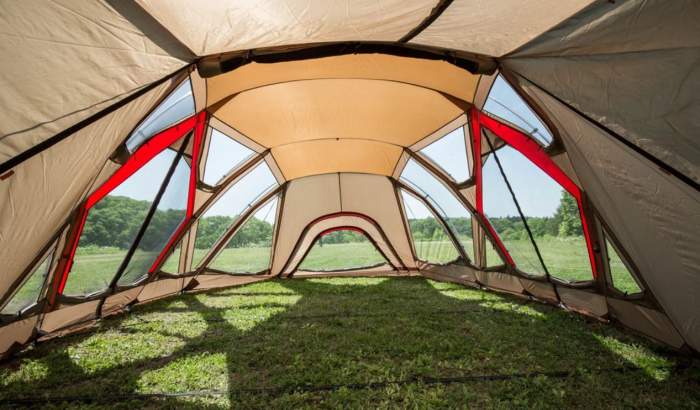 When you look closely, you realize that all those great mesh windows also have inner panels for privacy and for rain protection: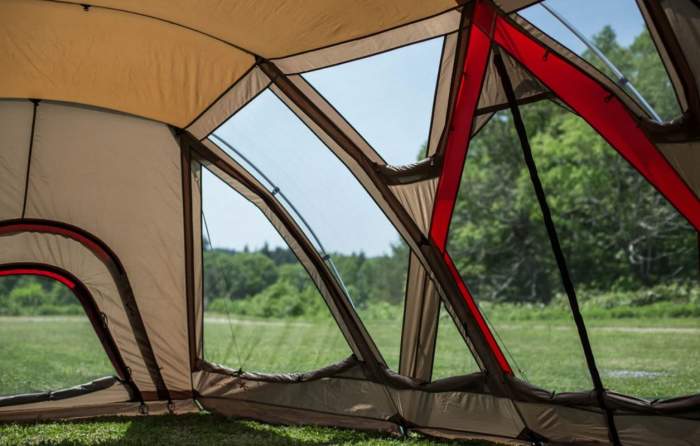 So this is a screen house that offers more protection than most of its competitors, but there is more to this below in the text.
The shelter has doors on all four sides, so 4 in total, but wait to see more about it. You can see some of them in the picture above. Completely on the left is something unique, more below. On the right is one of its two huge side doors that are in between the A-shaped pole frames, and they have one central zipper. The picture below shows it from outside.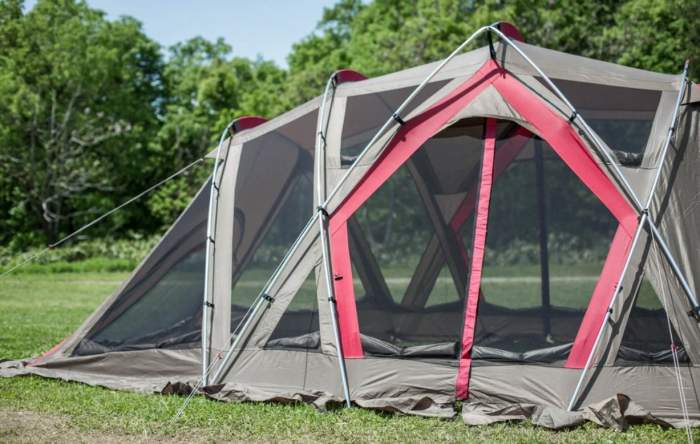 Now a bit more about the mentioned door on one of its narrow sides. So this is a set of two doors, one nested in the other. Each has an inverted-U shaped zipper, see the picture below, the zippers are covered with those red flaps.
So you can use the smaller and the larger remains in place, or you can use the larger and the smaller remains in place just like a usual door panel.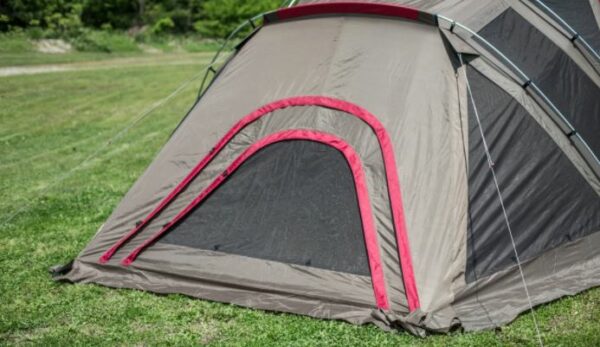 But what is this for? This door (or doors) can be used as regular tent doors, as you see there is a mesh for ventilation and for protection from insects, plus a panel from inside. However, they have yet another purpose, these doors are for connection to the Snow Peak tents.
There is yet another door on the opposite narrow side that has two parallel zippers on its two sides. This allow for an awning configuration shown in the picture. Observe that you have side flaps to protect you from winds when you cooking in this space or just sitting in the shade.
Connectable design
So this is a very specific feature, and you have already seen the door that is used for this purpose. The picture below shows how the smaller of the connecting doors is used to attach this screen house to a small tent of this brand: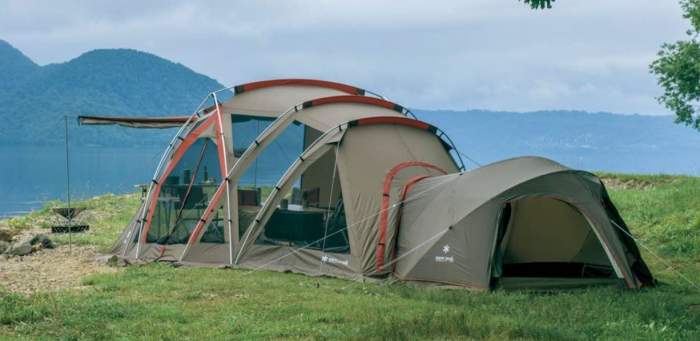 But below you can see it attached to their Snow Peak Dock Dome Pro. 6 Tent, so for this you use the larger of the mentioned connecting doors. The other three doors remain fully functionable as you realize from the pictures.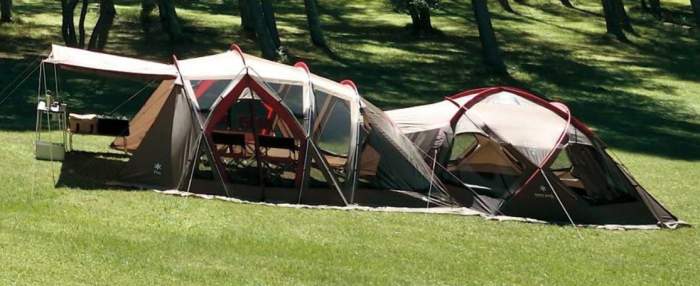 The Shell is very high, you have 7.2 ft (219 cm) inner peak height. So it is much taller than the attached tents, and it is incredibly pleasant with all those screen windows. 
Materials
The poles & pegs: The poles are a 6061 duralumin with 19 and 16 mm diameter. The word comes from 'durable aluminum', so this is a very strong construction. There are several intersection points that make the structure even stronger and more stable.
You have already seen that on both longer sides it has A-shaped pole configurations, and they are connected with a roof loop pole. The other loops are like in any other tunnel tent.
There are 26 duralumin pegs in the package.
Swivel ropes are included (two 7 m long, four 3.5 m long, and four 2 m long).
The fabric: They use a very durable 150D polyester Oxford with what they call the Light-Shielding Pigment and a PU coating. They also write that the material is "Teflon Water Repellent, UV Cut Processing", and I could not find an information in English to see more about it.
Ventilation
This is an incredibly well-ventilated structure, but you can always regulate this and also create shade where you want because all mesh areas are closable. 
But they have also added vents above the large side doors, you have them on both sides. This is great to have in situations when the panels must be closed due to the rain.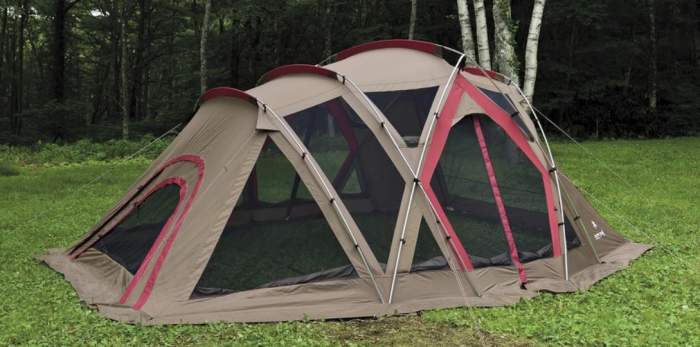 ---
Who is this Tent for
Regarding the area, they write it is for 6 people, but they do not give number for the area (at least not in English). The picture below shows the floor plan and the dimensions. My rough estimate is that you have around 18 square meters here (194 ft²). So this is a gigantic area for 6 people, no matter how you use it. The dark-gray area on the right is the part where you can attach a tent, more below.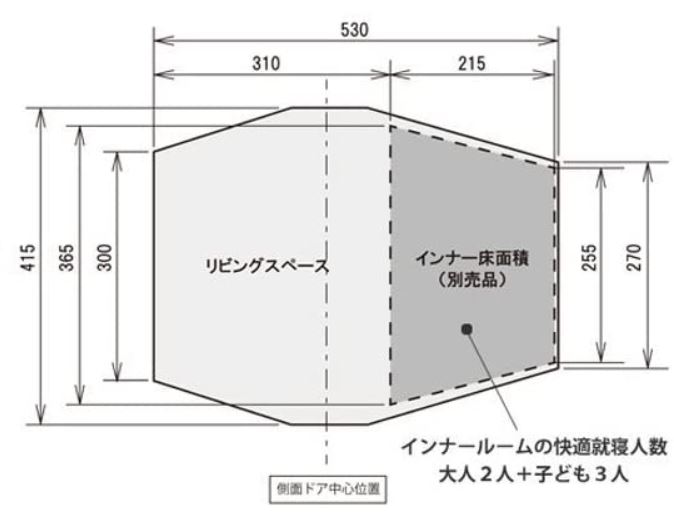 Regarding seasons & climate, I am sure you can use this shelter everywhere and in every season. This will depend on purpose and use, you will see more in the Accessories below.
It is strong and can withstand lots of pressure from every side. All the openings are closable, and they have added the skirt along its perimeter, to drain water or to prevent cold drafts of you put sand or snow on it.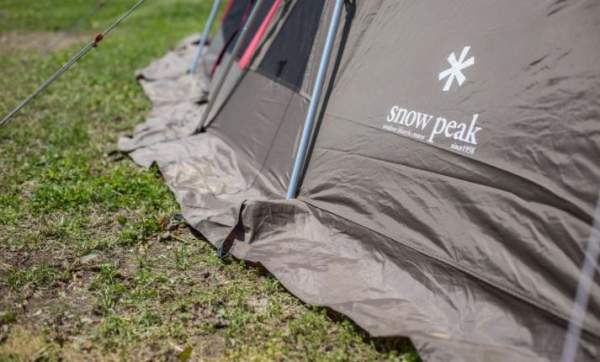 Regarding the weight, I think it is pointless to make a stress on this, I am giving the weight only for information. It weighs 41 lb (18.6 kg), so this looks a lot but see the size and all its features. In fact, this is a very good weight for such a shelter.
The packed size is 29.92 x 13.39 x 11.42 in (76 x 34 x 29 cm) and this is also quite good for such a large item.
---
Specifications
Weight: 41 lb (18.6 kg).
Official capacity: 6 people.
Dimensions: 17.39 x 13.61 ft (530 x 415 cm).
Area: 194 ft² (18 m²).
Area per person: 32.3 ft² (3 m²).
Peak height: 7.2 ft (219 cm).
Packed size: 29.92 x 13.39 x 11.42 in (76 x 34 x 29 cm).
---
Accessories
1. Living Shell Long Pro. Shield Roof
I think this piece should be included in the package, but if this is not so, you can order it separately. It is added for extra rain protection and to create shade and to reflect heat. Its waterproof rating is 3000 mm.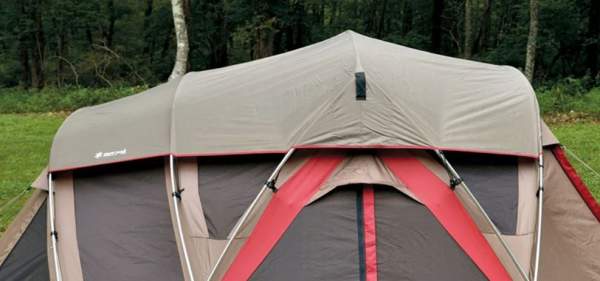 2. Snow Peak Living Shell Long Pro. Inner Mat TM-660R
This is a mat specifically built for the and you can order it here.
3. Snow Peak Living Shell Long inner room
I mentioned above that this Shell can be used as a tent on its own because it can be closed completely. But they have built an inner tent that you can attach inside. This was the dark-gray area mentioned above in the floor plan picture.
So if you add this, you have a real 4-season camping tent with a shell that creates a huge living are of around 11 square meters in front of the inner tent. See how it looks: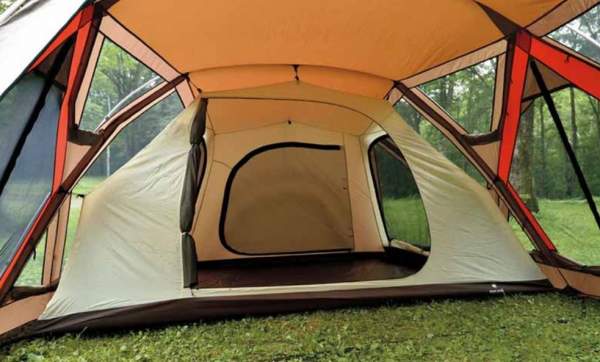 This inner tent has its own very strong floor which is a 300D polyester Oxford, and its waterproof rating is 10000 mm minimum. Its capacity is 5 people.
---
Final thoughts, rating, pros & cons
When I see this Snow Peak Living Shell Long Pro, I am amazed with their originality and creativity. They have built and incredibly functional and versatile shelter that can be used in various ways, on its own or in combination with their tents of various sizes. I have included it in my list best screen houses for camping, but clearly it is far more than just a screen house. Fully recommended.  
Below you can see how this product stands against my standard rating criteria that I apply consistently here in the site so that you can easily compare:
BEST PLACE TO BUY:
For more products of this type please check in the category Screen Houses. Check yet another option from this brand, the Snow Peak Mesh Shelters TP-925.
Let me know if you have questions, there is a comment box below. Bookmark this site and come again, this will keep you informed, as you realize I add texts here on a regular basis. Thank you for reading.