The Snow Peak Living Shell is a fully closable screen house with a connectable design to attach it to a tent if you wish. It can also be used together with their inner tent.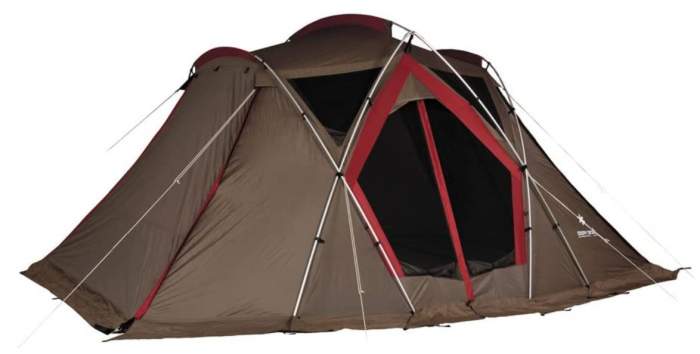 ---
Key features & benefits
Screen house.
Fully closable.
Aluminum poles.
Connectable design.
Inner room available.
High waterproof rating.
---
What this Snow Peak Living Shell is about
If you use this shelter on its own, this is an excellent screen house. The picture below shows how it looks inside with some camping furniture. All huge openings in the picture are mesh, and they are fully closable with zippered panels so you can have as much privacy and protection as you wish.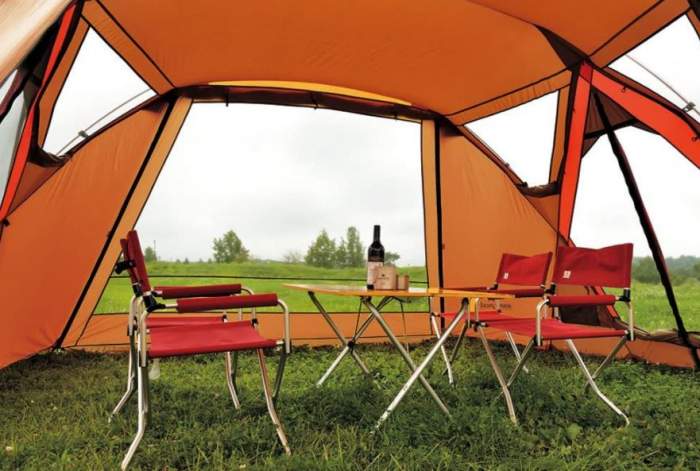 They build it in oval shape and you can see this from the floor plan shown below. This is on purpose and they use such a design in many of their shelters, they claim such a shape is best suited for windy places as it creates less resistance. You can see also that the shelter is tall with its 82.68 inches (210 cm) peak height.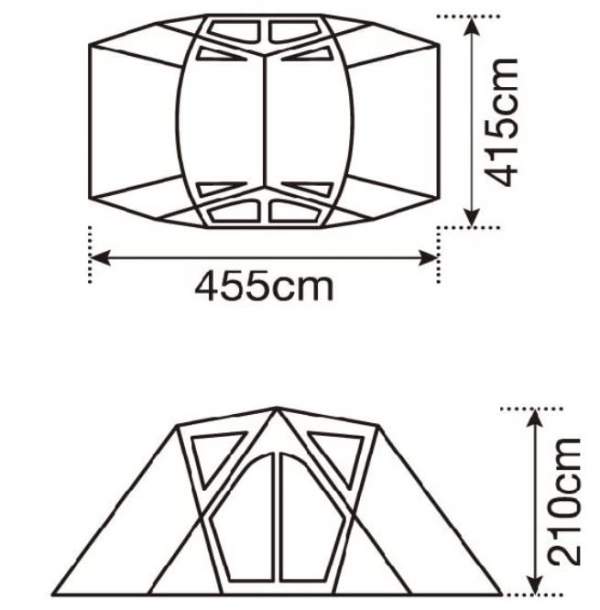 This shelter is with a connectable design so you can connect it externally to many of their tents. The picture below shows one example. The two shelters become one, and the screen house becomes a large living room directly connected to the tent.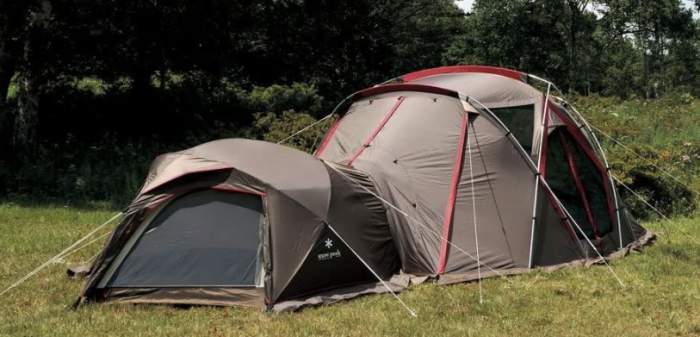 The picture below shows a bit more of this connection area. This is all fully sealed. This is the same concept that you have in their Snow Peak Living Shell Long Pro shelter. Because of this design, I have included it in my list of best connecting tents.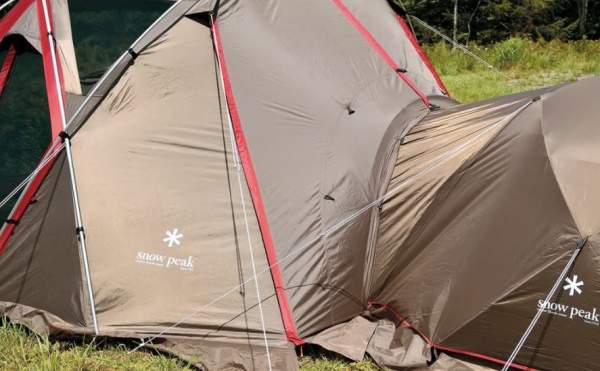 Snow Peak Living Shell Inner Room
This screenhouse can be used together with an accessory Living Shell Inner Room (tent) which they build for this purpose. It can be attached from inside, and in this case you have a true 4-season tent. The picture below shows view inside when the inner tent is attached: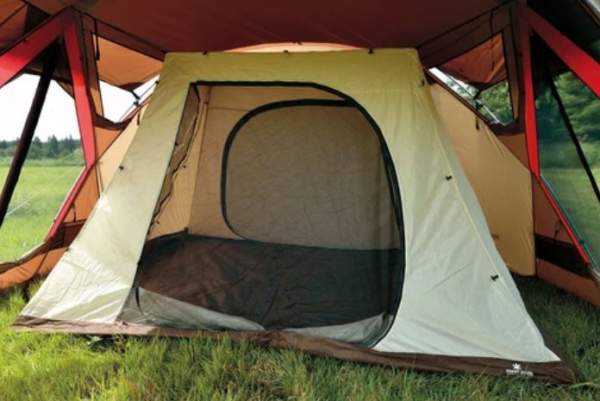 As you see, you have two huge inner doors and the access to the doors of the shell shelter is still available. The Inner Room numbers and data are as follows:
Weight: 7.7 lb (3.5 kg).
Dimensions: 9.6 x 7.7 ft (293 x 235 cm).
Area: 74 ft² (6.9 m²).
Official capacity: 4 people.
Fabric: 68D polyester taffeta, breathable water repellent.
Floor: 210D polyester Oxford with PU coating and 1800 mm waterproof rating.
It comes with 6 Duralumin pegs.
Below you can see that you still have plenty of space around even when the inner tent is in place. So the remaining free area is a floorless living room. In this configuration you essentially have a true double-layer tent with an inner tent plus a full coverage fly that creates the living room. You can call this area a porch if you wish, because it is floorless.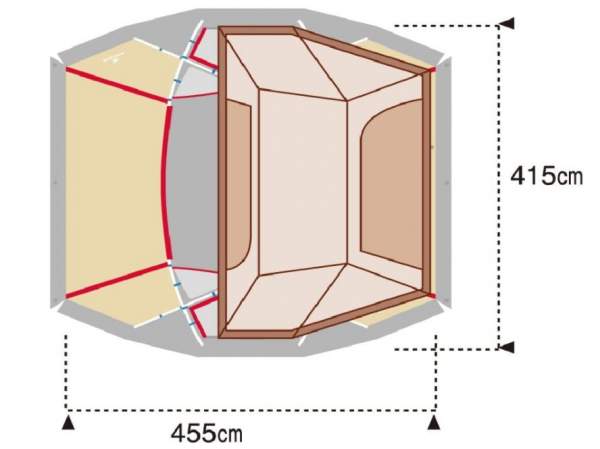 Awnings
The Snow Peak Living Shell has doors on all its four sides. Those on the narrower sides are with dual zippers on the sides, so you can unzip them and fix the flap above the door, or you can create an awning as shown in the picture: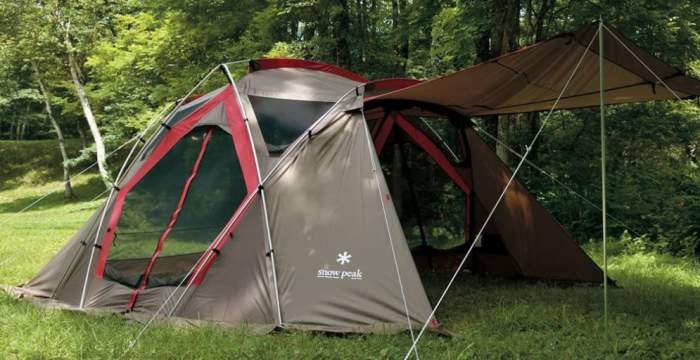 Below you can see how much of effective covered space this creates. The picture also shows some furniture so that you get an idea of the size of the area: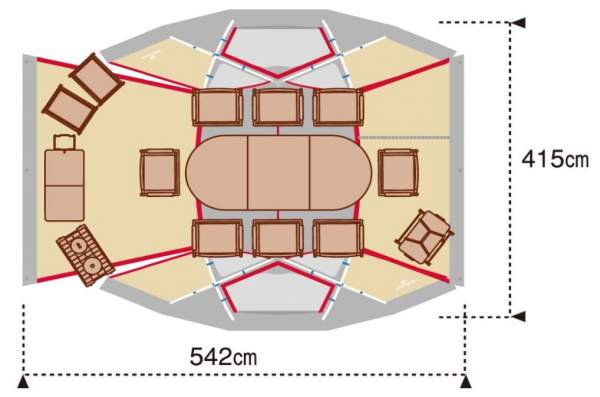 But the shelter is symmetric, so you can create awnings on both sides. This extends the fully covered space to 6.3 meters length, and compare this to its floored dimension which is 4.55 meters.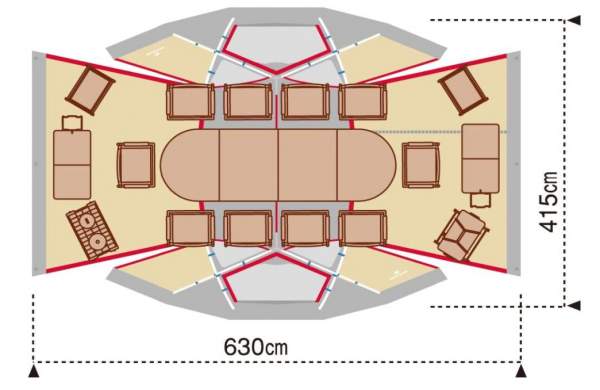 Materials
The poles and pegs: There are several color-coded and shock-corded aluminum 6061 poles with 19 mm and 16 mm diameter. They include 2 A frame poles (see the pictures below), 1 ridge pole, 2 C-frame loop poles, and 2 upright awning poles. The poles attach to the tent's base through pin and ring system. Note that this frame is from outside, so you have long sleeves on the roof.

You also have a full set of 22 duralumin pegs, 4 tensioning ropes 3.5 meters length, 2 ropes 7 m length, and 4 ropes 2 m length.
The fabric: The body is a 75D polyester taffeta and 70D nylon taffeta with pigment PU coating that gives it 3000 mm waterproof rating minimum. The roof piece (shown below) is with a PU coating and 1800 mm minimum water resistance. The mud skirt at the perimeter is a 210D polyester Oxford with a PU coating and the same rating.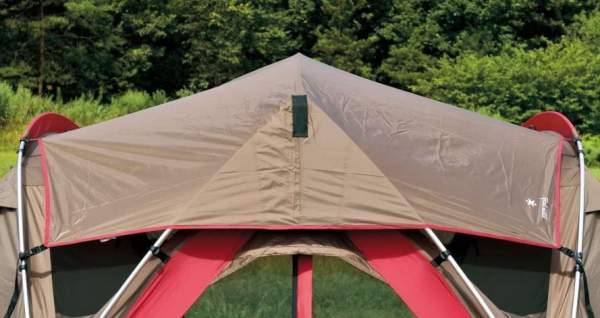 The package includes a seam sealing agent, a frame case, a peg case, a carry bag, and 2 compression belts.
Ventilation
You have seen in pictures how much mesh this shelter has, so ventilation is excellent. You can regulate it as you want, every opening has its symmetric counterpart with zippered panels, so you can create cross flows in any directions.
---
Who is this shelter for
Regarding the area, the dimensions are given below but this is not a square. They do not provide the numbers for the area, so one can only guess. But the space is large, think around 15-16 square meters or so. You see from the picture how many pieces of furniture you can have inside when the doors are closed.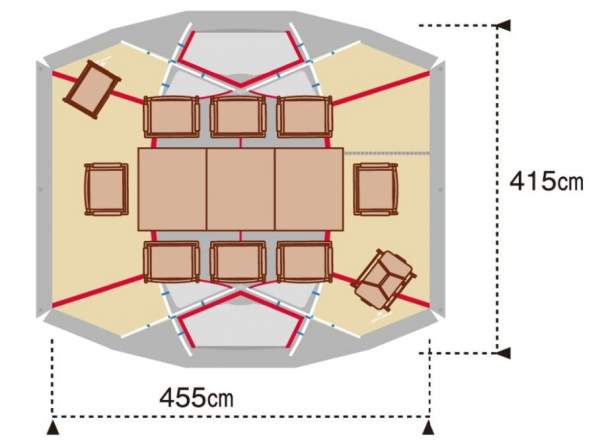 So you can use it as an excellent screen room detached from the tent. But if you have a tent from the same brand, you have seen already how it can be attached.
Regarding seasons & climate, if you add the inner tent, you can use such a set as a true 4-season tent and you will have all protection you need. The waterproof rating is great, the materials are durable and the poles are high quality. The tent is tall but aerodynamic, so it will perform well even in windy places.
The Shell, when used on its own next to your camping tent, can be used in any season and in any weather conditions.
Regarding the weight, this is a heavy shelter that weighs 29.1 lb (13.2 kg). But this is an almost fully 2-layer construction (the double-layer doors and windows cover most of its surface, plus the extra roof cover). The fabric is durable so there are good reasons for such a weight.
The packed size is not its best feature, but here the same arguments apply as for the weight. It is bulky but this is with all the good reasons.
---
Specifications
Weight: 29.1 lb (13.2 kg).
Dimensions: 14.93 x 13.61 ft (455 x 415 cm).
Inner area: around 161 ft² (15 m²).
Peak height: 82.68 in (210 cm).
Packed size: 30 x 13 x 11 in (76 x 33 x 28 cm).
Poles: aluminum.
Warranty: lifetime warranty.
---
Final thoughts, rating, pros & cons
In summary, this Snow Peak Living Shell is an impressive structure, incredibly versatile and with some truly useful features. It is fully closable for almost full protection from the elements, and the accessory Inner Room transforms it into a true 4-season tent. Fully recommended. I have included it in my list of best screen houses for camping.
Below you can see how it stands against my standard rating criteria. I apply them consistently to all the shelters of this type, so that you can easily compare:
BEST PLACE TO BUY:
For more products of this shape please check in the category Screen Houses. Note that they have several shelters of this or similar type, so check also their Snow Peak Mesh Shelter TP-925 and its combination in their Snow Peak Entry Pack TS.
Let me know if you have questions, there is a comment box below. Bookmark this site and come again, this will keep you informed, as you realize I add texts here on a regular basis. Thank you for reading.