The Snow Peak Entry Pack TS is an incredibly functional large and tall construction that includes two elements, a tent and a screen house connected to each other.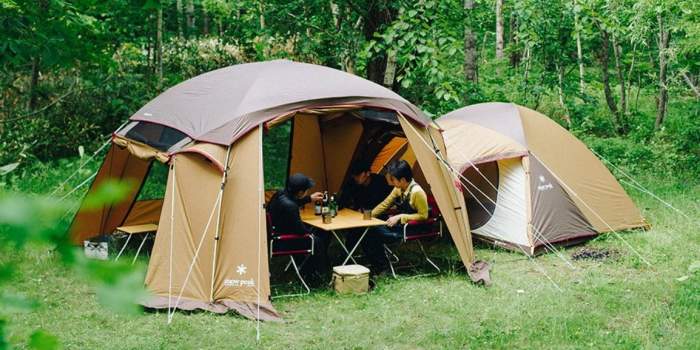 ---
Key features & benefits
Huge covered space.
2 Connectable objects.
They can be used together or separately.
Aluminum poles.
Full protection.
Tall structure.
Freestanding.
---
What is the Snow Peak Entry Pack TS
The Entry Pack TS is a combination that includes their two elements:
Snow Peak Amenity Dome M Tent.
Of course you can buy these two elements separately but here you have them as a set.
The Mesh Shelter is what its name says, a screenhouse that can be used on its own or connected to their tent. It has four entry points, ample ventilation, and a water-resistant shell to protect from the elements. Note that this is the model TP925, and it should not be mixed with their Snow Peak Mesh Shelter TP920.
The Snow Peak Amenity series includes several tents, and the Amenity Dome Tent L 6-People is presented in my separate text. But in this Entry Pack TS you have the M version included, it is with the same features but the inner floored area here is for 4 people. This is a dome tent with a unique design.
In my separate text about connecting tents, you can see the Amenity Dome 6 tent connected to the same Mesh Shelter. However, for this you need an extra tunnel-shaped structure that connects the two parts. This is not so in the Snow Peak Entry Pack TS, the two parts are connected directly, and you can realize this from the picture: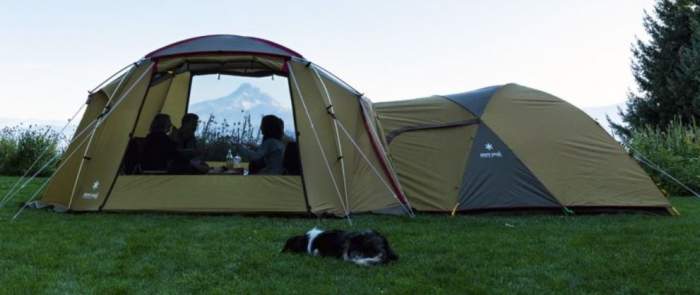 The picture below shows the floor plan and some dimensions of the whole structure. Observe the peculiar angled floor profile, this is because of the unique entry point of the Amenity Dome tents, which is at an angle with respect to the main tent's axes.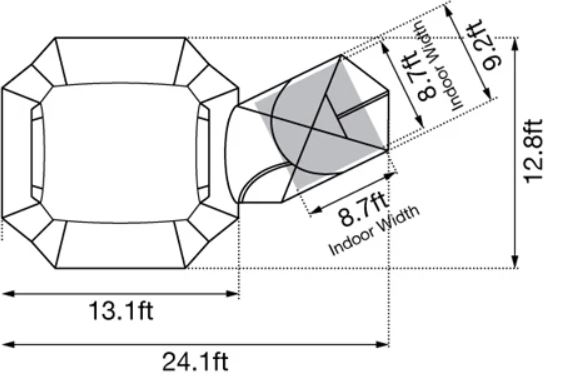 The living area under Mesh Shelter is very tall, the peak height here is 7.2 ft (219 cm) so you have a stand up height in the biggest part of it. This is why I have included this set in my list of very tall family camping tents. The sleeping area is considerably lower as you realize from the picture below.

The set can be described as freestanding, and this holds in particular for the Mesh Shelter part. The Amenity Dome M Tent itself is fully freestanding only without the fly.
Below I give the floor plan of the tent alone. Note that the vestibule on the left is the attachment side. The vestibule is huge and it has an extra door on the bottom of the picture while its another door is used as a connection with the Mesh Shelter. But you still have a triangular vestibule on the rear side, where you have one extra door.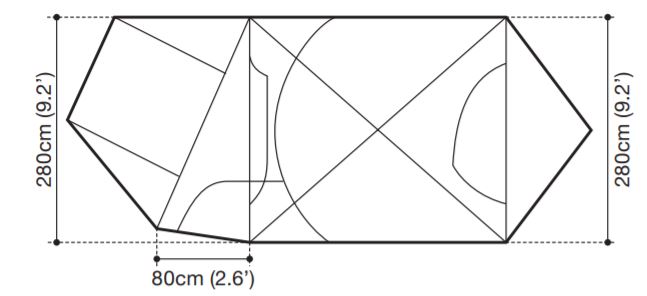 So even when it is connected to the Mesh Shelter, there are two separate external entry points to the tent itself. Though, these doors are quite low, and my guess is that only kids might like to use them. You can realize this from the picture below where that side door on the Amenity Dome tent is visible but it is closed in the picture. In any case, one wonders if this can be more functional at all.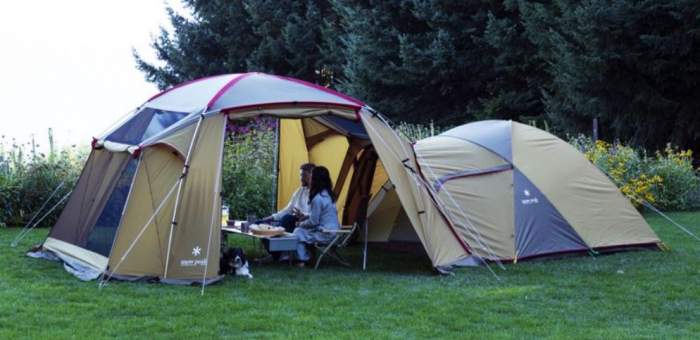 All in all, this is an incredibly pleasant and livable structure, the picture below shows the view out from the Mesh Shelter part: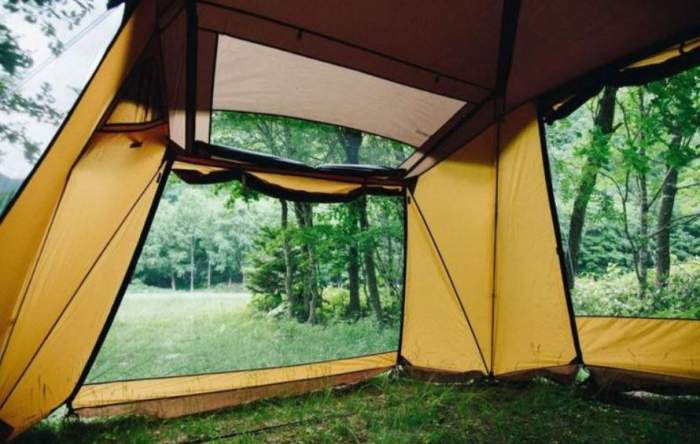 Materials
The fabric: Both items have the same fabric. So the inner tent is a 68D polyester taffeta, and its bathtub floor is a much more durable 210D polyester Oxford with a PU coating and 1800 mm waterproof rating. The mud skirt around the Shelter is the same material as the floor.
The tent's fly and the shelter fabric is the same 75D polyester with a PU coating and 1800 mm rating, plus a Teflon water repellent finish.
The huge doors on the Mesh Shelter are with full sized mesh doors and with zippered panels as the second layer.
The poles & pegs: The poles of the Mesh Shelter are high quality 6061 aluminum tubes with 16 mm and 14.5 mm diameter. Those on the Amenity Dome M tent are a combination of an ultralight Duralumin 7001 & 6061, and their diameter is 12.8 and 12 mm.
You have a full set of Duralumin pegs, and guylines to secure both parts firmly against sudden winds. The poles attachment to the tent is with their standard pin and ring system shown in the picture.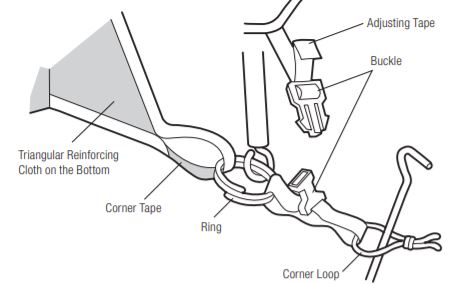 Ventilation
You have seen that the inner tent is all a taffeta, and it is breathable. You have two full-size mesh doors that are also closable. But they have added a closable ceiling vent shown in the picture below. All these openings are completely protected under the full coverage fly which also has a fly vent, and you can keep them that way as long as you do not feel cold.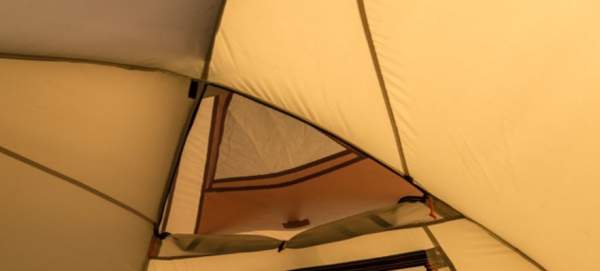 The Mesh Shelter is without floor so you have inflow of fresh air even if you keep its gigantic doors closed. But when the fly is clear and you do not feel cold, you can keep them with mesh and have as much ventilation as you want.
Note that the Mesh Shelter also has two roof vents with stiffeners. They are in the corners under the roof, positioned diagonally. See one in the picture here: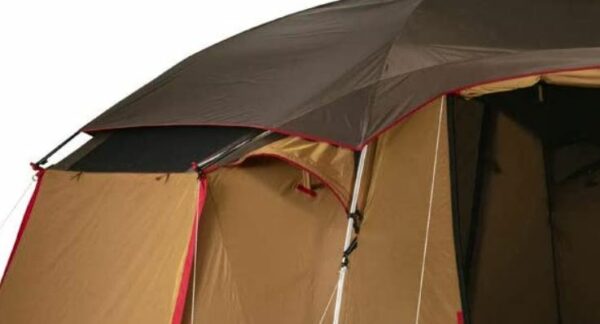 Other features
A lantern loop is available in the inner tent.
Wall storage pockets in the inner tent, shown in one of the pictures above.
There is a lantern loop in the Mesh Shelter too, see the picture.

Skirt on the perimeter of the Mesh Shelter, shown above. It should drain rain water away from the living area. If you feel cold, you can press it to the ground with snow, sand, or with anything else.
---
Who is this Snow Peak Entry Pack TS for
Regarding the area, it is officially for 4-6 people. But this needs a few comments. Actually, and I would say as usual, they do not provide numbers for the area. But the inner sleeping area of the tent appears to be 75.3 ft² (7 m²). In the case of 4 users this would give 18.8 ft² (1.75 m²), which is reasonable. This inner part has dimensions of 2.6 x 2.6 meters so it is difficult to imagine 6 people inside.
But the Mesh Shelter offers lots of space, see the picture below. They do not provide the exact area, the dimensions are visible in one of the pictures above, but this is not a square space. So my guess is that you have around 150 square feet (14 m²) here, but this is just a guess. If necessary, you can pitch inside of this space any freestanding inner dome tent and this can easily double the official capacity.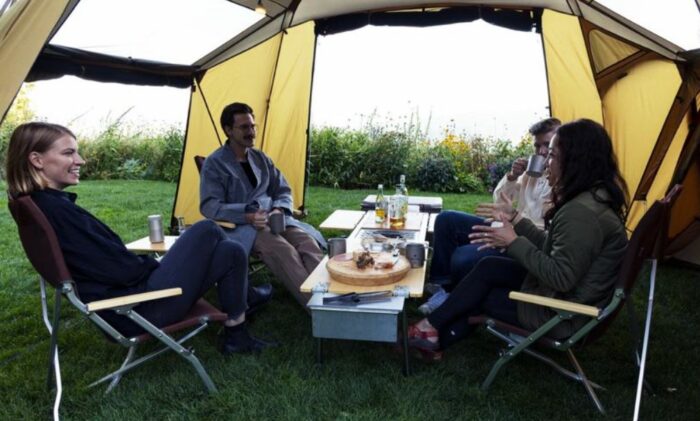 One detail which they do not mention anywhere. In my view, this system can grow even further. The Mesh Shelter has symmetric doors on its opposite sides. So I do not see any problem attaching yet another Amenity Dome M tent on the other side.
Regarding storage areas, you have plenty of space here. But note that there is the rear vestibule behind the tent that also adds some storage space. So all in all, this is an incredibly large construction that offers lots of space and versatility.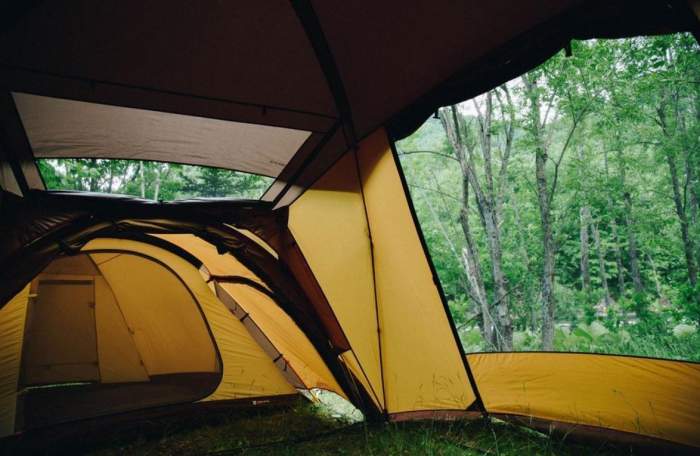 Regarding seasons & climate, I would start from the inner tent first. So the picture below shows how it looks. As you realize this is a full taffeta construction with closable mesh doors. Now, add to this the excellent fly and bear in mind its quality aluminum poles.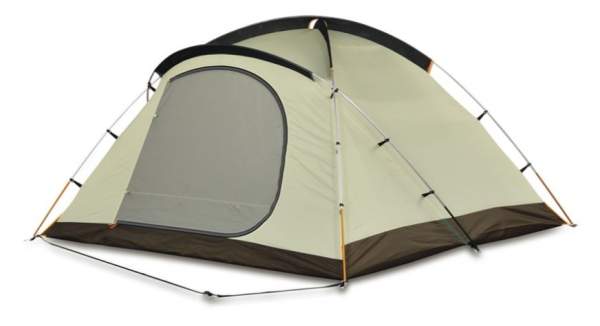 The Mesh Shelter is also with all its windows and doors closable, see it below on its own. So you have a construction that will work great in a cold climate. On the other hand, in warm weather you have plenty of options for excellent ventilation. So this is a structure for any climate and for all seasons.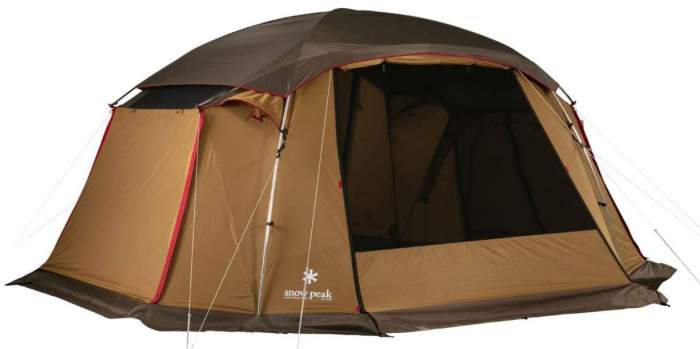 Regarding the weight, they have made a bit of mess. The data that you see around, including their own site, make no sense because the weight which is shown is smaller than the weight of the Amenity Dome M tent alone. Such mistakes are surprising to see with a brand of such reputation.
I asked them and got an answer that makes no sense, they write "the weight would be the combination of both items – roughly 37.1 lb".
You have the numbers for the two separate elements given below, so this is a very heavy structure but there are great reasons behind such a weight. My rating shown below takes into account the total protected space and the level of protection that you have.
The packed size is also not the best feature here. In fact, they do not give it anywhere. But note that you have two separate shelters and very durable materials. So I would say that both the weight and the packed size are not really important, this is a basecamp and car camping tent, and you are not supposed to carry it anywhere.
---
Lifetime warranty
They claim that they submit all of their outdoor items to the highest standards of engineering and testing to ensure long-lasting durability in the most challenging outdoor conditions. They also write that their company proudly takes full responsibility for the high quality of their products. Now you know why their products are so expensive.
---
Specifications
Official capacity: 4 people.
Weight:
– Amenity Dome Tent M: 19.6 lb (8.9 kg).
– Mesh Shelter: 27.5 lb (12.5 kg).
Dimensions: 24.1 x 12.8 ft (735 x 390 cm).
Inner tent area: 75.3 ft² (7 m²).
Inner area per person: 18.8 ft² (1.75 m²).
Mesh Shelter area: around 150 ft² (14 m²).
Total protected area: more than 225 ft² (21 m²).
Peak height: 7.2 ft (219 cm).
Packed size:
– Amenity Dome tent: 30 x 10 x 9 in (76 x 25 x 23 cm).
– Mesh Shelter: 30 x 12.2 x 10.5 in (77 x 31 x 27 cm)
Poles: aluminum.
Warranty: lifetime.
---
Final thoughts, rating, pros & cons
In summary, this Snow Peak Entry Pack TS is yet another incredible product of this brand. In fact, you have them two in one pack, and you can use them as a set, but you can use them also independently. So this is an incredibly functional and versatile product. You can use it all year round in any climate and weather conditions. Fully recommended.
Below you can see how this tent stands against my standard rating criteria that I apply consistently to all the tents here in the site so that you can easily compare:
BEST PLACE TO BUY:
You might want also to check this Snow Peak Spearhead Pro L Tent from the same brand, which is a connecting design and totally unique.
Let me know if you have questions, there is a comment box below. Bookmark this site and come again, this will keep you informed, as you realize I add texts here on a regular basis. Thank you for reading.