The Snow Peak Spearhead Pro L Tent is a very tall shelter supported with quality aluminum poles, with unique connectable design and excellent ventilation.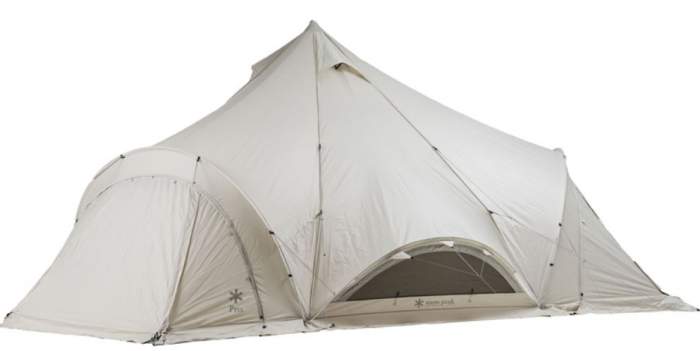 ---
Key features & benefits
Connectable tent.
3 Doors.
Excellent ventilation.
Very tall.
High quality materials.
Aluminum poles.
---
What this Snow Peak Spearhead Pro L Tent is about
This is one of their products from what they call the Ivory Series. The structure is unique, but this is not surprising for this outstanding Japanese brand. The letter L in its official name indicates that it is not the only one, they also have a M version.
Its central pole makes it similar to the modern teepee-type tents, but it has several loops on the sides. The picture below shows its floor plan. So you could describe it as an extended teepee tent, and as far as I know, there is no other on the market except its mentioned smaller M cousin. The three extensions are the places where you have doors.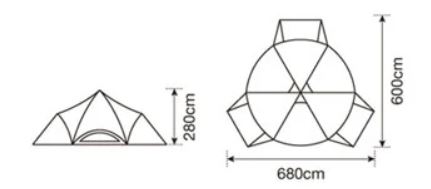 The tent is very tall, you have 110.2 inches (280 cm) inner peak height. They sell it as a floorless tent, but there are several possible accessory elements, more about this below.
Connectable design
This is one of its unique features. The extensions in the floor plan above are the places where the tent has its 3 doors. Because of this and its unique shape, I have included it in my list of best camping tents with 3 doors. These are also the points where you can attach more tents.
So you can connect it to yet another shelter of this type (the first picture below), or to some of the other tents of this brand (the second picture). This is why I have included it in my list of best connecting tents. In fact, many tents of this brand have this feature.
The picture below shows the inner view when you attach such two tents together. You can create a complete village of such interconnecting tents.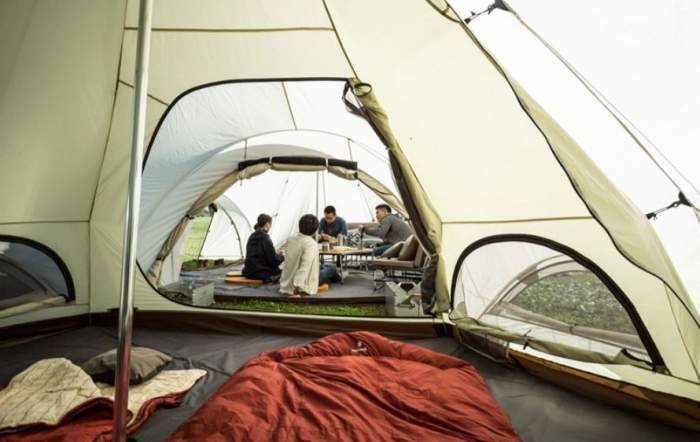 Materials
The poles & pegs: You have one central vertical pole with a 34 mm diameter, plus 3 loop poles above the doors and 3 poles above vents, these are 11 mm in diameter. This is all high quality 7001 and 6061 duralumin.
There are also 33 duralumin pegs in the package, together with 6 ropes 3 m long, 6 ropes 2.5 m long, and 6 ropes 2 m long.
The fabric: This is a durable 210D polyester Oxford with a PU coating and 1800 mm minimum water resistance, and with a Teflon water repellent finish.
Ventilation
If you check any of Snow Peak tents here in the site, you will realize that ventilation is one of their best feature. So this Spearhead Pro L tent is not an exception. Ventilation here is next to perfect.
All the doors are double-layer with full size zippered mesh plus a zippered panel. But they have added 3 huge 2-layer side floor vents that are angled outwards, see the picture below. This is yet another unique feature of this tent.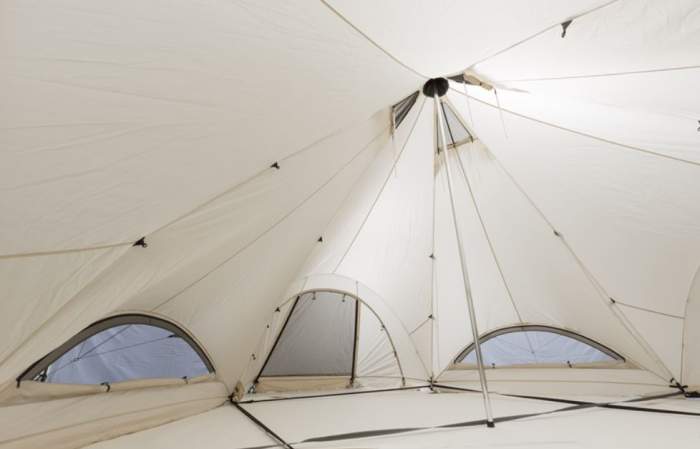 In addition, you also have 3 vents on the top, see how they look: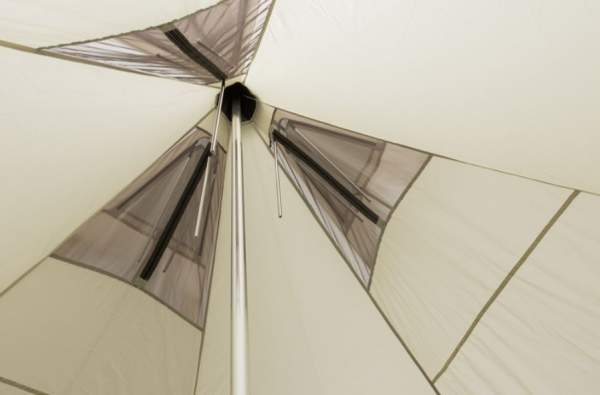 Note that these roof vents are high, but they have added the bars that you can see in the picture, so you can unzip them from inside the tent. You will see this also in the video.
Accessory elements
As mentioned, the product above is just a floorless shell. So you can add several elements to make it incredibly functional. Here are some.
Snow Peak Spearhead Pro L Inner Room
This is an inner tent, and the picture below shows how it looks inside. So when you add it, you will have a 2-layer camping structure for any weather conditions. You can order it here.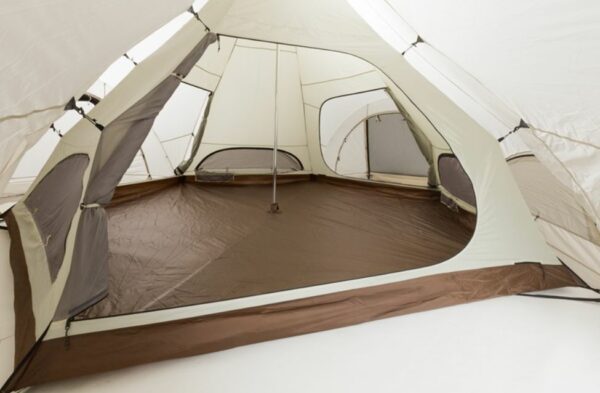 This inner tent weighs 5.8 kg, and it is designed to use the whole inner space. But you can use any other smaller freestanding tent inside this incredible canopy.
Snow Peak Spearhead Pro L Living Sheet
This is an element that you can use as a floor without the inner tent. It weighs 7.8 kg, see how it looks: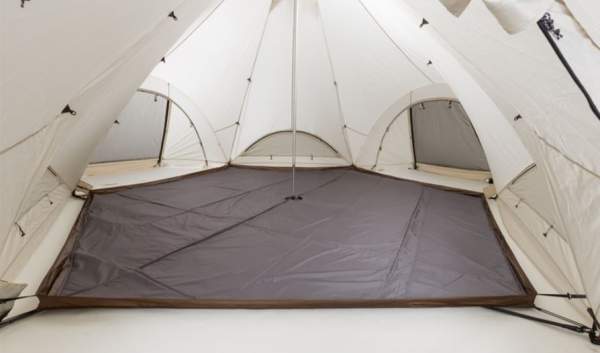 You can order it at:
---
Who is it for
Regarding the capacity, they write it can accommodate 8 people. I guess it depends on how you use it and which accessory options you use. They do not provide numbers regarding the area so one can only guess. But the floor mentioned above offers around 14 m², so the tent has more because of its three vestibules.
Regarding seasons & climate, in my view, this tent can be used anywhere and in any season. When you add the mentioned inner tent, you have a fully closable 2-layer tent that will work great no matter where you use it, and you will be fully protected.
Regarding the weight, this structure is heavy, it weighs 35.3 lb (16 kg). But it is tall and large, and with many great features that add weight of course. The packed size is 34.3 x 15 x 13 inches (87 x 38 x 33 cm), so clearly this is not its best feature. All in all, you need a car for transportation.
---
Specifications
Weight: 35.3 lb (16 kg).
Official capacity: 8 people.
Dimensions: 22.3 x 19.7 ft (680 x 600 cm).
Inner area: more than 151 ft² (14 m²).
Peak height: 110.2 in (280 cm).
Packed size: 34.3 x 15 x 13 in (87 x 38 x 33 cm).
Poles: aluminum.
Warranty: This brand is known for its lifetime warranty, so you know what you are buying.
---
Final thoughts, rating, pros & cons
In summary, this Snow Peak Spearhead Pro L Tent is yet another excellent product of this brand. You have high quality materials and top level craftsmanship. The tent is nicely ventilated, tall, and with unique features.
But bear in mind that it is floorless, and there is no inner tent, you can order it separately. You can also use any other smaller tent inside, and you will be fully protected under this shelter. Fully recommended.
Below you can see how this tent stands against my standard rating criteria. But this is not a standard tent so rating it properly is tricky. My rating for protection is modest because it has no floor.
BEST PLACE TO BUY:
For more tents of this brand, please check around in the site, in particular see this impressive Snow Peak Zekka Tent.
Let me know if you have questions, there is a comment box below. Bookmark this site and come again, this will keep you informed, as you realize I add texts here on a regular basis. Thank you for reading.