---
If you want camping shelters with a capacity that can grow indefinitely, check this list of best connecting tents for camping. These are truly unique tents with some extraordinary features.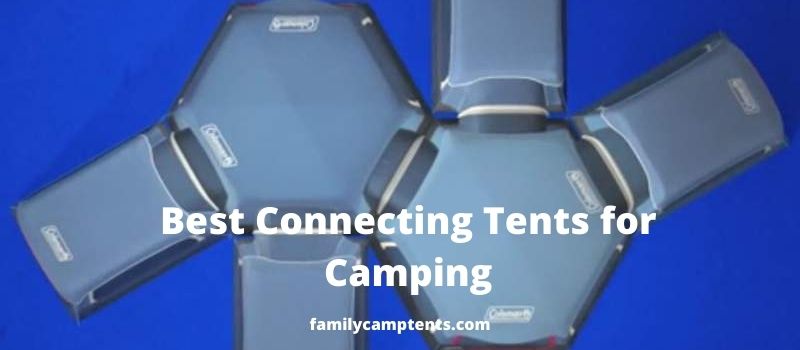 ---
What are connectable camping tents?
The term connecting tents or connectable tents describes structures that are designed so that you can attach several tents into one single shelter with mutually interconnected units. This can be a core tent with smaller units zipped to it from various sides, or just a series of tents zipped linearly to each other, side by side.
You can use all the tents together in such a structure, but you can also use each of them separately. This tells you that you have very versatile products here. 
Buying such connectable tents can be an investment if there are many units in it. But the good thing is that you do not have to buy them all at once. You can buy one of them as a start, and then when you have a budget you can order yet another, and so on. In this way, you can grow your camping village as your family is growing, or as you have more friends joining in.
---
What is the capacity of connectable tents for camping?
Obviously, this is related to the number of units in the system you have. The total capacity is the sum of the separate capacities of the tents you have in the set. As mentioned, this may change in time as you continue buying separate units from a set. In some designs, there is no limit.
---
My list of best connectable tents for camping
So here is my list, the tents are ordered alphabetically, so this is not a ranking:
Most of the systems in the list, or their components, are presented in detail in my separate reviews, so please follow the links for more information.
---
1. Coleman Connectable Tent Bundle
This system is unique in its own way. Here you have a core Coleman 6-Person Connectable Tent that can be attached to yet another tent of the same size. But each of them can be additionally connected to smaller Coleman 3-Person Connectable Tents. The picture below shows what I mean, here you have a top view of two 6-person tents and four 3-person tents: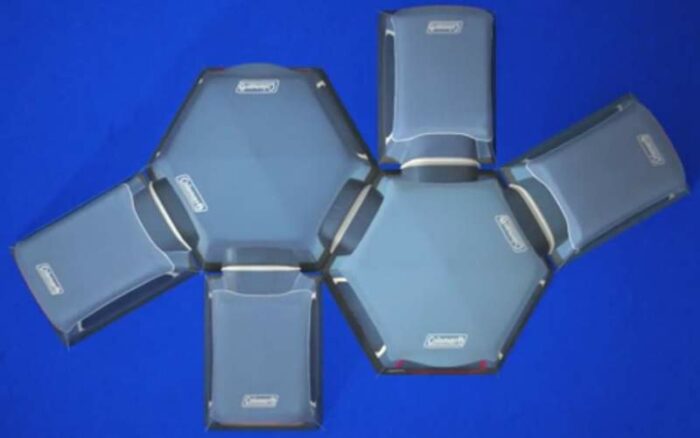 So regarding the capacity, this will depend on which tents you combine. The capacity can grow indefinitely. Each of the bigger 6-person tents can be attached to 3 other tents.
From the pictures, you realize that these are cabin-style tents, freestanding and easy to use. They are very pleasant and comfortable with their steep walls and windows on the sides so you have views around.

---
2. Crua Clan Modular System

In this connectable system you have a large central tent which is the Crua Core Dome 6 person tent. The smaller connecting tents can be either:
Now, you can attach up to 3 of these smaller tents to the Crua Core Dome. This means that when you use the full set in any of the two variants, the total capacity can be either 12 people or 15 people.
But as mentioned above, each of these separate units can be used separately. So you have up to three 2-person tents, up to three 3-person tents, and one 6-person tent. All of them are dome-style tents.
This is far from over regarding the features of this incredible design. Both smaller tents can be used together with an inner Crua Cocoon Insulated Dome Tent. So these smaller insulated units are then the best possible winter tents that will protect you in the harshest conditions. These are also the best examples of true dark-rest tents. 
On the other hand, the central Crua Core Dome tent belongs to the group of inflatable tents where you have air beams instead of classic solid poles. The smaller connectable tents are with classic poles. But the mentioned Crua Cocoon tents are also with inflatable beams instead of poles. So it is hard to imagine something more unique and so versatile.
---
3. RhinoWolf All-In-One Tent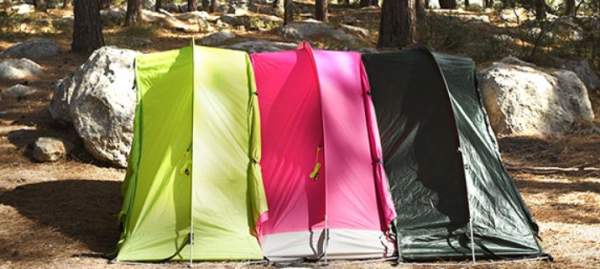 In this case, you have the basic tent which is the RhinoWolf one-person tent. Note that it comes with a sleeping pad and a sleeping bag, so this is an all-in-one system.
The connectable features here imply that you can zip several of these tents side by side. The picture above shows three of them, but you can add as many as you want. In practical terms, going to more than three tents makes no much sense. Ideally, you would connect only two of them. As you realize, each of these solo tents can be used independently.

---
4. Snow Peak Amenity Dome Tent L 6-People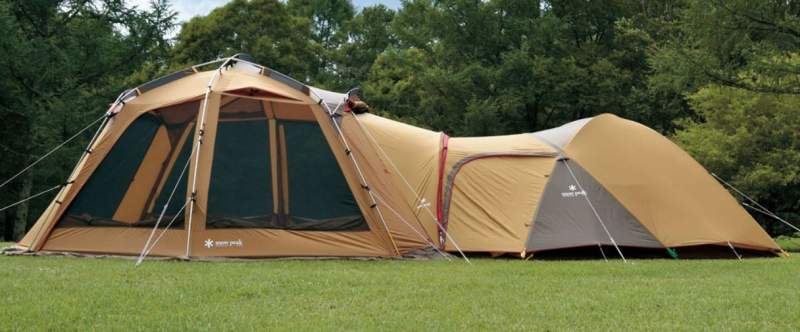 The picture above shows what you have in this system. So on the left is the Snow Peak Mesh Shelter. This is a cabin-style screen house that can be used independently. On the right is the Snow Peak Amenity Dome Tent L 6-People. But there is also the connecting tunnel that must be ordered separately, it is in the middle.
The tent itself is a unique construction. It comes with aluminum poles and two vestibules, and it has 3 entry points. This is a very reliable 4-season tent from a globally known Japanese brand.
So this connectable system has a limited capacity determined by the tent itself. The other elements are just for extra comfort in the camp.

---
Final thoughts 
So this was my list of best connecting tents for camping, I hope you realize how unique and versatile these systems are. Some are very expensive, but as mentioned above, no need to buy a complete bundle at once. Start with one or two of the elements in the bundle and build it up later when you can afford it. 
I shall keep adding these connectable camping tents here in the list whenever I find something worth adding. So bookmark this site and come again. This will keep you informed
Thank you for reading. There is a comment box below, so let me know if you have questions or comments. Have a nice day.