---
Tahoe Gear Prescott 12 Person Tent is a very affordable and pleasant tunnel-type summer camping tent with 2 rooms, 2 doors, and 12 windows. Please keep reading.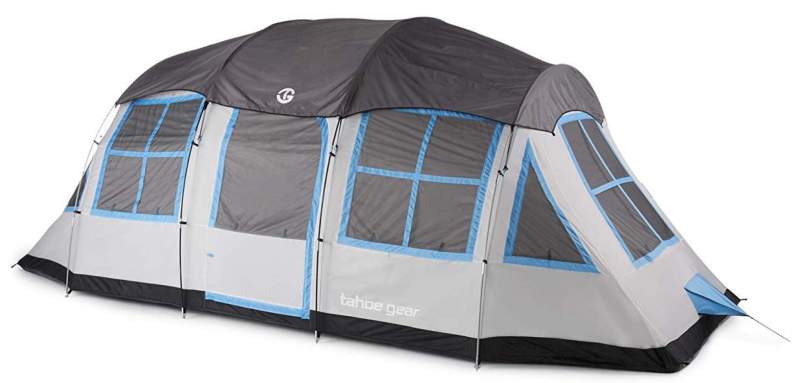 ---
Key features
Tunnel type tent.
Non-freestanding.
Fiberglass poles.
2 Doors.
12 Windows.
E-cable port.
Great price.
---
Where to buy
This tent is available on Amazon, so please follow the link and check shipping conditions for your location.
You can find it also at WalMart.
---
What type of tent is this
On Amazon, the tent is under the name Tahoe Gear Prescott 12 Person 3-Season Family Cabin Tent, but this is quite an inaccurate name. In fact, this is a tunnel type tent with 4 loops that give it its structure.
So the tent is not freestanding, it must be staked properly so use the ground which keeps the stakes in. Note that the stakes are included in the package, there should be around 14 in total.
This is a 2-room construction with a divider which is positioned asymmetrically, so you have one small area separated from the rest of the tent. The divider is with a central zipper and surprisingly it is sewn-in to the walls, so you have some privacy with it. When not in use, you can attach its flaps to the walls, see the pictures:
The tent has 10 separate windows plus two windows on its 2 doors. All these openings are a double-layer type with mesh and panels for protection and privacy. Note that you have zippers on all these panels and I find this extraordinary for such a budget-friendly tent. So all in all, this is a very pleasant construction, very tall, and with numerous openings everywhere around.
Setup
You will need two people to set this tent up. The steps are up to you but with tunnel tents, you stake one of the two narrow ends first, then put all the poles in place and expand the tent like an accordion, and then stake down the other end. Then stake down all other points and adjust guyout lines.
After that add the fly, the tent is tall, no less than 80 inches (203 cm), so you need another person to help with this part.
---
Who is it for
Space-wise, the declared capacity is 12 people as you realize from the name. Note that on Amazon they write about 200 ft² of the area, but this is certainly not so.  Namely, the tent is not a square so the floor plan below suggests that you have around 175 ft² (16.3 m²). In the case of 12 users, this would mean 14.6 ft² (1.36 m²) per person.
So it is possible to accommodate 12 people inside and this may work for a summer festival and a group of friends attending such an activity. But for a family camping, it is best to downgrade the number by half.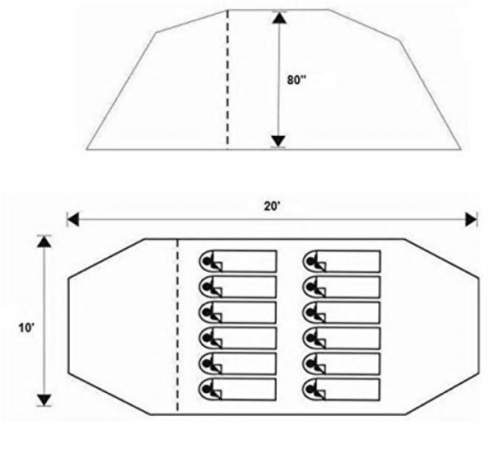 Climate-wise & seasons-wise, they describe it as a 3-season tent but I do not think this is so. This is a tent with the ceiling all in mesh, very tall, with a partial coverage fly, and such a construction is not for a cooler climate and for strong winds.
This is a very pleasant tent as I pointed out above, but this is for summer camping only and for calm weather without much rain and wind. It is best suited for a warm environment, this is because of its plenty of options for ventilation and air flow.
Weight-wise, with its 31.6 lb (14.3 kg) of weight, the tent is reasonably lightweight. But this is not a big deal in any case because what you have here is a camping tent.
Note also that the packed size is 31.6 x 11 x 10.5 inches (80 x 28 x 27 cm) so this is a tent for places with car access.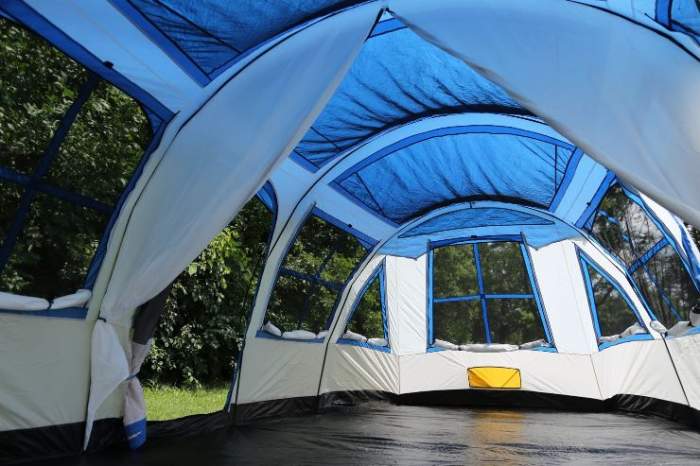 ---
Materials
The poles
The poles are fiberglass and you have them 4 in total, see the picture below, all shock-corded for easy setup. This is not a particularly durable material but it is used even in very expensive tents. The tent attaches to the poles with its sleeves and with clips.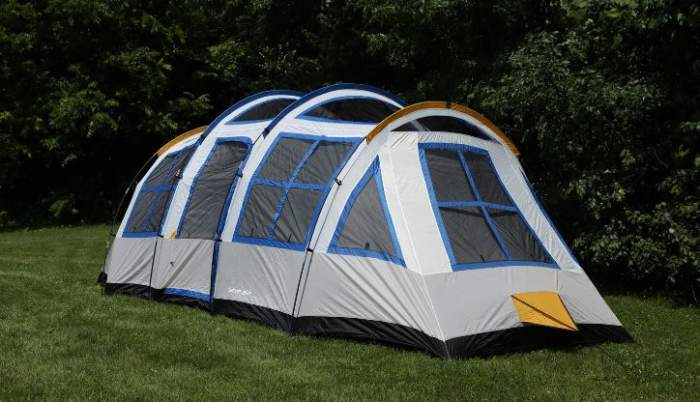 The fabric
The body and the fly are made with durable 190T polyester with a 1200 mm waterproof rating and all fly seams are taped. This should be enough for any situation in a 3-season use but there are so many windows and seams here that things can go wrong at many places. The fly covers only the mesh ceiling and it attaches directly to the poles. This is why I would rather avoid heavy rain with such a tent.
The floor is a waterproof 120-gram polyethylene sheet, such a material is highly waterproof so you are surely safe from the ground.
Ventilation
I already mentioned mesh on the ceiling and on all 12 windows. Now, the windows must be closed when it is raining so you have to rely on the ceiling. But they have added two floor vents on the tent's narrow sides, see one in the picture below. With this and all the mesh on the ceiling, you will have enough vertical air flow. There is not much one can object here except that those floor vents are rather small.
Other features
Fly includes guy ropes on each side for securing the tent in windy weather.
E-cable port is next to one of the two doors.
There are 12 stake-points for the floor, plus 2 for the vents.
Included stuff: tent carry bag, pole bag, stakes, rain fly, assembly instructions.
---
Specifications
Declared capacity: 12 people.
Weight: 31.6 lb (14.3 kg).
Dimensions: 20 x 10 ft (610 x 305 cm).
Area: 175 ft² (16.3 m²).
Area per person: 14.6 ft² (1.36 m²).
Peak height: 80 in (203 cm).
Packed size: 31.6 x 11 x 10.5 in (80 x 28 x 27 cm).
---
Tahoe Gear Prescott 12 Person Tent vs Competitors
It may be a good idea to see how this Prescott 12 tent compares with some other tents in a similar size/weight range. So I show this new Core 11 tent which is an extended dome style tent, and also the Slumberjack Overland 10 which is a tunnel tent.
By the weight, Prescott 12 is in between the two other tents, but it offers more space and it is taller. Above all, it is much more affordable. Please follow the links for more details about the other two tents.
---
Final thoughts, rating, pros & cons
So if you do not want to spend a lot and need a summer camping tent for occasional family excursions and camping, this Tahoe Gear Prescott 12 Person Tent should be a tent to consider. This is a pleasant structure but do not expect too much of it in harsh weather conditions, it is not built for such situations.
Please see below how I rate it against my standard set of criteria used for all the tents here in the site for easy comparison:
Tahoe Gear Prescott 12 Person 3 Season Instant Outdoor Family Camping Cabin Tent
There are more tents from this brand here in the site, see for example this Tahoe Gear Olympia 10-Person tent which is an extended dome type. If you want something different with the same declared capacity, you might want to check this Ozark Trail Hazel Creek 12 Person Cabin Tent with many interesting features.
Note that I am not paid by the brand and this is not a sponsored text. Please use the comment box below in the case of questions or comments. I wish you a pleasant day. 

---