Ozark Trail Hazel Creek 12 Person Cabin Tent is a framed 3-room summer camping structure with steel poles, 2 cabinets, and LED light included. With its 5 large windows, this is a very pleasant family camping tent.
---
Key features
3 Rooms.
1 Door.
4 + 1 Mesh windows.
Cabin-style framed tent.
Steel poles.
2 Cabinets with shelves.
E-cable port.
LED lights included.
---
Where to buy
This tent is available on Amazon. They operate globally so follow the link and check the price and shipping conditions for your location.
You can find it also at Walmart.
---
What type of tent is this
This Hazel 12 is a freestanding framed-type cabin tent, and this means that the frame is freestanding on its own and you attach the tent to it. There are numerous clips for this purpose, plus pin and ring elements on all leg poles.
So you start by constructing the roof and then adding the legs, but in the process, you attach the tent to the roof structure and raise them both together. The picture shows how it looks without the fly.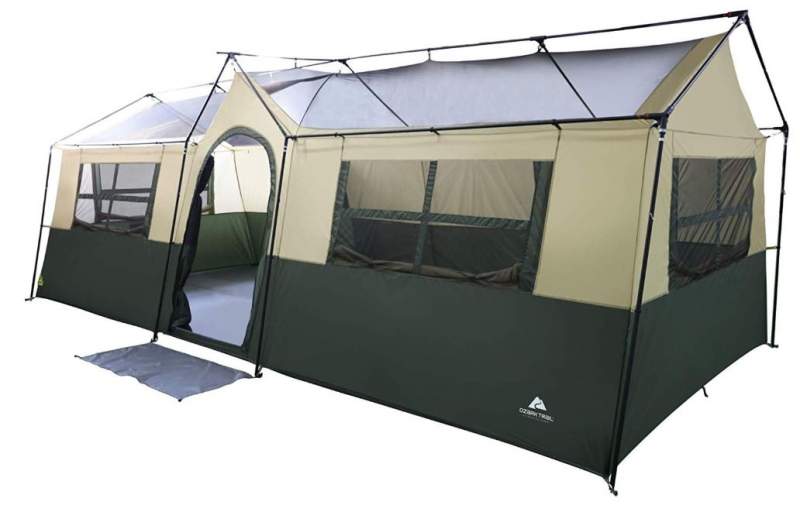 The fly is minimal and it is there to cover the mesh ceiling only. The structure is formally 3-room type because it comes with two dividers, but those are just curtains and you will not have much privacy in such a structure. Note that one of the dividers is with silver-coated fabric and doubles as a movie screen, see the picture below.
The tent is with one door only and this is not so great for a structure which is supposed to accommodate 12 people. But the door is very tall and wide. Numerous windows are all with mesh and zippered panels for protection and privacy.
LED lights
So the tent comes with two strings of LED lights, shown above, batteries are not included. It works with 6 AAA batteries for the whole set. So I have included it in my list of lighted tents.
Cabinets
This is an extra bonus with this tent. It comes with two cabinets on the back side, with the floor that is 2 x 2 feet, each with its own support poles, floored and sealed, and with access from inside. There are mesh shelves that come with them so this is a very useful storage area, see one of them shown below. They are big enough to store a camping toilet in one of them. This is why I have included this tent in my list with best tents with closets.
---
Who is it for
Capacity-wise, they claim this is a 12-person tent, but they use the backpacking principle and count the number of sleeping pads you can put on the floor. So this is probably true because the area is 180 ft² (16.7 m²), and this would give 15 ft² (1.4 m²) per person.
But for a real family camping, I would downgrade this number to 6-7 people maximum. You still need lots of space for your camping gear, the sky is not always clear as the picture below suggests.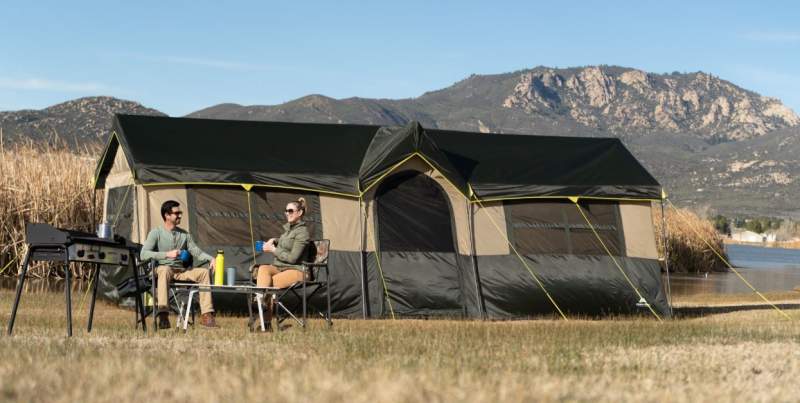 Seasons-wise, I already mentioned its framed structure, so the tent is built strong and you will see below how much steel you have here. But at the same time, this is an incredibly boxy and tall construction with a highly positioned fly, so I would not use it in stormy and windy places.
This is a tent for calm summer weather conditions. There is lots of mesh for air flow, the ceiling is all mesh and you have it also on all the windows on its three sides. But I miss seeing floor vents, they are essential if you have to keep all the windows closed when it is raining.
Weight-wise, the tent is very heavy but this is normal for such a construction. It weighs 65.2 lb (30 kg) and you will see how this compares with some other similar tents, there is a comparison table below.
The packed size is what you might expect with such a type, see the numbers below. But the carry bag is duffle-style with 1 set of wheels. In any case, this tent is for places with car access only.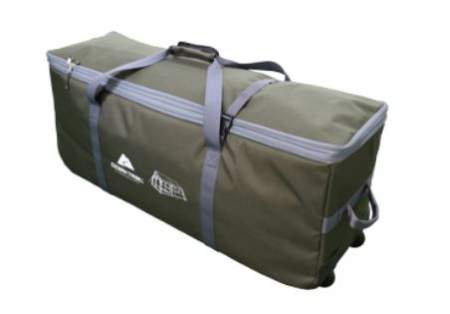 ---
Materials
The poles & stakes
So you have steel here and you will see the list with all the poles below. Note that all the poles are strong 1/2" diameter and chain-corded. There are 34 steel stakes in the package.
So this is a very strong construction with poles that connect with numerous 3-way and 4-way hub elements, one is shown below. Everything is color-coded (see the picture) so the setup is not so complicated except for the first time. Give yourself at least half an hour or so. Two people are necessary for the job.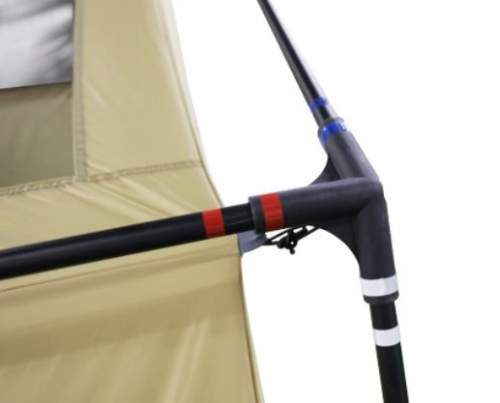 The fabric
The fly and walls fabric is a 190T polyester with 1200 mm PU coating. It is necessary to do some extra waterproofing to put your mind at rest. The floor appears to be polyethylene, they did not bother by providing this information.
Note that the fly attaches to the leg poles somewhere in the middle. You have hooks and rings for this purpose.
What is included
The following items are in the package:
Tent body.
Fly.
Carry bag with wheels.
9 Steel leg poles, black/white taped, see the picture above.
2 Steel front roof poles black/red taped.
2 Steel middle/rear roof poles black/red taped.
7 Steel gable poles black/blue taped.
2 Steel door roof poles black/green taped
1 Steel gable door pole black/yellow taped.
1 Steel short eave pole.
2 Steel curved closet roof poles.
4 Steel closet leg poles.
4 Hubs for shoulder corners (3-way type).
4 Hubs attached on the middle/rear roof poles (4-way type).
2 Hubs attached to the middle roof pole (3-way type).
2 Hubs for the ends of the middle roof pole (3-way type).
1 Hub for door roof pole (3-way type).
2 Steel hubs for door shoulders (3-way type).
1 Pole bag.
1 Stake bag.
11 Guyropes (4 mm diameter, 3 meters long).
34 steel stakes.
Other features
Two hanging corner organizers (one is shown in the picture higher above in the text).
Two integrated mesh pockets.
One tablet pocket.
E-cable port is available.
Mud mat is included.
---
Specifications
Declared capacity: 12 people.
Weight: 65.2 lb (30 kg).
Dimensions: 20 x 9 ft (610 x 274 cm).
Inner area: 180 ft² (16.7 m²).
Inner area per person: 15 ft² (1.4 m²).
Peak height: 84 in (213 cm).
Packed size (L x W x H): 36 x 18 x 16 in (91 x 46 x 41 cm).
---
Final thoughts & rating
So as you see, this Ozark Trail Hazel Creek 12 Person Cabin Tent is an impressive construction, very tall and pleasant, though a bit complicated to set up for the first time, and heavy as well. Use it as a summer camping tent and you will enjoy it. I have included it in my list of best 12-person tents.
Please see how I rate this tent, I use a set of criteria and apply them to all the tents in the site for easy comparison:
This tent is not for frequent moving from place to place, so if this is what you need, please check my list with instant camping tents. You might want also to check this Tahoe Gear Gateway 10 to 12 Person Deluxe which is an L-shaped tunnel tent. See also this Ozark Trail 12 Person Instant Cabin 16 x 16 3-Room Tent which has a huge awning area.
Note that this is not a sponsored text and I am not paid by anybody. Please use the comment box below in the case of questions or comments, I love to hear from you. Have a nice day.