This Texsport Highland 8 Person 3 Room Family Camping Cabin Tent is a huge construction that provides 240 ft² (22.3 m²) of the floored area in its 3 rooms. Read more below.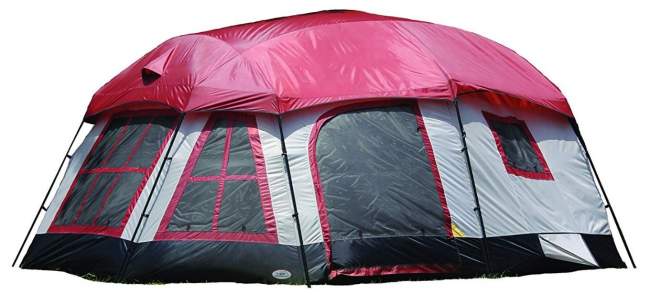 ---
Key features & benefits
3 Rooms.
2 Doors.
5 + 2 Windows.
Freestanding tent.
Very tall.
E-cable port.
---
So what this is about
Here you have a very tall family camping tent with a peak height of 86 inches (218 cm), so this qualifies it to be included in our list of extra tall family camping tents. The structure is built as a cabin tent, with straight leg poles and steep walls. So it provides lots of volume inside. Note that the tent has been on the market for many years already, as far as I know from 2012 or so.
This is a freestanding tent but it is heavy and boxy so do not miss staking it down properly, all necessary stakes are in the package. The picture below shows its frame structure without fly. The fly is minimal and it protects the ceiling where you have plenty of mesh for air circulation.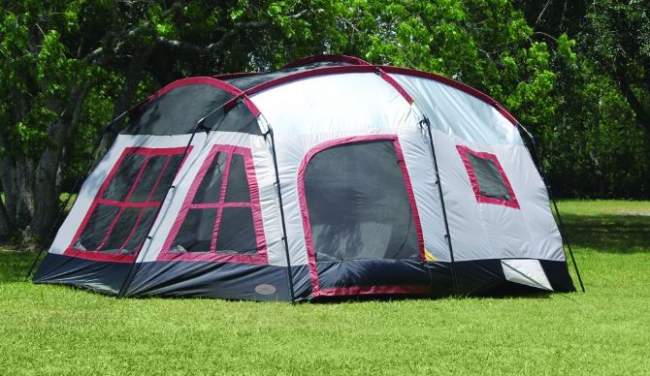 The inner area is organized in three rooms, so you have options to organize the space as you wish. The back area is separated by a sewn-in divider and you have two huge inner doors. There is a removable divider in the back sleeping area, just a curtain, but it gives some privacy in the two sleeping units. I have included it in my list of best 3-room family camping tents. There are 2 external doors as well, one is visible above.
The front room is with those large and beautifully designed mesh windows. But from inside you have panels as well for protection and privacy. So in total, there are 7 windows, 5 separate plus 2 on the doors.

Ventilation
Ventilation is great here with all those mesh windows and the mesh on the ceiling. But they have added floor vents as well, and if this is not enough, there is also a fly venting integrated. More you can hardly expect, this is well done.
---
Materials
The poles
What you see in the pictures above is a combination of steel and fiberglass. So you have 11-mm shock-corded fiberglass roof poles, and on the sides, you have 10 rust-resistant 3/4 inches diameter powder-coated and chain-corded steel leg poles. This is a very robust and strong construction.
The poles attach to the tent through the sleeves on the roof, clips in the middle, and a pin-and ring system at the tent's base.
The fabric
The walls and the fly are a heavy-duty fire-retardant taffeta with a polyurethane coating. There is no information about its waterproof rating. The floor is a strong rip-stop polyethylene. The mesh areas are with a "no-see-um" net.
---
Who is it for
Regarding the area, the tent offers 240 ft² (22.3 m²) of the inner floored space. For 8 users this gives 30 ft² (2.8 m²) per person, so this is quite a luxurious space.
There is a place for 2 people in each of the two back rooms, and 4 people can sleep in the front room. But you can use the front room as a living room and use the tent for 4 people only, say parents with two kids, or two couples. One could hardly make any objection in this sense. It deserves to be included in our list of extra large camping tents.
Regarding the climate & seasons, this is a tent for summer camping, or for 2 seasons maximum. It is best suited for warm weather conditions, it would not be pleasant in a cold climate. The structure is large and boxy and it is best to avoid strong winds and rains. The roof should never be exposed to pressure from above, like snow for example.
Regarding the weight, this is a heavy structure with its 46.4 lb (21 kg). But in view of its size, this is not surprising. The packed size is quite good for its size, it reduces to 28.7 x 14.2 x 12.4 inches (73 x 36 x 31 cm). So all in all, this is a tent for places with a car access.
---
Specifications
Declared capacity: 8 people.
Weight: 46.4 lb (21 kg).
Dimensions: 16 x 15 ft (4.9 x 4.6 m).
Area: 240 ft² (22.3 m²).
Area per person: 30 ft² (2.8 m²).
Peak height: 86 in (218 cm).
Packed size: 28.7 x 14.2 x 12.4 in (73 x 36 x 31 cm).
---
Final thoughts
So you have seen it, this Texsport Highland 8 Person 3 Room Family Camping Cabin Tent looks great and its organization is excellent. The space per person is more than enough and the price is fair. This is a great value for the money, fully recommended. Please see below how I rate it.
Texsport Highland 8 person 3 Room Family Camping Cabin Tent
Thank you for reading. Note that we add texts regularly so bookmark this site and visit occasionally. Subscribe to our weekly newsletter and stay informed, there is a subscription form below. Please use the comment box below in the case of questions or comments. Have a nice day.