---
Trek Tents 246C Cotton Canvas Cabin Tent is a non-freestanding 4-season breathable and pleasant 9-person structure with 3 large mesh windows and a steel frame. 
---
Key features & benefits
Canvas tent.
Very tall.
9 people capacity.
3 windows.
Steel frame.
Single-room structure.

---
Trek Tents Canvas Cabin Tent – what type of tent is this
As you realize from the name, this is a canvas tent, cabin-type by the design and non-freestanding. Although it is a rather large tent, this is a single room structure. Note that you have the fly which covers the roof completely.
This is a very tall structure with 90 inches (229 cm) peak height along the main axes. This is why I have included it in my list of extra tall tents.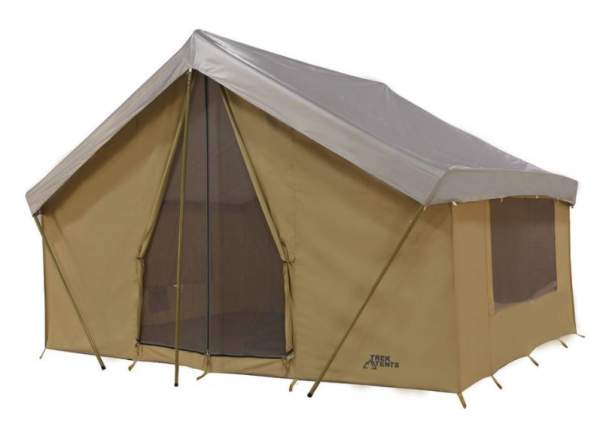 ---
Who is it for
Capacity-wise, the tent is declared for 9 people. But it offers only 140 ft² (13 m²), and this would give 15.5 ft² (1.45 m²) per person, so such a number of users is not realistic for a real camping. The walls are completely vertical so you can use bunk cots and this will save the used floor space and increase the capacity.
Seasons-wise, the structure is such that you can use it in all seasons even if this would imply snow. Note that the ceiling is not a mesh, this is a solid canvas, and this makes lots of difference if the tent is used in winter conditions.
Climate-wise, this tent will work in all climate conditions. There is enough mesh around and breathable walls if you use it in a warmer climate. But in a cool climate, you can close all the panels and preserve the warmth. This is why I have included it in my list of tents for cold weather camping.
Weight-wise, this is a heavy item, no less than 64 lb (29 kg), so it needs some force to deal with it. Note also that the packed size is such that you need lots of space in the car, the packed dimensions are 42 x 14 x 14 inches (107 x 36 x 36 cm).
---
Materials & construction
The poles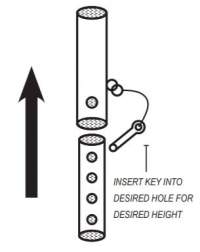 The poles are a powder-coated steel 1 inch (2.54 cm) in the diameter. So this is a reasonably strong frame which gives the tent the shape of a house. But note that the ridge is 14 ft (4.27 m) long, so I would rather avoid too much snow on it, such a big span would not withstand lots of vertical pressure.
In fact, the frame is somewhat similar to what you have in the Kodiak Canvas 12 x 9 Canvas Cabin Tent and the poles are the same diameter. The legs are extendable and you have a pin system which secures them in the length which you need, you can see it in the picture.
The picture below shows that you have 6 legs and 3 roof poles and they all contain multiple segments: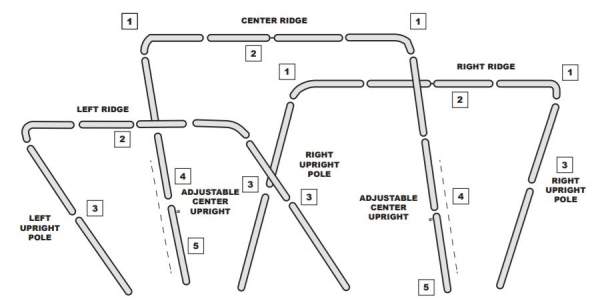 The fabric
Obviously, this is a canvas material, 100% cotton walls and roof. Note that the roof is not a mesh, it is just a canvas, see the picture below. Have seen people asking about that. This is why such a structure performs well in a cold environment.
The fly is a sort of a reflective synthetic, they do not provide information about it, so this should be waterproof enough for most weather situations. They do not provide an official waterproof rating. Compared with the rest of the tent, the fly is very lightweight. The floor is a very heavy duty vinyl-coated canvas. They claim that the fabric meets CPAI-84 fire retardant regulations.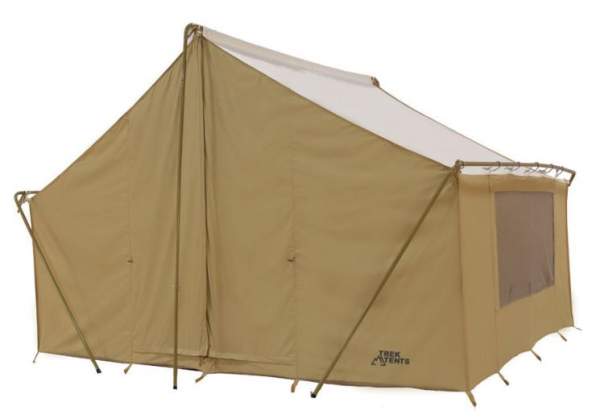 The windows and the door
So you have only one door here, this is not so great for such a big tent, but this is a single-room structure and such a design works. But one of the main poles is exactly in the middle of the door, cannot understand how they come to such an idea.
There are 3 relatively large windows on the three remaining sides. All of them are with a No-See-Um mesh.

Other features
You have just a few very small pockets on the wall. They missed to add more, such flat side walls have lots of surface for such a purpose. Pity.
In this video you can see the smaller tent from this series, the 245C tent, so have a look, the structure in the 246C tent is the same, it is just bigger:
This is a tent with vertical walls and they have missed adding more storage elements. There are only a few tiny pockets which is far from enough. I totally dislike the fact that one of the legs/poles is exactly in the middle of the only door.
The material is breathable, but in a strong rain you are forced to keep all the windows and the door closed, so you might need vents. They have missed adding a few.
The price for this tent is high, this is expected from a canvas tent but there are far more affordable options on the market, you can see some in my list of best canvas tents.
---
Specifications
Type: cabin style tent.
Capacity: 9.
Weight: 64 lb (29 kg).
Dimensions: 14 x 10 ft (4.27 x 3.05 m).
Area: 140 ft² (13 m²).
Area per person: 15.5 ft² (1.45 m²).
Peak height: 90 in (229 cm).
Packed size: 42 x 14 x 14 in (107 x 36 x 36 cm).
Sidewall height: 4 ft (1.22 m).
---
Trek Tents 10 x 14 Canvas Cabin Tent vs Competitors
Here in the table, I give this 246C tent and two other canvas tents that are with the same floor area but very different in the design. This might help in making an informed choice. All of them are canvas tents and the prices are substantially different so please follow the links to check. As you realize, this heavy tent looks quite lightweight when you compare it with those two.
42 x 14 x 14
(107 x 36 x 36)

43 x 13.5 x 13.5
(109 x 34 x 34)

46 x 17 x 15
(117 x 43 x 38)

---
Final thoughts, rating, pros & cons
In the summary, this Trek Tents 246C Cotton Canvas Cabin Tent is a pleasant tall and breathable structure suitable for all year use and in practically any climate conditions. But I have some objections pointed out below, so if those are important to you, please check the alternatives given in the comparison table above, or check my list with best canvas tents.
See how I rate it for various parameters:
Trek Tents 246C Cotton Canvas Cabin Tent
Pros
Sturdy construction.
Breathable materials.
Very tall tent.
Simple structure.
Suitable for all seasons.
Cons
Heavy.
Large when packed.
Very expensive.
Not enough storage elements.
No vents.
The pole in the middle of the door.
If you need something that is not canvas, just look around and check in the categories, there are tents in all sizes and shapes described in this site. Check this Barebones Outfitter Tent with a flapjack for a wood stove.
Please let us know if you have any experience with this 246C tent, there is a comment box below. Have a nice day. 

---