---
Springbar Highline 8 Tent is a cabin style waterproof but breathable canvas tent designed for a 4-season use and suitable for camping in all climates.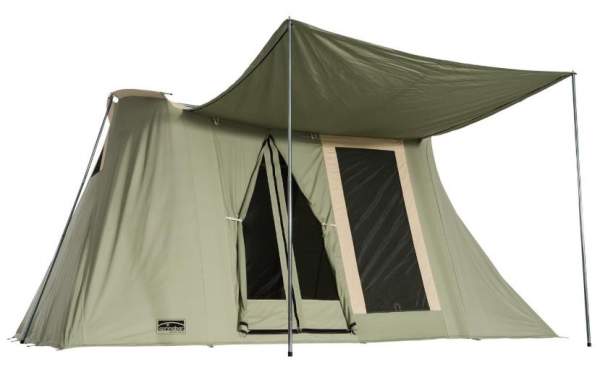 ---
Key features & benefits
Canvas tent.
Steel frame.
Very easy setup.
Breathable materials.
Integrated awning.
---
What type of tent is this
The Springbar Highline 8 is a canvas tent, non-freestanding, and a cabin style. In view of its material, you could call it also a dark rest tent because glare is considerably reduced inside.
This is a single room structure and you have one double door plus a very tall window next to it, plus windows on the back. They are the two-layer type, with mesh against insects and with canvas for protection and privacy. The rest of the tent is a single layer type as typical for canvas tents.
Note that you also have an awning (shown in the picture) which is a separate piece on the front and not just the door flap. So you can roll it up and fixed above the door if not in use. The dimensions of the awning (depth x width) are 71 x 88 inches (180 x 224 cm) and this is a huge space for sitting in the shade. A similar awning design you can see also on yet another canvas tent, the Jet Tent F25DX 10.
The package includes the following: the tent and awning, carry bag, poles with their carry bag, steel stakes with a carry bag, awning ropes, adjustable gear-loft, and owner's field guide.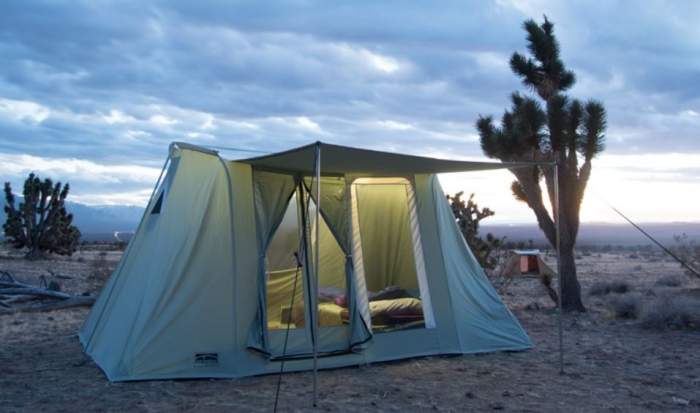 ---
Who is it for
Space-wise, they are realistic and write that it is very spacious for 2, comfortable for 4 – 6, and the maximum capacity is 8 people. You have 140 ft² (13 m²) of the area and in the case of 8 people this means 17.5 ft² (1.6 m²) per person. See how to use the floor with such a number of occupants: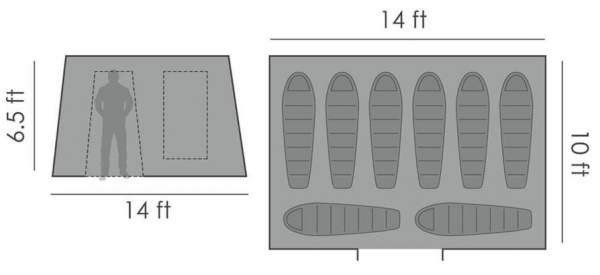 In the case of parents and two kids, you would have plenty of space. Note that such straightened and tall walls are perfect for bunk cots, you will save lots of the floor area and still have the place underneath the cots to store the gear.
Seasons-wise, this tent is built for 4-seasons and this should be taken literally. It is breathable and the fabric creates a cool atmosphere so this makes it suitable for a summertime camping. Such a material also makes it a bit insulating, at least as much as you can expect from any tent and certainly more insulating than any synthetic material, and this makes it good for winter camping. The frame is steel and very strong so you can be sure it can take a lot of pressure. But this is not an insulated tent; if you need something of that kind, check the Crua Loj 6 tent.
Climate-wise, this is related to the 4-season design mentioned above. Such tents are far superior to synthetic tents if you plan to use them in various climates. They work well both in a warm and in a cold environment. So I have included it in my list of cold weather tents.
Weight-wise, this is a heavy item that weighs 84 lb (38 kg). It is also rather bulky with its packed size of 43 x 13.5 x 13.5 inches (109 x 34 x 34 cm). So regardless of where you use it, you will need a car for this tent. But in spite of its weight, one person can set it up easily, you will see this below.
---
More about materials & features
Ventilation
The walls are breathable but sometimes this may not be enough, in particular, if you have to keep the doors and windows closed. Though the front awning protects the door and the front windows and you can keep them open almost all the time. But they have added two vents on the side, one is visible below, they are with mesh and you can keep them open all the time.
Windows & doors
The double front door has two mesh windows on it, and you have a huge mesh window next to it as you can see from the pictures. There are also two large mesh windows on the back side. So the tent is very pleasant with so many openings and you can regulate the amount of light with the flaps.
Observe that the awning is not the door flap, the door has its own panels for protection, with the zippers so if you do not need the awning you just roll it above the door.
The fabric
The tent's body is a 100% Cotton Duck Canvas and you have 10 oz for the roof and 8 oz for the walls, so the thickness is slightly different. It is finished for water repellency and anti-mildew. It is supposed to be watertight yet breathable, and it is very durable. They write about three separate types of thread and lap-felled seam construction which are there to prevent leaking.
The floor is synthetic, so you have a heavy-duty fully waterproof 14 oz laminated vinyl. All the openings have a No-See-Um mesh against insects, see the picture above, plus canvas covers.
The poles & stakes
The poles are very specific to this model, but you will see the same system used also in the Kodiak 8 tent. There are only two main galvanized steel poles on the sides, which support the tent. Somewhat similar is also the system in the Teton Sports Mesa series, but the important difference is in the main roof tubes and their connection.
The roof here is with the spring bar system which you will see in the video and it includes:
4 solid steel zinc plated spring rods.
2 roof tubes with the T-shaped ends, you see one in the picture above.
A third tube that overlaps the two T-tubes' connection and when you position it properly you will hear clicks which means that it is locked, so this is a very strong structure.
The package includes 12-inch steel nail stakes. The picture above shows also one of the steel wire loops which are combined with the perimeter rope reinforcement sewn in the canvas.
Setting the tent up
You have seen the size and the weight of this tent, so you might be surprised to see that one person can easily set it up in just a few minutes, please have a look:
---
Specifications
Type: non-freestanding canvas cabin tent.
Capacity: 8 people.
Weight: 84 lb (38 kg).
Dimensions: 14 x 10 ft (427 x 305 cm).
Area: 140 ft² (13 m²).
Area per person (for 8 people use): 17.5 ft² (1.6 m²).
Packed size: 

43 x 13.5 x 13.5 in 

(109 x 34 x 34 cm).

Peak height: 78 in (198 cm).
Lifetime warranty.
---
Springbar Highline 8 Tent vs Competitors
There are several tents on the market built in the same style, so it is good to see their features side by side, this might help in making an informed decision. Please have a look, there are differences in prices, so follow the links for more:
43 x 13.5 x 13.5
(109 x 34 x 34)

50 x 14.2 x 11.1
(127 x 36 x 28)

46 x 17 x 15
(117 x 43 x 38)

---
Final thoughts, rating, pros & cons
In the summary, this Springbar Highline 8 Tent is a great tent built to last and you will use it for years. If you want to see how such a tent may look after 17 years of use, see here, note this is the smaller version but the same design. So the current high price might be a great investment and it will pay off in time. I have included this tent in my list of best canvas tents for camping.
I guess it is important to stress that they offer a LIFETIME WARRANTY that covers defects in materials and craftsmanship. See how I rate it:
Springbar Highline 8 Tent
You might want to compare it with this White Duck Outdoors Family Explorer Basic built in the same style. If you need to see more canvas tents, check in the category Canvas Tents. In particular, see this DANCHEL Cotton Bell Tent with Two Stove Jackets which is ready for a wood stove and also this Kodiak Canvas 12×9 Canvas Cabin Tent.
Check my list of tents for cold weather, this tent is included there as well. Please share your thoughts if you have any experience with this or any other canvas tent, there is a comment box below.

---